¿Resucitará la reconciliación palestina la solución de los dos estados?
RAMALÁ – Cuando los representantes de las dos mayores facciones palestinas, Fatah y Hamás, firmaron un nuevo acuerdo de reconciliación en El Cairo el 12 de octubre, la atención principal no estaba en los firmantes, el miembro del Comité Central de Fatah Azzam al-Ahmad y el Vicepresidente del Politburó de Hamás Saleh al-Arouri. En su lugar, todas las miradas se dirigían al hombre detrás de ellos: Khaled Fawzy, jefe del Directorado de Inteligencia General de Egipto.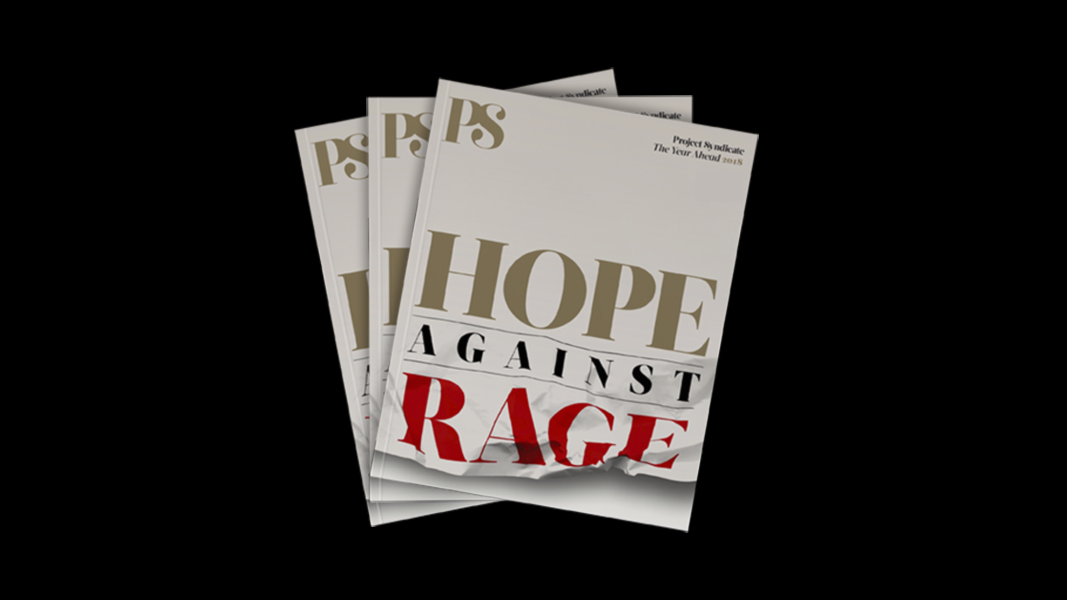 The Year Ahead 2018
The world's leading thinkers and policymakers examine what's come apart in the past year, and anticipate what will define the year ahead.
La ceremonia, celebrada en las oficinas centrales de la agencia de inteligencia, fue organizada enteramente por los egipcios, para quienes la reconciliación es un paso más hacia un objetivo mayor. Como señala el acuerdo en su inicio, surgió de la "insistencia" del Presidente egipcio Abdel Fattah el-Sisi de poner fin a las divisiones entre los palestinos, "con miras a crear un estado independiente" siguiendo las fronteras previas a 1967.
El liderazgo de Egipto en este proceso elevará su reputación en el mundo árabe, reforzando su posición como peso pesado regional. El acuerdo entre Hamás y Fatah ya ha avanzado hacia eso, al tiempo que da al gobierno de Sisi un muy necesario empujón de moral.
La buena noticia para Egipto es que los palestinos están demostrando una renovada disposición no solo a emprender la reconciliación, sino también para seguir un difícil proceso de negociación con Israel y su principal aliado estratégico, Estados Unidos. Esta renovación de la política nacional palestina refleja en gran parte el cambio reciente de la postura de Hamás tras años de problemas para la organización islamista suní.
Sus problemas comenzaron cuando escogió respaldar el lado equivocado en Siria y Egipto. El régimen del dictador sirio Bashar al-Assad prevaleció sobre los rebeldes islámicos que apoyaba Hamás en Damasco, mientras que en Egipto el gobierno de la Hermandad Musulmana, encabezado por Mohammed Morsi y al que Hamás apoyaba, cayó después de un año. Tras ello, Arabia Saudita, Egipto, los Emiratos Árabes Unidos y Bahréin cortaron las relaciones diplomáticas con Qatar, causando que Hamás perdiera su respaldo político y financiero iraní y qatarí.
Con pocos amigos e incluso menos patrocinadores en la región, Hamás no podía más que volver a sus compañeros palestinos. El grupo aceptó rápida e incondicionalmente las tres exigencias del Presidente Mahmoud Abbas: disolver el comité administrativo liderado por Hamás, permitir que el gobierno palestino con sede en Ramalá reanude sus funciones en Gaza, y permitir la celebración de elecciones presidenciales y parlamentarias en Gaza y Cisjordania.
Ciertamente, la reconciliación entre los palestinos abrirá el camino hacia la paz, no en menor medida porque las nuevas elecciones ofrecerán la legitimidad que necesitan quienes negocian con Israel. Pero el trabajo de verdad, tanto para Egipto como los palestinos, está por venir.
Para llegar a un estado palestino independiente a lo largo de las fronteras anteriores a 1967, ambos actores tendrán que entenderse con Estados Unidos, gobernado por el Presidente Donald Trump, e Israel, gobernado por el Primer Ministro Benjamín Netanyahu. Y en este frente, las expectativas son bajas.
Trump afirma que logrará un "acuerdo insuperable" para solucionar el conflicto palestino-israelí. Pero tanto Trump como Netanyahu, cada uno azuzando el extremismo del otro, siguen sin estar dispuestos a aceptar lo que el resto del mundo considera como la premisa básica de un buen acuerdo: una solución de dos estados. Y es improbable que Abbas, para quien el tiempo no pasa en vano, acepte cualquier mal acuerdo que le ofrezca la decididamente proisraelí administración Trump.
Incluso esa débil situación hipotética podría ser optimista, ya que supone que las conversaciones despegarán: algo imposible si Israel prosigue su construcción ilegal de asentamientos en territorios palestinos ocupados. Estas situaciones no solo son injustas, sino que violan la Resolución 2334 del Consejo de Seguridad de las Naciones Unidas, adoptada casi por unanimidad el año pasado (Estados Unidos, cuyo gobernante en ese entonces era Barack Obama, se abstuvo). La resolución exigía que "Israel cese de inmediato y por completo todas las actividades de asentamientos en el territorio palestino ocupado, incluido Jerusalén Oriental), actividades que significan una "violación flagrante de las leyes internacionales".
Para un acuerdo entre israelíes y palestinos serán necesarias profundas concesiones por ambos bandos, que habrán de ser aceptadas por sus respectivos electorados. El cuñado y asesor de Trump, Jared Kushner, al que se le ha encargado solucionar el conflicto, y el jefe de negociadores del gobierno de Trump sobre el asunto, Jason Greenblatt, parecen entenderlo así. Egipto ciertamente lo ve así, y ha dejado claro que un liderazgo palestino dividido y sin el mandato público que otorgarían las nuevas elecciones, no podría llevar a cabo negociaciones serias ni ganar apoyo popular para ningún eventual acuerdo.
La interrogante es si los israelíes estarán dispuestos a hacer estas concesiones, permitiendo con ello una solución de dos estados o un sistema de reparto del poder genuino y creíble dentro de un solo estado. Si no lo están, la reciente reconciliación palestina, con todo lo positiva que pueda ser, no marcará el comienzo del fin del conflicto palestino-israelí, sino meramente el inicio de un nuevo capítulo en la lucha por la libertad de los palestinos.
Traducido del inglés por David Meléndez Tormen