Zweistaatenlösung nach Aussöhnung der Palästinenser in Sicht?
RAMALLAH – Als die Vertreter der beiden wichtigsten palästinensischen Fraktionen, Fatah und Hamas, am 12. Oktober in Kairo ein neues Versöhnungsabkommen unterzeichneten, lag das Augenmerk nicht auf den Unterzeichnern selbst, dem Fatah-Zentralkomitee-Mitglied Azzam al-Ahmad und dem stellvertretenden Vorsitzenden des Hamas-Politbüros Saleh al-Aruri. Vielmehr waren alle Augen auf den Mann hinter ihnen gerichtet: Khaled Fawzi, Chef des ägyptischen Geheimdienstes.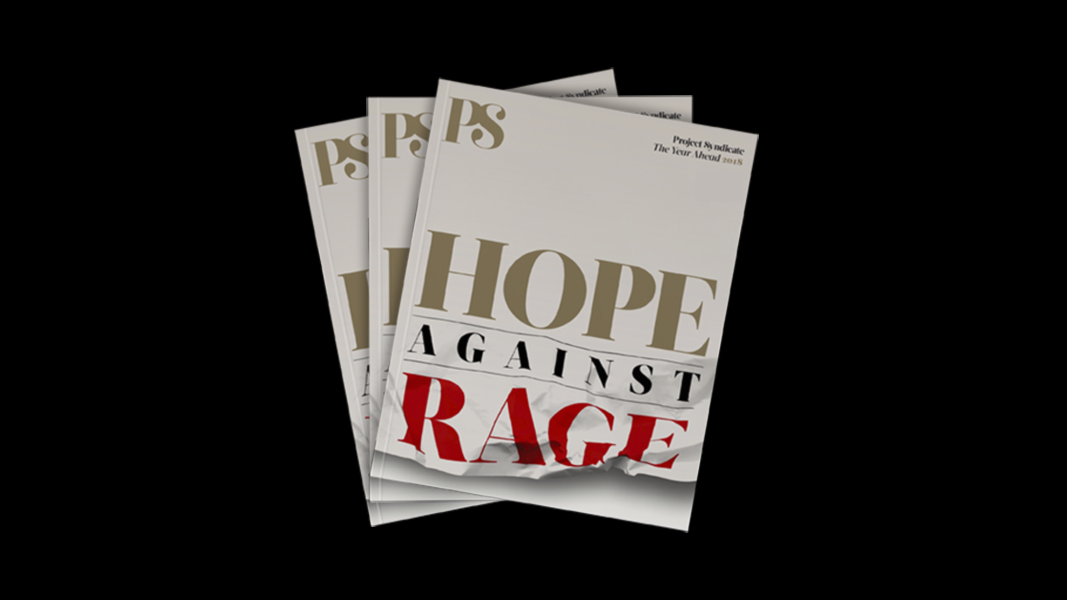 The Year Ahead 2018
The world's leading thinkers and policymakers examine what's come apart in the past year, and anticipate what will define the year ahead.
Die feierliche Unterzeichnung des Abkommens im Hauptquartier der Geheimdienstbehörde wurde gänzlich von den Ägyptern inszeniert, die die Versöhnung als Meilenstein in Richtung eines viel umfassenderen Ziels betrachten. Wie im Eröffnungskapitel des Abkommens festgehalten, ist diese Aussöhnung auf das "Beharren" des ägyptischen Präsidenten Abdel Fattah al-Sisi zurückzuführen, die Spaltung unter den Palästinensern zu beenden und zwar "mit dem Ziel der Schaffung eines unabhängigen Staates" innerhalb der Grenzen aus der Zeit vor 1967.  
Ägyptens Führungsrolle in diesem Prozess wird die Geltung des Landes in der arabischen Welt steigern und seine Position als regionales Schwergewicht stärken. Das Versöhnungsabkommen zwischen Hamas und Fatah hat bereits manches dazu beigetragen, dieses Ziel zu erreichen und der Regierung al-Sisis einen dringend benötigten moralischen Schub verliehen.
Die gute Nachricht für Ägypten lautet, dass die Palästinenser ihre erneute Bereitschaft zeigten, nicht nur die Aussöhnung zu verfolgen, sondern auch in einen schwierigen Verhandlungsprozess mit Israel und seinem wichtigsten strategischen Verbündeten, den Vereinigten Staaten, einzutreten. Dieses Wiedererwachen der nationalen Politik der Palästinenser spiegelt in hohem Maße den jüngsten Sinneswandel der Hamas wider, der jahrelangen Widrigkeiten für die sunnitisch islamistische Organisation folgt.
Die Schwierigkeiten der Hamas begannen, als sie sich entschied, sowohl in Syrien als auch in Ägypten die falsche Seite zu unterstützen. Das Regime des syrischen Diktators Baschar al-Assad behielt die Oberhand gegenüber den von der Hamas unterstützten islamischen Rebellen in Damaskus, während die Hamas-gestützte Regierung der Muslimbruderschaft unter Mohammed Mursi in Ägypten nach einem Jahr gestürzt wurde. Dann beendeten Saudi Arabien, Ägypten, die Vereinigten Arabischen Emirate und Bahrain die diplomatischen Beziehungen mit Katar, wodurch die Hamas ihren finanziellen und politischen Rückhalt aus Katar und dem Iran verlor.
Mit wenigen Freunden und noch weniger Sponsoren in der Region, blieb der Hamas wenig anderes übrig, als zu den anderen Palästinensern zurückzukehren. Rasch und bedingungslos akzeptierte die Organisation drei Forderungen von Präsident Mahmud Abbas: nämlich den von der Hamas geführten Verwaltungsausschuss aufzulösen, der in Ramallah ansässigen palästinensische Regierung ihre Rolle in Gaza wieder zuzuerkennen und die Abhaltung von Präsidenten- und Parlamentswahlen sowohl in Gaza als auch im Westjordanland zuzulassen.
Die Aussöhnung unter den Palästinensern wird mit Sicherheit den Weg in Richtung Frieden ebnen, nicht zuletzt, weil die Wahlen diejenigen mit der notwendigen Legitimität ausstatten werden, die mit der Aufgabe der Verhandlungen mit Israel betraut werden. Doch die wirkliche Arbeit – für Ägypten und die Palästinenser – liegt noch vor ihnen.
Um einen unabhängigen palästinensischen Staat innerhalb der Grenzen vor 1967 zu erreichen, werden beide Akteure sowohl mit den USA unter Präsident Donald Trump als auch mit Israel unter Ministerpräsident Benjamin Netanjahu arbeiten müssen. Und an dieser Front liegen die Erwartungen niedrig.
Trump behauptet, er werde den "ultimativen Deal" zur Lösung des israelisch-palästinensischen Konflikts liefern. Allerdings sind Trump und Netanjahu – die sich gegenseitig in ihrem harten Kurs aufwiegeln - weiterhin nicht bereit, eine Lösung zu akzeptieren, die dem Rest der Welt als Grundvoraussetzung für jedes gute Abkommen erscheint: eine Zweistaatenlösung. Und es ist unwahrscheinlich, dass der alternde Abbas irgendein schlechtes Abkommen akzeptiert, das die entschieden pro-israelisch orientierte Trump-Administration anbietet.
Doch sogar dieses aussichtslose Szenario ist möglicherweise optimistisch, weil man davon ausgeht, dass Gespräche stattfinden werden – was unmöglich ist, solange Israel die illegale Errichtung von Siedlungen in besetzten palästinensischen Gebieten fortsetzt. Derartige Aktivitäten sind nicht nur ungerecht, sondern stellen einen Bruch der im letzten Jahr beinahe einstimmig verabschiedeten Resolution 2334 des UNO-Sicherheitsrates dar (die USA unter Barack Obama enthielten sich der Stimme). In dieser Resolution wird gefordert, dass "Israel die Errichtung von Siedlungen in den besetzten palästinensischen Gebieten, einschließlich Ost-Jerusalem" einstellt – Aktivitäten, die einem "flagranten Verstoß gegen das Völkerrecht" gleichkommen.
Jedes Abkommen zwischen Israelis und Palästinensern erfordert grundlegende Zugeständnisse von beiden Seiten – Zugeständnisse, von denen die Führungspersönlichkeiten auf beiden Seiten ihre jeweilige Öffentlichkeit überzeugen müssen. Der mit der Beilegung des Konflikts beauftragte Schwiegersohn und Berater Trumps, Jared Kushner, sowie der für diese Frage zuständige Chefverhandler der Trump-Administration, Jason Greenblatt, scheinen das zu verstehen. Ebenso wie auch Ägypten, das deutlich gemacht hat, dass eine geteilte palästinensische Führung ohne öffentliches Mandat, wie das nach neuerlichen Wahlen zu erwarten ist, nicht in der Lage sein wird, ernsthafte Verhandlungen zu führen oder die Unterstützung der Menschen für ein Abkommen zu gewinnen.   
Die Frage lautet, ob die Israelis bereit sind, derartige Zugeständnisse zu machen und entweder eine Zweistaatenlösung oder ein System echter und glaubwürdiger Machtverteilung innerhalb eines einzigen Staates zuzulassen. Wenn nicht, wird die jüngste palästinensische Aussöhnung, so positiv sie auch sein mag, nicht den Anfang vom Ende des palästinensischen Konflikts bedeuten. Sie wird vielmehr den Anfang eines neuen Kapitels im Kampf um die Freiheit der Palästinenser markieren.
Aus dem Englischen von Helga Klinger-Groier