L'accord de réconciliation entre Palestiniens ressuscitera-t-il la solution à deux États ?
RAMALLAH – Lorsque les représentants des deux principales factions palestiniennes, le Fatah et le Hamas, ont signé un nouvel accord de réconciliation au Caire le 12 octobre, les projecteurs n'étaient pas braqués sur les signataires, Azzam al-Ahmad, membre du Comité central du Fatah et Saleh al-Arouri, vice-président du bureau politique du Hamas, mais sur l'homme qui se tenait debout derrière eux : le général Khaled Fawzy, chef des services de renseignement égyptiens.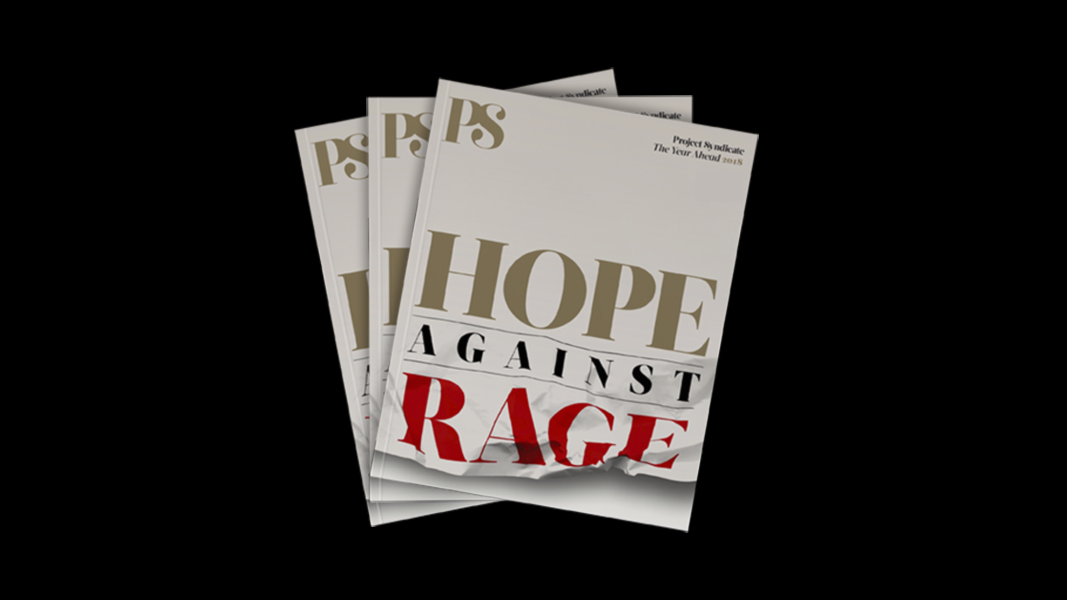 The Year Ahead 2018
The world's leading thinkers and policymakers examine what's come apart in the past year, and anticipate what will define the year ahead.
La cérémonie, tenue au siège de la Direction générale du renseignement, a été entièrement orchestrée par les Égyptiens, qui perçoivent la réconciliation comme un tremplin vers un objectif autrement plus important. Comme indiqué dans le préambule de l'accord, il trouve son origine dans « l'insistance » du président égyptien à mettre fin aux divisions entre Palestiniens « dans le but de créer un État indépendant » dans les frontières de 1967.
L'impulsion donnée par l'Égypte à ce processus rehaussera l'image du pays dans le monde arabe et renforcera sa position de poids lourd régional. L'accord de réconciliation a déjà contribué à atteindre cet objectif, en donnant un coup de pouce fort nécessaire à la quête de reconnaissance du gouvernement al-Sissi.
La bonne nouvelle pour l'Égypte est que les Palestiniens ont démontré une nouvelle volonté, non seulement à poursuivre dans la voie de la réconciliation, mais également à persister à mener des négociations difficiles avec Israël et son principal allié stratégique, les États-Unis. Le renouveau d'une politique nationale palestinienne reflète en grande partie la récente évolution de la position du Hamas, à la suite d'années d'épreuves subies par le mouvement islamique sunnite.
Les difficultés du Hamas ont commencé lorsque le mouvement a décidé de miser sur des acteurs perdants en Syrie et en Égypte. Le régime du dictateur syrien Bachar el-Assad l'a emporté sur les rebelles islamistes soutenus par le Hamas, tandis qu'en Égypte, le gouvernement des Frères musulmans, également appuyé par le Hamas et dirigé par Mohamed Morsi, est tombé après un an au pouvoir. L'Arabie saoudite, l'Égypte, les Émirats arabes unis et le Bahreïn ont ensuite rompu leurs relations diplomatiques avec le Qatar, privant ainsi le Hamas du soutien politique et financier du Qatar et de l'Iran.
Avec peu d'amis, et encore moins de soutiens, dans la région, le Hamas n'avait plus d'autre choix que se tourner vers ses frères palestiniens. Cette faction a accepté rapidement et sans conditions les trois demandes du président palestinien Mahmoud Abbas : la dissolution du comité administratif dirigé par le Hamas, l'exercice par l'Autorité palestinienne de ses responsabilités dans la bande de Gaza et la tenue d'élections présidentielles et législatives à Gaza et en Cisjordanie.
La réconciliation entre Palestiniens ouvrira certainement la voie à la paix, surtout parce que les élections prévues donneront la légitimité nécessaire à ceux qui seront chargés de mener les négociations avec Israël. Mais le véritable travail – pour les Égyptiens et les Palestiniens – reste encore à faire.
Pour concrétiser un État palestinien indépendant dans les frontières de 1967, ces deux acteurs devront trouver une entente avec d'un côté les États-Unis, présidés par Donald Trump, et Israël, avec Benyamin Netanyahou comme Premier ministre. Sur ce front, le pessimisme est de mise.
Trump affirme pouvoir conclure « l'accord ultime » pour mettre fin au conflit israélo-palestinien. Mais tant Trump que Netanyahou, qui puisent chacun dans le bellicisme de l'autre, continuent à refuser d'accepter ce que le reste du monde perçoit comme le principe de base d'un accord viable : la solution à deux États. Et le vieillissant président Abbas n'acceptera sans doute pas un mauvais accord proposé par l'administration Trump, ouvertement pro-Israël.
Même ce scénario futile pourrait sembler optimiste, s'il signifie une reprise des négociations – une impossibilité tant qu'Israël continue à construire illégalement des colonies dans les territoires palestiniens occupés. Ces activités ne sont pas seulement injustes, elles dérogent à la Résolution 2334 du Conseil de sécurité des Nations unies, adoptée à la quasi unanimité l'an dernier (les États-Unis, présidés par Barack Obama, s'étaient abstenus). Cette résolution « exige de nouveau d'Israël qu'il arrête immédiatement et complètement toutes ses activités de peuplement dans le Territoire palestinien occupé, y compris Jérusalem-Est » - des activités qui constituent «  une violation flagrante du droit international ».
Tout accord entre Israéliens et Palestiniens implique de vastes concessions de part et d'autre – des concessions que les dirigeants des deux parties devront convaincre leurs citoyens d'accepter. Le conseiller et gendre de Trump, Jared Kushner, chargé de résoudre le conflit israélo-palestinien et Jason Greenblatt, le principal négociateur de l'administration Trump sur cette question, semblent le comprendre. L'Égypte en est bien consciente et a clairement indiqué qu'une direction palestinienne divisée sans mandat des électeurs, comme celui qui pourrait leur être donné par les prochaines élections, ne serait pas en mesure de mener des négociations sérieuses ou d'obtenir un soutien populaire pour un éventuel accord.
La question se pose de savoir si les Israéliens sont prêts à faire ce genre de concessions, soit en vue d'une solution à deux États ou d'un système crédible de partage du pouvoir dans le cadre d'un État unique. Si ce n'est pas le cas, le récente réconciliation palestinienne, aussi positive soit-elle, ne marquera pas le début de la fin du conflit israélo-palestinien, mais juste un nouveau chapitre de la lutte pour la liberté des Palestiniens.