Los forcejeos de la globalización 4.0
GINEBRA – Después de la Segunda Guerra Mundial, la comunidad internacional aunó esfuerzos para construir un futuro compartido. Hoy en día, debe hacer esto de nuevo. Debido a la lenta y desigual recuperación durante la década tras la crisis financiera mundial, una parte sustancial de la sociedad se ha visto atrapada por la insatisfacción y la amargura; y, no sólo con respecto a la política y los políticos, sino también con relación a la globalización y todo el sistema económico que esta sustenta. En una época de inseguridad y frustración generalizadas, el populismo, se ha tornado como una opción cada vez más atractiva, como una alternativa al status quo.
Sin embargo, el discurso populista elude  – y a menudo confunde – las distinciones sustantivas entre dos conceptos: globalización y globalismo. La globalización es un fenómeno impulsado por la tecnología y el movimiento de ideas, personas y bienes. El globalismo es una ideología que prioriza el orden global neoliberal sobre los intereses nacionales. Nadie puede negar que estamos viviendo en un mundo globalizado. No obstante, afirmar que todas nuestras políticas deberían ser "globalistas" es muy discutible.
Al fin y al cabo, este momento de crisis ha planteado preguntas importantes sobre nuestra arquitectura de gobernanza global. Teniendo en cuenta que cada vez más y más votantes exigen "recuperar el control" de las manos de las "fuerzas globales", el desafío que se enfrenta es la restauración de la soberanía en un mundo que necesita de la cooperación entre partes. En lugar de cerrar las economías a través del proteccionismo y la política nacionalista, debemos forjar un nuevo pacto social entre los ciudadanos y sus líderes, para que todos se sientan lo suficientemente seguros dentro de su propio país como parar permanecer abiertos al mundo en general. Si esto falla, la continua desintegración de nuestro tejido social podría, en última instancia, provocar el colapso de la democracia.
Además, los desafíos asociados con la Cuarta Revolución Industrial (4IR) coinciden con el rápido surgimiento de restricciones ecológicas, el advenimiento de un orden internacional cada vez más multipolar y una creciente desigualdad. Estos sucesos integrados están marcando el comienzo de una nueva era de globalización. Si esta nueva era va a mejorar la condición humana dependerá de si la gobernanza corporativa, local, nacional e internacional se puede adaptar a estos sucesos, a tiempo.
De manera paralela, un nuevo marco para la cooperación público-privada global ha ido tomando forma. La cooperación público-privada consiste en aprovechar el sector privado y los mercados abiertos para impulsar el crecimiento económico para el bien público, teniendo siempre en cuenta la sostenibilidad ambiental y la inclusión social. Sin embargo, para determinar lo que comprende el bien público, primero debemos identificar las causas de la desigualdad.
Por ejemplo, si bien los mercados abiertos y la mayor competencia ciertamente producen ganadores y perdedores en el ámbito internacional, también pueden tener un efecto aún más pronunciado sobre la desigualdad a nivel nacional. Es más, la creciente brecha entre quienes forman parte del precariado y los privilegiados se está reforzando con los modelos de negocios de la Cuarta Revolución Industrial (4IR), que a menudo hacen que las ganancias sean para quienes son dueños del capital o de la propiedad intelectual.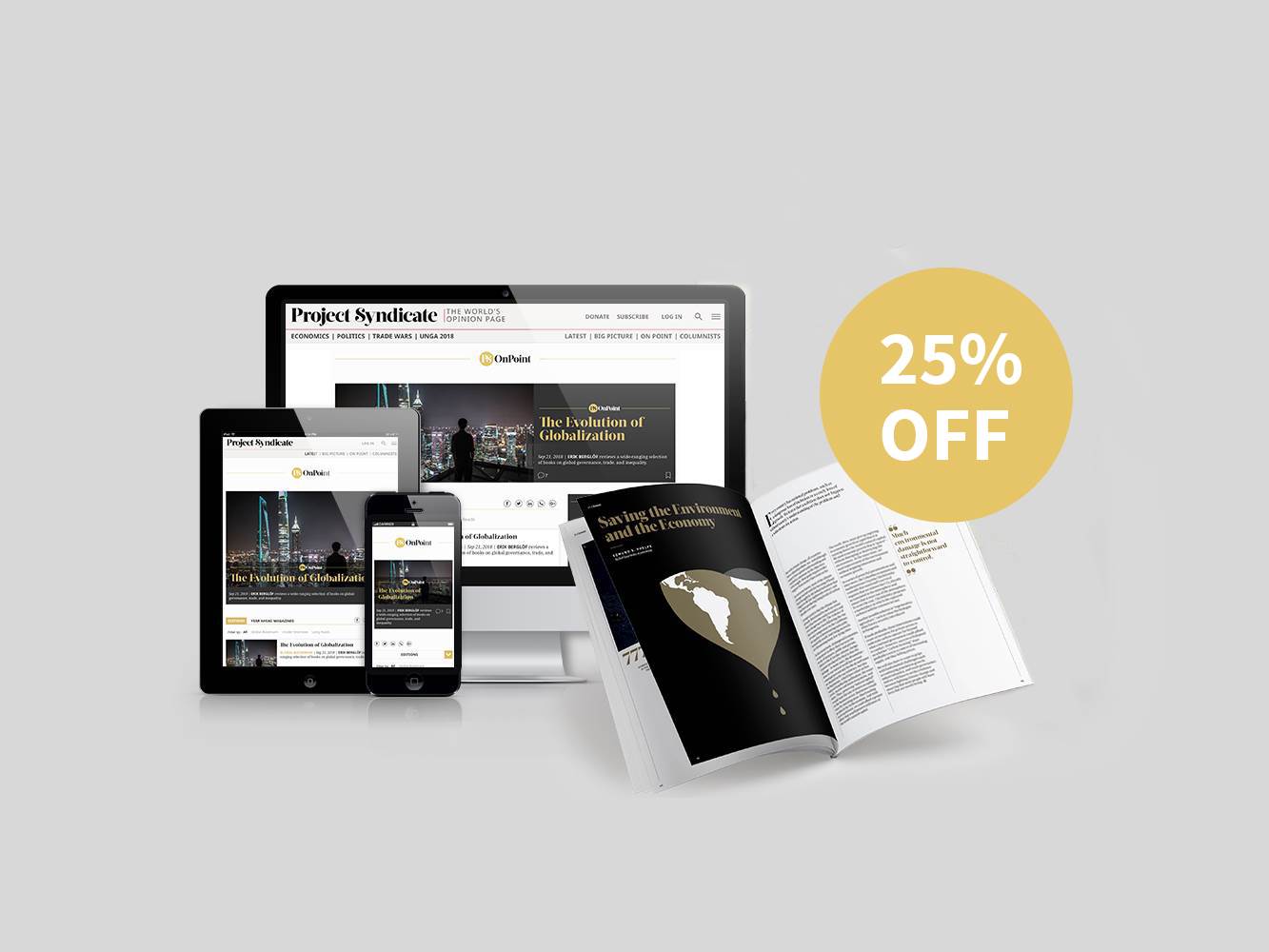 Subscribe now
For a limited time only, get unlimited access to On Point, The Big Picture, and the PS Archive, plus our annual magazine, for just $75.
Cerrar esa brecha requiere que reconozcamos que estamos viviendo en un nuevo tipo de economía impulsada por la innovación, y que se necesitan nuevas normas, estándares, políticas y convenios globales para salvaguardar la confianza del público. La nueva economía ya ha perturbado y recombinado innumerables industrias, y ha desplazado a millones de trabajadores. Esta nueva economía desmaterializa la producción a medida de que aumenta la intensidad del conocimiento en la creación de valor. A su vez, también aumenta la competencia dentro de los mercados nacionales de productos, capitales y trabajo, así como entre los países que adoptan diferentes estrategias de comercio e inversión. Y, aviva la desconfianza, en especial con relación a las empresas de tecnología y la forma como estas administran nuestros datos.
El ritmo sin precedentes del cambio tecnológico significa que nuestros sistemas de salud, transporte, comunicación, producción, distribución y energía –  sólo para nombrar unos pocos – se transformarán completamente. Gestionar ese cambio requerirá no sólo de nuevos marcos para la cooperación nacional y multinacional, sino también de un nuevo modelo de educación, complementado con programas específicos para enseñar nuevas habilidades a los trabajadores. Recurriendo a avances en robótica e inteligencia artificial en el contexto del envejecimiento de las sociedades, tendremos que pasar de una narrativa de producción y consumo a una de compartir y cuidar a las personas.
La globalización apenas ha comenzado; pero, ya estamos muy poco preparados para ella. Aferrarse a una mentalidad obsoleta y llevar a cabo pequeños ajustes a nuestros procesos e instituciones existentes, no será para nada suficiente. En cambio, debemos rediseñar estos procesos e instituciones desde cero, con el propósito de poder aprovechar las nuevas oportunidades que nos esperan, mientras paralelamente evitamos el tipo de perturbaciones que presenciamos hoy.
A medida que desarrollamos un nuevo abordaje para dirigirnos hacia la nueva economía, debemos recordar que no estamos jugando un juego de suma cero. Este no es un tema de dicotomías: libre comercio o proteccionismo, tecnología o empleos, inmigración o protección de los ciudadanos, crecimiento o igualdad. Todas esas dicotomías son falsas, y las podemos evitar desarrollando políticas que favorezcan la palabra "y", haciendo que prevalezca sobre la "o", permitiendo que se pueda ir tras la consecución de la totalidad de los mencionados intereses, de manera paralela.
Sin duda, los pesimistas argumentarán que las condiciones políticas se interponen en el camino de un diálogo global productivo sobre la Globalización 4.0 y la nueva economía. Pero, los realistas utilizarán el momento actual para explorar las brechas en el sistema actual e identificar los requisitos para un futuro abordaje. Y, los optimistas se aferrarán a la esperanza de que las partes interesadas con visión de futuro crearán una comunidad de intereses compartidos y, en última instancia, un propósito compartido.
Los cambios que están en curso hoy en día no son cambios aislados que afectan a un país, una industria o un problema en particular. Son cambios universales; y, por lo tanto, requieren de una respuesta global. La no adopción de un nuevo abordaje cooperativo sería una tragedia para la humanidad. Con el propósito de elaborar un plan para una arquitectura de gobernanza global compartida, tenemos que evitar quedarnos atascados en el momento actual de gestión de crisis.
Específicamente, esta tarea requerirá dos cosas de la comunidad internacional: un compromiso más amplio y una mayor imaginación. El compromiso de todas las partes interesadas en un diálogo sostenido será crucial, al igual que la imaginación para pensar de manera sistémica, y más allá de las propias consideraciones institucionales y nacionales cortoplacistas.
Estos serán los dos principios organizativos de la próxima Reunión Anual del Foro Económico Mundial en Davos-Klosters, que se reunirá para considerar el tema "Globalización 4.0: Configuración de una arquitectura global en la era de la Cuarta Revolución Industrial". Estemos listos o no, un nuevo mundo se nos viene encima.
Traducción del inglés: Rocío L. Barrientos.