Как ответить на Глобализацию 4.0
ЖЕНЕВА – После Второй мировой войны международное сообществ объединилось, чтобы построить общее будущее. Сегодня оно обязано сделать это ещё раз. Из-за медленного и неравномерного восстановления экономики на протяжении десяти лет после мирового финансового кризиса значительная часть общества стала испытывать недовольство и озлобленность, причём не только в отношении политики и политиков, но также глобализации и всей экономической системы, на которую она опирается. В эпоху повсеместной нестабильности и разочарования стала расти привлекательность популизма как альтернативы сложившемуся статус-кво.
Однако в популистских рассуждениях игнорируется (и зачастую смешивается) существенное различие между двумя концепциями – глобализация и глобализм. Глобализация – это феномен, связанный с технологиями, а также передвижением идей, людей и товаров. Глобализм – это идеология, которая ставит неолиберальный глобальный порядок выше национальных интересов. Никто не может отрицать, что мы живём в глобализированном мире. Однако идея, что все наши политические решения быть «глобалистскими», является крайне спорной.
Нынешний кризисный момент поднимает важные вопросы по поводу архитектуры нашего глобального управления. В условиях роста числа избирателей, которые требуют «забрать обратно контроль» у «глобальных сил», трудность заключается в том, чтобы восстановить суверенитет в мире, требующем сотрудничества. Вместо того чтобы закрывать экономику с помощью протекционизма и националистической политики, мы должны выработать новый социальный договор между гражданами и их лидерами, с тем чтобы каждый чувствовал себя в своей стране в достаточной безопасности и оставался открытым к остальному миру. Если этого не сделать, нынешняя дезинтеграция нашей социальной ткани может в конечном итоге привести к краху демократии.
Кроме того, проблемы, порождаемые Четвёртой промышленной революцией (4ПР), совпадают с быстрым ростом экологических ограничений, зарождением более многополярного международного порядка, а также повышением уровня неравенства. Эти взаимосвязанные события предвещают наступление новой эры глобализации. Ответ на вопрос, улучшит ли эта эра условия жизни людей, будет зависеть от того, сумеют ли к ней вовремя адаптироваться корпоративные, местные, национальные и международные системы управления.
Тем временем начинают обретать форму новые механизмы глобального частно-государственного сотрудничества. Целью частно-государственного сотрудничества является использование возможностей частного сектора и открытых рынков для того, чтобы направить экономический рост на благо общества, причём с обязательным учётом задачи повышения экологической устойчивости и социальной инклюзивности. Впрочем, для определения этого общественного блага мы должны сначала выявить изначальные причины неравенства.
Например, открытые рынки и рост конкуренции явно приводят к появлению победителей и проигравших на международной арене, но на национальном уровне они могут иметь ещё более ярко выраженные последствия. Кроме того, растущий разрыв между работниками с нестабильной занятостью («прекариат») и привилегированным классом усиливается из-за бизнес-моделей 4ПР, которые зачастую позволяют извлекать ренту тем, кто обладает капиталом или интеллектуальной собственностью.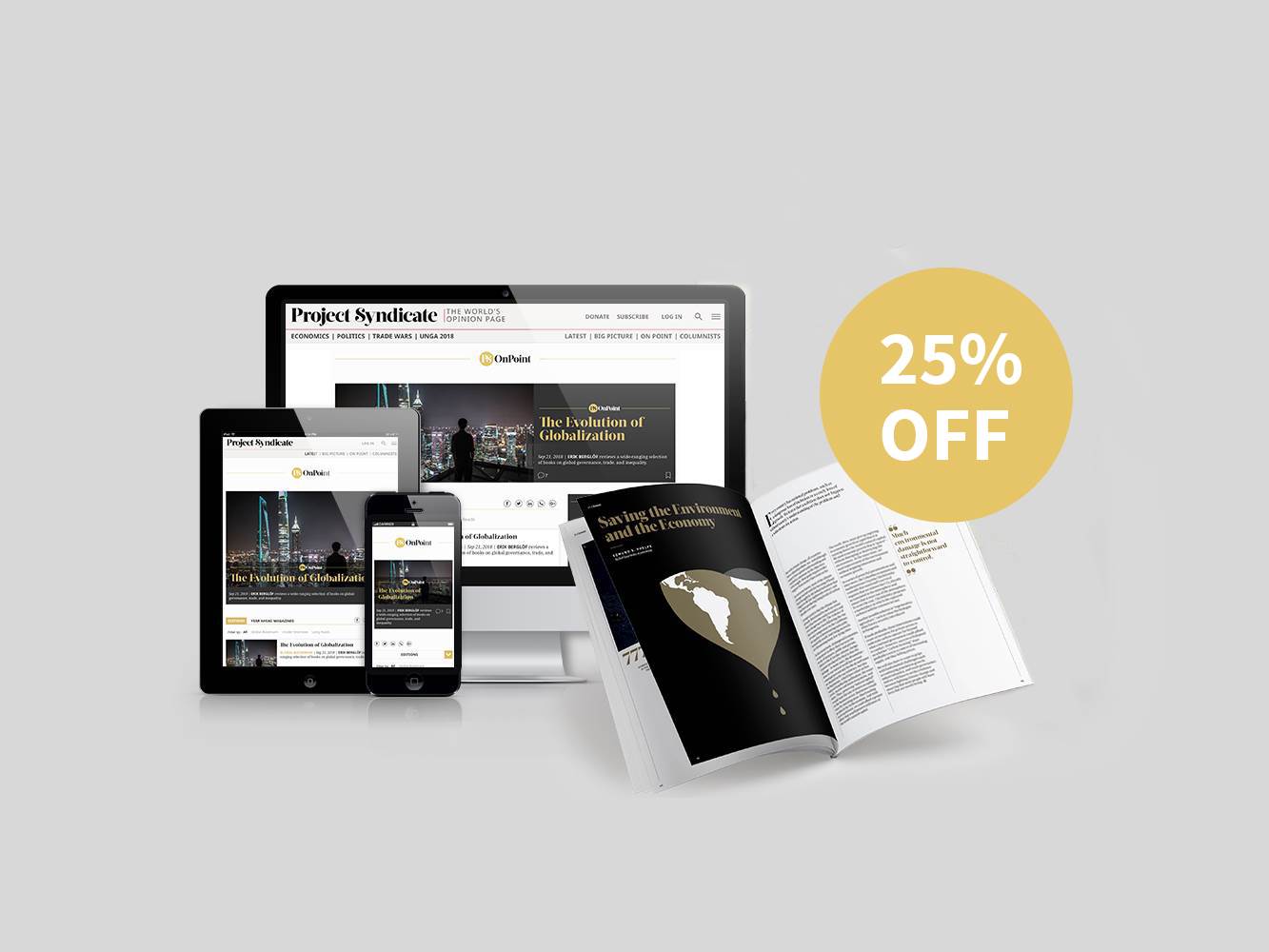 Subscribe now
For a limited time only, get unlimited access to On Point, The Big Picture, and the PS Archive, plus our annual magazine and a tote bag, for just $75.
Для сокращения этого разрыва мы должны, прежде всего, признать, что мы живём в инновационной экономике нового типа, и что для сохранения общественного доверия потребуются новые глобальные нормы, стандарты, решения и соглашения. Новая экономика уже привела к радикальным изменениям и перестройке бесчисленного множества отраслей, а также заставила искать новую работу миллионы людей. Она дематериализует продукцию, повышая роль знаний в создании стоимости. Она усиливает конкуренцию на внутренних рынках товаров, капиталов и труда, а также между странами, которые следуют различным торговым и инвестиционным стратегиям. Наконец, она усиливает недоверие, причём особенно к технологическим компаниям и к тому, как они защищают наши данные.
Беспрецедентные темпы технологических перемен означают, что наши системы здравоохранения, транспорта, коммуникаций, производства, дистрибуции и энергетики (и этот перечень далеко не полон) полностью преобразятся. Для управление этими переменами потребуются не только новые механизмы сотрудничества на национальном и международном уровнях, но и новая модель образования, дополняемая целевыми программами обучения работников новым навыкам. Учитывая прогресс в сфере робототехники и искусственного интеллекта в условиях старения наших обществ, мы должны будем перейти от концепции «производство и потребление» к концепции «общее пользование и забота о людях» («sharing and caring»).
Глобализация 4.0 лишь только начинается, но уже понятно, что мы к ней совершенно не подготовлены. Попытки уцепиться за устаревший менталитет и подлатать существующие процессы и институты не помогут. Наоборот, нам нужно перестроить их до основания, так чтобы мы смогли получать выгоды от новых возможностей, которые будут перед нами открываться, и одновременно предотвращать те виды неожиданных сбоев, которые мы наблюдаем сегодня.
Разрабатывая новые подходы к новой экономике, мы должны помнить о том, что речь не идёт о нашем участии в игре с нулевой суммой. Это не вопрос выбора между свободной торговлей или протекционизмом, технологиями или рабочими местами, иммиграцией или защитой граждан, экономическим ростом или сохранением равенства. Всё это – ложная дихотомия, и мы можем избежать её, разрабатывая решения, в которых отдаётся предпочтение «и», а не «или», что позволяет учитывать все виды интересов параллельно.
Да, конечно, пессимисты будут доказывать, что политическая ситуация мешает продуктивному глобальному диалогу на тему Глобализации 4.0 и новой экономики. Однако реалисты воспользуются текущим моментом, чтобы изучить прорехи в нынешней системе и сформулировать требования к будущим подходам. А оптимисты будут руководствоваться надеждами на то, что все, кто ориентируется на будущее, создадут сообщество единых интересов, а в конечном итоге и единой цели.
Происходящие сегодня перемены не являются каким-то изолированным явлением, свойственным отдельной стране, отрасли или проблеме. Они универсальны и поэтому требуют глобального ответа. Если не будут выработаны новые подходы, предполагающие сотрудничество, это станет трагедией для человечества. Стремясь разработать проект общей для всех архитектуры глобального управления, мы должны избегать излишнего погружения в текущий момент антикризисного менеджмента.
Если конкретно, выполнение данной задачи потребует от международного сообщества двух вещей – более широкого участия и значительного воображения. Критически важным будет как участие всех сторон в устойчивом диалоге, так и воображение, позволяющее думать системно, и не ограничиваясь чьими-либо краткосрочными институциональными или национальными соображениями.
Именно такими будут два организационных принципа предстоящего ежегодного Всемирного экономического форума в Давосе-Клостерсе; его тема – «Глобализация 4.0: Формирование новой архитектуры в эпоху Четвёртой промышленной революции». Готовы мы к этому или нет, но новый мир уже здесь.