La era de los megaproyectos
WASHINGTON, DC – Parece que estamos entrando en una nueva era de megaproyectos: los países –en especial los del G20– movilizan al sector privado para que invierta fuertemente en iniciativas de infraestructura de millones, miles de millones, o billones de dólares, como ductos, represas, sistemas eléctricos e hídricos, y redes de caminos.
El gasto en megaproyectos ya representa aproximadamente entre 6 y 9 billones de dólares al año, aproximadamente el 8 % del PBI mundial, y constituye «la mayor bonanza de inversiones en la historia humana». Y la geopolítica, junto con la búsqueda del crecimiento económico, de nuevos mercados y de recursos naturales, canalizan aún más financiamiento hacia los proyectos de infraestructura de gran escala. En la cúspide de una posible explosión sin precedentes de este tipo de proyectos, tanto los líderes mundiales como los prestamistas parecen relativamente ajenos a las costosas lecciones que nos ha dejado el pasado.
Ciertamente, las inversiones en infraestructura pueden atender a necesidades reales y ayudar a cubrir el esperado aumento en la demanda de alimentos, agua y energía. Pero, a menos que la explosión de los megaproyectos se redirija y gestione cuidadosamente, es probable que el esfuerzo resulte contraproducente e insostenible. Sin controles democráticos, los inversores pueden privatizar las ganancias y socializar las pérdidas, consolidando enfoques con elevadas emisiones de carbono y que generan otros perjuicios ambientales y sociales.
Para comenzar, tenemos la cuestión de la rentabilidad. En vez de adoptar filosofías del tipo «lo pequeño es hermoso» o «cuanto más grande, mejor», los países deben construir infraestructura «a escala adecuada», según sus propósitos.
Bent Flyvbjerg, un profesor de la Universidad de Oxford especializado en la administración y planificación de programas, estudió 70 años de datos para concluir que existe una «ley de hierro de los megaproyectos»: casi invariablemente, «exceden sus presupuestos y cronogramas, una y otra vez». Son también, agrega, ejemplos de la «supervivencia del menos apto»: los peores proyectos son los que finalmente se construyen.
Este riesgo se ve incrementado porque estos megaproyectos son impulsados en gran medida por la geopolítica en vez de por una cuidadosa evaluación económica. El PBI mundial de 2014 es más del doble que en el año 2000 (llegó a los 75 billones de USD), mientras que la participación de los países del G7 en la economía mundial cayó del 65 % al 45 %. Mientras el entorno internacional se ajusta a este reequilibrio, Estados Unidos ha comenzado a preocuparse por el desafío a su hegemonía que implican estos nuevos jugadores e instituciones, como el Banco Asiático de Inversión para Infraestructura, liderado por China. Las instituciones lideradas por Occidente, como el Banco Mundial y el Banco Asiático de Desarrollo, reaccionaron ampliando agresivamente sus operaciones de inversiones en infraestructura y abiertamente llaman a un cambio de paradigma.
Secure your copy of PS Quarterly: The Year Ahead 2023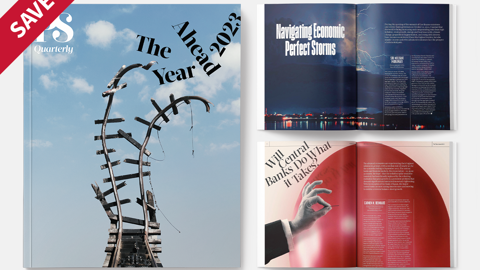 Secure your copy of PS Quarterly: The Year Ahead 2023
Our annual fourth-quarter magazine is here, and available only to Digital Plus and Premium subscribers. Subscribe to Digital Plus today, and save $15.

El G20 también está acelerando el lanzamiento de megaproyectos con la esperanza de aumentar las tasas de crecimiento mundial al menos un 2 % para 2018. La OCDE estima que serán necesarios unos 70 billones de USD adicionales en infraestructura para 2030: un gasto promedio de poco más de 4,5 billones de USD al año. En comparación, se estima que serían necesarios unos 2 a 3 billones de USD al año, para cumplir con las Metas de Desarrollo Sostenible. Claramente, en los megaproyectos el potencial de derroche, corrupción y aumento de la deuda pública insostenible es elevado.
La segunda cuestión que se debe considerar son los límites del planeta. En una carta al G20 de marzo de 2015, un grupo de científicos, ambientalistas y líderes de opinión advirtió que aumentar la inversión en megaproyectos conlleva el riesgo de daños irreversibles y catastróficos al medio ambiente. «Cada año ya consumimos aproximadamente un planeta y medio de recursos», explicaron los autores. «Las decisiones sobre infraestructura deben aliviar, en vez de exacerbar, esta situación».
De manera similar, el Grupo Intergubernamental de Expertos sobre el Cambio Climático previene que «los avances en infraestructura y productos de gran perdurabilidad que obligan a las sociedades a mantener intensas emisiones de gases de efecto invernadero pueden llevar a comportamientos muy difíciles o costosos de cambiar». Y, de hecho, el G20 ha implementado pocos criterios sociales, ambientales o climáticos en la «lista de deseos» para los megaproyectos, que cada país miembro debe presentar en noviembre en la cumbre que se llevará a cabo en Turquía.
El tercer posible problema de los megaproyectos es su dependencia de las asociaciones público-privadas. Como parte del renovado foco en las inversiones a gran escala, el Banco Mundial, el Fondo Monetario Internacional y otros prestamistas multilaterales han lanzado una iniciativa para rediseñar las finanzas para el desarrollo mediante, entre otras cosas, la creación de nuevas clases de activos de infraestructura social y económica para atraer la inversión privada. «Debemos aprovechar los billones de dólares en manos de inversores institucionales... y dirigirlos hacia proyectos», dijo el presidente del Banco Mundial, Jim Yong Kim.
Usando el dinero público para contrarrestar el riesgo, las instituciones esperan atraer inversores institucionales a largo plazo –incluidos fondos de inversión, empresas aseguradoras, fondos de pensiones y fondos soberanos de inversión patrimonial– que controlan conjuntamente unos 93 billones de USD en activos. Esperan que aprovechar esta enorme reserva de capital les permitirá aumentar la escala de la infraestructura y transformar las finanzas para el desarrollo de maneras que antes eran inimaginables.
El problema es que las asociaciones público-privadas deben proporcionar una rentabilidad competitiva sobre las inversiones. Por ello, según investigadores de la London School of Economics, «no se las considera como un instrumento adecuado para proyectos [de tecnologías de la información], o en casos en que posibles problemas sociales limiten los cobros a los usuarios, que pueden hacer que un proyecto resulte interesante para el sector privado». Los inversores privados buscan mantener la tasa rentabilidad para sus inversiones con flujos de ingresos garantizados y asegurándose de que las leyes y la normativa (incluidos los requisitos ambientales y sociales) no limiten sus beneficios. El riesgo es que la búsqueda de beneficios socave el bien público.
Finalmente, las normas que rigen las inversiones a largo plazo no incorporan eficazmente los riesgos ambientales y sociales de largo plazo relacionados, como lo destacan los sindicatos y el Programa de Naciones Unidas para el Medio Ambiente. Consolidar en carteras las inversiones de infraestructura o convertir a los sectores de desarrollo en clases de activos podría llevar a la privatización de las ganancias y la socialización de las pérdidas a escala masiva. Esta dinámica puede aumentar los niveles de desigualdad y socavar la democracia debido a la falta de influencia que los gobiernos –y mucho más, los ciudadanos– pueden tener sobre los inversores institucionales. Por lo general, las normas y los acuerdos comerciales multiplican estos problemas al priorizar los intereses de los inversores frente a los de los ciudadanos comunes.
Si no se los evalúa, la presión por avanzar con los megaproyectos genera el riesgo –según los autores de la carta al G20– de «duplicar la apuesta por una visión peligrosa». Es fundamental que garanticemos que cualquier transformación de las finanzas para el desarrollo se diseñe de manera tal que respete los derechos humanos y proteja al planeta.