Het tijdperk van de megaprojecten
WASHINGTON, DC – Het lijkt erop dat we een nieuw tijdperk van megaprojecten betreden nu landen, in het bijzonder die van de G-20, de private sector mobiliseren om zwaar te investeren in infrastructuurprojecten van vele miljoenen dollars (als niet miljarden of biljoenen), zoals pijpleidingen, dammen, water- en elektriciteitssystemen, en wegen.
De uitgaven aan megaprojecten lopen nu al op tot 6 tot 9 biljoen dollar per jaar, ruwweg 8% van het mondiale bbp, wat deze maken tot 'de grootste investeringshausse in de menselijke geschiedenis.' En de geopolitiek, het streven naar economische groei, de zoektocht naar nieuwe markten, en de jacht op natuurlijke hulpbronnen drijft nog meer financiering richting grootschalige infrastructuurprojecten. Aan de vooravond van deze mogelijk ongekende explosie in dit soort projecten, lijken de wereldleiders en financiers zich relatief onbewust te zijn van de kostbare lessen uit het verleden.
Zeker, investeringen in infrastructuur kunnen echte behoeften lenigen, en helpen de verwachte toename in de vraag naar voedsel, water en energie te vervullen. Maar tenzij de explosie in megaprojecten zorgvuldig wordt herbestemd en beheerd, zal deze inspanning waarschijnlijk contraproductief zijn en niet duurzaam. Zonder democratische controle zouden investeerders de winsten kunnen privatiseren en de verliezen socialiseren, terwijl ze koolstof-intensieve en andere milieu- en sociaal schadelijke benaderingen hanteren.
Om te beginnen is er de kwestie van kosteneffectiviteit. In plaats van een 'klein is fijn' of 'hoe groter hoe beter' filosofie over te nemen, moeten landen infrastructuur op 'de juiste schaal' voor zijn gebruiksdoelen bouwen.
Bent Flyvberg, hoogleraar aan Oxford gespecialiseerd in programmamanagement en -planning, bestudeerde 70 jaar aan data om te concluderen dat er een 'ijzeren megaprojectenwet' bestaat: ze zijn zonder uitzondering 'boven budget, niet op tijd af, en dat steeds opnieuw.' Ook zijn ze onderhevig aan de 'survival of the unfittest,' waarbij de slechtste projecten worden gerealiseerd in plaats van de beste.
Dit risico wordt vergroot door het feit dat deze megaprojecten grotendeels worden gedreven door geopolitiek, en niet door zorgvuldige economische wetenschap. Van 2000 tot 2014, toen het mondiale bbp zich meer dan verdubbelde tot 75 biljoen dollar, daalde het aandeel van de G-7 landen in de wereldeconomie van 65% tot 45%. Terwijl de internationale arena zich aanpast aan dit nieuwe evenwicht is de Verenigde Staten zich zorgen gaan maken dat zijn hegemonie zal worden uitgedaagd door nieuwe spelers en instituties, zoals de door China geleide Aziatische Infrastructuur Investeringsbank. In reactie hierop breiden de door het Westen geleide instituties zoals de Wereldbank en de Aziatische Ontwikkelingsbank agressief hun investeringen uit, en roepen openlijk om een wisseling van paradigma.
Secure your copy of PS Quarterly: The Year Ahead 2023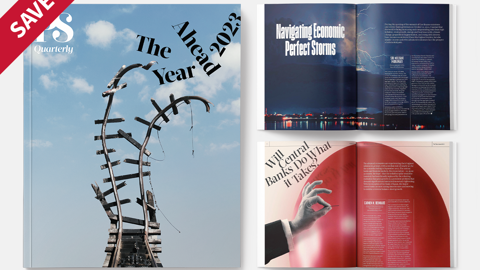 Secure your copy of PS Quarterly: The Year Ahead 2023
Our annual fourth-quarter magazine is here, and available only to Digital Plus and Premium subscribers. Subscribe to Digital Plus today, and save $15.

Ook de G-20 versnelt de lancering van megaprojecten, in de hoop de mondiale groeiratio in 2018 tot op zijn minst 2% te hebben opgedreven. De OESO schat dat er tegen 2030 nog eens 70 biljoen dollar nodig zal zijn voor infrastructuur – dit betekent gemiddelde uitgaven van iets meer dan 4,5 biljoen dollar per jaar. In vergelijking: het zou een geschatte 2 tot 3 biljoen dollar per jaar kosten om te voldoen aan de Sustainable Development Goals. Het moge duidelijk zijn dat bij megaprojecten de kans op vervuiling, corruptie, en de opbouw van onhoudbare staatsschulden groot is.
De tweede zaak die in overweging moet worden genomen betreft de grenzen van de planeet. In een brief uit maart 2015 aan de G-20 waarschuwde een groep van wetenschappers, milieuactivisten, en opiniemakers dat het opvoeren van de investeringen in megaprojecten het risico op onomkeerbare en catastrofale schade aan het milieu meebrengt. 'We consumeren elk jaar al ongeveer de waarde van anderhalve planeet aan hulpbronnen,' zo legden de auteurs uit. 'Er moeten qua infrastructuur keuzes gemaakt worden die situatie verlichten in plaats van verergeren.'
Op gelijke wijze waarschuwt het Intergovernmental Panel on Climate Change dat 'infrastructuurprojecten en producten met een lange levensduur die de maatschappij vastpinnen op een traject van broeikasgas-intensieve uitstoot moeilijk of zeer kostbaar om te veranderen zullen zijn.' En het blijkt inderdaad dat de G-20 weinig sociale, omgevings-, of klimaatgerelateerde criteria hebben opgesteld voor de 'verlanglijst' van megaprojecten die elk lid op hun top in Turkije in november in zal dienen.
Het derde potentiele probleem met megaprojecten is hun vertrouwen op publiek-private partnerschappen. Als onderdeel van de hernieuwde focus op grootschalige investeringen hebben de Wereldbank, het Internationaal Monetair Fonds en andere multilaterale financiers een poging opgezet om de ontwikkelingshulp opnieuw vorm te geven door, onder andere, nieuwe beleggingscategorieën van sociale en economische infrastructuur te creëren om private investeringen aan te trekken. 'We moeten de biljoenen dollars van de institutionele investeerders aanboren…en deze activa richting projecten dirigeren,' aldus president van de Wereldbank Jim Yong Kim.
Door publiek geld te gebruiken om risico's af te dekken hopen de instituties lange termijn institutionele investeerders aan te trekken – inclusief beleggingsfondsen, verzekeringsmaatschappijen, pensioenfondsen, en staatsbeleggingsfondsen – die samen een geschatte 93 biljoen dollar in activa beheren. Hun hoop is dat het aftappen van deze grote vijver aan kapitaal ze in staat zal stellen om de infrastructuur op te schalen en de ontwikkelingshulp te hervormen op manieren die eerder onvoorstelbaar waren.
Het probleem is dat van publiek-private partnerschappen geëist wordt dat ze een concurrerend rendement bieden. Als gevolg hiervan worden ze, volgens onderzoekers aan de London School of Economics, 'niet beschouwd als het juiste instrument voor [informatie technologie] projecten, of waar sociale afwegingen een beperking leggen op de gebruikskosten die een project interessant zouden kunnen maken voor de private sector.' Particuliere investeerders willen de winstratio op hun investeringen in stand houden door gegarandeerde inkomstenstromen en door te verzekeren dat wetten en regelgeving (inclusief milieu- en sociale vereisten) niet in hun winsten snijden. Het risico bestaat dat de jacht op winst het publieke goed zal ondermijnen.
Ten slotte incorporeren de regels voor lange termijn investeringen niet adequaat de gerelateerde sociale- en milieurisico's op de lange termijn, zoals benadrukt door vakbonden en het Milieuprogramma van de Verenigde Naties. Het samenbrengen van infrastructuur investeringen in portfolio's of het veranderen van ontwikkelingssectoren in beleggingscategorieën zou op een enorme schaal winsten kunnen privatiseren en verliezen socialiseren. Deze dynamiek kan de ongelijkheidsniveaus vergroten en de democratie ondermijnen, door het gebrek aan invloed dat regeringen – om nog maar niet te spreken over burgers – op institutionele investeerders kunnen hebben. Over het algemeen dragen handelsregels en -overeenkomsten aan deze problemen bij door de belangen van investeerders boven die van gewone burgers te plaatsen.
Als dit niet verder wordt onderzocht riskeert de sprong voorwaarts richting megaprojecten in de woorden van de opstellers van de brief aan de G-20 'vol in te zetten op een gevaarlijke visie.' Het is cruciaal dat we garanderen dat welke transformatie van de ontwikkelingshulp dan ook op een manier wordt vormgegeven die de mensenrechten in acht neemt en de aarde beschermt.