Falešné vyprávění reálpolitiky
ŽENEVA – V éře rozdělujících sociálních médií a partajních "falešných zpráv" už neplatí představa, že "hovoří činy, ne slova". Jak znovu zjišťujeme, slova jsou mocná a problematická, zejména v kontextu geopolitiky. Že v diplomacii na slovech stále záleží, nám naposledy připomnělo nedávné zasedání Valného shromáždění Organizace spojených národů v New Yorku.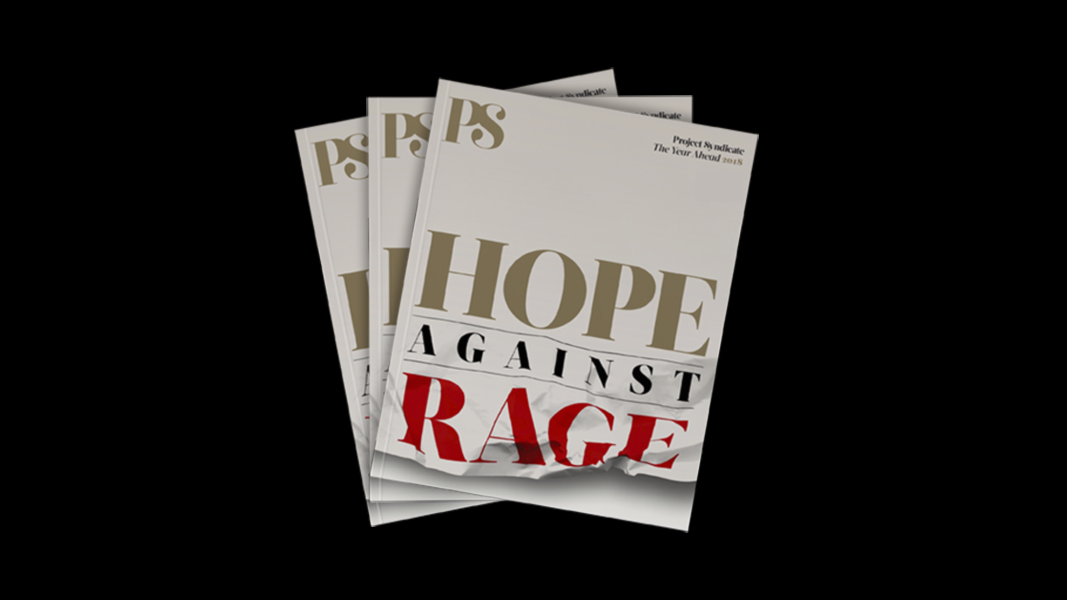 The Year Ahead 2018
The world's leading thinkers and policymakers examine what's come apart in the past year, and anticipate what will define the year ahead.
Mnoho pozornosti přitáhla poznámka amerického prezidenta Donalda Trumpa, že Spojené státy "nebudou mít jinou možnost, než Severní Koreu totálně zničit," kdyby je nebo jejich spojence Korejská lidově demokratická republika (KLDR) ohrozila. Většina vojenských expertů se skutečně shodne, že kinetická válka na Korejském poloostrově by KLDR vymazala ze světa a společně s ní dost možná i Jižní Koreu.
Jiné části Trumpova projevu v OSN, zejména pasáže o národních zájmech a suverenitě, ale vyžadují hlubší úvahu. Trump se nijak netají touhou upřednostňovat "Ameriku na prvním místě", a tento závazek na pódiu OSN zopakoval. Vyzval ale i ostatní lídry, aby pro ně byla na prvním místě jejich země. "Abychom překonali úskalí současnosti a naplnili příslib budoucnosti, musíme vycházet z moudrosti minulosti," řekl. "Náš úspěch závisí na koalici silných a nezávislých států, které lnou ke své suverenitě s cílem upevnit bezpečnost, prosperitu a mír pro sebe a pro svět."
Člověk by z toho mohl vyvodit, a mnozí tak učinili, že takové prohlášení dává najevo oživení americké oddanosti reálpolitice ve světovém dění. Jak roku 2016 v dějinách tohoto pojmu poznamenal historik John Bew, vychýlení kyvadla bylo třeba očekávat: "Naše zahraničněpolitické debaty se pohybují v cyklech, v nichž se tvůrci politik prohlašují za idealističtější, či realističtější."
Bewova rešerše nám ale také připomíná, že výhradní sledování národních zájmů – světonázor prosazovaný Trumpem – vůbec není reálpolitikou, není-li spojeno s transformativní ideou či normativním účelem. Zpřetrhání morálních ohledů ve světových záležitostech by jen oslabilo USA a všechny, pro něž jsou vzorem.
Pojetí reálpolitiky vzešlo ze smíšených výsledků evropských revolucí roku 1848, kdy se sice budoucímu sjednocení Německa nabízela řada možných obměn, ale obecnější politický cíl – mezinárodní řád tvořený silnými národními státy – byl nicméně jasný. Po nástupu Trumpovy doktríny "Ameriky na prvním místě" je ale dnes pro svět těžké rozpoznat, co se stalo smyslem politického realismu.
Jedna odpověď zazněla na letošním výročním zasedání Světového ekonomického fóra (WEF) v Davosu. Čínský prezident Si Ťin-pching tam předložil rozhodnou obranu globalizace a zdůraznil svůj názor, že při realizaci národních agend by země měly své cíle usazovat "do širšího kontextu" a "zdržet se prosazování vlastních zájmů na úkor ostatních".
Jestliže se lídři dvou nejmocnějších zemí světa zásadně liší v přístupu k mezinárodním vztahům, jaké jsou vyhlídky na globální posílení spolupráce?
Historie překypuje příklady konfliktů plynoucích z toho, že stoupající mocnost zpochybňuje vliv a zájmy zavedené velmoci. Řecký historik Thúkydidés k peloponéské válce uvádí: "V důsledku vzestupu Athén a strachu, který to zaselo ve Spartě, se válka stala nevyhnutelnou." Svět má obrovský zájem na tom, jak se Čína a USA vyvarují tomu, co Graham Allison z Harvardu nazývá "Thúkydidovou pastí", jakož i na tom, aby geostrategické spory ani jinde neplodily násilí.
Jak tvrdí stanfordský biolog Robert Sapolsky, behaviorální dichotomie, které by se v jednu chvíli mohly zdát nevyhnutelné a zásadní, se za vhodných okolností "v mžiku vypaří". K usmíření mezi soupeři a překlenutí propasti "my versus oni" může podle Sapolskyho přispět "kontaktní teorie", již v roce 1950 vyvinul psycholog Gordon Allport. "Kontakt", ať už mezi dětmi na letním táboře nebo vyjednavači kolem stolu, může vést k lepšímu porozumění, pokud styk probíhá delší dobu a na neutrálním území, je orientovaný na výsledek, neformální, osobní a vyhýbá se neklidu a soupeření.
Zásadní význam má, co je během těchto vzájemných styků řečeno. Jak poznamenal nositel Nobelovy ceny za ekonomii Robert J. Shiller, hybateli zásadních rozhodnutí, zejména výběru v ekonomice, jsou příběhy, ať už pravdivé, nebo ne. Ve svém pojednání o "narativní ekonomii" Shiller zdůrazňuje účinky, jež na globální ekonomiku mohou mít "virální" příběhy. Poukazuje na to, že lidé se rozhodují a hodnotí současné události částečně na základě příběhů, jež slyšeli o dřívějších událostech. Například globální finanční krize let 2007-2009 se označuje jako "Velká recese", protože v naší kolektivní paměti přetrvávají traumatická vyprávění o velké hospodářské krizi, nazývané Velká deprese.
Mezinárodní záležitosti jsou podobně pod vlivem slov a příběhů. Vyprávění, která se objevila v reakci na národní, regionální a globální rozpory nebo v jejich důsledku, často strukturuje dichotomie "my versus oni". Tyto národní příběhy, ať už jsou pro toho či onoho jakkoli přitažlivé, si ale nesmíme plést s reálpolitikou, neboť jim schází novátorství, podnětnost a idealismus potřebné pro transformační změny.
Příběhy usilující o zachování jedinečných přínosů globální integrace, ale zároveň o omezení sdílených závazků, se na domácí scéně skutečně mohou stát "virálními", protože občané prahnou po vnímavém vedení, které se věnuje místním a národním zájmům. Společná identita a kolektivní záměry ale zůstávají prchavé, vzdor faktu, že žijeme v době sociálních sítí.
Tato skutečnost sama o sobě nemůže vlády zprostit jejich regionální a globální odpovědnosti. Politické, hospodářské a sociální zlomy, které vytanuly, nesmí přiživovat nesnášenlivost, nerozhodnost ani nečinnost. Právě proto se výroční zasedání WEF příští rok vynasnaží mezi lídry oživit odhodlání vytvářet společný příběh, který posílí spolupráci této a každé další generace.
Z angličtiny přeložil David Daduč