L'importance du récit en politique
GENEVE – Dans une période où pullulent les fausses nouvelles et alors que les réseaux sociaux avivent les antagonismes, l'idée que les actes comptent plus que les mots n'est plus vraie. Ainsi que nous le redécouvrons, la puissance des mots est extraordinaire, mais ils peuvent conduire à d'énormes problèmes, notamment dans le domaine géopolitique. L'assemblée générale de l'ONU qui vient de se tenir à New-York est le rappel le plus récent du poids des mots dans la diplomatie.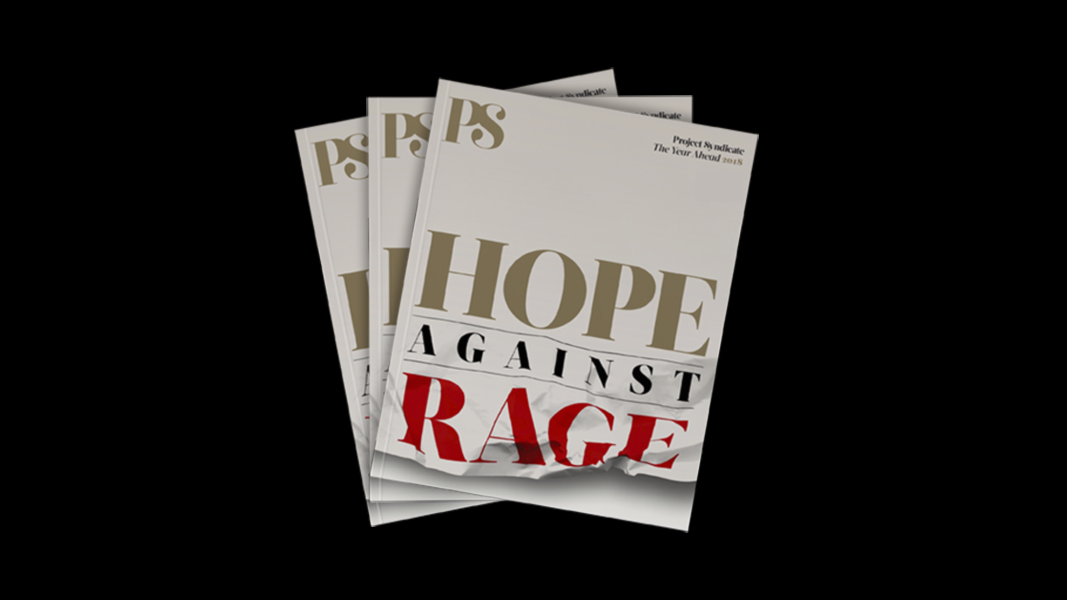 The Year Ahead 2018
The world's leading thinkers and policymakers examine what's come apart in the past year, and anticipate what will define the year ahead.
La déclaration de Trump selon laquelle les USA "n'auront d'autre choix que de détruire totalement la Corée du Nord" si ce pays menace l'Amérique ou ses alliés a retenu l'attention. La plupart des experts militaires estiment qu'une guerre dans la péninsule coréenne aboutirait à la destruction de la Corée du Nord, mais aussi peut-être de la Corée du Sud.
Par contre on n'a guère prêté attention à d'autres passages du discours de Trump à l'ONU, notamment ceux dans lesquels il évoque l'intérêt national et la souveraineté. Il ne cache pas son désir donner "la première place à l'Amérique", et il a répété cet engagement à l'ONU. Mais il a demandé aux autres dirigeants de la planète d'en faire autant avec leur propre pays. "Pour surmonter les périls d'aujourd'hui et réaliser les promesses de l'avenir, nous devons commencer avec la sagesse du passé", a-t-il déclaré. "Notre succès dépend d'une coalition de pays forts et indépendants qui mettent en avant leur souveraineté pour promouvoir la sécurité, la prospérité et la paix pour eux-mêmes et pour le monde".
On pourrait en déduire, comme beaucoup l'ont fait, que ce type de déclaration marque un retour des USA à la Realpolitik. Ainsi que le note l'historien John Bew dans son livre, RealPolitik paru l'année dernière, on pouvait s'attendre à un retour de balancier : "Notre débat de politique étrangère suit un cycle au cours duquel les dirigeants se déclarent plutôt idéalistes ou plutôt réalistes".
Le livre de Bew nous rappelle aussi que si elle ne s'accompagne pas d'une idée de transformation ou d'un objectif normatif, la défense de l'intérêt national (le point de vue développé par Trump sur le monde) n'a en elle-même rien à voir avec la realpolitik. Déconnecter la politique internationale de préoccupations morales affaiblirait les USA et tous les pays qui les imiteraient.
Le concept de Realpolitik est né à la suite des révolutions européennes de 1848, quand l'unification à venir de l'Allemagne était envisageable de multiples manières. Mais le principal objectif politique - un ordre international constitué à partir d'Etat-nations forts - était clair. Aujourd'hui, avec la doctrine trumpienne de "L'Amérique d'abord", qu'est devenu l'objectif de réalisme politique ?
Le président chinois Xi Jinping a fourni une réponse en début d'année lors du Forum économique mondial de Davos. Il a défendu avec force la mondialisation tout en insistant sur l'idée que "la recherche de l'intérêt national ne doit pas se faire au détriment des autres pays" et qu'il faut la situer "dans un contexte plus large".
Si les dirigeants des deux pays les plus puissants de la planète ont des approches tellement divergentes des relations internationales, comment renforcer la coopération internationale ?
L'Histoire regorge de conflits suscités par la montée en puissance d'un pouvoir émergeant qui défie un pouvoir en place. Selon l'historien grec Thucydides, lors de la guerre de Péloponnèse, "ce fut la montée d'Athènes et la peur que cela inspira à Sparte qui a rendu la guerre inévitable". Comment éviter que la Chine et les USA ne tombent dans ce que Graham Allison, un politologue de Harvard qualifie de "piége de Thucydides" ou qu'un autre conflit géostratégique ne débouche sur la violence ?
Selon Robert Sapolsky, un biologiste de Stanford, des oppositions qui paraissent irréductibles à moment donné peuvent "s'évaporer en un instant" si les circonstances changent. Il estime que la "théorie du contact" développée dans les années 1950 par le psychologue Gordon Allport peut faciliter la réconciliation entre rivaux et faciliter la création de liens entre "eux" et "nous". Les "contacts" - que ce soit entre gamins en colonie de vacances ou entre négociateurs autour d'une table - peuvent déboucher sur une meilleure compréhension s'ils sont suffisamment longs et se font en territoire neutre, de manière informelle et personnelle, orientés vers un résultat, sans climat d'anxiété ou de concurrence.
Ce qui se dit au cours de ces contacts est d'une importance cruciale. Ainsi que le note le prix Nobel d'économie Robert J. Shiller, les grandes décisions, particulièrement en ce qui concerne l'économie s'accompagnent de récits (vrais ou pas). Dans son étude sur la mise en récit de l'économie (narrative economics), il souligne les effets des discours qui se propagent un peu partout sur l'économie mondiale. Il souligne que le choix des citoyens et la manière dont ils considèrent la situation politique ou économique tient en partie au récit historique qu'ils auront préalablement entendu. Ainsi c'est parce que le récit traumatique de la Grande Dépression reste présent dans notre mémoire collective que l'on qualifie la crise financière mondiale de 2007-2009 de "Grande récession".
Il en est de même en politique internationale. Le récit qui accompagne ou résulte des conflits nationaux, régionaux ou mondiaux se structure souvent sur l'opposition entre "eux" et "nous". Mais il ne faut pas confondre ces récits, aussi attractifs puissent-ils pour certains, avec la Realpolitik, car il leur manque l'esprit d'innovation, l'inspiration et l'idéalisme nécessaires au véritable changement.
Les récits qui cherchent à préserver le bénéfice propre à l'intégration mondiale tout en limitant les obligations communes peuvent faire le "buzz" sur le plan national, car les citoyens veulent des dirigeants réactifs face aux préoccupations intérieures. Mais une identité commune et des objectifs communs paraissent insaisissables, bien que nous vivions à l'ère des réseaux sociaux.
Ce fait à lui seul ne délivre pas les Etats de leurs responsabilités régionales et internationales. Les fractures politiques, économiques et sociales qui sont apparues ne doivent pas générer l'intolérance, l'indécision ou l'inaction. C'est pourquoi le prochain Forum économique mondial encouragera les dirigeants à créer un récit commun qui renforce la coopération pour la génération actuelle et les suivantes.
Traduit de l'anglais par Patrice Horovitz