La falsa narrativa de la realpolitik
GINEBRA – En una era de redes sociales que causan divisiones y de "noticias falsas" partidarias, la noción de que "las acciones hablan más que mil palabras" ya no es verdadera. Como estamos redescubriendo, las palabras son poderosas y a la vez problemáticas, particularmente en el contexto de la geopolítica. La reciente reunión de la Asamblea General de las Naciones Unidas en Nueva York ofreció el último recordatorio de que, en la diplomacia, las palabras siguen siendo importantes.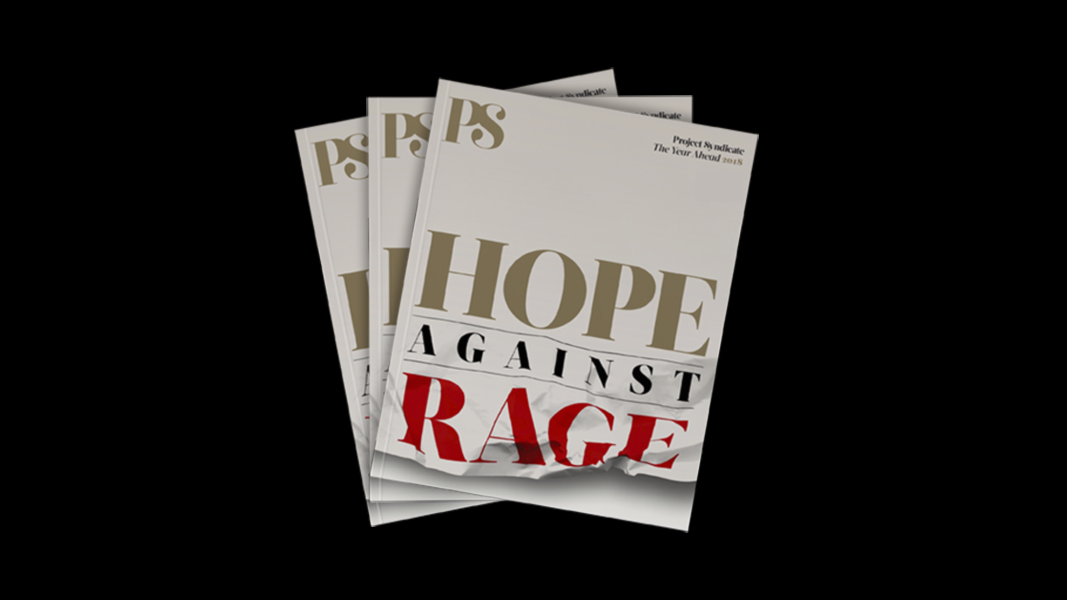 The Year Ahead 2018
The world's leading thinkers and policymakers examine what's come apart in the past year, and anticipate what will define the year ahead.
Ha tenido mucha repercusión la observación del presidente estadounidense, Donald Trump, de que Estados Unidos "no tendrá otra opción que destruir totalmente a Corea del Norte" si la República Popular Democrática de Corea (RPDC) lo amenaza, o amenaza a sus aliados. En verdad, la mayoría de los expertos militares coinciden en que una guerra cinética en la Península de Corea aniquilaría a la RPDC y, muy probablemente, también a Corea del Sur.
Pero otras partes del discurso de Trump ante las Naciones Unidas, especialmente sus pasajes sobre los intereses nacionales y la soberanía, requieren una reflexión más profunda. Trump no oculta su deseo de "poner a Estados Unidos primero" y reiteró esa promesa en el estrado de las Naciones Unidas. Pero también instó a otros líderes a poner también a sus países en primer lugar. "Para superar los peligros del presente y alcanzar la promesa del futuro, debemos empezar con la sabiduría del pasado", dijo. "Nuestro éxito depende de una coalición de naciones fuertes e independientes que abracen su soberanía para promover la seguridad, la prosperidad y la paz para ellas y para el mundo".
Se podría inferir, y muchos lo han hecho, que esas declaraciones revelan un resurgimiento de la devoción de Estados Unidos por la Realpolitik en materia de asuntos mundiales. Como observó el historiador John Bew en su historia del término de 2016, la oscilación del péndulo era de esperarse: "Los debates de nuestra política exterior siguen ciclos, en los que los responsables de las políticas se declaran más idealistas o más realistas".
Sin embargo, la investigación de Bew también nos recuerda que la singular búsqueda de intereses nacionales -el tipo de visión mundial defendida por Trump- no es Realpolitik en absoluto si está desacoplada de una idea transformadora o propósito normativo. Desvincular las cuestiones morales de los asuntos globales no haría más que debilitar a Estados Unidos y a todo quien lo emule.
El concepto de Realpolitik surgió de los resultados diversos de las revoluciones europeas de 1848, cuando la futura unificación de Alemania tenía muchas permutaciones posibles, pero el objetivo político más amplio -un orden internacional que comprendía fuertes naciones-estados- de todos modos estaba claro. Pero luego de la doctrina "Estados Unidos primero" de Trump, el desafío para el mundo hoy es discernir en qué se ha convertido el propósito del realismo político.  
Una respuesta fue compartida en la reunión anual del Foro Económico Mundial (WEF por sus siglas en inglés) en Davos a comienzos de este año. Allí el presidente chino, Xi Jinping, hizo una defensa robusta de la globalización y enfatizó su visión de que, al perseguir agendas nacionales, los países deben colocar sus objetivos "en el contexto más amplio" y "abstenerse de buscar sus propios intereses a expensas de los demás". 
Si los líderes de los dos países más poderosos del mundo difieren fundamentalmente en su abordaje de las relaciones internacionales, ¿cuáles son las perspectivas de fortalecer la cooperación a nivel global?
La historia está colmada de ejemplos de conflictos que surgen de una potencia en ascenso que desafía la influencia y los intereses de una potencia consolidada. Durante la Guerra del Peloponeso, según el historiador griego Tucídides, "Fue el ascenso de Atenas y el miedo que esto provocaba en Esparta lo que hizo inevitable la guerra". La manera en que China y Estados Unidos eviten lo que Graham Allison de Harvard dio en llamar la "trampa de Tucídides" es de gran preocupación para el mundo, como lo es garantizar que las disputas geoestratégicas en otras partes no conduzcan a la violencia.
Como sostuvo el biólogo de Stanford Robert Sapolsky, las dicotomías actitudinales que podrían parecer inevitables y cruciales en un momento pueden, en las circunstancias correctas, "evaporarse en un instante". Para Sapolsky, la "teoría de contacto", que fue desarrollada en los años 1950 por el psicólogo Gordon Allport, puede fomentar la reconciliación entre rivales, y ayudar a zanjar la división "nosotros-ellos". El "contacto", ya sea entre niños en un campamento de verano o negociadores senados a una mesa, puede derivar en un mayor entendimiento si el compromiso es prolongado y en territorio neutral, si está orientado a los resultados, si es informal y personal y si evita la ansiedad o la competencia.
Lo que se diga durante estos compromisos es crucial. Como ha observado el economista y premio Nobel Robert J. Shiller, las historias, sean verdaderas o no, son motores de decisiones importantes, especialmente elecciones económicas. En su estudio de la "economía narrativa", Shiller destaca los efectos que pueden tener las historias "virales" en la economía global. Señala que las elecciones y las evaluaciones que hace la gente de los acontecimientos actuales se basan en parte en las historias que han oído sobre acontecimientos pasados. Por ejemplo, a la crisis financiera global de 2007-2009 se la llamó "Gran Recesión" porque los relatos traumáticos de la Gran Depresión persisten en nuestra memoria colectiva.
Las palabras y las narrativas afectan los asuntos internacionales de maneras similares. Las narrativas que han surgido en respuesta a las divisiones nacionales, regionales y globales, o como resultado de ellas, suelen estar estructuradas por una dicotomía "nosotros-ellos". Pero estas narrativas nacionales, por más atractivas que puedan resultarles a algunos, no deben confundirse con la Realpolitik, ya que permanecen desprovistas de la innovación, la inspiración y el idealismo necesarios para un cambio transformacional.
Las historias que buscan preservar los beneficios singulares de la integración global, si bien limitan las obligaciones compartidas, pueden en verdad volverse "virales" a nivel nacional, porque los ciudadanos anhelan un liderazgo receptivo que se ocupe de las cuestiones locales y nacionales. Pero una identidad compartida y un propósito colectivo siguen siendo elusivos, a pesar del hecho de que vivimos en una era de redes sociales.
Ese hecho por sí solo no puede absolver a los gobiernos de sus responsabilidades regionales y globales. Las fracturas políticas, económicas y sociales que han surgido no deben fomentar la intolerancia, la indecisión o la inacción. Es por eso que la reunión anual del Foro Económico Mundial del año próximo intentará que los líderes vuelvan a dedicarse al desarrollo de una narrativa compartida que fortalezca la cooperación para esta generación y para todas las generaciones futuras.