Depresión post-Davos
DAVOS – He asistido a la conferencia anual del Foro Económico Mundial en Davos, Suiza -donde la llamada elite global se congrega para discutir los problemas del mundo- desde 1995. Nunca salí tan desanimado como este año.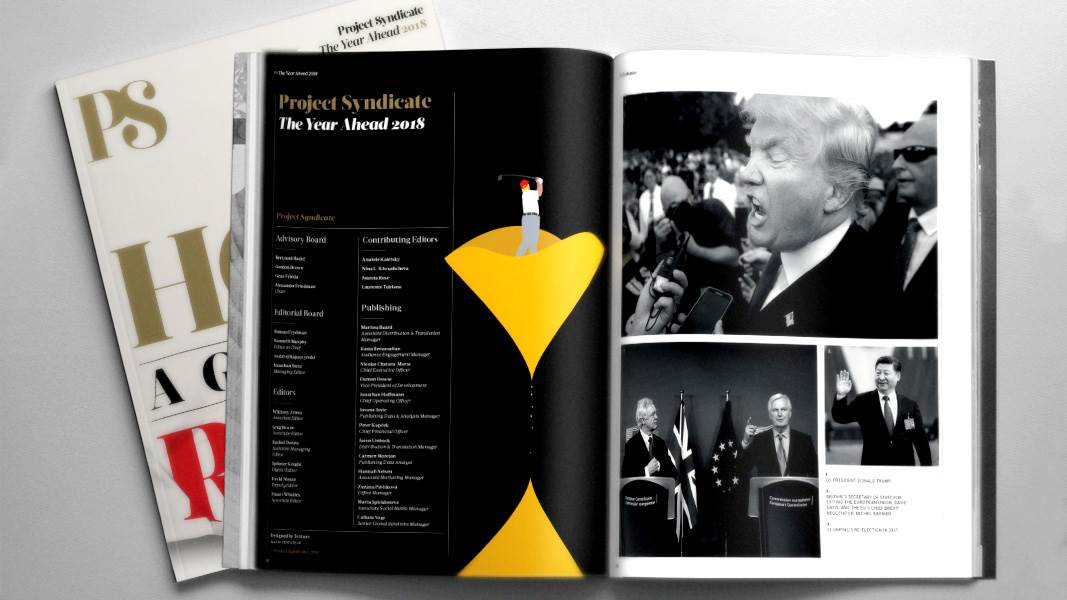 The Year Ahead 2018
The world's leading thinkers and policymakers examine what's come apart in the past year, and anticipate what will define the year ahead.
El mundo está plagado de problemas prácticamente insolubles. La desigualdad está en aumento, especialmente en las economías avanzadas. La revolución digital, a pesar de su potencial, también conlleva serios riesgos para la privacidad, la seguridad, los empleos y la democracia -desafíos que están agravados por el creciente poder monopólico de unos pocos gigantes de datos norteamericanos y chinos, entre ellos Facebook y Google-. El cambio climático representa una amenaza existencial para toda la economía global tal como la conocemos.
Sin embargo, quizá más desalentadoras que esos problemas sean las respuestas. Sin duda, aquí en Davos, los CEO de todo el mundo empiezan la mayoría de sus discursos afirmando la importancia de los valores. Sus actividades, sostienen, están destinadas no sólo a maximizar las ganancias para los accionistas, sino también a crear un futuro mejor para sus empleados, las comunidades en las que trabajan y el mundo en general. Pueden inclusive hablar de la boca para afuera de los riesgos que plantean el cambio climático y la desigualdad.
Pero, al final de sus discursos este año, cualquier ilusión que pudiera quedar sobre los valores que motivan a los CEO de Davos se hizo añicos. El riesgo que más parecía preocupar a estos CEO es la reacción populista contra el tipo de globalización que ellos han moldeado -y de la que se han beneficiado enormemente.
No sorprende que estas elites económicas apenas entiendan hasta qué punto este sistema le ha fallado a grandes segmentos de la población en Europa y Estados Unidos, haciendo que los ingresos reales de la mayoría de los hogares quedaran estancados o que el porcentaje de ingresos de la fuerza laboral disminuyera sustancialmente. En Estados Unidos, la expectativa de vida ha caído por segundo año consecutivo; entre aquellos que sólo tienen un nivel de educación secundaria, la caída viene produciéndose desde hace mucho más tiempo.
Ni uno solo de los CEO de Estados Unidos cuyos discursos escuché (o me comentaron) mencionó la intolerancia, la misoginia o el racismo del presidente estadounidense, Donald Trump, que estaba presente en el evento. Ni uno mencionó la cadena incesante de comentarios ignorantes, mentiras descaradas y acciones impetuosas que han erosionado la posición del presidente norteamericano -y, por lo tanto, de Estados Unidos- en el mundo. Ninguno mencionó el abandono de los sistemas para establecer la verdad, o de la verdad misma.
Por cierto, ninguno de los titanes corporativos de Estados Unidos mencionó las reducciones por parte de la administración del financiamiento para la ciencia, tan importante para fortalecer la ventaja comparativa de la economía de Estados Unidos y respaldar las mejoras en la calidad de vida de los norteamericanos. Ninguno mencionó, tampoco, el rechazo de parte de la administración Trump de las instituciones internacionales, o los ataques a los medios y al poder judicial del país -lo que representa un ataque al sistema de control y equilibrio de poderes que apuntala la democracia estadounidense.
No, los CEO en Davos se relamían con la legislación impositiva que Trump y los republicanos en el Congreso impulsaron recientemente, que les reportará cientos de miles de millones de dólares a las grandes empresas y a la gente rica a la que pertenecen y que las administra -gente como el propio Trump-. No les preocupa en lo más mínimo el hecho de que la misma legislación, cuando haya sido implementada en su totalidad, se traduzca en un incremento de los impuestos para la mayor parte de la clase media -un grupo cuyas fortunas han venido cayendo los últimos 30 años.
Aún en su mundo estrechamente materialista, donde el crecimiento importa más que cualquier cosa, la legislación impositiva de Trump no debería ser motivo de celebración. Después de todo, reduce los impuestos a la especulación inmobiliaria -una actividad que no ha generado una prosperidad sostenida en ninguna parte, pero que ha contribuido a una creciente desigualdad en todas partes.
La legislación también impone un impuesto a las universidades como Harvard y Princeton -fuentes de numerosas ideas e innovaciones importantes- y se traducirá en un menor gasto público a nivel local en partes del país que han prosperado, precisamente porque han hecho inversiones públicas en educación e infraestructura. La administración Trump claramente pretende ignorar el hecho evidente de que, en el siglo XXI, el éxito en verdad exige más inversión en educación. 
Para los CEO de Davos, parece que los recortes impositivos para los ricos y sus empresas, junto con la desregulación, son la respuesta a todos los problemas del país. La economía del derrame, dicen, garantizará que, en definitiva, toda la población se beneficie económicamente. Y los buenos corazones de los CEO aparentemente es todo lo que se necesita para garantizar que el medio ambiente esté protegido, inclusive sin regulaciones relevantes.
Sin embargo, las lecciones de la historia son claras. La economía del derrame no funciona. Y una de las razones fundamentales por las cuales nuestro medio ambiente está en una situación tan precaria es porque las propias empresas no han estado a la altura de sus responsabilidades sociales. Sin regulaciones efectivas y un precio real que pagar por contaminar, no existe ninguna razón de ningún tipo para creer que se comportarán de otra manera que como lo han hecho en el pasado.
Los CEO de Davos estaban eufóricos por la vuelta al crecimiento, por sus crecientes ganancias y compensaciones. Los economistas les recordaron que este crecimiento no es sostenible, y que nunca ha sido inclusivo. Pero estos argumentos tienen poco impacto en un mundo donde reina el materialismo.
De modo que olvídense de las perogrulladas sobre los valores que los CEO recitan en los párrafos de apertura de sus discursos. Pueden no tener la franqueza del personaje de Michael Douglas en la película Wall Street de 1987, pero el mensaje no ha cambiado: "La codicia es buena". Lo que me deprime es que, aunque el mensaje es evidentemente falso, tantos en el poder crean que es verdad.