Post-Davos-Depression
DAVOS – Ich nehme seit 1995 am Weltwirtschaftsforum in Davos teil, wo sich die so genannte globale Elite trifft, um die Probleme der Welt zu besprechen. Noch nie bin ich so enttäuscht aus Davos zurückgekommen wie in diesem Jahr.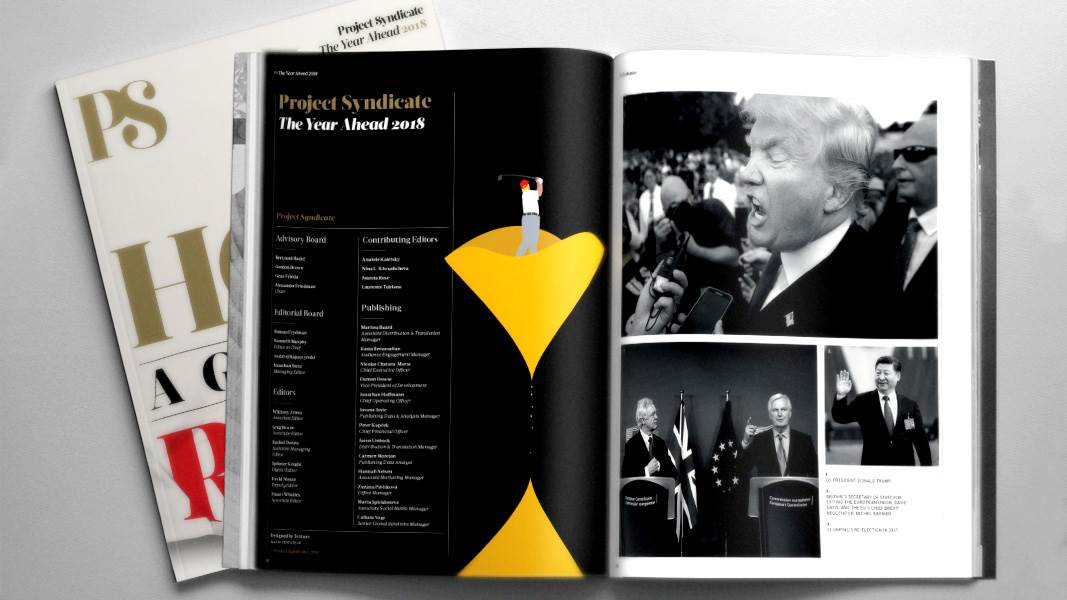 The Year Ahead 2018
The world's leading thinkers and policymakers examine what's come apart in the past year, and anticipate what will define the year ahead.
Die Welt leidet an nahezu unlösbaren Problemen. Die Ungleichheit nimmt zu, besonders in den hochentwickelten Volkswirtschaften. Die digitale Revolution hat zwar ein enormes Potenzial, birgt aber auch ernsthafte Risiken für Datenschutz, Sicherheit, Arbeitsplätze und Demokratie – Herausforderungen, die durch die wachsende Monopolmacht einiger weniger amerikanischer und chinesischer Datengiganten wie Facebook und Google noch verschlimmert werden. Der Klimawandel stellt eine existenzielle Bedrohung für die gesamte globale Wirtschaft dar, so wie wir sie kennen.
Vielleicht noch entmutigender als diese Probleme sind die Reaktionen darauf. Natürlich haben fast alle Vorstandsvorsitzende, die in Davos geredet haben, betont, wie wichtig Werte seien. Ihre Aktivitäten zielten nicht nur auf die Maximierung von Gewinnen für die Aktionäre ab, sondern auch darauf, eine bessere Zukunft für die Mitarbeiter, die Gemeinschaften, in denen sie arbeiten, und für die Welt allgemein zu gestalten. Einige gaben sogar Lippenbekenntnisse hinsichtlich der drohenden Gefahren durch Klimawandel und Ungerechtigkeit ab.
Aber am Ende ihrer Reden in diesem Jahr wurden alle verbleibenden Illusionen über die Werte, die die Vorstandsvorsitzenden von Davos wirklich bewegen, zerstört. Das Risiko, das sie am meisten zu beunruhigen schien, war die populistische Reaktion auf die Globalisierung, die sie selbst gestaltet und von der sie enorm profitiert haben.
Es überrascht nicht, dass diese Wirtschaftseliten kaum wirklich begreifen, in welchem Ausmaß dieses System große Teile der Bevölkerung in Europa und den Vereinigten Staaten verraten hat. Das reale Einkommen der meisten Haushalte stagniert, was dazu führt, dass der Anteil der Arbeit am Einkommen erheblich sinkt. In den USA ist die Lebenserwartung zum zweiten Mal in Folge gesunken, in der Bevölkerungsgruppe, die nur einen Sekundarschulabschluss hat, ist der Trend schon viel länger zu beobachten.
Nicht einer der CEO aus den USA, deren Reden ich hörte (oder über die ich hörte), erwähnte die Bigotterie, Frauenfeindlichkeit und den Rassismus von Donald Trump, der die Veranstaltung ebenfalls besuchte. Nicht einer sprach über die nicht enden wollende Flut von ignoranten Statements, Lügen und unüberlegten Maßnahmen, die das Ansehen des US-Präsidenten – und damit der USA – in der Welt untergraben. Niemand erwähnte, dass die Systeme, mittels derer die Wahrheit festgestellt wird, und die Wahrheit selbst, aufgegeben werden.
Keiner der amerikanischen Unternehmenstitanen sprach über die Mittelkürzung für die Wissenschaft, die so wichtig ist für die Stärkung der Wettbewerbsvorteile der USA und für die weitere Verbesserung des amerikanischen Lebensstandards. Niemand sprach darüber, dass die Trump-Administration internationale Institutionen ablehnt oder über die Angriffe auf die Medien und die Gerichte, was auf einen Angriff auf das System der gegenseitigen Kontrollen hinausläuft, das zum Fundament der US-Demokratie gehört.
Nein, die CEOs von Davos haben sich nach den Steuerkürzungen, die Trump und die Republikaner im Kongress vor kurzem durchgesetzt haben, die Lippen geleckt. Dadurch werden Hunderttausende von Dollar in die Kassen der großen Unternehmen und die ihrer reichen Besitzer und Vorsitzenden gespült – Leute wie Trump selbst. Nicht aus der Ruhe bringt sie dagegen die Tatsache, dass dasselbe Gesetz, wenn es ganz umgesetzt wird, zu einer Steuererhöhung für einen Großteil der Mittelklasse führen wird, eine Gruppe, deren Vermögen in den letzten 30 Jahren ständig abgenommen hat.
Sogar in ihrer engen materialistischen Welt, in der Wachstum wichtiger ist als alles andere, dürfte das Steuergesetz von Trump nicht gefeiert werden. Schließlich werden Steuern auf Immobilienspekulation gesenkt – eine Aktivität, die nirgends nachhaltigen Wohlstand, wohl aber überall zunehmende Ungleichheit verursacht hat.
Das Gesetz belegt auch Universitäten wie Harvard und Princeton mit einer Steuer – Quellen vieler wichtiger Ideen und Innovationen – und wird dazu führen, dass öffentliche Ausgaben auf lokaler Ebene in Teilen des Landes gekürzt werden, die sich gut entwickelt haben, und zwar gerade, weil die öffentliche Hand in Bildung und Infrastruktur investiert hat. Die Trump-Administration ist eindeutig bereit, die offensichtliche Tatsache zu ignorieren, dass Erfolg im einundzwanzigsten Jahrhundert nicht weniger, sondern mehr Investition in Bildung verlangt.
Für die CEO in Davos scheint eine Steuerkürzung für die Reichen und ihre Unternehmen, zusammen mit Deregulierung, die Antwort auf alle Probleme eines Landes zu sein. Laut der Trickle-down-Theorie, so behaupten sie, sei schon dafür gesorgt, dass letztlich die gesamte Bevölkerung wirtschaftlich davon profitiere. Und der gute Wille der Vorstandsvorsitzenden ist scheinbar alles was man braucht, um sicherzustellen, dass die Umwelt geschützt wird, auch ohne relevante Vorschriften.
Aber die Lektionen der Geschichte sind eindeutig. Der Trickle-down-Effekt funktioniert nicht. Und einer der Gründe, warum unsere Umwelt in einem solchen desolaten Zustand ist, dass die Unternehmen ihre soziale Verantwortung von alleine eben nicht wahrnehmen. Ohne bindende Vorschriften und ohne ein Preisschild an Verschmutzungen gibt es keinen Grund zu glauben, sie werden sich anders benehmen als bisher.
Die CEO von Davos haben euphorisch über die Rückkehr zu Wachstum gesprochen, über ihre steigenden Gewinne und Vergütungen. Ökonomen haben sie daran erinnert, dass dieses Wachstum nicht nachhaltig sei und nie inklusiv war. Aber Argumente haben wenig Gewicht in einer Welt, in der der Materialismus herrscht.
Vergessen wir also die Platituden zum Thema Werte, mit denen die Vorstandsvorsitzenden ihre Redeeinleitungen spicken. Ihnen fehlt vielleicht die Leidenschaft von Michale Douglas' Figur in dem Film Wall Street von 1987, aber die Botschaft ist noch immer dieselbe: "Gier ist gut". Was mich deprimiert, ist, dass sie zwar offensichtlich falsch ist, aber dennoch so viele Mächtige glauben, sie sei wahr.
Aus dem Englischen von Eva Göllner.