Depressão pós-Davos
DAVOS – Tenho assistido à conferência anual do Fórum Económico Mundial em Davos, na Suíça – onde a chamada elite global se reúne para discutir os problemas do mundo – desde 1995. Nunca saí tão desalentado como este ano.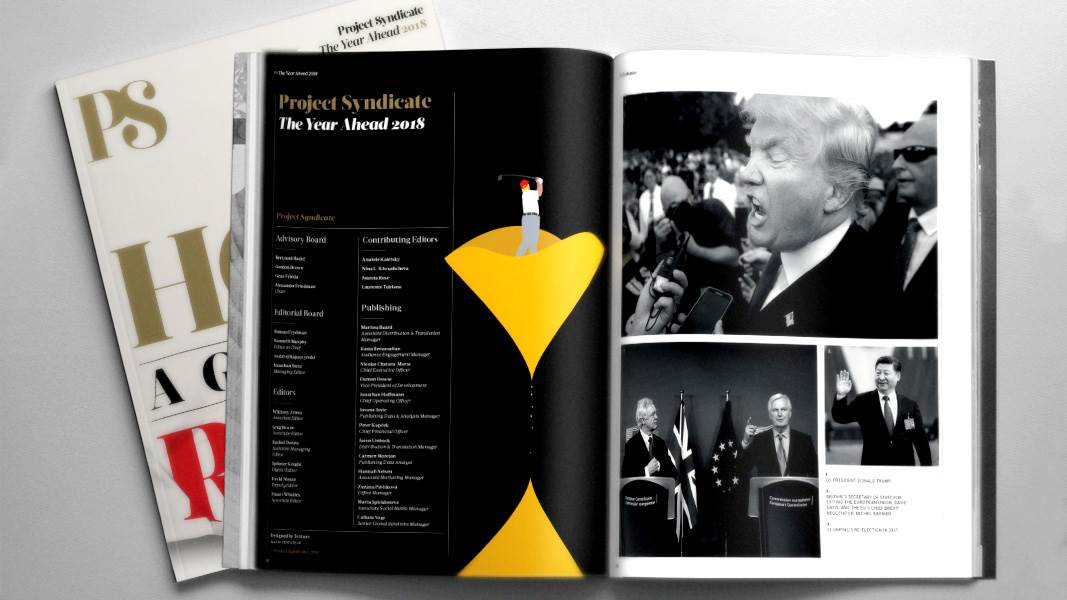 The Year Ahead 2018
The world's leading thinkers and policymakers examine what's come apart in the past year, and anticipate what will define the year ahead.
O mundo está a ser assolado por problemas quase incontroláveis. A desigualdade está em ascensão, especialmente nas economias avançadas. A revolução digital, apesar do seu potencial, também implica riscos sérios para a privacidade, a segurança, os empregos e a democracia – desafios que são agravados pelo crescente poder monopolístico de uns poucos gigantes de dados americanos e chineses, que incluem o Facebook e o Google. As mudanças climáticas representam uma ameaça existencial para a economia global como a conhecemos.
Talvez mais desanimadoras que estes problemas, contudo, sejam as respostas. Na verdade, aqui em Davos, CEO provenientes de todo o mundo começam a maioria dos seus discursos reafirmando a importância dos valores. As suas actividades, proclamam, visam não só a maximização dos lucros para os accionistas, mas também a criação de um futuro melhor para os seus trabalhadores, para as comunidades em que trabalham, e para o mundo de um modo geral. Podem até referir os riscos colocados pelas mudanças climáticas e pela desigualdade.
Mas, quando os discursos terminaram este ano, despedaçou-se qualquer ilusão que restasse sobre os valores que motivam os CEO de Davos. O risco que mais parecia preocupar estes CEO era a reacção populista contra o tipo de globalização que construíram – e com a qual beneficiaram imensamente.
Não supreende que estas elites económicas tenham dificuldade em compreender a extensão com que este sistema falhou a grandes faixas da população na Europa e nos Estados Unidos, fazendo estagnar os rendimentos reais da maior parte das famílias e com que a parte do trabalho no rendimento baixasse substancialmente. Nos EUA, a esperança de vida desceu pelo segundo ano consecutivo; para as pessoas com uma educação apenas de nível secundário, o declínio verifica-se há muito mais tempo.
Nem um dos CEO dos EUA cujos discursos ouvi (ou ouvi falar) mencionou o fanatismo, a misoginia ou o racismo do presidente dos EUA, Donald Trump, que estava presente no evento. Nem um deles mencionou o fluxo imparável de declarações ignorantes, mentiras deslavadas e acções impetuosas que erodiram a posição do presidente dos EUA – e, portanto, dos EUA – no mundo. Nenhum mencionou o abandono de sistemas para a determinação da verdade, e da própria verdade.
Na verdade, nenhum dos titãs corporativos da América mencionou as reduções governamentais no financiamento para a ciência, tão importantes para o fortalecimento da vantagem comparativa da economia dos EUA e para a sustentação dos ganhos no nível de vida dos Americanos. Nenhum mencionou a rejeição a que a administração Trump votou as instituições internacionais, ou os ataques à imprensa ou à justiça nacional – que correspondem a um assalto ao sistema de controlo que sustenta a democracia dos EUA.
Não, os CEO em Davos lamberam os beiços face à legislação fiscal recentemente aprovada por Trump e pelos republicanos do Congresso, e que entregará centenas de milhares de milhões de dólares às grandes empresas e às pessoas abastadas que as detêm e as gerem – pessoas como o próprio Trump. Estão imperturbados pelo facto de que a mesma legislação levará, quando for completamente implementada, a um aumento de impostos para a maioria da classe média – um grupo cujas fortunas têm vindo a declinar durante os últimos 30 anos.
Mesmo no seu mundo tacanhamente materialista, onde o crescimento importa mais que tudo o resto, a legislação fiscal de Trump não deveria ser celebrada. Afinal, diminui os impostos sobre a especulação imobiliária – uma actividade que em nenhum lugar produziu prosperidade sustentável, mas que contribuiu para o aumento das desigualdades em todo o mundo.
A legislação também aplica um imposto sobre universidades como Harvard e Princeton – onde foram originadas várias ideias e inovações importantes – e levará a uma diminuição da despesa pública ao nível local, em partes do país que se desenvolveram precisamente porque fizeram investimentos públicos na educação e nas infraestruturas. A administração Trump está claramente disposta a ignorar o facto óbvio de que, no século XXI, o êxito na verdade exige mais investimento na educação.
Para os CEO de Davos, parece que os cortes fiscais para os ricos e para as suas corporações, juntamente com a desregulamentação, são a resposta para todos os problemas do país. A economia do gotejamento (NdT: trickle-down economics), defendem, acabará por garantir que toda a população retire benefícios económicos. E os bons corações dos CEO são aparentemente tudo o que é necessário para assegurar que o ambiente fica protegido, mesmo sem regulamentação relevante.
Porém, as lições da história são bem claras. A economia do gotejamento não funciona. E uma das principais razões pela qual o nosso ambiente se encontra num estado tão precário é que as empresas, por si só, não cumpriram as suas responsabilidades sociais. Sem regulamentação eficaz e sem um preço real a pagar pela poluição, não existem quaisquer motivos para acreditar que se portarão de forma diferente do que já fizeram.
Os CEO de Davos estavam eufóricos com o retorno ao crescimento, com os seus lucros e salários crescentes. Os economistas relembraram-lhes que este crescimento não é sustentável, e que nunca foi inclusivo. Mas estes argumentos têm pouco impacto num mundo em que o materialismo é rei.
Por isso, esqueçam os lugares-comuns sobre valores, recitados pelos CEO nos parágrafos de abertura dos seus discursos. Pode faltar-lhes a fraqueza do personagem de Michael Douglas no filme de 1987, Wall Street, mas a mensagem não mudou: "A cobiça é boa". O que me deprime é que, embora a mensagem seja obviamente falsa, tanta gente que ocupa o poder acredite que é verdadeira.