Depressione post Davos
DAVOS – Partecipo alla conferenza annuale del Forum Economico Mondiale che si tiene a Davos, in Svizzera – dove la cosiddetta élite globale si riunisce per affrontare i problemi del mondo – dal 1995, e mai ne ero uscito tanto abbattuto come quest'anno.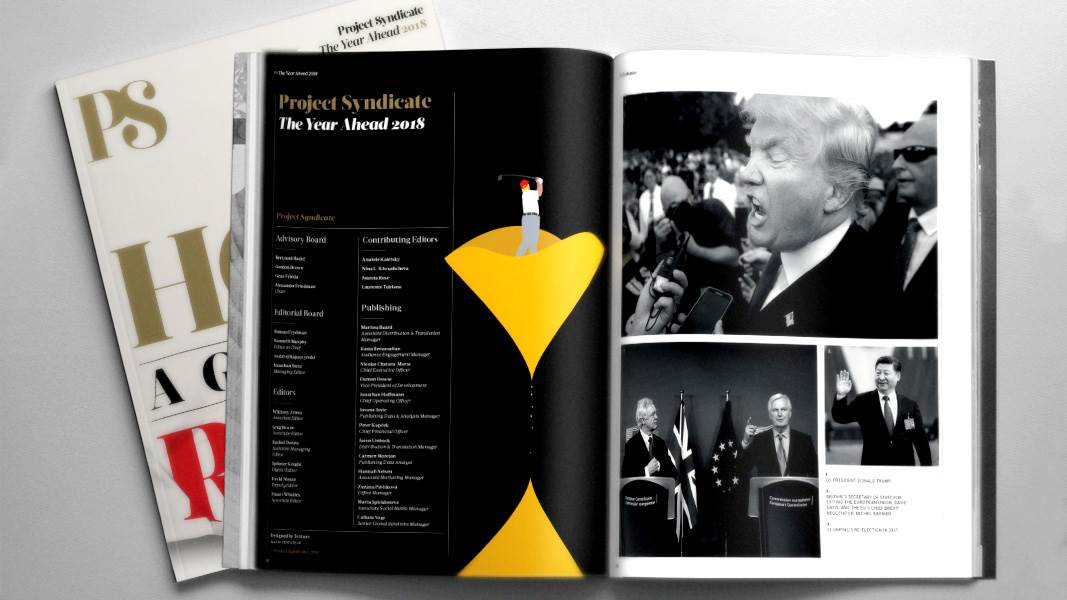 The Year Ahead 2018
The world's leading thinkers and policymakers examine what's come apart in the past year, and anticipate what will define the year ahead.
Il mondo è afflitto da problemi quasi irrisolvibili. La disuguaglianza sta crescendo rapidamente, soprattutto nelle economie avanzate. La rivoluzione digitale, malgrado il suo potenziale, comporta rischi importanti sul piano della privacy, della sicurezza, dell'occupazione e della democrazia – sfide che vengono aggravate dal crescente monopolio di alcuni colossi della rete americani e cinesi, tra cui Facebook e Google. Il cambiamento climatico equivale a una minaccia esistenziale per l'intera economia globale di oggi.    
Forse, però, ancora più scoraggianti dei problemi stessi sono le risposte che vengono date. Qui a Davos, amministratori delegati di ogni parte del mondo non mancano di aprire i propri discorsi sottolineando l'importanza dei valori. La loro attività, proclamano, punta non soltanto a massimizzare i profitti degli azionisti, ma anche a creare un futuro migliore per i loro dipendenti, le comunità in cui operano e il mondo in generale. E magari si riempiono la bocca di parole sui rischi associati al cambiamento climatico e alla disuguaglianza. 
Quest'anno, però, al termine dei vari discorsi, non è rimasto neanche un barlume di speranza in questi valori. La cosa che più sembrava preoccupare questi dirigenti era la reazione populista contro il modello di globalizzazione che loro stessi hanno creato, e da cui hanno tratto enormi vantaggi.  
Non stupisce, dunque, che queste élite economiche fatichino a comprendere fino a che punto questo sistema abbia deluso le aspettative di ampie fasce della popolazione in Europa e negli Stati Uniti, tenendo fermi i salari reali di gran parte delle famiglie e determinando un calo significativo della quota di reddito della forza lavoro. Negli Usa, la speranza di vita è diminuita per il secondo anno consecutivo, e tra coloro che hanno un livello d'istruzione medio-basso questo trend è in atto da molto più tempo.     
Nessuno degli amministratori delegati statunitensi di cui ho ascoltato direttamente o mi è stato riferito l'intervento ha fatto cenno all'estremismo, alla misoginia o al razzismo del presidente americano Donald Trump, che era presente all'evento. Nessuno ha menzionato l'inarrestabile fiume di affermazioni ignoranti, smaccate menzogne e azioni avventate che ha intaccato la reputazione del presidente degli Stati Uniti, e pertanto degli Stati Uniti stessi, nel mondo. Infine, nessuno ha citato la rinuncia ai sistemi finalizzati all'accertamento della verità, nonché alla verità stessa.  
Di fatto, nessun rappresentante dei colossi aziendali americani ha accennato ai tagli ai finanziamenti per la scienza, così importanti per rafforzare il vantaggio comparato dell'economia statunitense e contribuire a migliore il tenore di vita degli americani. Nessuno ha citato, inoltre, il ripudio delle istituzioni internazionali da parte dell'amministrazione Trump, o gli attacchi ai mezzi d'informazione e alla magistratura nazionali, che equivale a un attacco al sistema di pesi e contrappesi che è alla base della democrazia americana. 
No, gli amministratori delegati presenti a Davos pregustavano l'idea della normativa fiscale fatta approvare di recente da Trump e dall'ala repubblicana del congresso, che farà guadagnare centinaia di miliardi di dollari alle grandi multinazionali e ai loro ricchi proprietari e amministratori, consimili di Trump. Il fatto che questa normativa, una volta entrata in vigore, determinerà un aumento della pressione fiscale su gran parte del ceto medio – il cui patrimonio è in costante decrescita da trent'anni – li lascia impassibili.
Persino nel loro mondo materialista, dove la crescita conta più di ogni altra cosa, la normativa fiscale di Trump non andrebbe festeggiata. Dopotutto, essa abbassa le imposte sulla speculazione immobiliare, un'attività che in nessun luogo ha generato una prosperità sostenibile, mentre ha contribuito ad accrescere la disuguaglianza ovunque.
La normativa impone anche una tassa su università come Harvard and Princeton, fucine di idee e innovazioni importanti, e comporterà una riduzione della spesa pubblica locale in aree del paese che hanno prosperato proprio grazie agli investimenti nell'istruzione e nelle infrastrutture. L'amministrazione è chiaramente intenzionata a ignorare l'evidente fatto che, nel ventunesimo secolo, avere successo richiede più investimenti nell'istruzione.  
Per gli amministratori delegati di Davos, i tagli alle tasse sui ricchi e sulle loro imprese, insieme a una politica di deregolamentazione, sono la risposta ai problemi di ogni paese. Secondo loro, l'economia del trickle-down, basata sulla teoria della goccia, farà sì che alla fine tutti ricevano dei benefici economici. E il buon cuore degli amministratori è, a quanto pare, tutto ciò che serve per garantire che l'ambiente sia tutelato, anche senza una normativa apposita. 
Ma le lezioni che ci ha insegnato la storia sono chiare. La teoria della goccia non funziona, e una delle ragioni principali per cui il nostro ambiente si trova in condizioni tanto precarie è che le multinazionali hanno ignorato le proprie responsabilità civili. Senza norme efficaci e un prezzo concreto da pagare per l'inquinamento, non vi è alcun motivo di credere che esse si comporteranno diversamente da come hanno fatto finora.
Gli amministratori di Davos erano euforici in merito al ritorno alla crescita e ai loro profitti e compensi esorbitanti. Gli economisti hanno ricordato loro che una crescita di questo tipo non è sostenibile e non è mai stata inclusiva, ma questi argomenti attecchiscono poco in un mondo dove il materialismo regna sovrano.
Perciò, lasciamo perdere i luoghi comuni sui valori con cui gli amministratori delegati aprono i loro discorsi. Non saranno schietti come il personaggio interpretato da Michael Douglas nel film Wall Street del 1987, ma il messaggio non è diverso: "L'avidità è giusta". Quello che mi deprime è che, per quanto il concetto sia palesemente falso, tanti al potere credono che corrisponda a verità.  
Traduzione di Federica Frasca