Dits et non-dits des PDG américains à Davos
DAVOS – J'ai assisté à la conférence du Forum économique mondial qui a lieu chaque année à Davos en Suisse depuis 1995 et qui réunit les soi-disant élites mondiales pour y discuter des grands problèmes mondiaux. Jamais je n'en suis revenu aussi déprimé que cette année.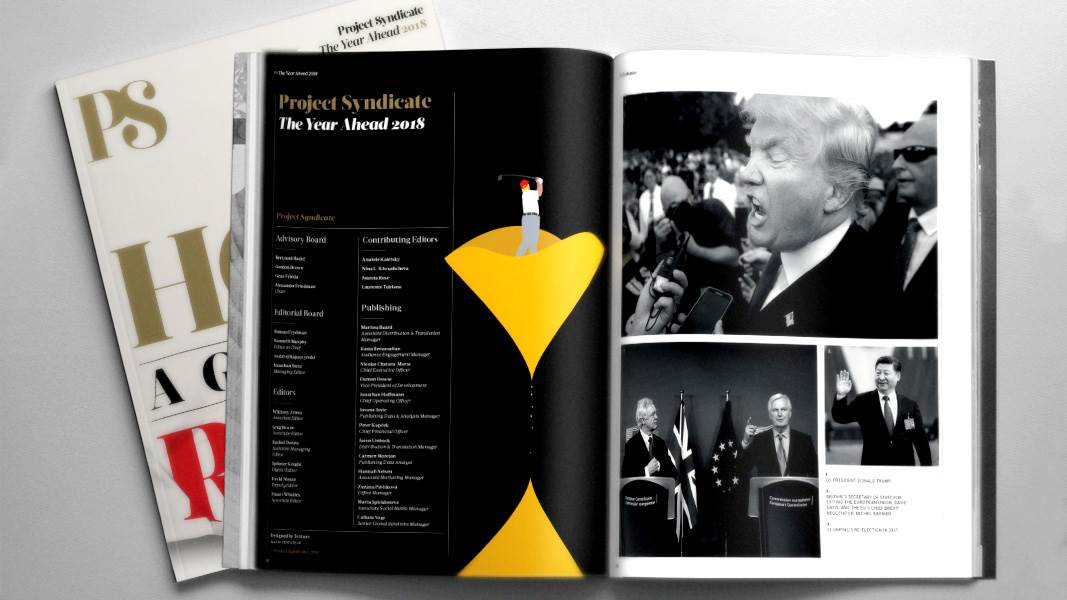 The Year Ahead 2018
The world's leading thinkers and policymakers examine what's come apart in the past year, and anticipate what will define the year ahead.
La planète est confrontée à des problèmes presque insolubles. Les inégalités augmentent, notamment dans les pays développés. La révolution numérique, malgré tout son potentiel, s'accompagne de risques importants qui pourraient affecter la sécurité, l'emploi et la démocratie - des défis aggravés par la montée en puissance et le quasi monopole de quelques géants numériques chinois et américains, en particulier Facebook et Google. Quant au réchauffement climatique, il représente une menace existentielle pour l'ensemble de l'économie mondiale telle que nous la connaissons.
Les réponses envisagées à ces problèmes sont peut-être encore plus démoralisantes que les difficultés qu'ils représentent. Il est vrai qu'à Davos des PDG venus du monde entier ont commencé leur discours en insistant sur l'importance des "valeurs". Leurs activités, ont-ils dit, ne visent pas seulement à accroître le profit des actionnaires, mais aussi à créer un meilleur futur pour leurs employés, leur environnement, et plus généralement pour la planète. Et ils ont eu parfois quelques mots sur les risques liés au réchauffement climatique et aux inégalités.
Mais cette année, une fois les feux de l'estrade éteints, il n'y avait plus aucune illusion à se faire sur les valeurs qui les motivent. Le principal risque qui les préoccupe est celui d'une réaction populiste contre le type de mondialisation qu'ils ont construite - et dont ils tirent d'immenses bénéfices. Il n'est pas étonnant qu'ils ne réalisent pas qu'une grande partie de la population européenne et américaine n'en bénéficie pas, que la part des salaires dans la valeur ajoutée baisse au profit du capital et que le revenu réel de la plupart des ménages stagne. Aux USA, l'espérance de vie vient de baisser pendant deux années consécutives chez les personnes n'ayant pas poursuivi leurs études au-delà du lycée, mais la baisse a commencé depuis bien plus longtemps.
Pas un seul des PDG américains dont j'ai entendu le discours (ou dont j'ai entendu parlé) n'a mentionné la bigoterie, la misogynie ou le racisme du président Trump qui était présent à la conférence. Pas un n'a mentionné son flot de déclarations grossières, de mensonges et d'actes impulsifs qui portent atteinte à la présidence des USA et à la stature de ces derniers dans le monde. Aucun n'a mentionné le renoncement à la vérification des faits et à la vérité elle-même.
Aucun des titans d'affaires américains n'a mentionné la réduction du budget public consacré à la recherche, un secteur fondamental pour renforcer l'avantage comparatif de l'économie américaine et pour favoriser l'amélioration du niveau de vie des Américains. Aucun n'a mentionné le rejet des institutions internationales par le gouvernement de Trump, ni même les attaques contre les médias nationaux et la Justice - ce qui revient à s'en prendre au principe de l'équilibre des pouvoirs qui sous-tend la démocratie américaine.
Non, les grands patrons présents à Davos se sont félicités de la récente loi fiscale de Trump approuvée par les Républicains du Congrès. Elle permettra aux grandes entreprises et aux contribuables les plus fortunés qui en sont propriétaires et qui les dirigent - des gens comme Trump lui-même - de faire des centaines de milliards de dollars d'économie. Ils ne s'émeuvent pas de ce que cette loi, quand elle sera entièrement appliquée, se traduira par une hausse d'impôts pour la majorité de la classe moyenne dont la prospérité décline depuis une trentaine d'années.
Même dans leur univers étroitement matérialiste où la croissance compte avant toute chose, il n'y a pas de quoi se réjouir de la loi fiscale de Trump. Elle va entraîner par exemple une baisse des impôts sur la spéculation immobilière - une activité qui n'a jamais débouché sur une prospérité durable, mais qui contribue partout à la hausse des inégalités. Elle inclut également un impôt sur des universités comme Harvard ou Princeton, des sources abondantes d'idées nouvelles et d'innovation. Elle contraindra à une baisse des dépenses publiques dans des Etats prospères, précisément parce qu'il ont investi dans l'éducation et les infrastructures. De toute évidence, le gouvernement de Trump fait comme s'il ne savait pas qu'au 21° siècle réussir exige d'investir davantage dans l'éducation.
Pour les PDG de Davos, il semble que les baisses d'impôts pour les riches et pour leurs entreprises, associées à la déréglementation, soit la réponse à tous les problèmes du pays. Le principe économique du ruissellement, assurent-ils, fait qu'au bout du compte l'ensemble de la population en profitera. A les écouter, leurs bons sentiments sont suffisants pour assurer la protection de l'environnement, même en l'absence de réglementation.
Pourtant l'Histoire le montre sans ambiguïté, le principe du ruissellement ne marche pas. Et la dégradation de l'environnement tient en grande partie au fait que les entreprises n'assument pas de leur propre chef leurs responsabilités sociales. Sans réglementation efficace et un prix à payer pour polluer, il n'y a aucune raison de croire qu'elles vont changer de comportement.
Les PDG de Davos étaient euphoriques en évoquant le retour de la croissance, leurs profits et leurs indemnités à la hausse. Pourtant les économistes leur rappellent que cette croissance n'est pas durable et n'a jamais été inclusive - mais ces arguments n'ont guère de poids dans un monde où le matérialisme est roi.
Alors oublions les platitudes sur les valeurs que les PDG évoquent au début de leurs discours. Ils n'ont peut-être pas toute la sincérité du personnage de Michael Douglas dans son film Wall Street de 1987, pourtant le message reste le même : "La cupidité est une bonne chose". Je suis démoralisé à l'idée que tant de gens au pouvoir le pensent, alors que le message est de toute évidence faux.
Traduit de l'anglais par Patrice Horovitz