Meze čínské ofenzivy šarmu
STOCKHOLM – V posledních deseti letech Čína zaujímala ke vztahům se zeměmi východní Asie čím dál silovější přístup. V posledních měsících však své sousedy překvapila ofenzivou šarmu. Co se změnilo?
Na chování Číny v regionu docela dost. V roce 2013 Čína jednostranně vyhlásila identifikační pásmo protivzdušné obrany zahrnující sporné ostrovy Senkaku/Tiao-jü ve Východočínském moři – což byl krok, který vyostřil pnutí s Japonskem. Rok nato Čína začala ve sporných oblastech Jihočínského moře budovat rozsáhlé umělé ostrovy. V roce 2016 uvalila sankce na Jižní Koreu v reakci na rozhodnutí dovolit Spojeným státům umístit tam systém protiraketové obrany.
Teď však taková geostrategická šikana zřejmě ustupuje diplomacii. Minulý měsíc čínský prezident Si Ťin-pching přivítal v Pekingu japonského premiéra Šinza Abeho. Jeho návštěva Číny byla ze strany japonského lídra první po sedmi letech a Siova plánovaná návštěva Japonska bude příští rok první takovou cestou čínského prezidenta po více než deseti letech.
Minulý týden čínský premiér Li Kche-Čchiang zamířil do Singapuru, kde podepsal aktualizované znění dohody o volném obchodu mezi Čínou a Singapurem. Doufá také, že příští rok podepíše a realizuje Obsáhlé regionální hospodářské partnerství (RCEP), jež Čína před několika lety iniciovala s cílem postavit se dnes již zaniklému Transpacifickému partnerství (přehnaně ambiciózní cíl, jehož nejspíš nebude dosaženo, vzhledem ke komplikovanosti obchodních dohod mnoha stran).
Nový, méně nepřátelský přístup Číny neodráží změnu stanoviska ani cílů tamních vůdců, ale spíš změnu regionálních geopolitických poměrů. Během posledních šesti měsíců ustoupily USA od své čtyři desetiletí staré politiky spolupráce s Čínou a namísto ní přijaly strategii zadržování. Tváří v tvář stupňujícímu se geopolitickému soupeření s USA se Čína snaží získat si v regionu přátele.
Tato čínská ofenziva šarmu je sice velmi čerstvá, ale její obrysy jsou už zřetelné. Jejím nejvýraznějším rysem je obchod. Jako největší obchodní partner mnoha asijských zemí bude Čína svým sousedům nabízet lákavé obchodní podmínky, velice podobně jako v případě Singapuru.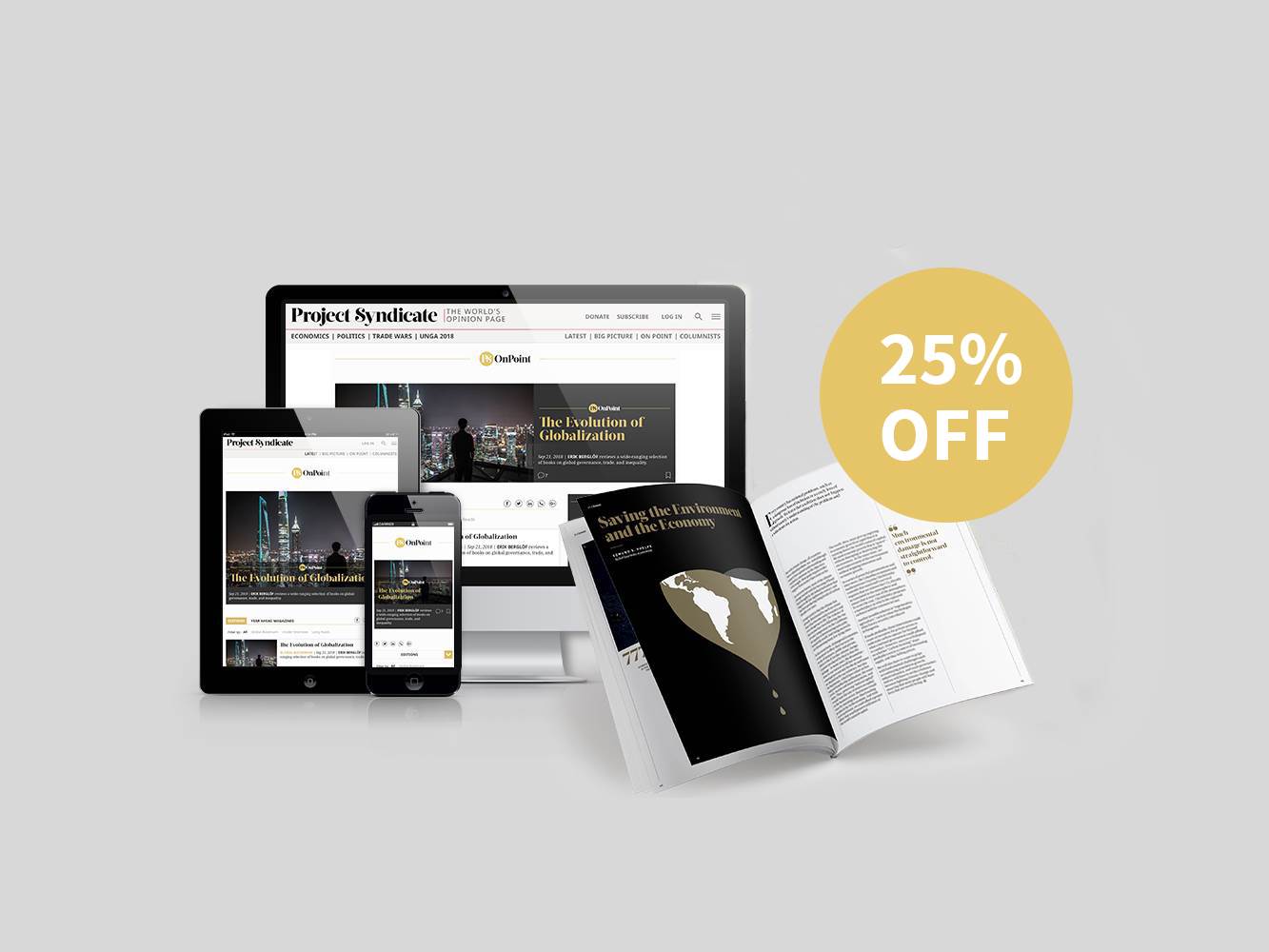 Subscribe now
For a limited time only, get unlimited access to On Point, The Big Picture, and the PS Archive, plus our annual magazine and a tote bag, for just $75.
Součástí nové čínské taktiky jsou také častější diplomatické styky na vysoké úrovni, zaměřené na přední regionální aktéry, vedle Japonska třeba na Jižní Koreu, Indonésii a Vietnam. Si Ťin-pching má například ve dnech 20. až 21. listopadu navštívit  Filipíny. Prostřednictvím summitů a dalších příležitostí ke svolání vysokých představitelů se Čína bude snažit rozvíjet přátelštější vztahy se svými sousedy. Na podporu tohoto úsilí byl pravděpodobně čínské propagandistické mašinérii vydán pokyn, aby ztlumila nacionalistickou rétoriku a vystříhala se tématům, která by mohla urážet sousedy země.
Konečně Čína může dočasně zmírnit uplatňování územních nároků. Není například pravděpodobné, že by mělčinu Scarborough, kterou v roce 2012 sebrala Filipínám, v dohledné budoucnosti proměnila v další umělý ostrov. Stejně tak se bude nejspíš vyhýbat vysílání lodí do blízkosti ostrovů Senkaku/Tiao-jü, aby neprobouzela nepřátelství Japonska.
Východoasijské země zatím na novou diplomacii Číny reagují kladně a nepochybně by uvítaly každý oddech od čínské agresivity. Ani sladké řeči, ani obchodní dohody ale Číně nezajistí spolehlivé spojence, zejména v zápase proti USA.
Málokdo ve východní Asii chce žít ve stínu hegemonické Číny. Strach z této vyhlídky je už dlouho oporou amerického bezpečnostního uspořádání ve východní Asii, které je založeno na bilaterálních spojenectvích a předsunutém umístění armády USA. Právě tento strach ve východní Asii zachovává širokou podporu tomu, aby USA v regionu působily jako strategická protiváha.
Jistěže, většina východoasijských zemí se raději otevřeně nepřiklání ani k jedné ze stran. Kdyby se ale USA a Čína měly dostat do přímého strategického konfliktu – což je čím dál pravděpodobnější vyhlídka – větší podpory by se dostalo USA, zejména od spojenců jako Japonsko, Jižní Korea a Vietnam. Také Malajsie a Singapur by se pravděpodobně postavily za USA.
Pokud si Čína chce ve svém okolí získat spolehlivé přátele, bude muset udělat mnohem větší ústupky v bezpečnostních otázkách, zejména územních sporech. Kupříkladu trvalé urovnání nároků na ostrovy Senkaku/Tiao-jü by mohlo výrazně přispět k přesvědčení Japonska, že Čína nepředstavuje vážnou hrozbu. Podobně platí, že kdyby Čína přijala mezinárodní arbitráž nad svými nároky v Jihočínském moři, zmírnila by obavy svých sousedů na jihovýchodě Asie.
Aktuálně nic nenaznačuje, že by Si, který se zavázal, že "Číně vrátí velikost", o takových ústupcích alespoň uvažoval. Dokud se ale Čína bude držet čistě taktického přístupu, bude sklízet čistě taktické ovoce. K pěstování přátelských vztahů, které dokážou přečkat strategický konflikt s USA, ale takové plody stačit nebudou.
Z angličtiny přeložil David Daduč