Les acteurs du nouveau miracle économique chinois
MILAN – Alors que le 19° Congrès du parti communiste chinois (PCC) s'achève, on porte beaucoup d'attention à la question de savoir qui va occuper les principaux postes de l'administration du président Xi Jinping au cours des cinq prochaines années. Pourtant l'avenir de la Chine dépend en grande partie d'un groupe qui retient beaucoup moins l'attention : les technocrates qui devront mettre en œuvre la transformation de l'économie chinoise.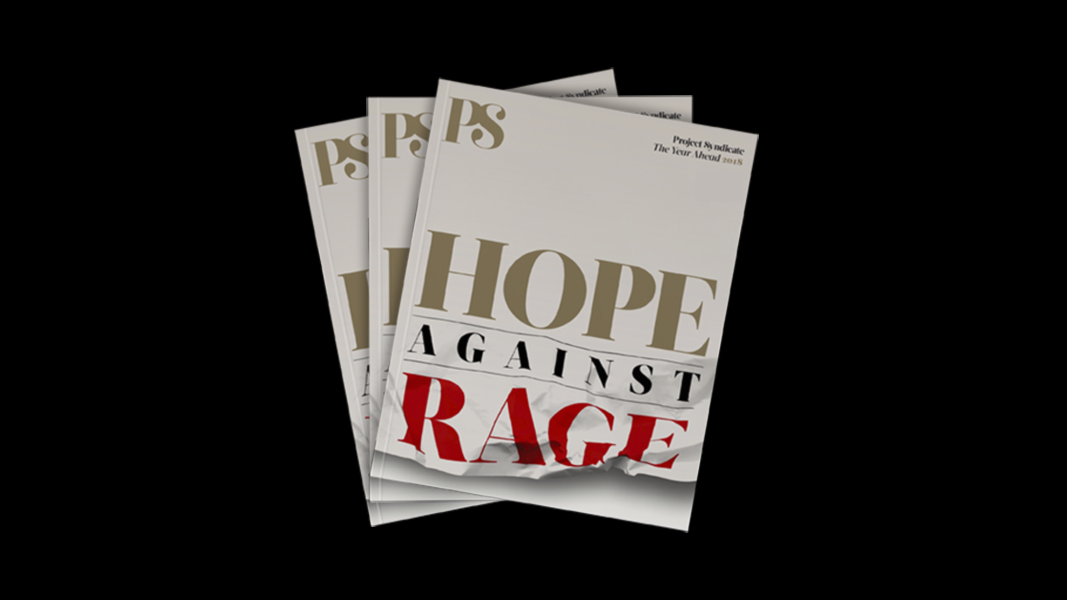 The Year Ahead 2018
The world's leading thinkers and policymakers examine what's come apart in the past year, and anticipate what will define the year ahead.
Au cours des 40 dernières années, ils ont opéré un bouleversement économique véritablement miraculeux. La génération actuelle, des personnes de talent, passera le relais à une nouvelle génération en mars 2018. Très éduquée, bénéficiant d'une bonne expérience et pour la plupart de ses membres devant leur réussite à leur propre mérite, elle est préparée à conduire la Chine sur la voie du progrès économique et social avec compétence et dévouement. La question reste de savoir si elle sera libre d'agir.
Une chose au moins est sûre : elle sera confrontée à des défis inédits, car la Chine traverse une phase de grande incertitude. Au delà des questions liées au changement de génération, le cadre de la politique chinoise a évolué de manière spectaculaire sous la présidence de Xi.
Sous Deng Xiaoping, le dirigeant qui a lancé le programme radical de "réformes et d'ouverture" en 1978, la transformation de l'économie nationale et sa montée en puissance s'est réalisée dans le cadre d'un modèle de prise de décision collaboratif qui supposait un débat interne vigoureux. Deng excluait explicitement toute intensification de l'engagement international de la Chine, et il a été suivi en cela par ses successeurs pendant plus de 30 ans.
Depuis son accession au pouvoir en 2012, Xi a largement remodelé ce cadre. Ainsi, il s'est attaqué à la corruption endémique qui nuisait à la crédibilité du PCC (et par voie de conséquence à son modèle de gouvernance) en lançant une campagne sans précédent qui a atteint les plus hautes strates du parti.
Beaucoup s'attendaient à ce que cette campagne ne dure que le temps de préparer la voie des grandes réformes économiques annoncées en 2013 lors de la troisième session plénière du 18° Comité central du PCC. Or elle a acquis un caractère permanent.
Xi estime que la légitimité d'un gouvernement tient essentiellement aux valeurs qu'il met en œuvre, associées aux progrès économiques et sociaux - l'engagement en faveur de l'intérêt général devant l'emporter sur la forme de gouvernance. En Occident peu d'observateurs ont identifié cette perspective, d'autant que beaucoup d'événements marquants qui s'y sont déroulé au cours des 10 dernières année (la crise financière de 2008, le creusement des inégalités de revenus et de patrimoines et l'intensification de la polarisation politique) ont renforcé leur point de vue.
C'est pourquoi les dirigeants chinois et la population sont de plus en plus convaincus qu'un parti unique fort est un pilier essentiel de la stabilité et de la croissance. Ils estiment que l'insistance occidentale sur la forme de gouvernance, et non sur une politique économique et sociale inclusive, est mal inspirée - car un système démocratique et un système autocratique peuvent être aussi corrompus l'un que l'autre.
Le programme économique Xi va bien au-delà de la simple croissance économique, car il inclut une politique concertée d'expansion de l'influence chinoise dans l'économie mondiale, notamment dans les pays en développement. Cette ambition suppose des vues sur les ressources (être le premier investisseur étranger en Afrique et en Asie centrale suppose des dépenses massives) et une pression politique. Par exemple les entreprises nationalisées, dont les banques, peuvent faire preuve de plus de flexibilité que les entreprises privées face à une combinaison variable d'incitations aux investissements publiques et privés et à leur rendement.
Enfin, depuis quelques années, le cadre politique chinois reflète de plus en plus les tensions inévitables entre l'impératif de longue date de veiller à la stabilité sociale et politique et l'objectif plus récent de libéralisation économique. Les dirigeants chinois restent fermement attachés à la défense des intérêts du PCC qu'il considère proche de ceux de la société. C'est pour cela que le parti continue à donner la priorité au maintien de l'ordre et à l'instillation de ses valeurs dans toute la société et qu'il reste présent non seulement dans les débats politiques, mais également au sein du secteur privé et dans le domaine social.
Le gouvernement veut aussi attribuer un rôle plus important aux marchés, supprimer les contraintes qui brident l'entreprenariat et l'innovation et mieux répondre aux besoins et désirs d'une classe moyenne jeune et éduquée en plein développement. Il y a une bonne raison à cela : ce sont les moteurs de l'augmentation du PIB dont le taux de croissance annuel est de 6 à 7%. Or cette croissance rapide a lieu malgré les difficultés structurelles et la transition de la Chine vers le stade de pays à revenu moyen dans un contexte peu favorable, car l'économie mondiale n'est pas florissante.
Il est difficile de dire si ces deux objectifs sont contradictoires. Mais la question mérite d'être posée, car la concurrence dynamique qui suscite l'innovation n'est pas un processus centralisé, même si les choix faits dans le secteur public dans des domaines tels que la recherche ont un impact important.
Par ailleurs, tant dans les cercles du pouvoir que dans les milieux universitaires, un véritable débat est indispensable pour identifier les bonnes idées. Le système chinois a montré sa capacité de débat interne à un niveau élevé entre participants de confiance, compétents et expérimentés, qui agissent vite et bien. Pourtant les dirigeants chinois se méfient encore des débats publics non encadrés et des voix indépendantes, alors que nombre de choix politiques complexes (par exemple sur la réforme du secteur financier et l'ouverture économique) bénéficieraient d'un débat ouvert.
Le succès de la Chine au cours des cinq prochaines années dépendra essentiellement de la manière dont le gouvernement chinois gèrera son programme et les tensions que sa mise en oeuvre va susciter. Pour parvenir à son objectif, il devra maintenir un équilibre délicat entre d'un coté un parti communiste fort, discipliné et omniprésent, qui décide des normes et doit défendre l'intérêt général, et de l'autre, des marchés puissants et innovateurs qui pilotent l'économie sur la voie de l'avenir.
Traduit de l'anglais par Patrice Horovitz