Amerika, das neue Zentrum globaler Instabilität
NEW YORK – Ob die Erstürmung des US-Kapitols ein Putschversuch, ein Aufstand oder ein Angriff auf die Demokratie war, ist lediglich eine semantische Frage. Entscheidend ist, dass die Gewalt darauf abzielte, die ordnungsgemäße Machtübergabe auf Geheiß und zugunsten eines gefährlichen Irren scheitern zu lassen. Präsident Donald Trump, der aus seinen diktatorischen Anwandlungen nie ein Hehl machte, sollte nun von der Macht entfernt, aus öffentlichen Ämtern ausgeschlossen und aufgrund der in der amerikanischen Verfassung dargelegten Tatbestände der "high crimes" angeklagt werden.
Schließlich mögen die Ereignisse des 6. Januar zwar schockierend gewesen sein, überraschend kamen sie nicht. Ich und zahlreiche andere Kommentatorinnen und Kommentatoren hatten schon lange davor gewarnt, dass die Wahl 2020 Unruhen, Gewalt und Versuche Trumps mit sich bringen würde, unrechtmäßig an der Macht zu bleiben. Neben seinen Verbrechen im Zusammenhang mit der Wahl ist Trump auch einer rücksichtslosen Missachtung der öffentlichen Gesundheit schuldig. Er und seine Regierung sind zu einem großen Teil für die enorme Zahl an Covid-19-Todesfällen in den Vereinigten Staaten verantwortlich, wo 4 Prozent der Weltbevölkerung leben, aber 20 Prozent aller Corona-Toten verzeichnet werden.
Einst ein Leuchtfeuer der Demokratie, der Rechtsstaatlichkeit und der guten Regierungsführung, erscheinen die USA heute wie eine Bananenrepublik, die  - trotz höherer Pro-Kopf-Gesundheitsausgaben als in jedem anderen Land – weder in der Lage ist, eine Infektionskrankheit noch den von einem Möchtegern-Diktator aufgehetzten Mob in den Griff zu bekommen. Autoritäre Führer auf der ganzen Welt lachen jetzt über die USA und spotten über die amerikanische Kritik an der politischen Misswirtschaft anderer. Als ob der Schaden an der Soft Power der USA in den letzten vier Jahren nicht schon immens genug wäre, hat Trumps gescheiterter Aufstand das Ansehen Amerikas noch weiter untergraben.
Schlimmer noch: obwohl der designierte Präsident Joe Biden in etwa einer Woche angelobt wird, gibt das Trump reichlich Zeit, um noch mehr Chaos zu veranstalten. Rechtsextreme Milizen und weiße Suprematisten planen bereits weitere Akte des Protests, der Gewalt und ethnisch motivierter Auseinandersetzungen in Städten in den gesamten USA. Und strategische Rivalen wie Russland, China, Iran und Nordkorea werden versuchen, mit der Streuung von Desinformation oder mit Cyberattacken – womöglich auf kritische US-Infrastruktur -  das Chaos auszunutzen.
Gleichzeitig könnte ein verzweifelter Trump ähnlich wie der Präsident in dem Film "Wag the Dog" versuchen, einen Angriff – möglicherweise mit einem taktischen Atomsprengkopf - auf die wichtigste Atomanlage des Iran in Natanz anzuordnen, mit der Begründung, dass dort Uran angereichert werde. Das ist alles andere als ausgeschlossen, denn die Trump-Administration hat bereits Übungen mit Tarnkappenbombern und Kampfjets abhalten lassen, – die erstmals mit taktischen Atomwaffen bestückt waren – um dem Iran zu signalisieren, dass seine Luftabwehr überhaupt keine Abwehr bietet.
Kein Wunder also, dass die Sprecherin des Repräsentantenhauses, Nancy Pelosi, das Bedürfnis verspürte, sich an den US-Generalstabschef zu wenden, um Schritte zur Verhinderung eines Atomschlags durch Dr. Seltsam im Weißen Haus zu besprechen. Während ein ungerechtfertigter Befehl für einen atomaren Angriff auf ein Ziel in einem stark bewohnten Gebiet vom Militär als offensichtlich "unrechtmäßig" abgelehnt werden würde, ist dies bei einem Angriff auf ein militärisches Ziel in einem nicht bevölkerten Gebiet womöglich nicht der Fall, selbst wenn ein derartiger Schlag schlimme geopolitische Folgen hätte. Außerdem weiß Trump, dass sowohl Saudi-Arabien als auch Israel einen Angriff auf den Iran stillschweigend unterstützen würden (tatsächlich könnten die USA angesichts der kürzeren Reichweite nuklear bewaffneter Kampfjets auf saudische Logistik- und Bodenunterstützung zurückgreifen, um einen solchen Angriff auszuführen).
Subscribe to Project Syndicate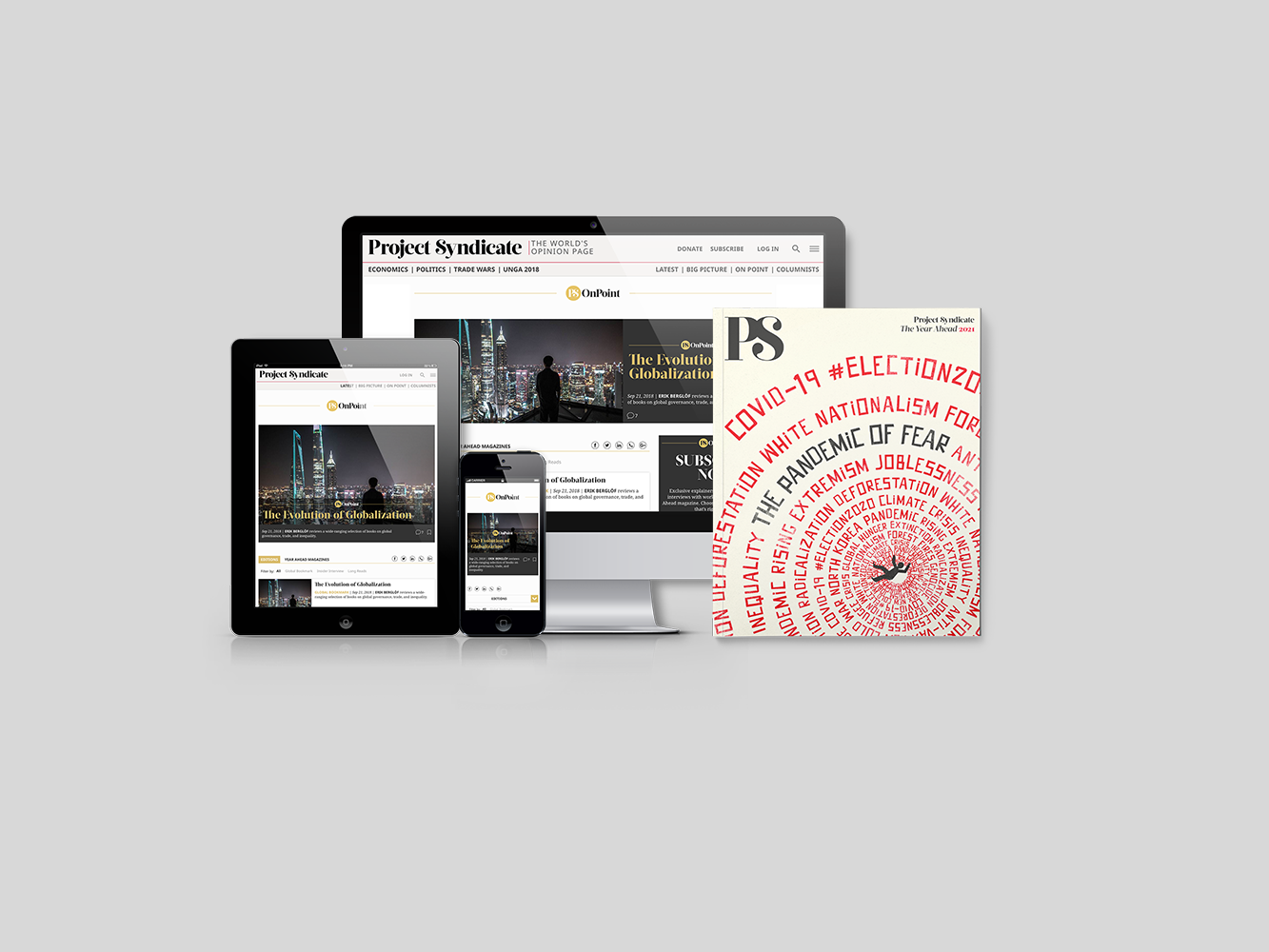 Subscribe to Project Syndicate
Enjoy unlimited access to the ideas and opinions of the world's leading thinkers, including weekly long reads, book reviews, and interviews; The Year Ahead annual print magazine; the complete PS archive; and more – All for less than $9 a month.
Die Aussicht auf einen Angriff auf den Iran könnte Vizepräsident Mike Pence den benötigten Vorwand liefern, um sich auf den 25. Verfassungszusatz zu berufen und Trump von der Macht zu entfernen. Aber selbst wenn das so eintreten würde, wäre das nicht unbedingt ein Gewinn für Demokratie und Rechtsstaatlichkeit. Trump könnte - und würde wahrscheinlich - von Pence (so wie Richard Nixon von Gerald Ford) begnadigt werden. Damit könnte er 2024 erneut für das Präsidentenamt kandidieren oder bei dieser Wahl den Königsmacher spielen, da er die republikanische Partei und ihre Basis kontrolliert. Trumps Absetzung mit dem Versprechen einer anschließenden Begnadigung könnte zu einem faustischen Pakt zwischen Pence un Trump werden.
Da die Selbstbegnadigung, die Trump in Erwägung zog, möglicherweise nicht verfassungskonform ist, kann man davon ausgehen, dass er sich nach anderen kreativen Auswegen umsehen wird. Er kann nicht einfach zurücktreten und Pence gestatten, eine Begnadigung auszusprechen, denn das würde ihn wie einen "Loser" dastehen lassen, der die Niederlage akzeptiert hat (die schlimmste Kränkung in Trumps egomanischem Lexikon). Wenn der Präsident jedoch einen Angriff auf den Iran befehlen und dann zum (begnadigten) Märtyrer werden würde, könnte er sowohl seine Basis erhalten als auch Verantwortlichkeit vermeiden. Aus dem gleichen Grund kann Trump auch kein (erneutes) Amtsenthebungsverfahren riskieren, denn das würde die Möglichkeit eröffnen, ihn künftig von diesem Amt auszuschließen. Somit hat er starke Anreize, mit Getöse und zu seinen Bedingungen abzutreten. 
Wenn das nun alles so klingt wie die letzten Tage Neros, der auf der Lyra spielte, während Rom in Flammen stand, dann deshalb, weil es genau so ist. Der Niedergang des amerikanischen Imperiums scheint sich rasant zu beschleunigen. Angesichts des Ausmaßes der politischen, sozialen und wirtschaftlichen Spaltung der USA, werden vier Jahre solider Führung unter Biden nicht ausreichen, um den angerichteten Schaden rückgängig zu machen. Höchstwahrscheinlich werden die Republikaner alles tun, um die neue Regierung zu sabotieren, wie sie es auch mit dem früheren Präsidenten Barack Obama getan haben.
Bereits vor der Wahl warnten die nationalen Sicherheitsbehörden, dass Terror und Gewalt von rechts die hausgemachte Bedrohung Nummer eins in den USA bleiben würde. Mit Biden im Amt wird die Gefahr noch steigen. In den letzten vier Jahren wurden schwerbewaffnete Milizen weißer Suprematisten noch einigermaßen in Schach gehalten, weil sie über einen Verbündeten im Weißen Haus verfügten. Doch sobald Trump weg ist, werden die Gruppen, die er angewiesen hat, sich "zurück- und bereitzuhalten", die Kontrolle der Demokraten über Präsidentschaft und Kongress nicht so einfach hinnehmen. Trump wird von Mar-a-Lago aus operieren und den Mob weiterhin mit noch mehr Lügen, Verschwörungstheorien und Unwahrheiten über eine gestohlene Wahl aufhetzen.
Die USA werden daher in den kommenden Monaten und Jahren höchstwahrscheinlich das neue Epizentrum der politischen und geopolitischen Instabilität auf der Welt sein. Amerikas Verbündete werden sich gegen eine zukünftige Rückkehr des Trumpismus wappnen müssen, und strategische Rivalen werden weiterhin versuchen, die USA durch asymmetrische Kriegsführung zu destabilisieren. Der Welt steht eine lange, unschöne und holprige Reise bevor.
Aus dem Englischen von Helga Klinger-Groier