L'Amérique est devenue l'épicentre de l'instabilité mondiale
NEW YORK – Que l'assaut du Capitole, à Washington, soit une tentative de coup d'État, une insurrection ou une offensive contre la démocratie n'est qu'une question sémantique. Ce qui compte, c'est que cette violence avait pour but de faire échouer la passation légitime du pouvoir au bénéfice d'un fou dangereux et sur son ordre. Le président Donald Trump, qui n'a jamais caché ses inclinations pour la dictature devrait désormais être révoqué, se voir interdire toute nouvelle fonction publique et faire l'objet de poursuites criminelles.
Car les événements du 6 janvier ont beau être choquants, ils n'ont rien de surprenant. De nombreux commentateurs, dont je suis, ont depuis longtemps prévenu que les élections de 2020 s'accompagneraient de troubles publics et de violences, et que Trump tenterait de se maintenir au pouvoir contre la loi. Au-delà des crimes qu'il a commis en rejetant le processus électoral, Trump est aussi coupable d'avoir délaissé sans vergogne la santé publique. Il porte avec son administration une responsabilité écrasante pour l'énorme tribut prélevé par le Covid-19 aux États-Unis, où ne vivent que 4 % de la population mondiale, mais où l'on compte 20 % des décès dus au coronavirus.
Autrefois symbole de la démocratie, de l'État de droit et de la bonne gouvernance, les États-Unis d'aujourd'hui apparaissent comme une république bananière qui n'est pas plus capable de contrôler une maladie contagieuse – alors même que les dépenses de santé par habitant y sont plus élevées que partout ailleurs dans le monde – que de maîtriser une foule d'émeutiers encouragée par un apprenti dictateur. Les pouvoirs autoritaires du monde entier rient aujourd'hui des États-Unis et se gaussent des critiques américaines envers les défaillances politiques des autres pays. Comme si les coups portés ces quatre dernières années au soft power des États-Unis ne suffisaient pas, l'insurrection ratée de Trump a plus encore abaissé la position de l'Amérique.
Mais le président élu Joe Biden ne prêtera serment que dans une semaine, un délai amplement suffisant à Trump pour créer plus de désordre. Les milices d'extrême-droite et les suprémacistes blancs projettent déjà des actions de protestation, des violences, et de rallumer la lutte raciale dans nombre de villes et dans tous les États-Unis. En outre, des concurrents stratégiques comme la Russie, la Chine, l'Iran et la Corée du Nord vont chercher à exploiter le chaos en semant la désinformation ou bien en lançant des cyberattaques, susceptibles de viser des infrastructures essentielles aux États-Unis.
Cependant, un Trump désespéré pourrait tenter de mettre en scène une guerre, comme dans le film de la fin des années 1990 Des hommes d'influence, en ordonnant par exemple une frappe – éventuellement avec une tête nucléaire tactique – sur la principale installation nucléaire iranienne, à Natanz, au motif qu'elle sert à l'enrichissement de l'uranium. L'hypothèse n'a rien d'irréaliste. L'administration Trump a d'ores et déjà organisé des exercices auxquels ont pris part des bombardiers furtifs et des avions de chasse, chargés, pour la première fois, d'armes nucléaires tactiques, signalant ainsi à l'Iran que ses défenses aériennes ne défendaient plus rien désormais.
Il n'est donc guère surprenant que la présidente de la Chambre des représentants, Nancy Pelosi, ait éprouvé le besoin de s'entretenir avec le chef d'état-major de l'armée pour éviter une frappe nucléaire qui serait ordonnée par le Dr. Folamour occupant la Maison Blanche. Si l'ordre injustifié de lancer une attaque nucléaire contre une cible située à proximité d'une importante population civile serait rejeté comme évidemment « illégal » par l'armée, une frappe contre une installation militaire dans une zone non peuplée pourrait ne pas l'être, quelles qu'en soient les conséquences géopolitiques. Trump sait fort bien que l'Arabie saoudite et Israël soutiendraient tous deux tacitement une attaque contre l'Iran (de fait, les États-Unis devraient utiliser la logistique et l'assistance au sol saoudiennes pour y procéder, étant donné le faible rayon d'action des chasseurs capables d'emporter l'arme nucléaire).
Subscribe to Project Syndicate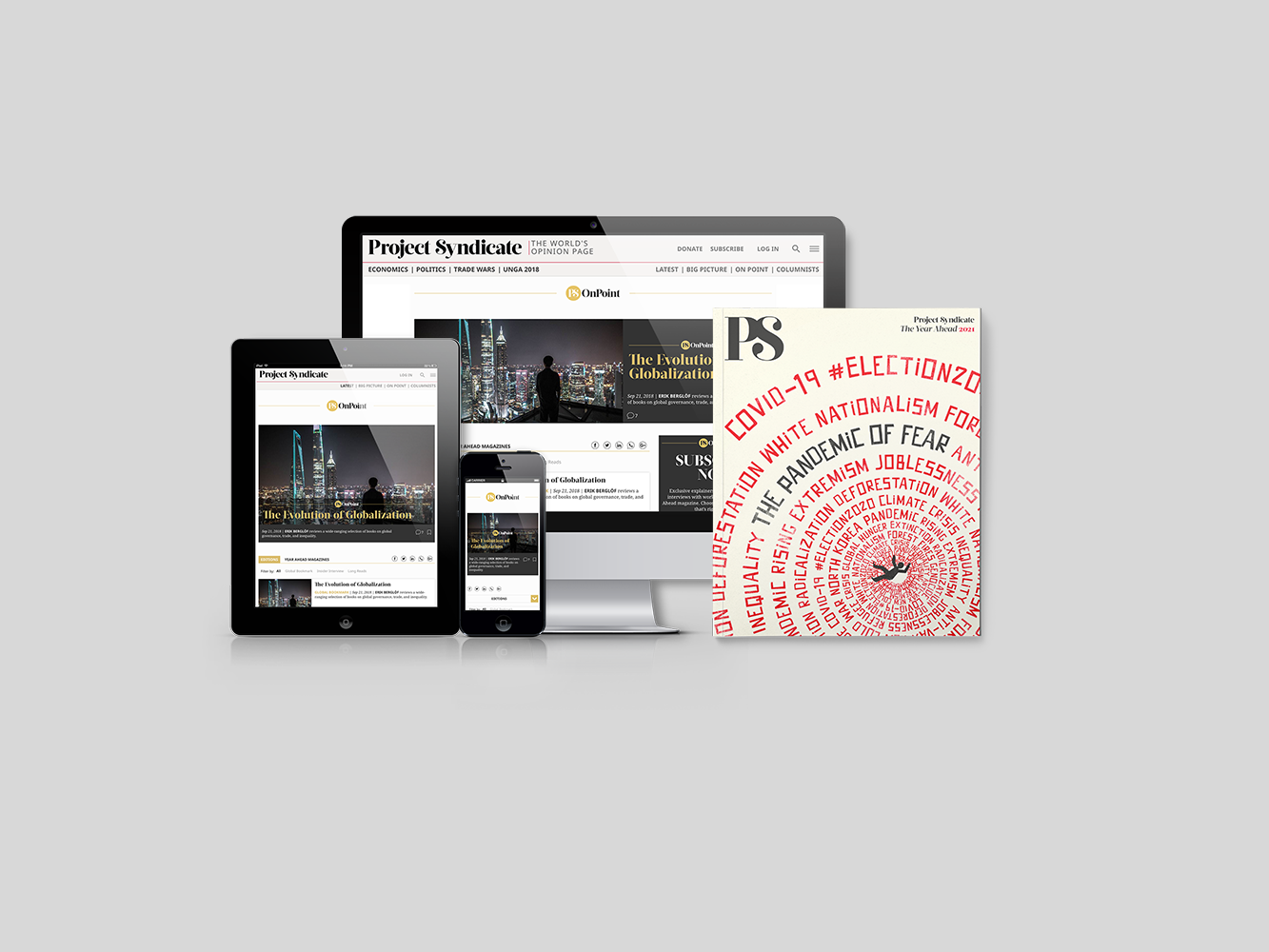 Subscribe to Project Syndicate
Enjoy unlimited access to the ideas and opinions of the world's leading thinkers, including weekly long reads, book reviews, and interviews; The Year Ahead annual print magazine; the complete PS archive; and more – All for less than $9 a month.
La perspective d'une attaque contre l'Iran pourrait donner au vice-président Mike Pence le prétexte dont il a besoin pour invoquer le 25e amendement et chasser Trump du pouvoir. Mais quand bien même la chose se produirait, elle ne serait pas nécessairement une victoire pour la démocratie et l'État de droit. Trump pourrait être gracié par Pence – et le serait probablement (comme Richard Nixon le fut par Gerald Ford) –, ce qui lui permettrait de se présenter de nouveau à l'élection présidentielle, en 2024, ou d'en être le « faiseur de roi », étant donné l'influence qu'il exerce sur le parti républicain et sa base. Déposer Trump en lui promettant sa grâce pourrait être le pacte faustien que Pence passerait avec lui.
Puisque se gracier lui-même – une solution que Trump a considérée – pourrait n'être pas constitutionnellement acceptable, il est raisonnable de penser qu'il cherche d'autres moyens créatifs pour effectuer sa sortie. Il ne peut se contenter d'une simple démission qui permettrait à Pence de le gracier, car elle en ferait un « perdant » acceptant sa défaite (la pire insulte de son vocabulaire égocentrique). Mais il suffirait que le président ordonne une attaque contre l'Iran et devienne alors un martyr (gracié bien sûr) pour qu'il puisse à la fois conserver les faveurs de sa base et s'éviter de rendre des comptes. Pour les mêmes motifs, Trump ne peut risquer de faire l'objet d'une (nouvelle) procédure de mise en accusation par la Chambre, car cela risquerait de lui interdire à l'avenir de briguer un mandat électif. En poursuivant le raisonnement, on comprend que toutes les circonstances sont réunies pour qu'il s'en aille avec fracas et à ses propres conditions.
Si tout cela ressemble à la scène de « Néron jouant de la lyre pendant que Rome brûle », c'est parce que telle est la réalité. Le déclin de l'Empire américain semble se précipiter. Les États-Unis sont à tel point divisés, politiquement, socialement et économiquement, qu'il faudra plus de quatre années d'une direction sensée, que représente Biden, pour réparer les dégâts qui ont été commis. Il est fort probable que les républicains feront tout leur possible pour saboter la nouvelle administration, comme par le passé celle du président Barack Obama.
Avant même les élections, les agences de la sécurité nationale avaient averti des risques encourus : la violence et le terrorisme d'extrême-droite demeureraient la première menace intérieure contre les États-Unis. Lorsque Biden sera en fonctions, le risque sera plus élevé encore. Au cours des quatre dernières années, les milices suprémacistes lourdement armées ont été tenues à une distance relative tant elles pensaient avoir un allié dans la place, à la Maison Blanche. Mais Trump parti, les groupes auxquels il a enjoint « Mettez-vous en retrait et tenez-vous prêts » (« Stand back and stand by ») ne se contenteront pas d'accepter l'autorité démocratique de la présidence et du Congrès. Trump, continuera, depuis Mar-a-Lago, d'exciter les foules émeutières en distillant plus de mensonges, de théories du complot et de déclarations fallacieuses sur le vol de l'élection.
Ainsi les États-Unis deviendront-ils probablement, dans les mois et les années à venir, le nouvel épicentre mondial de l'instabilité politique et géopolitique. Les alliés de l'Amérique devront s'employer à limiter les risques d'un retour du trumpisme, et ses concurrents stratégiques continueront à tenter de la déstabiliser en recourant aux conflits asymétriques. Voilà le monde lancé sur une longue, laide et cahoteuse trajectoire.
Traduit de l'anglais par François Boisivon