USA er det nye episenteret for global ustabilitet
NEW YORK – Om man skal kalle stormingen av Kongressen et kuppforsøk, et opprør eller et angrep på demokratiet er et definisjonsspørsmål. Det som betyr noe er at volden var et forsøk på å stanse en legitim overføring av makt, og det på vegne av — og etter oppfordring fra — en farlig og gal mann. President Donald Trump har aldri lagt skjul på sine diktatoriske ambisjoner. Han bør avsettes umiddelbart og bli bannlyst fra det politiske liv. Han bør også tiltales.
Hendelsene som fant sted 6. januar er muligens sjokkerende, men de var ikke overraskende. Jeg og mange andre kommentatorer har lenge advart mot at valget i 2020 kunne lede til indre uroligheter, vold og forsøk fra presidenten på å klamre seg til makten på ulovlig vis. Utover hans forbrytelser i tilknytning til valget, kan Trump også beskyldes for å være skjødesløst likegyldig til innbyggernes helse. Presidenten og hans administrasjon har mye av skylden for de mange dødsfallene under pandemien. USA har 4 % av verdens befolkning og 20 % av alle korona-dødsfall.
En gang i tiden var USA et fyrtårn for demokrati, rettsstat og god styring. Landet ser nå mer ut som en bananrepublikk som verken kan kontrollere en smittsom sykdom — til tross for at landet bruker mer penger på helse per innbygger enn noe annet land — eller en sint mobb oppildnet av en vordende diktator. Autoritære ledere rundt om i verden ler nå hånlig av USA, som lenge har kritisert andre land for vanstyre. Om svekkelsen av USAs «myke makt» de siste fire årene ikke var nok i seg selv, har Trumps mislykkede opprør svekket USAs omdømme ytterligere.
Om en uke vil Joe Biden bli innsatt som president. Men det gir Trump mer enn nok tid til å skape enda mer kaos. Høyreradikale militser og hvite rasister har allerede lagt planer om nye protester, voldelige aksjoner og rasekrig rundt om i landet. Og strategiske rivaler, som Russland, Kina, Iran og Nord-Korea, vil se sitt snitt til å utnytte seg av alt kaoset ved å spre desinformasjon eller starte cyberangrep — muligens mot kritisk amerikansk infrastruktur.
Samtidig er det mulig at en desperat Trump forsøker å la «halen logre med hunden» ved å gi ordre om et militært angrep på Irans viktigste atomanlegg i Natanz — muligens med bruk av et taktisk atomstridshode. Dette er ikke helt utenkelig. Trump-administrasjonen har allerede avholdt militære øvelser med jagerfly og radarusynlige bombefly — lastet, for første gang, med taktiske atomvåpen. Meningen er å vise at Irans luftforsvar ikke kan forsvare landet.
Det er derfor ikke rart at Nancy Pelosi, som er ordstyrer i Representantenes hus, mente det var nødvendig å snakke med den militære ledelsen om hvordan man kan forhindre et atomangrep beordret av Dr. Strangelove i Det hvite hus. En uberettiget ordre om bruk av atomvåpen mot et mål der det befinner seg mange sivile vil avvises av militæret fordi det åpenbart vil regnes som et ulovlig angrep. Men et angrep på et militært mål i et ubefolket område vil muligens ikke anses som ulovlig, selv om det vil ha enorme geopolitiske følger. Trump kan regne med stilltiende støtte fra både Saudi-Arabia og Israel. (Det er fullt mulig USA vil takke ja til saudisk bakkestøtte og logistikkhjelp for å gjennomføre angrepet, siden jagerfly lastet med atomvåpen har relativt kort rekkevidde.)
Subscribe to Project Syndicate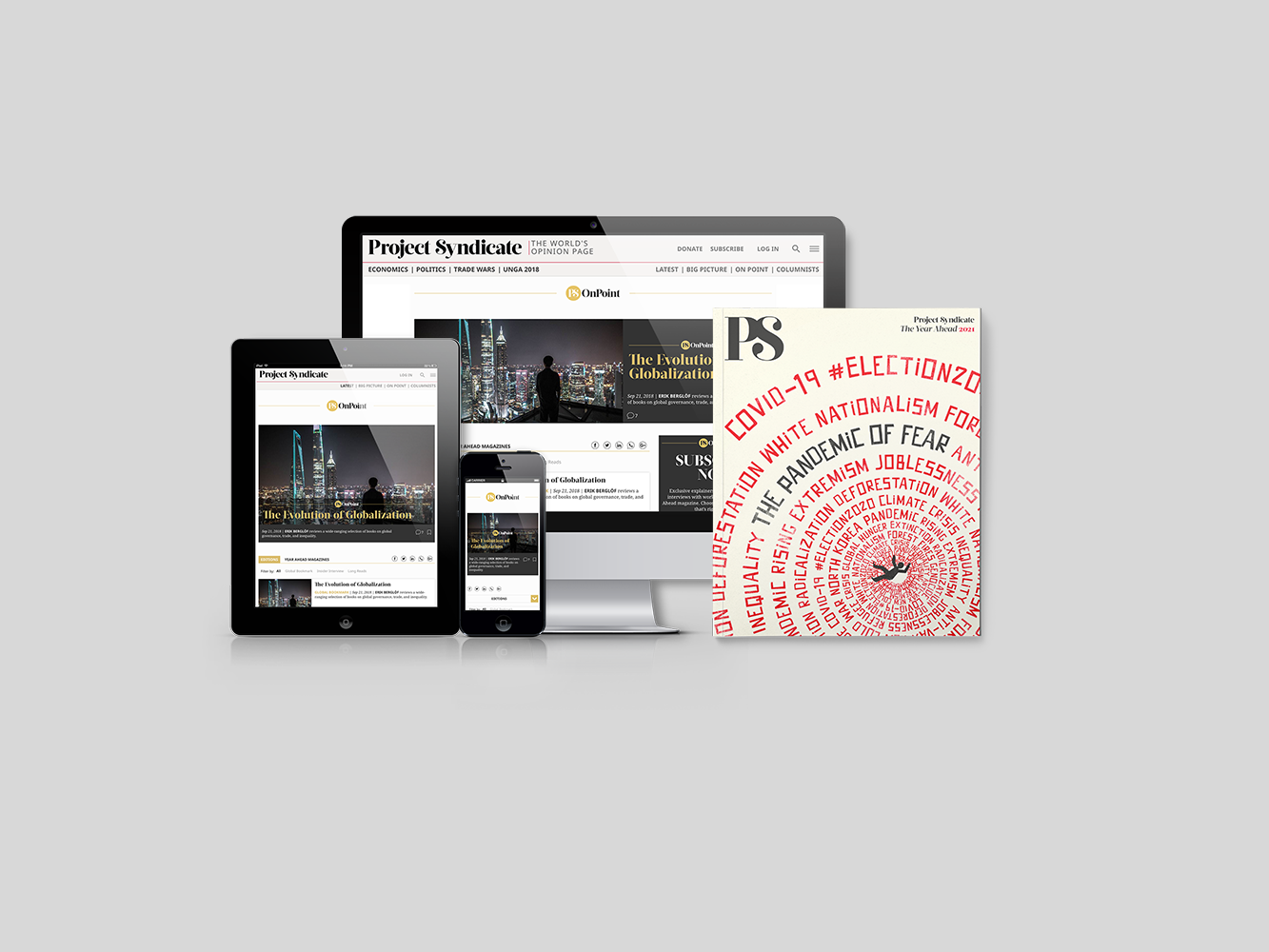 Subscribe to Project Syndicate
Enjoy unlimited access to the ideas and opinions of the world's leading thinkers, including weekly long reads, book reviews, and interviews; The Year Ahead annual print magazine; the complete PS archive; and more – All for less than $9 a month.
Et mulig angrep på Iran er kanskje det som skal til for at visepresident Mike Pence tar i bruk det 25. grunnlovstillegget og avsetter Trump. Men selv om dette skulle skje, betyr ikke det nødvendigvis at demokratiet og rettsstaten har vunnet. Trump kan — og vil mest sannsynlig — bli benådet av Pence (slik Richard Nixon ble av Gerald Ford). Dette vil gjøre det mulig for Trump å stille til gjenvalg eller å være en «kingmaker» ved neste presidentvalg, ettersom han kontrollerer det republikanske partiet og dets kjernevelgere. Avsettelse av Trump samtidig som man lover ham benådning, er muligens den «pakten med djevelen» Pence inngår med presidenten.
Å benåde seg selv, noe Trump har vurdert, er muligens grunnlovsstridig. Det er derfor ikke utenkelig at han ser seg om etter andre kreative utveier. Han kan ikke bare trekke seg fra stillingen og la Pence benåde ham, for da vil han se ut som en «taper» som har akseptert nederlaget. («Taper» er den verste fornærmelsen i selvopptatte Trumps vokabular.)
Men hvis presidenten gir orde om et angrep på Iran for så å bli en (benådet) martyr, kan han både bevare sine kjernevelgere og unngå å bli stilt til ansvar. Trump kan heller ikke risikere å bli stilt for riksrett (igjen), for da kan han stenges ute fra det politiske liv. Ut fra denne logikken, har han sterke incentiver til å forlate sin post med stor dramatikk og på sine egne premisser.
Hvis dette høres ut som endetiden til Nero som «spilte og sang mens Roma brant», er det fordi det minner om akkurat det. Det virker som om det amerikanske imperiets forfall har blitt kraftig fremskyndet. Med tanke på hvor splittet landet er — politisk, sosialt og økonomisk — er ikke fire år med fornuftig ledelse under Biden nok til å rette opp i den skaden som har blitt gjort. Republikanerne vil nok gjøre alt de kan for å sabotere den nye administrasjonen, slik de gjorde da Obama var president.
Selv før valget advarte det amerikanske sikkerhetsapparatet mot høyreradikal terrorisme og vold som den primære indre trusselen mot rikets sikkerhet. Med Biden som president vil denne faren øke. De siste fire årene har tungt bevæpnede hvite militser holdt seg relativt i ro fordi de hadde en alliert i Det hvite hus. Men uten Trump som president, vil de gruppene han ba om å «trekke seg tilbake og holde seg i beredskap» ikke akseptere at demokratene kontrollerer Det hvite hus og Kongressen. Fra sin residens i Mar-a-Lago, vil Trump fortsette å fyre opp denne mobben og servere dem løgner, konspirasjonsteorier og falske påstander om at valget ble «stjålet».
Dermed kan USA bli verdens nye episenter for politisk og geopolitisk ustabilitet i tiden fremover. Landets allierte må sikre seg mot fremtidig trumpisme, mens landets strategiske rivaler vil fortsette med sine forsøk på å destabilisere USA gjennom asymmetrisk krigføring. Dette kommer til å bli turbulent.
Oversatt av Marius Gustavson