Na het neoliberalisme
NEW YORK – Welk economisch stelsel is het meest bevorderlijk voor het menselijk welzijn? Die vraag is het huidige tijdperk gaan bepalen, omdat we na veertig jaar neoliberalisme in de Verenigde Staten en andere geavanceerde economieën weten wat niet werkt.
Het neoliberale experiment – lagere belastingen voor de rijken, deregulering van de arbeids- en productmarkten, financialisering en mondialisering – is een spectaculaire mislukking geweest. De groei is lager dan in de kwart eeuw na de Tweede Wereldoorlog, en het grootste deel ervan is ten goede gekomen aan de top van de inkomenspiramide. Na tientallen jaren van stagnerende of zelfs dalende inkomens voor de groepen daaronder, moet het neoliberalisme dood en begraven worden verklaard.
Er zijn minstens drie grote politieke alternatieven die op het vinkentouw zitten om de plek van het neoliberalisme over te nemen: het ultra-rechtse nationalisme, het centrum-linkse reformisme en progressief links (terwijl centrum-rechts de neoliberale mislukking vertegenwoordigt). En toch houden, met uitzondering van progressief links, deze alternatieven vast aan een of andere vorm van de ideologie die aan het einde van zijn latijn is (of zou moeten zijn).
Centrum-links vertegenwoordigt bijvoorbeeld het neoliberalisme met een menselijk gezicht. Het doel is het beleid van de vroegere Amerikaanse president Bill Clinton en de voormalige Britse premier Tony Blair naar de 21e eeuw te brengen, voorzien van slechts kleine herzieningen van het heersende regime van financialisering en mondialisering. Nationalistisch rechts zet zich intussen wel af tegen de mondialisering, maar geeft migranten en buitenlanders de schuld van alle hedendaagse problemen. Maar het presidentschap van Donald Trump heeft aangetoond dat deze stroming niet minder toegewijd is – althans in zijn Amerikaanse variant – aan belastingverlaging voor de rijken, deregulering en het inkrimpen of elimineren van sociale programma's.
Het derde kamp propageert daarentegen wat ik een progressief kapitalisme noem, met een radicaal andere economische agenda, gebaseerd op vier prioriteiten. De eerste is het herstellen van het evenwicht tussen de markten, de staat en de civil society. Trage economische groei, stijgende ongelijkheid, financiële instabiliteit en achteruitgang van het milieu zijn problemen die voortvloeien uit de markt, en dus niet door de markt alleen kunnen en zullen worden overwonnen. Overheden hebben de plicht markten in te perken en vorm te geven door regelgeving op het gebied van het milieu, de gezondheidszorg, de arbeidszekerheid en andere zaken. Het is ook de taak van de overheid om te doen wat de markt niet kan of wil doen, zoals actief investeren in fundamenteel onderzoek, technologie, onderwijs en de gezondheid van zijn participanten.
De tweede prioriteit is erkennen dat de "rijkdom der naties" het gevolg is van wetenschappelijk onderzoek – leren over de wereld om ons heen – en van sociale organisatie die het mogelijk maakt dat grote groepen mensen samenwerken voor het algemeen belang. Markten hebben nog steeds een cruciale rol te spelen als het gaat om het faciliteren van sociale samenwerking, maar ze kunnen dat doel slechts dienen als ze worden geregeerd door de wet en onderworpen zijn aan democratische controles. Anders kunnen individuen rijk worden door anderen uit te buiten, en rijkdom vergaren door bestaande projecten uit te melken in plaats van welvaart te scheppen via echte vindingrijkheid. Veel van de hedendaagse rijken zijn gekomen waar zij nu zijn door te kiezen voor de route van de exploitatie. Zij zijn op hun wenken bediend door het beleid van Trump, dat het uitmelken van bestaande projecten heeft aangemoedigd en tegelijkertijd de bronnen van de welvaartschepping heeft vernietigd. Progressief kapitalisme probeert precies het omgekeerde te doen.
Subscribe now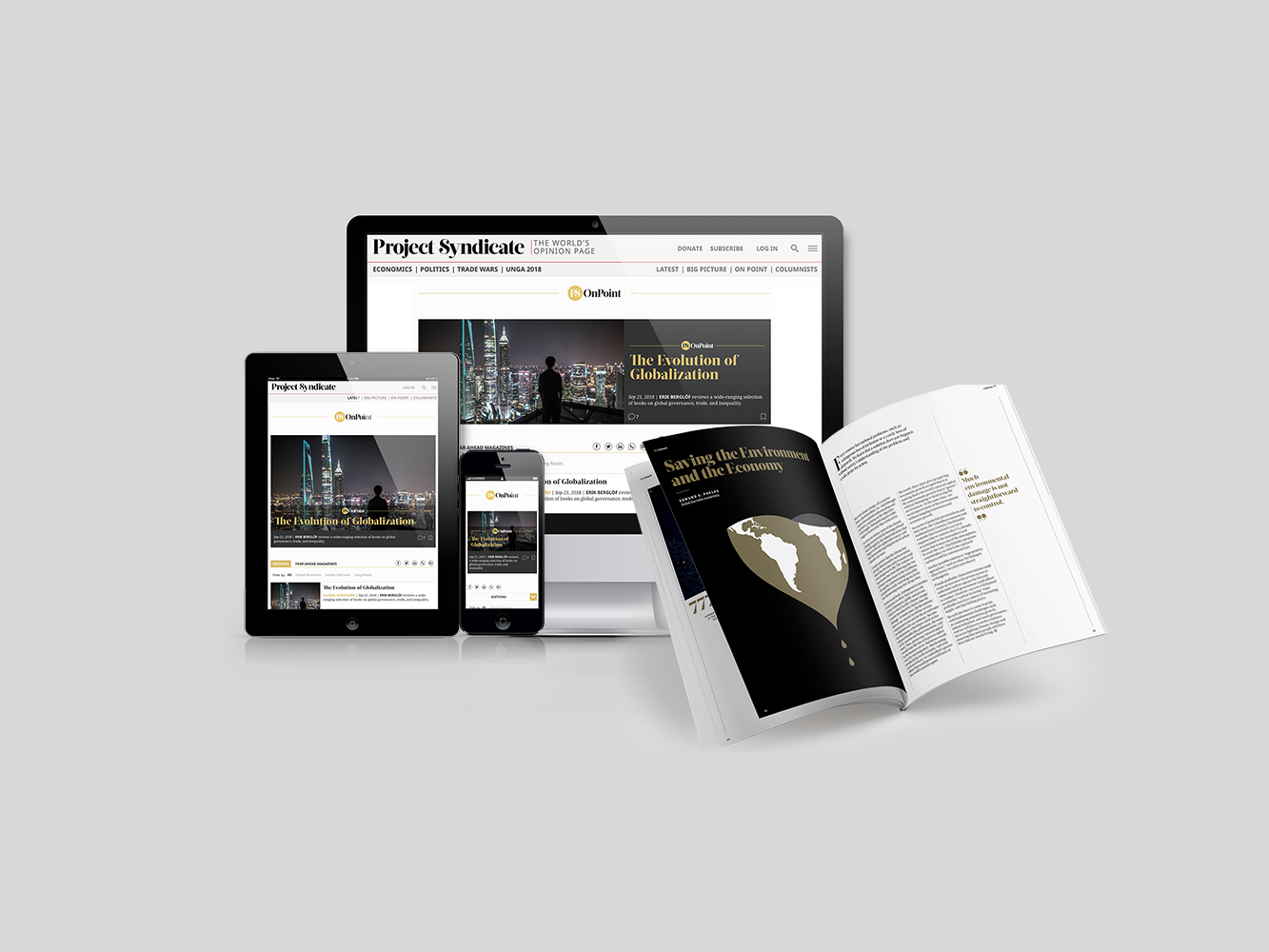 Subscribe now
Get unlimited access to OnPoint, the Big Picture, and the entire PS archive of more than 14,000 commentaries, plus our annual magazine, for less than $2 a week.
Dit brengt ons bij de derde prioriteit: het aanpakken van het groeiende probleem van de geconcentreerde marktmacht. Door hun informatievoordeel uit te buiten, potentiële concurrenten op te kopen en barrières voor nieuwe intreders op te werpen, zijn dominante bedrijven in staat zich op het grootschalig uitmelken van bestaande projecten te concentreren, ten nadele van alle anderen. De toename van de marktmacht van bedrijven, in samenhang met de afname van de onderhandelingsmacht van de werknemers, vormt een groot deel van het antwoord op de vraag waarom de ongelijkheid zo hoog is en de groei zo lauw. Als de overheid geen actievere rol grijpt dan door het neoliberalisme wordt voorgeschreven, zullen deze problemen waarschijnlijk verergeren, als gevolg van de vooruitgang op het gebied van de robotisering en de kunstmatige intelligentie.
De vierde sleutel tot de progressieve agenda moet het doorsnijden van de band tussen economische macht en politieke invloed zijn. Economische macht en politieke invloed versterken elkaar wederzijds en houden elkaar en zichzelf in stand, vooral waar – zoals in de VS – rijke individuen en bedrijven bij verkiezingen ongelimiteerd geld mogen uitgeven. Naarmate de VS steeds verder opschuiven in de richting van een fundamenteel ondemocratisch systeem van "één dollar, één stem" zal het systeem van checks and balances dat zo belangrijk is voor een democratie waarschijnlijk geen stand houden: niets zal de macht van de rijken dan nog in toom kunnen houden. Dit is niet alleen een moreel en politiek probleem: economieën met minder ongelijkheid doen het feitelijk beter. Progressief-kapitalistische hervormingen moeten dus beginnen met het kortwieken van de invloed van het geld in de politiek en het verminderen van de vermogensongelijkheid.
Er is geen magische kogel die de schade van tientallen jaren neoliberalisme ongedaan kan maken. Maar een alomvattende agenda langs de hierboven geschetste lijnen is absoluut mogelijk.  Veel zal afhangen van de vraag of de hervormers net zo resoluut zullen zijn in het aanpakken van problemen zoals de buitensporige marktmacht en de ongelijkheid als de particuliere sector is in het creëren ervan.
Een alomvattende agenda moet zich richten op onderwijs, onderzoek en de andere échte bronnen van de welvaart. Zij moet het milieu beschermen en tegen de klimaatverandering strijden, met dezelfde waakzaamheid als de Green New Dealers in de VS en Extinction Rebellion in Engeland. En zij moet voorzien in publieke programma's om te garanderen dat geen enkele burger de fundamentele vereisten voor een fatsoenlijk leven worden ontzegd. Daartoe behoren economische zekerheid, toegang tot werk en een inkomen waar je van kunt leven, gezondheidszorg en adequate huisvesting, een veilig pensioen en kwaliteitsonderwijs voor je kinderen.
Deze agenda is zeer betaalbaar: in feite kunnen we het ons niet veroorloven haar niet ten uitvoer te leggen. De alternatieven van nationalisten en neoliberalen staan garant voor meer stagnatie, achteruitgang van het milieu en politieke bitterheid, wat mogelijk zou kunnen leiden tot gevolgen die we ons niet eens willen inbeelden.
Progressief kapitalisme is geen oxymoron. Het is eerder het meest levensvatbare en krachtige alternatief voor een ideologie die duidelijk heeft gefaald. Als zodanig vertegenwoordigt het de beste kans die we hebben om aan onze huidige economische en politieke malaise te ontsnappen.
Vertaling: Menno Grootveld