El sistema estadounidense dejó de funcionar
BERKELEY – El proyecto de reforma impositiva en el que los republicanos vienen trabajando obstinadamente en el Congreso de los Estados Unidos no es tan importante como muchos lo pintan. Es una noticia mediana. La gran noticia (una noticia mucho más grave y ominosa) es otra.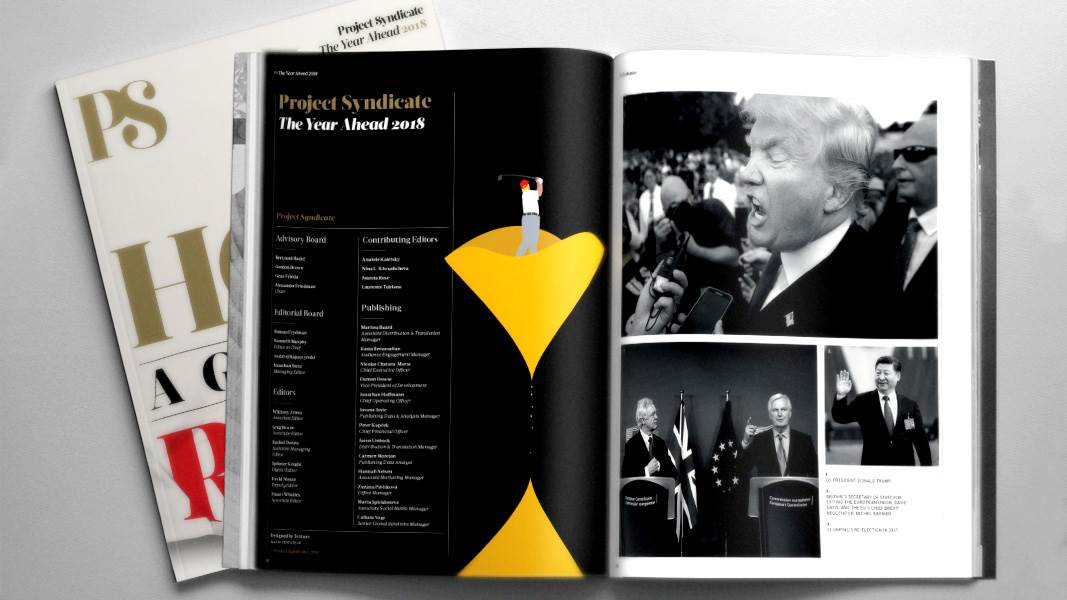 The Year Ahead 2018
The world's leading thinkers and policymakers examine what's come apart in the past year, and anticipate what will define the year ahead.
Por supuesto, mediano no es lo mismo que nada. Si el proyecto impositivo supera el último obstáculo (una comisión bicameral debe compatibilizar la versión aprobada por el Senado con la de la Cámara de Representantes) y se convierte en ley, complicará considerablemente el sistema tributario, ya que creará muchos vacíos legales. No tendrá ningún impacto (positivo o negativo) sobre el crecimiento económico, pero sí sobre las finanzas públicas, al provocar una merma de la recaudación equivalente a cerca del 1% del producto nacional.
Ese faltante de recursos se transferirá casi seguro al 1% más rico, con lo que su participación en el ingreso total pasará de 22% a 23%. El más beneficiado será el 0,01% superior, cuya participación crecerá de 5,1% a 5,5%. En este sentido, el plan impositivo será un ladrillo más (no un ladrillo enorme, sólo un ladrillo mediano) en el cada vez más impenetrable muro de protección de la plutocracia estadounidense.
Pero puede que el proyecto no se apruebe. Basta recordar el intento de derogar y sustituir la Ley de Atención Médica Accesible ("Obamacare") que hicieron los republicanos en 2017. Hoy ya es evidente que fue pura fantochada.
En realidad los republicanos no querían asumir responsabilidad por cambiar el sistema de financiación de la atención médica, y mucho menos dejar a sus propios votantes sin cobertura. Pero tanto se esforzó el brazo propagandístico del partido para convencer a la base de que el Obamacare era un peligro claro y manifiesto para Estados Unidos, que la dirigencia republicana tuvo que hacer como que hacía un esfuerzo serio de cumplir la promesa de derogar y reemplazar la ley.
Así que una mayoría de los republicanos en la Cámara de Representantes votó a favor del proyecto, con la fundada esperanza de que no iba a conseguir mayoría de los cien votos del Senado, ya que menos de 40 de los 52 senadores republicanos querían realmente que se aprobara. Si cualquiera de los tres que votaron en contra (John McCain por Arizona, Susan Collins por Maine o Lisa Murkowski por Alaska) hubiera cambiado de idea, había probablemente otros cinco dispuestos a ocupar su lugar y vetar la iniciativa.
Con la reforma impositiva puede pasar algo similar. Depende de si al menos tres de los diez senadores republicanos que le pusieron reparos hablan en serio o si sólo interpretan otra clase de fantochada para hacer creer a sus votantes que hicieron todo lo posible por ayudarlos y que no son títeres del jefe del bloque mayoritario del Senado, Mitch McConnell.
Pero independientemente de que el proyecto de reforma impositiva sobreviva o no al proceso de compatibilización y se convierta en ley, la gran noticia seguirá siendo otra: que el modelo anglosajón de gobierno representativo está en serios problemas. Y no hay solución a la vista.
Por unos 400 años, se ha dado por sentado que el modelo institucional anglosajón (del que son ejemplos el semiprincipado republicano de los Países Bajos, la monarquía constitucional del Reino Unido y la república constitucional de los Estados Unidos de América) es el justo medio entre libertad, seguridad y prosperidad. La experiencia histórica parecía confirmar que a mayor divergencia del modelo, mayor probabilidad de represión, inseguridad y pobreza. Así que se aconsejaba insistentemente a todos los países imitar estas instituciones.
Hoy nadie osaría dar el mismo consejo. En el RU, primero las dirigencias conservadora y liberal arrojaron al país a las garras de una austeridad devastadora tras la crisis económica global, y ahora el gobierno conservador lo lleva a un abandono caótico y perjudicial de la Unión Europea. Y en Estados Unidos, la elección del presidente Donald Trump dio inicio a la era de los "hechos alternativos" y del "gobierno vía tuit", encabezada por un líder errático e ignorante que evidentemente no sabe el baile en que se metió.
Cuando Trump resultó electo, los optimistas dijeron que tal vez no había que preocuparse tanto, y se acordaron del presidente Ronald Reagan, que fue más un "jefe de Estado" que un "jefe de gobierno", igual que George Bush (hijo).
Es decir, por muy conflictivo que fuera Trump como jefe de Estado, no iba a tener mucha incidencia sobre políticas concretas, porque cuando se elige un presidente republicano, más bien se elige al establishment del Partido Republicano. Y este es un equipo experimentado y competente, más allá de su debilitamiento en años recientes.
Los optimistas se equivocaron. Tras casi un año con el control de ambas cámaras del Congreso y la Casa Blanca, los republicanos no alcanzaron ninguno de sus cuatro objetivos en cuanto a políticas: la derogación y sustitución del Obamacare, el desarrollo de infraestructuras, la reforma de la política de comercio y (ni siquiera) la reforma impositiva. Esto es señal de que el sistema político e institucional ya no funciona y que los estadounidenses no tienen ni idea de cómo repararlo.
Estados Unidos sigue siendo la principal superpotencia del mundo, pero su capacidad para desempeñar ese papel es cada vez más incierta. Así las cosas, la reforma impositiva de los republicanos, por más económicamente indefendible y descaradamente injusta que sea, no es ni mucho menos el principal problema de Estados Unidos.
Traducción: Esteban Flamini