Het gebroken systeem van Amerika
BERKELEY – De belastingwet die de Republikeinen in de VS zo hardnekkig door het Congres proberen te duwen is niet zo belangrijk als velen beweren. Het is middelgroot nieuws. Het grote nieuws – het veel gewichtiger en onheilspellender nieuws – schuilt ergens anders.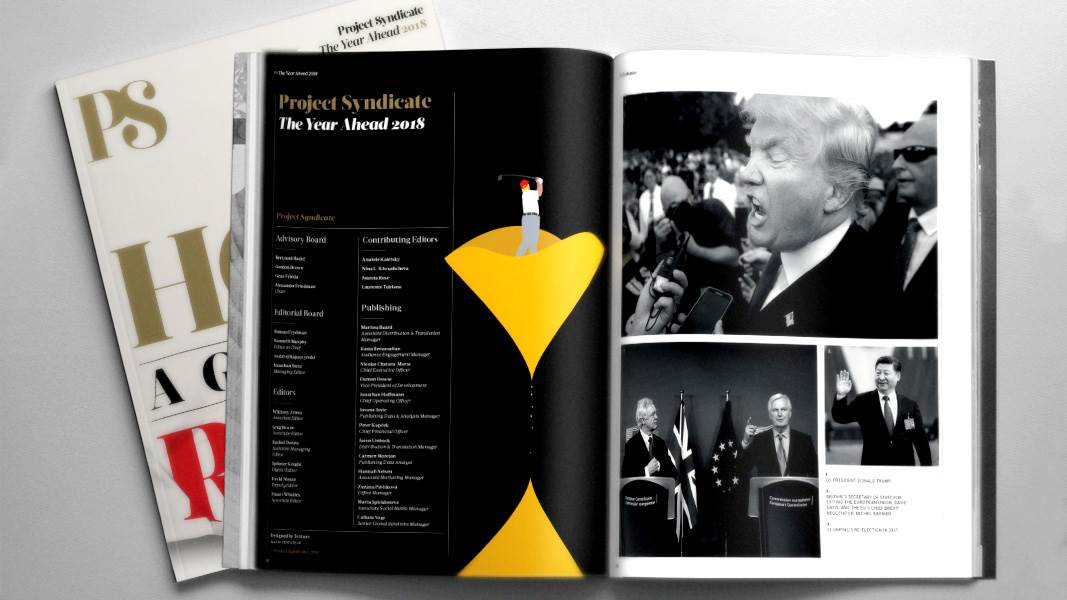 The Year Ahead 2018
The world's leading thinkers and policymakers examine what's come apart in the past year, and anticipate what will define the year ahead.
Natuurlijk is middelgroot ook niet niks. Als de belastingwet de laatste horde weet te nemen – een gezamenlijke commissie moet het door de Senaat goedgekeurde wetsontwerp zien te verzoenen met dat van het Huis van Afgevaardigden – en wet wordt, zal hij het belastingstelsel aanzienlijk ingewikkelder maken, omdat er veel mazen door worden geopend. De wet zal geen invloed – positief of negatief – uitoefenen op de economische groei, maar wel op de overheidsfinanciën, omdat de inkomsten zullen dalen met het equivalent van ongeveer 1% van het nationaal inkomen.
De ontbrekende middelen zouden waarschijnlijk ten goede komen aan de bovenste 1% van de verdieners, waardoor hun aandeel in het totale inkomen zal stijgen van 22% naar 23%. De bovenste 0,01% zou waarschijnlijk het meest winnen, doordat hun deel van het inkomen stijgt van 5,1 naar 5,5%. In dit opzicht zou het belastingplan een nieuwe steen – een middelgrote, geen grote – toevoegen aan het steeds ongenaakbaarder wordende fort van de Amerikaanse plutocratie.
Maar misschien wordt het wetsontwerp wel helemaal geen wet. Kijk maar naar de poging van de Republikeinen eerder dit jaar om de Affordable Care Act ("Obamacare") in te trekken en te vervangen – een poging die, zo lijkt nu duidelijk, puur theater was.
De Republikeinen wilden niet echt de verantwoordelijkheid nemen voor een verandering van het financieringssysteem van de gezondheidszorg, laat staan hun eigen kiezers de toegang tot de gezondheidszorg ontnemen. Maar de propaganda-afdeling van de partij had zó hard gewerkt om de basis ervan te overtuigen dat Obamacare een acuut gevaar vormde voor het land, dat de leiders wel moesten doen alsof ze een ernstige poging ondernamen om hun belofte na te komen Obamacare in te trekken en te vervangen.
Een meerderheid van de Republikeinen in het Huis van Afgevaardigden stemde dus vóór het wetsontwerp, in de verwachting, met redelijk vertrouwen, dat het in de honderd leden tellende Senaat zou worden verworpen, waar minder dan 40 van de 52 Republikeinen het echt wilden laten passeren. Als één van de drie Republikeinse Senatoren die tegen het wetsontwerp stemden - JohnMcCain uit Arizona, Susan Collins uit Maine of Lisa Murkowski uit Alaska – een andere keuze had gemaakt, zouden er waarschijnlijk ongeveer vijf anderen zijn geweest die tussenbeide waren gekomen om het ontwerp weg te stemmen.
Hetzelfde zou met de belastinghervorming kunnen gebeuren. Het hangt ervan af of minstens drie van de tien Republikeinse Senatoren die bezwaren hebben geuit dit serieus menen, of een ander soort theater spelen: proberen hun kiezers te laten denken dat ze hun best hebben gedaan om hen te helpen en dat ze geen marionetten zijn van meerderheidsleider Mitch McConnell.
Maar of het belastingwetsontwerp het verzoeningsproces overleeft en wet wordt of niet, het grote nieuws zal er niet door veranderen: het Angelsaksische model van representatieve democratie verkeert in ernstige moeilijkheden, en er is geen oplossing in zicht.
Zo'n vierhonderd jaar lang werd het Angelsaksische model – waarvoor de republikeinse semi-monarchie van Nederland, de constitutionele monarchie van Groot-Brittannië en de constitutionele republiek van de Verenigde Staten van Amerika model staan – alom gezien als een garantie voor vrijheid, veiligheid en welvaart. Hoe meer er van dit model werd afgeweken, zo leken de historische ervaringen te bevestigen, des te groter de waarschijnlijkheid van repressie, onveiligheid en armoede. Landen werd dus herhaaldelijk en met kracht geadviseerd om dit model over te nemen.
Niemand zou vandaag de dag nog datzelfde advies durven geven. Groot-Brittannië, na de mondiale economische crisis getroffen door een verwoestend bezuinigingsbeleid van de conservatieve en liberale leiders, wordt nu door de Conservatieven naar een rommelige en schadelijke Brexit geleid. En in de VS heeft de verkiezing van president Donald Trump het tijdperk ingeluid van de "alternatieve feiten" en "het regeren via tweets," onder aanvoering van een instabiele en onkundige leider die overduidelijk geknoeid heeft.
Toen Trump werd gekozen, betoogden sommigen dat dit geen ramp hoefde te zijn. De optimisten wezen er op dat president Ronald Reagan immers meer een "staatshoofd" was geweest dan een "regeringshoofd," zoals George W. Bush.
Hoeveel verdeeldheid staatshoofd Trump ook mocht zaaien, volgens deze inzichten kon hij het beleid niet dwarsbomen, omdat het kiezen van een Republikeinse president net zoiets is als het kiezen van het establishment van de Republikeinse partij. En dat establishment was omvangrijk en competent genoeg, ondanks de verzwakking van de afgelopen jaren.
De optimisten zagen het verkeerd. Na bijna een jaar de controle in handen te hebben gehad van beide huizen van het Congres en het Witte Huis, hebben de Republikeinen geen van hun vier beleidsdoelstellingen verwezenlijkt: de intrekking en vervanging van Obamacare, de verbetering van de infrastructuur, de hervorming van het handelsbeleid, of zelfs maar de hervorming van de belastingen. Dit duidt op een gebroken politiek en bestuurssysteem, waarvan de Amerikanen geen idee lijken te hebben hoe ze het moeten repareren.
De VS blijven de mondiale supermacht bij uitstek. Maar de twijfels nemen toe over de vraag of zij die taak nog wel aankunnen. In deze context is de belastinghervorming van de Republikeinen, hoe economisch onverdedigbaar en schaamteloos oneerlijk ook, bij lange na niet de grootste zorg van Amerika.
Vertaling: Menno Grootveld