Le système cassé de l'Amérique
BERKELEY – Le projet de loi fiscale que les républicains américains sont récemment parvenus à faire adopter par le Congrès à force de ténacité aura des conséquences moins importantes que ce que beaucoup de commentateurs ne prédisent. Il s'agit d'une nouvelle de taille moyenne. La grande nouvelle – qui a beaucoup plus de poids et est beaucoup plus inquiétante – est ailleurs.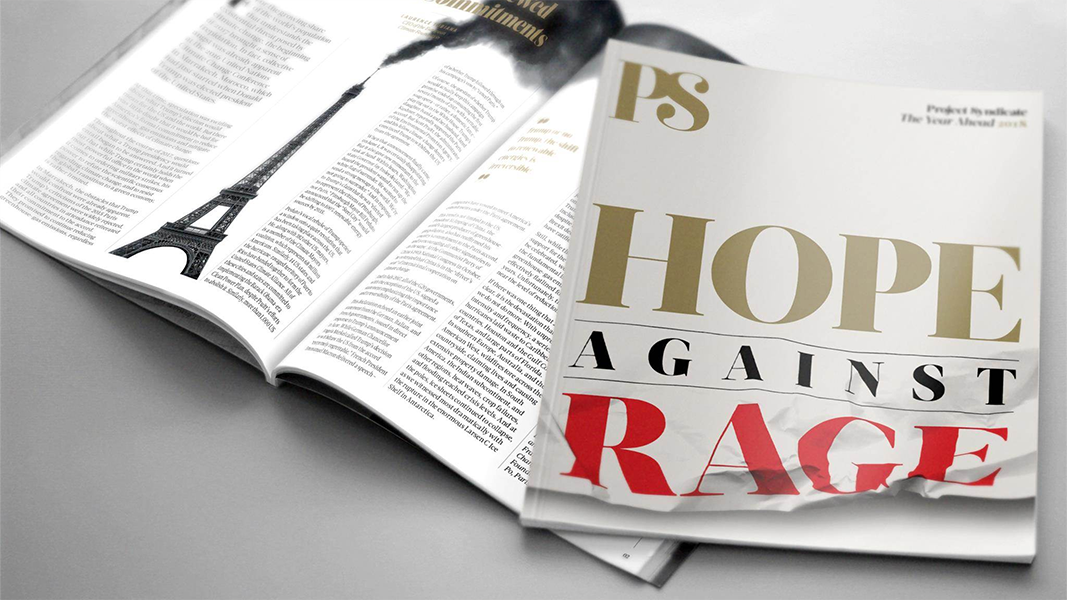 The Year Ahead 2018
The world's leading thinkers and policymakers examine what's come apart in the past year, and anticipate what will define the year ahead.
Bien sûr, taille moyenne ne veut pas dire négligeable. Si la proposition de loi fiscale finit par dépasser son dernier obstacle – une commission interparlementaire doit réconcilier le projet de loi approuvé par le Sénat avec celui de la Chambre des représentants – et devient effectivement loi, elle compliquera considérablement le système fiscal, car elle ouvre de nombreux vides juridiques. Elle n'aura aucun impact sur la croissance économique – ni positif, ni négatif – mais elle aurait un impact certain sur les finances du gouvernement, provoquant une chute des revenus du gouvernement équivalente à environ 1% du revenu national.
Les ressources manquantes seraient très probablement transférées vers les 1% les plus riches de la population, augmentant de 22% à 23% leur part du revenu total national. Ce sont les 0,01% les plus riches qui gagneraient probablement le plus, leur part du revenu total passant de 5,1% à 5,5%. En ce sens, la réforme fiscale serait une autre brique – pas une brique énorme, mais une brique de taille moyenne – contribuant à la construction de la forteresse de plus en plus inexpugnable de la ploutocratie américaine.
Cependant, le projet de loi pourrait bien ne jamais voir le jour. Voyez les efforts déployés par les républicains plus tôt cette année pour abroger et remplacer la loi sur les soins abordables (« Obamacare ») – efforts qui, cela semble maintenant clair, étaient du pur Dingbat Kabuki.
Les républicains ne voulaient pas véritablement assumer la responsabilité de changer le système de financement des soins de santé, encore moins de couper l'accès aux soins de santé à leurs propres électeurs. Néanmoins, l'équipe de propagande du parti avait travaillé tellement dur pour convaincre sa base que l'Obamacare représentait un danger clair et avéré pour le pays, que ses dirigeants ne pouvaient pas se permettre de faire autrement que de démontrer qu'ils cherchaient sérieusement à respecter leur promesse d'abroger et remplacer la loi signature d'Obama.
C'est ainsi qu'une majorité des républicains de la Chambre des représentants a voté en faveur du projet de loi, en s'attendant, avec une confiance raisonnable, qu'il serait ensuite bloqué par le Sénat composé de 100 membres, dont moins de 40 sur 52 républicains voulaient véritablement que la loi passe. Si un des trois sénateurs républicains qui ont voté contre le projet – John McCain de l'Arizona, Susan Collins du Maine et Lisa Murkowski de l'Alaska – avait fait un choix différent, il y en aurait eu probablement environ cinq autres prêts à intervenir et mettre leur véto.
La même chose pourrait être en train de se produire avec la réforme fiscale. Cela dépend de la mesure dans laquelle au moins trois des dix sénateurs républicains qui ont soulevé des objections sont sérieux, ou jouent à un autre jeu de Dingbat Kabuki: chercher à tromper leurs électeurs en leur faisant croire qu'ils ont fait un effort supplémentaire pour essayer de les aider, et qu'ils ne sont pas des marionnettes du chef de la majorité au Sénat Mitch McConnell.
Mais, indépendamment du fait que le projet de loi fiscale survive au processus de compromis et devienne loi ou non, la grande nouvelle ne changera pas: le modèle anglo-saxon du gouvernement représentatif est en grave difficulté. Et il n'y a aucune solution en vue.
Pendant environ 400 ans, le modèle de gouvernance anglo-saxon – illustré par la semi-principauté républicaine des Pays-Bas, la monarchie constitutionnelle du Royaume-Uni et la République constitutionnelle des États-Unis d'Amérique – a été largement considéré comme le meilleur système garantissant liberté, sécurité et prospérité. L'expérience historique semblait en effet confirmer que, plus un pays se distanciait de ce modèle, plus grande était la probabilité d'y observer répression, insécurité et pauvreté. Ainsi, il a été fréquemment et fortement conseillé aux pays d'imiter ces institutions.
Personne n'oserait offrir un conseil similaire aujourd'hui. Le Royaume-Uni, après avoir été jeté dans une austérité dévastatrice par les dirigeants conservateurs et libéraux après la crise économique mondiale, est maintenant dirigé par les conservateurs vers un Brexit compliqué et dommageable. Quant aux Etats-Unis, l'élection du président Donald Trump a annoncé l'âge des « faits alternatifs » et de la « gouvernance via Tweet », supervisé par un chef erratique, ignorant et clairement déséquilibré.
Juste après l'élection de Trump, certains commentateurs estimaient qu'il n'y avait pas de raison de s'attendre à une catastrophe. Après tout, soulignaient les optimistes, le président Ronald Reagan avait été plus un « chef d'Etat » qu'un « chef de l'Exécutif », tout comme George W. Bush.
Selon ce point de vue, même si Trump était un chef d'Etat conflictuel, il ne ferait pas dérailler la politique, parce que l'élection d'un président républicain équivaut à élire l'establishment du Parti républicain. Et ce banc était très fourni et compétent, malgré son affaiblissement au cours des dernières années.
Les optimistes ont eu tort. Après avoir été pendant presque un an au contrôle des deux chambres du Congrès et de la Maison Blanche, les républicains n'ont atteint aucun de leurs quatre objectifs stratégiques: l'abrogation et le remplacement de l'Obamacare, le développement des infrastructures, la réforme de la politique commerciale, ni même la réforme fiscale. Cela met en évidence un système cassé de politique et de gouvernance, que les Américains ne semblent absolument pas savoir comment réparer.
Les États-Unis demeurent la superpuissance prééminente du monde. Mais il y a de plus en plus de doutes sur le fait qu'ils soient encore à la hauteur de leur responsabilité. Dans ce contexte, la réforme fiscale des républicains, pour tout économiquement indéfendable et manifestement inéquitable qu'elle soit, est loin d'être la plus grande préoccupation de l'Amérique.
Traduction de l'anglais par Timothée Demont