Können sich die USA und China einigen?
NEW YORK – Jetzt, nach dem Ende der Feierlichkeiten zum 70. Jahrestag der Gründung der Volksrepublik China, ist es Zeit, die Aufmerksamkeit wieder auf den sino-amerikanischen Handelskrieg zu lenken. Dieser Konflikt könnte nun in die finale Phase übergehen. Tatsächlich könnte die nächste Verhandlungsrunde die letzte echte Möglichkeit bieten, einen Weg durch die Verwicklungen zu finden, in die die beiden Länder in den Bereichen des Handels, der Technologie und der allgemeinen Wirtschaft verstrickt sind.
Gelingt dies nicht, sollte sich die Welt auf den schwersten wirtschaftlichen Abschwung seit der weltweiten Finanzkrise von 2008 vorbereiten. Es besteht eine ernste Gefahr, dass Amerika in die Rezession abrutscht und dass die Weltwirtschaft eine allgemeine Abkopplung erlebt, die den Brunnen der chinesisch-amerikanischen Beziehungen bis weit in die Zukunft hinein vergiften wird. Außerdem könnten in beiden Ländern die nationalistischen Bevölkerungsgruppen Auftrieb erhalten, die argumentieren, ein Konflikt sei unvermeidlich.
Bis jetzt ist der Handelskrieg durch vier Phasen gegangen: Die erste begann im März, als US-Präsident Donald Trump die erste Runde der Importzölle auf chinesische Waren ankündigte. Phase zwei begann im letzten Dezember mit dem "Argentinien-Neustart" auf dem G20-Gipfel in Buenos Aires, als Trump und der chinesische Präsident Xi Jinping ankündigten, innerhalb von 90 Tagen ein Abkommen schließen zu wollen. Dieser Waffenstillstand wurde Anfang Mai dieses Jahres gebrochen, als sich beide Seiten gegenseitig beschuldigten, in letzter Minute große Änderungen am Vertragsentwurf zu fordern.
Die dritte Phase kann am besten als "Sommer der Unzufriedenheit" bezeichnet werden: Die Vereinigten Staaten starteten eine neue Runde von Einfuhrzöllen. China reagierte darauf mit entsprechenden Vergeltungsmaßnahmen und enthüllte auch seine Reaktion auf die amerikanische "Entity List". Als Antwort auf die Blockade von Huawei und fünf anderen chinesischen Technologieunternehmen drohte das Land, US-Konzerne auf die Liste mit dem poetischen Namen "Liste unverlässlicher Einheiten" zu setzen und damit vom Handel auszuschließen.
Warum sollte man nun angesichts dieser Entwicklungen erwarten, dass die nächste Runde der Gespräche erfolgreich sein wird?
Erstens haben sowohl die USA als auch China wirtschaftliche Probleme. In den USA führten die jüngsten schlechten Zahlen zum Arbeitsmarkt im Produktions- und Privatsektor zu einem verstärkten Pessimismus über die wirtschaftlichen Aussichten. Sollten sich die Bedingungen weiter verschlechtern, könnten Trumps Chancen auf eine Wiederwahl im November 2020 leiden. Und durch eine deutliche wirtschaftliche Verlangsamung vor der Hundertjahrfeier der Kommunistischen Partei Chinas im Jahr 2021 würde auch Xi geschwächt. Immerhin findet diese im Vorfeld seiner bereits jetzt umstrittenen Bewerbung für eine dritte Amtszeit ab 2022 statt.
Subscribe now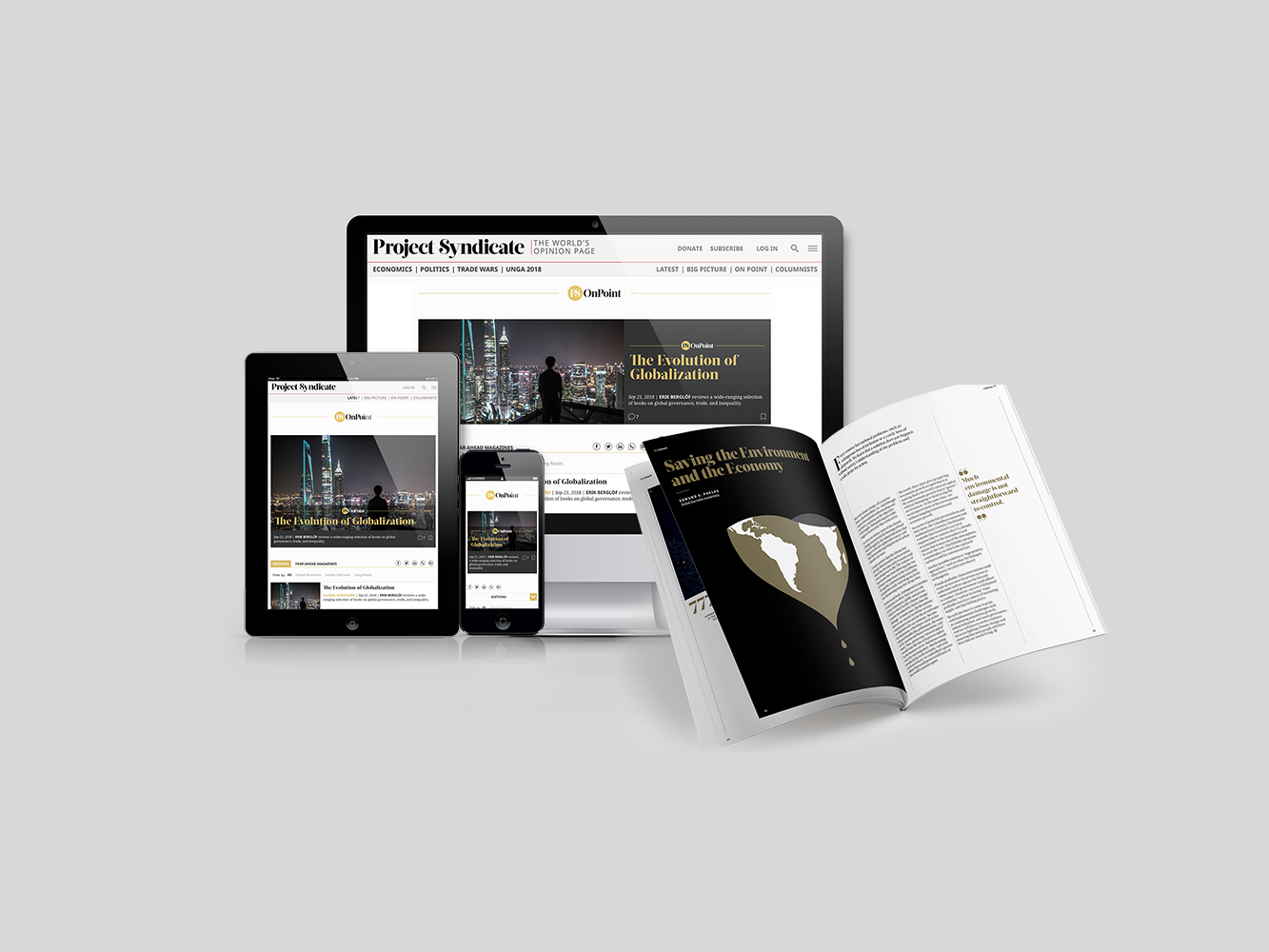 Subscribe now
Subscribe today and get unlimited access to OnPoint, the Big Picture, the PS archive of more than 14,000 commentaries, and our annual magazine, for less than $2 a week.
Beide Seiten betonen, der Handelskrieg würde der jeweils anderen Seite stärker schaden. Aber natürlich leiden beide darunter, da der Markt destabilisiert, das unternehmerische Vertrauen zerstört und das Wachstum untergraben wird. Beide Seiten behaupten auch, wirtschaftlich robust genug zu sein, um den Konflikt noch verstärken zu können. Wer hier die besseren Argumente hat, ist unklar. Amerika hängt sicherlich nicht so stark vom Handel ab wie China. Und obwohl die USA bereits vor dem Handelskrieg durch schlechte innenpolitische Entscheidungen geschwächt wurden, haben sie immer noch stärkere fiskale, geldpolitische und kreditwirtschaftliche Werkzeuge zur Verfügung.
Auf jeden Fall erkennen beide Seiten, dass sie in wirtschaftlicher Hinsicht eine Pistole an den Kopf des jeweils anderen halten. Trotz ihrer politischen Drohgebärden wollen sich Trump und Xi also letztlich einigen. Darüber hinaus wollen sie dies bis Ende des Jahres, um weiteren Schaden durch die für den 15. Dezember geplanten großen Zollerhöhungen zu verhindern. Dieser Zeitplan erfordert, dass beide Seiten sofort symbolische und praktische Schritte unternehmen.
Als ersten Schritt sollte China eine Einigung vorschlagen, die dem bisherigen 150-seitigen Entwurf entspricht, aber zusätzlich seine drei "Roten Linien" berücksichtigt. Insbesondere muss das Reich der Mitte die US-Vorkehrungen für die Beibehaltung von Zöllen nach der Unterzeichnung eines Abkommens aus dem Entwurf streichen – ebenso wie jene, dass die USA unilateral erneut Zölle einführen können, wenn sie den Eindruck haben, China richte sich nicht nach dem Abkommen. Außerdem sollte China hinzufügen, das Abkommen nur umsetzen zu wollen, wenn es "mit seinen verfassungsmäßigen, legislativen und regulatorischen Prozessen in Einklang steht".
Zweitens muss China sein ursprüngliches Angebot einer schrittweisen Verringerung seiner bilateralen Handelsdifferenz um 200 Milliarden Dollar weiter verbessern. Dieser Verhandlungspunkt lässt sich zwar ökonomisch kaum begründen, ist aber für Trump persönlich und politisch wichtig.
Und drittens wird China zwar das Verbot staatlicher Subventionen für seine Industrie und seine Unternehmen vermeiden wollen, sollte aber die bestehenden Vorkehrungen des Entwurfs zum Schutz des intellektuellen Eigentums und der Abschaffung erzwungener Technologietransfers beibehalten. Darüber hinaus könnte es möglich sein, dass beide Länder in der offiziellen Verlautbarung, die mit der Unterzeichnung des Abkommens einher geht, ihre Ansichten zur staatlichen Industriepolitik darlegen. In einer solchen Erklärung könnten sogar die innenpolitischen und internationalen Schlichtungsmechanismen festgelegt werden, die zur Durchsetzung aller relevanter Gesetze zur Wettbewerbsneutralität verwendet werden.
Viertens müssen beide Seiten eine positivere politische Atmosphäre schaffen. In den letzten Wochen gab es bereits Anzeichen dafür, darunter Berichte, dass die Chinesen wieder amerikanische Sojabohnen kaufen. Auch wenn die Käufe immer noch weit unter ihrem historischen Durchschnitt liegen, wird dies Trump helfen, die wütenden Bauern seiner Wählerbasis milder zu stimmen. Die USA wiederum haben eine fünfprozentige Zollerhöhung ausgesetzt, die eigentlich für den ersten Oktober geplant war. Außerdem könnten sie einigen US-Unternehmen eine Ausnahmegenehmigung erteilen, damit sie Huawei mit nicht sicherheitsrelevanten Vorprodukten beliefern können.
Und fünftens sollten beide Seiten den Asiatisch-Pazifischen Gipfel zur wirtschaftlichen Zusammenarbeit vom 14.-16. November als letzte Gelegenheit für eine Einigung betrachten. Nach den Gipfelverhandlungen zwischen dem stellvertretenden chinesischen Ministerpräsidenten Liu He und dem US-Handelsrepräsentanten Robert Lighthizer in diesem Monat müssen die offenen Probleme Anfang November in Peking beigelegt werden. Um das Vertrauen der Unternehmen und der Konsumenten vor der Weihnachtszeit zu fördern, wäre es wichtig, sich noch vor dem Erntedankfest zu einigen.
Ich bin einer der wenigen Kommentatoren, die argumentiert haben, dass Trumps und Xis Interessen trotz all des politischen Feuerwerks einen Erfolg wahrscheinlicher machen als einen Misserfolg. Aber das kürzlich angekündigte Amtsenthebungsverfahren gegen Trump könnte einen Strich durch diese Rechnung machen. Ein geschwächter Trump könnte sich ermutigt fühlen, eine härtere Linie gegen China zu fahren, als es die wirtschaftlichen Interessen der USA eigentlich erfordern. Unter dem Strich allerdings kann sich Trump die Gefahr einer Rezession im Jahr 2020 immer noch nicht leisten, was ein Abkommen wahrscheinlicher macht als keins.
Trotzdem könnte, wenn die Gespräche der nächsten zwei Monate scheitern, der ganze Prozess immer noch in sich zusammenfallen. Beide Seiten haben bereits viel Zeit damit verbracht, für 2020 einen Plan B zu entwickeln: die Hunde eines Wirtschaftskriegs von der Leine zu lassen, nationalistische Gefühle anzufachen und der anderen Seite für den daraus entstehenden Schaden die Schuld zu geben. Sollte dies geschehen, wird das Rezessionsrisiko in den USA, Europa und Australien im nächsten Jahr hoch sein, obwohl China versuchen würde, den Schock im eigenen Land durch weitere haushalts- und geldpolitische Stimulation abzumildern.
Die Wahl, vor der die USA und China jetzt stehen, ist von entscheidender Bedeutung. Für den Rest der Welt könnte gar nicht mehr auf dem Spiel stehen.
Aus dem Englischen von Harald Eckhoff
Dieser Kommentar beruht auf einer aktuellen Rede vor der US-Handelskammer in Peking.