¿Estados Unidos y China pueden llegar a un acuerdo?
NUEVA YORK – Ahora que han terminado las celebraciones del 70 aniversario de la fundación de la República Popular China, es hora de volver a dirigir la atención a la guerra comercial sino-norteamericana. El conflicto bien puede estar por entrar en una recta final. De hecho, la próxima ronda de negociaciones tal vez sea la última oportunidad real de encontrar una salida para el embrollo comercial, tecnológico y económico más amplio en el que están hundidos ambos países.
De no suceder esto, el mundo debería empezar a prepararse para su cabalgata económica más agitada desde la crisis financiera global de 2008. Existe un riesgo real de que Estados Unidos caiga en una recesión, y de que la economía global experimente un desacople más amplio que afecte negativamente las relaciones sino-norteamericanas en el futuro. También existe un espacio de oportunidad cada vez más grande para que los electorados nacionalistas en ambos países sostengan que el conflicto es inevitable.
Hasta el momento, la guerra comercial ha atravesado cuatro fases. La fase uno comenzó en marzo pasado, cuando el presidente norteamericano, Donald Trump, anunció la primera ronda de aranceles a las importaciones sobre los productos chinos. La fase dos llegó con el "reseteo argentino" en la cumbre del G20 en Buenos Aires en diciembre pasado, cuando Trump y el presidente chino, Xi Jinping, anunciaron que concluirían un acuerdo en el lapso de 90 días. Esa tregua se desmoronó a comienzos de mayo de este año, cuando las partes se acusaron mutuamente de exigir cambios significativos de último minuto en el acuerdo borrador.
La mejor manera de describir la fase tres es el "verano de nuestro descontento": Estados Unidos impuso una nueva ronda de aranceles a las importaciones y China tomó represalias en especies, dando a conocer a su vez su respuesta a la "lista de entidades" de Estados Unidos. En respuesta a la inclusión de Huawei y otras cinco compañías tecnológicas chinas en una lista negra, el poético título de "lista de entidades poco confiables" de China amenaza con apuntar a empresas norteamericanas para su posterior exclusión.
Dados estos desenlaces, ¿por qué alguien debería esperar que la próxima ronda de negociaciones sea un éxito?
Por empezar, las economías norteamericana y china están en problemas. En Estados Unidos, las recientes cifras decepcionantes de empleo en el sector privado y la industria han reforzado el pesimismo sobre las perspectivas de la economía. Si las condiciones se siguen deteriorando, la apuesta de Trump a una reelección en noviembre de 2020 estaría en peligro. De la misma manera, Xi se vería debilitado por cualquier desaceleración importante en vísperas de las celebraciones por el centenario del Partido Comunista Chino en 2021, que serán un preludio para su apuesta a un tercer mandato ya polémico a partir de 2022.
Subscribe now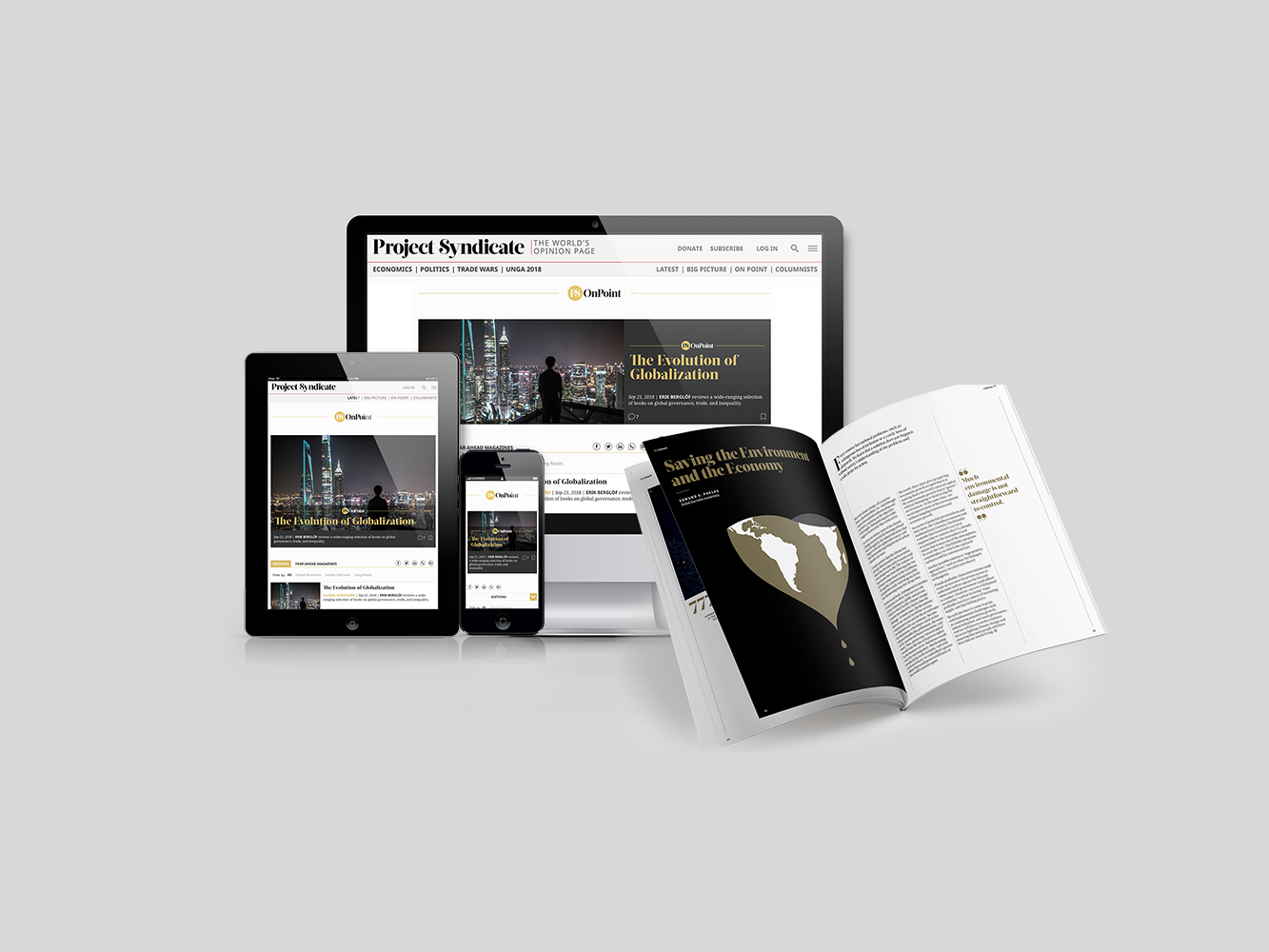 Subscribe now
Subscribe today and get unlimited access to OnPoint, the Big Picture, the PS archive of more than 14,000 commentaries, and our annual magazine, for less than $2 a week.
Cada una de las partes dice públicamente que la guerra comercial afecta más a la otra. Pero, por supuesto, está afectando a ambas, al desestabilizar los mercados, destruir la confianza comercial y minar el crecimiento. Cada parte también dice tener la resiliencia económica necesaria para sobrellevar un conflicto prolongado. Sobre este tema, no es claro quién tiene el argumento más sólido. Estados Unidos, por cierto, es menos dependiente del comercio que China; pero China, aunque debilitada por las malas decisiones políticas internas implementadas antes de la guerra comercial, todavía tiene a su disposición herramientas fiscales, monetarias y crediticias más sólidas.
En cualquier caso, ambas partes reconocen que se están apuntando mutuamente con un arma económica en la cabeza. Por lo tanto, a pesar de la postura política, tanto Trump como Xi en definitiva quieren un acuerdo. Es más, necesitan que suceda a fines de este año para impedir un daño mayor a partir de las grandes alzas arancelarias que hoy están programadas para entrar en vigencia el 15 de diciembre. Ese cronograma exige que ambas partes empiecen a tomar medidas simbólicas y sustanciales de inmediato.
Como primera medida, China debería proponer un acuerdo que utilice el mismo texto que el borrador anterior de 150 páginas, pero con revisiones que satisfagan sus tres "líneas rojas". Específicamente, China debería eliminar las cláusulas de Estados Unidos para mantener los aranceles después de firmado el acuerdo, y para volver a imponer aranceles unilateralmente si Estados Unidos llegara a la conclusión de que China no está cumpliendo con el acuerdo. Y debería agregar un compromiso de que China ejecutará el acuerdo de una manera que sea "consistente con sus procesos constitucionales, legislativos y regulatorios".
Segundo, China debería mejorar su ofrecimiento original de una reducción en el tiempo de 200.000 millones de dólares en el déficit comercial bilateral. Este punto de negociación está basado en una pésima economía, pero es importante para Trump personal y políticamente.
Tercero, si bien China querrá evitar prohibir los subsidios estatales para la industria y las empresas chinas, debe conservar las cláusulas existentes en el acuerdo borrador sobre la protección de la propiedad intelectual y la prohibición de transferencias de tecnología forzadas. Es más, tal vez sea posible lograr que cada país haga manifiesta su postura respecto de la política industrial estatal en el comunicado oficial que acompañe la firma del acuerdo. Una declaración de este tipo podría inclusive especificar los mecanismos de arbitraje domésticos e internacionales que se utilizarán para hacer cumplir todas las leyes relevantes en materia de neutralidad competitiva.
Cuarto, ambas partes deben crear una atmósfera política más positiva. En las últimas semanas, ha habido señales de que esto puede pasar, inclusive informes de nuevas compras chinas de soja norteamericana en septiembre. Si bien las compras todavía están muy por debajo de los niveles históricos, este aumento ayudará a Trump a aplacar a los agricultores enojados entre sus votantes. Estados Unidos, mientras tanto, ya ha diferido un alza arancelaria del 5% que originariamente estaba programada para el 1 de octubre. También podría emitir exenciones para que algunas empresas estadounidenses vendan insumos no sensibles a Huawei.
Quinto, ambas partes deberían ver el Foro de Cooperación Económica Asia-Pacífico del 14 al 16 de noviembre en Santiago como la última oportunidad para firmar un acuerdo. Luego de las negociaciones de alto nivel entre el vice premier chino, Liu He, y el representante de Comercio de Estados Unidos, Robert Lighthizer, este mes, se deberían resolver los problemas pendientes en Beijing a comienzos de noviembre. Tener el acuerdo firmado antes del Día de Acción de Gracias será esencial para fomentar la confianza de las empresas y de los consumidores en Estados Unidos para la temporada navideña.
Soy uno de los pocos analistas que han dicho todo el año que, a pesar de la pirotecnia política, los intereses subyacentes de Trump y de Xi hacen que un acuerdo sea más factible. Pero los procedimientos de juicio político recientemente anunciados contra Trump podrían ser un obstáculo en este proceso. Un Trump debilitado puede sentirse envalentonado para adoptar una línea más dura contra China de lo que exigen los intereses económicos de Estados Unidos. Sin embargo, Trump todavía no puede permitirse el riesgo de una recesión en 2020, lo que significa que sigue siendo más probable que haya un acuerdo a que no lo haya.
De todos modos, si no se pueden llevar adelante los próximos dos meses críticos, podría suceder que todo el proceso colapsara. Ambas partes ya han invertido mucho tiempo preparando un Plan B para 2020: soltar los perros de una guerra económica, fomentar el sentimiento nacionalista y culpar a la otra parte por el daño resultante. Si esto sucediera, el riesgo de una recesión en Estados Unidos, Europa y Australia el año próximo será muy alto, aunque China intentaría suavizar el golpe doméstico mediante un mayor estímulo fiscal y monetario.
La opción que hoy enfrentan Estados Unidos y China es cruda. Para el resto del mundo, las apuestas podrían no ser mejores.
Este comentario está basado en un discurso reciente ante la Cámara de Comercio de Estados Unidos en Beijing.