Понимание Северокорейской угрозы
ПЕКИН – Северная Корея недавно провела испытание своей баллистической ракеты Hwasong-15, достигающей высоты 2780 миль (4 475 километров) во время своего 53-минутного полета. Используя плоскую траекторию, режим Ким Чен Юна мог бы обеспечить возможность удара по восточному побережью Соединенных Штатов. Несмотря на то, что он еще не продемонстрировал боеголовку, способную выдержать атмосферное трение, Северная Корея объявила о том, что она освоила возможности ядерного удара и стала полноправным ядерным государством.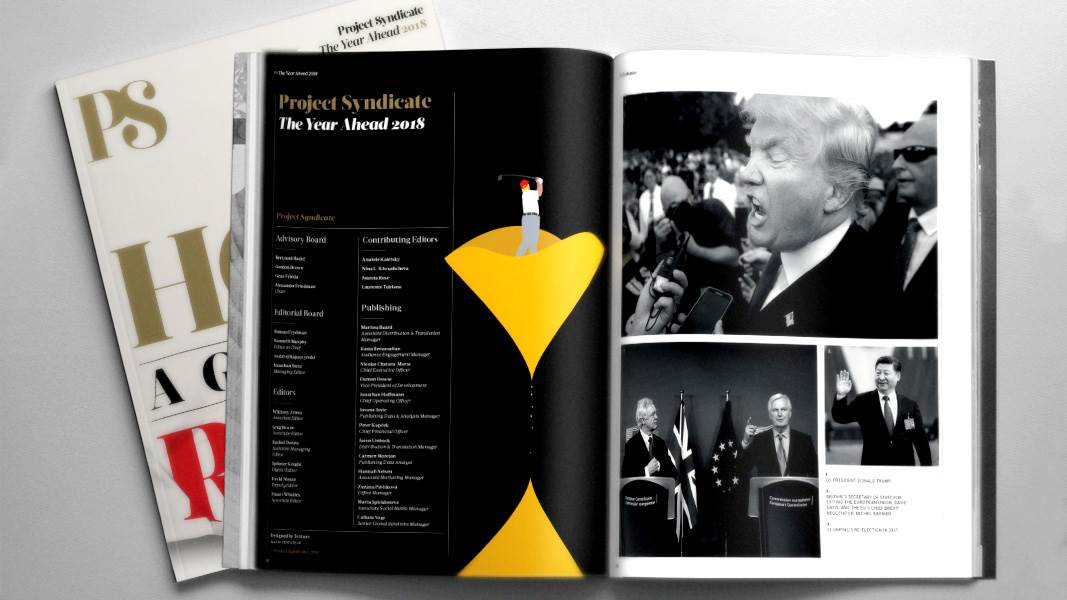 The Year Ahead 2018
The world's leading thinkers and policymakers examine what's come apart in the past year, and anticipate what will define the year ahead.
Как и предыдущие президенты США, Дональд Трамп сказал, что такое положение дел недопустимо. И что теперь?
Прежде чем перейти к политике, необходимо избавиться от нескольких мифов, которые мешают четкому анализу. Во-первых, возможно Ким и жестокий диктатор, но он не сумасшедший или самоубийца. На данный момент, он переиграл США в этой игре с высокими ставками, но он понимает, что ядерный обмен с США означает конец режима, который он пытается сохранить.
Во-вторых, США загнали себя в ловушку Кима, преувеличивающую силу власти, которую ему дает его ракетное вооружение. В конце концов, Северная Корея владеет ядерным оружием уже более десятилетия; оно может быть доставлено в порты США на восточное или западное побережье другими средствами, например, в трюме грузового корабля.
В-третьих, в этой игре блефа и кто первый струсит, география обеспечивает Северной Корее локальное эскалирующее господство. С тысячами орудий ствольной артиллерии, скрытых в туннелях вблизи границы, Северная Корея может угрожать разрушением Сеула, близлежащей столицы Южной Кореи, традиционными средствами. США узнали об этом в 1994 году – задолго до того, как Северная Корея получила ядерное оружие, – когда они планировали упреждающий удар по уничтожению завода по переработке плутония в Северокорейском Йонбёне, однако выяснилось, что их союзников из Южной Кореи (и Японии) останавливает угроза обычного возмездия.
С политической точки зрения, Китай предложил "замораживание санкций" в качестве средства контроля ядерных амбиций Севера. Северная Корея остановит все ядерные и ракетные испытания (это легко проверить); хотя это не изменит ядерный статус Севера, это замедлит разработку его арсенала. В свою очередь, США прекратили бы военные учения, которые они ежегодно проводят с Южной Кореей. США оставили бы за собой право возобновить учения, если Северная Корея нарушит свой запрет на испытания или экспортирует ядерные материалы.
Некоторые считают это хорошей сделкой, но это зависит от того, как оценивать цели Кима. Если все, чего он хочет, это безопасность, мы могли бы оставить его в покое, возможно, подписать мирный договор, снять санкции и позволить, чтобы со временем экономический рост изменил режим, как в Китае.
Но Северная Корея под династией Кима не является державой status quo. С 1945 года, это был странный случай: наследственная коммунистическая диктатура, чья легитимность опирается на ее утверждение стать авангардом Корейского национализма. До сих пор, она отставала в экономической конкуренции с Югом, но она надеется, что ее ядерный статус изменит этот баланс.
Как недавно предупредил Сун-Юн Ли из Университета Тафтса, "для Севера, угрожать США является не подлежащим обсуждению средством изоляции и осуществления господства над Сеулом. Это метод, которым режим Ким Чен Юн стремится обеспечить свое долгосрочное выживание".
Если, для стратегии Кима, ослабление связей между США и Южной Кореей имеет решающее значение, предложение Китая о "замораживании санкций" сыграет ему на руку. И, вместо того, чтобы снизить угрозу, это может воодушевить Север, вернуться к рискованному традиционному давлению на Южную Корею, как например, в 2010 году, когда он потопил Южнокорейский корвет, убив 46 моряков и обстреляв Южнокорейские острова.
Варианты политики США ограничены. Один из них заключается в ограниченном применении силы. Генерал-лейтенант Х. Р. Макмастер, советник Трампа по национальной безопасности, неоднократно заявлял о том, что, если дипломатия потерпит неудачу, может потребоваться превентивная война. Но даже если это было разработано как ограниченный удар, будут ли ограниченными усилия по смене власти или сбиванию ракет? Если нет, то потери могут варьироваться от десятков тысяч до значительно большего количества.
Санкции, по-прежнему, остаются вариантом, но пока они не оказали достаточного давления, чтобы заставить режим Кима отказаться от того, что он считает своим ключевым стратегическим активом. Китайская дипломатия и санкции, также имеют решающее значение, но пока Китай ведет себя снисходительно. Он не прекратил поставки продуктов питания и топлива. Китаю не нравится Ким, но он не хочет, чтобы на его границе был хаос или американцы.
Возможным пакетом мер могло быть, что-то типа ПОИР (GRIT) Холодной войны или постепенное снижение международной напряженности: США заверяют Китай в своих ограниченных целях и соглашаются координировать свои действия с китайцами. Больше никаких маршей к реке Ялу, вызвавших вмешательство Китая в Корейскую войну. В свою очередь, Китай использует свое экономическое давление и дипломатию, чтобы заморозить непосредственную угрозу, создаваемую северокорейскими испытаниями, но не настаивает на замораживании сил США.
Возможное сокращение масштабов американских учений в будущем будет зависеть от поведения Северной Кореи по отношению к Южной Корее. США предложили бы провести переговоры о мирном соглашении после того, как Северная Корея согласится ослабить напряжение в отношениях с Южной Кореей. США и Китай могли бы согласиться с de facto ядерным статусом Северной Кореи, лишь совместно подтвердив свою долгосрочную цель создания безъядерного полуострова. Северная Корея соглашается прекратить испытания и весь дальнейший экспорт ядерных материалов. Китай угрожает ввести санкции на продукты питания и топливо, если Северная Корея обманет или нарушит соглашение.
Перспективы такого пакета, ориентированного на Китай, невелики; но, если это не удастся, США не должны паниковать. Если им удалось удержать гораздо более мощный Советский Союз от захвата изолированного Западного Берлина, в течение трех десятилетий, они смогут удержать и Северную Корею. США должны укрепить свой потенциал сдерживания и обороны, посредством своих союзов с Южной Кореей и Японией. Присутствие почти 50 000 американских военнослужащих в Японии и около 28 000 в Корее делает расширенное сдерживание убедительным. Ким не может убить южнокорейцев или японцев, не убив при этом американцев, а это, как он отлично знает, означало бы конец его режима.