Comprender la amenaza norcoreana
BEIJING – En una prueba realizada hace unos días, Corea del Norte lanzó un misil balístico Hwasong-15 que voló durante 53 minutos y alcanzó una altitud de 4475 kilómetros. Con una trayectoria más horizontal, el régimen de Kim Jong-un podría atacar la costa este de los Estados Unidos. Si bien todavía no exhibió un misil reentrante capaz de sobrevivir a la fricción atmosférica, Corea del Norte anunció que ya se convirtió en una plena potencia nuclear con capacidad de ataque.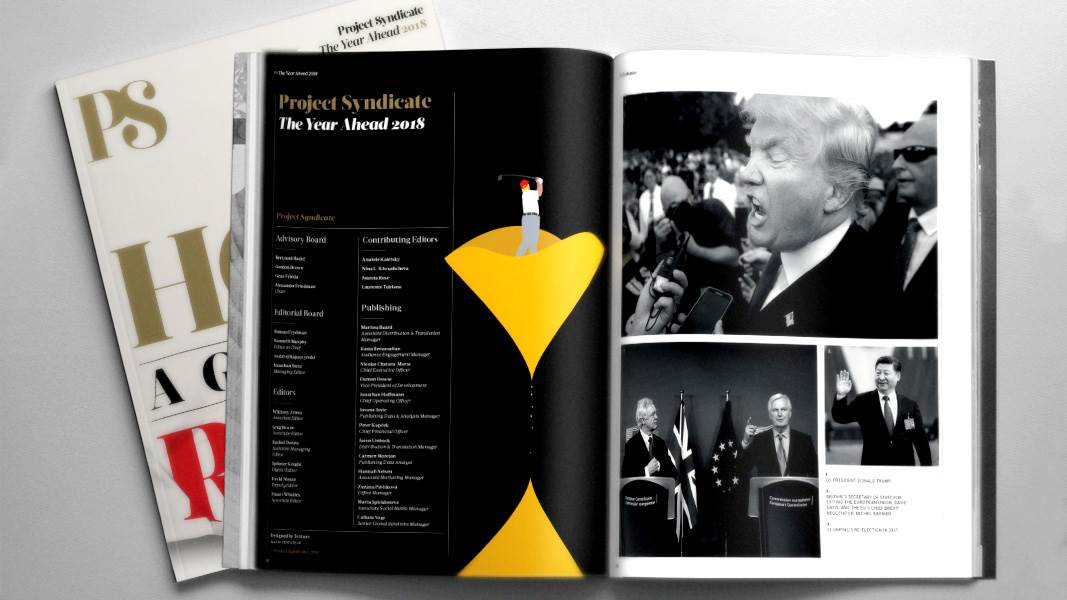 The Year Ahead 2018
The world's leading thinkers and policymakers examine what's come apart in the past year, and anticipate what will define the year ahead.
Como otros presidentes de los Estados Unidos antes que él, Donald Trump declaró que esta situación es intolerable. ¿Y ahora?
Antes de estudiar las alternativas, es importante librarnos de varios mitos que impiden un análisis claro. En primer lugar, Kim será un dictador despiadado, pero no es ni loco ni suicida. Hasta ahora superó a Estados Unidos en este juego de alto riesgo, pero sabe que un intercambio nuclear sería el fin del régimen que está tratando de preservar.
En segundo lugar, Estados Unidos cayó solo en la trampa que le tendió Kim al exagerar el poder que le dan los misiles. Corea del Norte tiene armas nucleares hace más de diez años; podría haber llevado una bomba atómica a cualquiera de las dos costas de Estados Unidos por otros medios, por ejemplo, en la bodega de un carguero.
En tercer lugar, en este juego de nervios, la geografía otorga a Corea del Norte dominio en caso de escalada local, ya que tiene miles de piezas de artillería ocultas en túneles cerca de la frontera y puede amenazar con hacer estragos por medios convencionales en la cercana capital de Corea del Sur, Seúl. Esto ya lo sabe Estados Unidos desde 1994 (mucho antes de que Corea del Norte tuviera un arma nuclear), cuando tras planear un ataque preventivo para destruir la planta norcoreana de reprocesamiento de plutonio de Yongbyon, sus aliados (Corea del Sur y Japón) se echaron atrás por el riesgo que suponía una represalia convencional.
En cuanto a las alternativas, China propuso controlar las ambiciones nucleares de Pyongyang mediante un "congelamiento recíproco". Esto implica que Corea del Norte ponga fin a todas las pruebas misilísticas y nucleares (algo fácil de verificar); no revertiría el estatus nuclear del régimen, pero frenaría el desarrollo de su arsenal. A cambio, Estados Unidos suspendería los ejercicios militares anuales con Corea del Sur, pero reservándose el derecho a reanudarlos si Corea del Norte infringiera la prohibición de hacer pruebas o exportara materiales nucleares.
Para algunos este acuerdo es aceptable, pero su calidad depende de lo que realmente busca Kim. Si sólo quiere seguridad, podríamos dejarlo estar, quizá firmar un tratado de paz, aligerar las sanciones y esperar a que con el tiempo el crecimiento económico cambie el régimen, como en el caso de China.
Pero Corea del Norte bajo la dinastía Kim no es una potencia integrada al statu quo. Es desde 1945 una rareza: una dictadura comunista hereditaria que basa su legitimidad en la pretensión de ser la vanguardia del nacionalismo coreano. Hasta ahora salió mal parada en la competencia económica con Corea del Sur, pero confía en que la condición de potencia nuclear incline la balanza a su favor.
Como advirtió hace poco Sung-Yoon Lee, de la Universidad Tufts: "para Corea del Norte, amenazar a Estados Unidos es un medio no negociable para aislar y dominar a Seúl. Es la forma que tiene el régimen de Kim Jong-un de garantizarse la supervivencia a largo plazo".
Si debilitar los lazos entre Estados Unidos y Corea del Sur es esencial para la estrategia de Kim, la propuesta china de congelamiento recíproco le viene como anillo al dedo. Y en vez de reducir riesgos, puede envalentonar a Pyongyang y llevarlo a retomar una peligrosa política de presión convencional sobre Seúl, como en 2010, cuando hundió una corbeta surcoreana (causando la muerte de 46 marinos) y bombardeó islas de Corea del Sur.
Estados Unidos tiene pocas alternativas. Una es un uso limitado de la fuerza. El teniente general H. R. McMaster, asesor de seguridad nacional de Trump, ha dicho varias veces que si la diplomacia fracasa, tal vez sea necesaria una guerra preventiva. Pero incluso planteándolos como acciones limitadas, un intento de descabezamiento del régimen o un derribo de misiles pueden llevar a una escalada, en cuyo caso, las bajas se contarían por decenas de miles o mucho más.
Las sanciones siguen siendo aplicables, pero hasta ahora no generaron presión suficiente para lograr que el régimen de Kim renuncie a lo que considera su activo estratégico clave. En esto, y en la diplomacia, también es esencial la participación de China; pero hasta ahora no ejerció toda la presión que puede, ya que mantiene el suministro de alimentos y combustibles a Corea del Norte. A China no le agrada Kim, pero no quiere caos, ni estadounidenses, en su frontera.
También podría aplicarse algo parecido al concepto de "reducción gradual de la tensión internacional" que se usó durante la Guerra Fría: que Estados Unidos dé garantías a China de que sus objetivos son limitados, acepte coordinar sus acciones con Beijing y se abstenga de otra marcha sobre el río Yalu como la que incitó la intervención china en la Guerra de Corea. A cambio, China usará la presión económica y la diplomacia para congelar la amenaza inmediata que plantean las pruebas norcoreanas, pero sin insistir en un congelamiento de tropas estadounidenses.
Que Estados Unidos incremente otra vez los ejercicios militares dependerá de la conducta de Pyongyang en relación con Corea del Sur. Si el régimen se presta a un alivio de tensiones con su vecino, Estados Unidos ofrecerá negociar un tratado de paz; y aceptará, junto con China, el estatus nuclear de Corea del Norte como un hecho consumado, pero reafirmando en forma conjunta el objetivo a largo plazo de desnuclearización de la península. Corea del Norte acordará no hacer más pruebas ni exportar materiales nucleares; en caso de engaño o incumplimiento, China le cortará el suministro de alimentos y energía.
Este paquete de medidas centrado en China no tiene muchas perspectivas de funcionar, pero si fracasa, Estados Unidos no debe entrar en pánico. Si pudo impedir durante tres décadas que la mucho más fuerte Unión Soviética capturara un aislado Berlín occidental, también podrá detener a Corea del Norte. Estados Unidos debe reforzar sus capacidades de disuasión y defensa a través de las alianzas con Corea del Sur y Japón. Casi 50 000 soldados estadounidenses estacionados en Japón y unos 28 000 en Corea hacen creíble un grado de disuasión suficiente. Kim no puede matar surcoreanos o japoneses sin matar estadounidenses, y si lo hace, seguramente sabe que será el fin de su régimen.
Traducción: Esteban Flamini