Hoe moeten we de Noord-Koreaanse dreiging inschatten?
BEIJING – Noord-Korea heeft onlangs zijn ballistische raket Hwasong-15 getest, die tijdens zijn vlucht van 53 minuten een hoogte bereikte van 4.475 kilometer. Als er gebruik zou worden gemaakt van een plattere baan zou dat het regime van Kim Jong-un in staat kunnen stellen de oostkust van de Verenigde Staten te treffen. Hoewel Noord-Korea nog niet heeft aangetoond een raket in de dampkring te kunnen laten terugkeren zonder dat hij verbrandt, heeft het land aangetoond te beschikken over nucleaire slagkracht en een complete kernmacht te zijn geworden.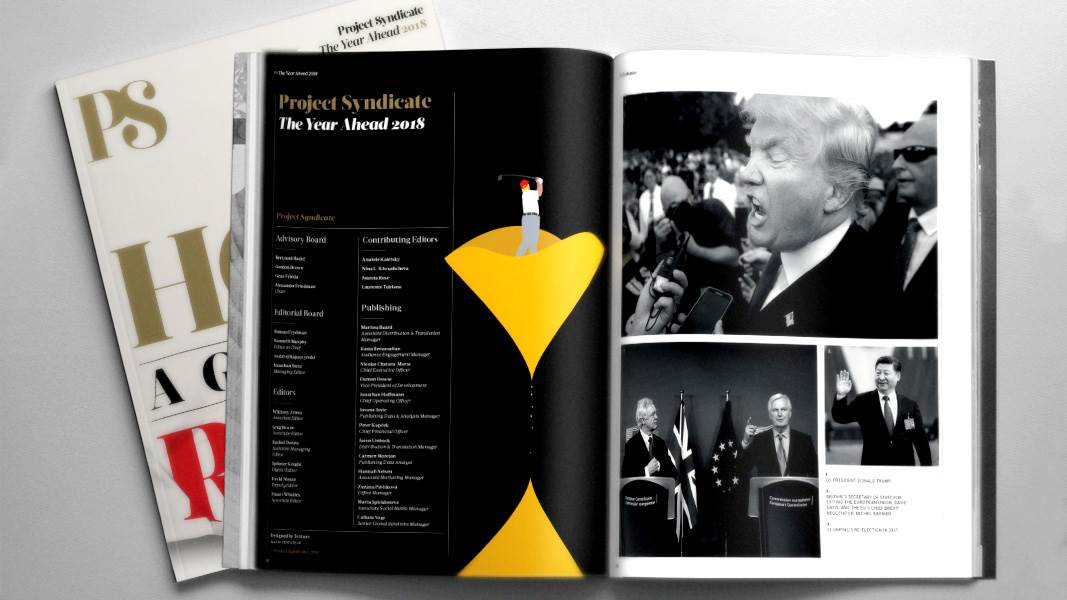 The Year Ahead 2018
The world's leading thinkers and policymakers examine what's come apart in the past year, and anticipate what will define the year ahead.
Net als vroegere Amerikaanse presidenten heeft Donald Trump gezegd deze stand van zaken niet te zullen tolereren. Dus wat nu?
Voordat we ons tot het beleid wenden is het belangrijk diverse mythes te ontkrachten die een heldere analyse in de weg staan. In de eerste plaats mag Kim dan een kwaadaardige dictator zijn, hij is niet gek of suïcidaal. Tot nu toe is hij de VS te slim af geweest in dit spel met hoge inzet, maar hij begrijpt dat een kernoorlog met de VS het einde zal betekenen van het regime dat hij overeind probeert te houden.
In de tweede plaats hebben de VS zichzelf in de val van Kim gepraat door te overdrijven hoeveel macht zijn raketten hem geven. Noord-Korea heeft immers al ruim tien jaar kernwapens; die kunnen ook op andere manieren bij Amerikaanse havens aan de oost- of westkust worden afgeleverd, zoals in het ruim van een vrachtschip.
In de derde plaats biedt de geografie Noord-Korea in dit spelletje "wie het eerst met zijn ogen knippert" de overhand als het om lokale escalatie gaat. Met duizenden stuks artilleriegeschut verborgen in tunnels bij de grens, kan Noord-Korea dreigen de nabijgelegen Zuid-Koreaanse hoofdstad Seoul met conventionele middelen aan flarden te schieten. De VS zijn daar in 1994 al achtergekomen – lang vóórdat Noord-Korea een kernwapen had – toen zij een preventieve aanval hadden gepland op de plutonium-opwerkingsfabriek van Noord-Korea in Yongbyon, om vervolgens te moeten constateren dat de bondgenoten Zuid-Korea en Japan doodsbenauwd waren voor het gevaar van een conventionele vergeldingsactie.
In beleidstermen heeft China "een bevriezing in ruil voor een bevriezing" voorgesteld als manier om de nucleaire ambities van het noorden in toom te houden. Noord-Korea moet dan een einde maken aan alle proefnemingen met kernbommen en raketten (wat makkelijk te verifiëren is); hoewel dit de nucleaire status van Noord-Korea niet onderuit zou halen, zou het de ontwikkeling van zijn kernarsenaal wel vertragen. In ruil daarvoor moeten de VS de jaarlijkse militaire oefeningen stopzetten die zij met Zuid-Korea houden. De VS zouden zich het recht kunnen voorbehouden om de oefeningen te hervatten als Noord-Korea het verbod op kernproeven zou schenden of nucleair materiaal zou exporteren.
Sommigen zien dit als een goede deal, maar het hangt er vanaf hoe je de doelstellingen van Kim inschat. Als al wat hij wil veiligheid is, kunnen we hem met rust laten, wellicht een vredesverdrag tekenen, de sancties verzachten en de economische groei het regime mettertijd laten veranderen, zoals ook in China is gebeurd.
Maar Noord-Korea onder de Kim-dynastie is geen status quo-macht. Sinds 1945 is het altijd een vreemde eend in de bijt geweest: een hereditaire communistische dictatuur, waarvan de legitimiteit berust op zijn claim de voorhoede van het Koreaanse nationalisme te zijn. Tot nu toe is het land in de economische concurrentiestrijd met het zuiden achterop gebleven, maar het hoopt dat zijn nucleaire status het evenwicht zal veranderen.
Zoals Sung-Yoon Lee van Tufts Universiteit onlangs heeft gewaarschuwd, "is het bedreigen van de VS voor het noorden een niet-onderhandelbare manier om Seoul te isoleren en er dominantie over uit te oefenen. Dit is hoe het regime van Kim Jong-un probeert zijn overleving op langere termijn te verzekeren."
Als het verzwakken van de banden tussen de VS en Zuid-Korea cruciaal is voor de strategie van Kim, speelt het "bevriezing-in-ruil-voor-bevriezing"-voorstel van China hem in de kaart. En in plaats van de risico's te verminderen, kan dit het noorden ertoe aanzetten terug te keren naar de riskante conventionele druk op Zuid-Korea, zoals in 2010, toen het een Zuid-Koreaans marineschip tot zinken bracht, waarbij 46 zeelieden omkwamen, en Zuid-Koreaanse eilanden met artillerie-geschut onder vuur nam.
De Amerikaanse beleidsopties zijn beperkt. Eén is het beperkte gebruik van geweld. Luitenant-generaal H. R. McMaster, de nationale veiligheidsadviseur van Trump, heeft diverse malen gezegd dat een preventieve oorlog noodzakelijk kan zijn als diplomatie mislukt. Maar zou een onthoofdingspoging of het neerschieten van een raket, ook al wordt dat voorgesteld als een beperkte aanval, beperkt blijven? Als dat niet zo is, kan het aantal slachtoffers uiteenlopen van tienduizenden tot veel meer.
Sancties blijven een optie, maar tot nu toe hebben zij niet genoeg druk teweeg gebracht om het regime van Kim ertoe aan te zetten op te geven wat het als een strategische troef beschouwt. Chinese diplomatie en sancties zijn ook van cruciaal belang, maar tot nu toe heeft China zich ingehouden. Het heeft de leveranties van voedsel en brandstof niet stopgezet. China is niet gecharmeerd van Kim, maar wil ook geen chaos – of Amerikanen – aan zijn grens.
Een mogelijk pakket zou zoiets kunnen zijn als de "GRIT" uit de tijd van de Koude Oorlog, een "gradual reduction of international tension" (geleidelijke vermindering van de internationale spanning): de VS verzekeren China van hun beperkte doelstellingen en stemmen ermee in hun acties met de Chinezen te coördineren. Geen marsen meer naar de rivier de Yalu, waardoor de Chinese interventie in de Koreaanse Oorlog werd uitgelokt. In ruil daarvoor gebruikt China zijn economische macht en diplomatie om de onmiddellijke dreiging van de Noord-Koreaanse kernproeven te bevriezen, zonder te staan op een bevriezing van de Amerikaanse strijdkrachten.
Een mogelijke terugschaling van de Amerikaanse oefeningen in de toekomst zou afhangen van het Noord-Koreaanse gedrag jegens Zuid-Korea. De VS kunnen aanbieden te bemiddelen over een vredesverdrag, nadat Noord-Korea détente met Zuid-Korea heeft aanvaard. De VS en China zouden de de facto-nucleaire status van Noord-Korea kunnen aanvaarden, maar gezamenlijk hun langetermijndoelstelling van een kernwapenvrij schiereiland moeten herbevestigen. Noord-Korea zou ermee moeten instemmen de kernproeven te beëindigen, evenals alle verdere export van nucleair materiaal. China zou moeten dreigen voedsel- en brandstofsancties op te leggen als Noord-Korea vals spel speelt of de overeenkomst schendt.
De vooruitzichten voor een dergelijk op China gericht pakket zijn niet geweldig; maar als het mislukt, mogen de VS niet in paniek raken. Als zij dertig jaar lang in staat zijn geweest een veel sterkere Sovjet-Unie te weerhouden van het innemen van een geïsoleerd Berlijn, kunnen zij Noord-Korea ook afschrikken. De VS moeten hun afschrikwekkende en defensieve vermogen versterken door de allianties met Zuid-Korea en Japan uit te bouwen. De aanwezigheid van bijna 50.000 Amerikaanse soldaten in Japan en zo'n 28.000 in Korea maakt een uitgebreide afschrikking geloofwaardig. Kim kan geen Zuid-Koreanen of Japanners doden zonder Amerikanen te doden, en dat – zoals hij zeker weet – zou het einde betekenen van zijn regime.
Vertaling: Menno Grootveld