Los cómplices voluntarios de Trump
NUEVA YORK – El 20 de febrero de 1933 tuvo lugar una reunión secreta en la residencia palaciega de Hermann Göring en Berlín. Más de 20 de los principales industriales de Alemania, entre ellos Gustav Krupp, Friedrich Flick y Fritz von Opel, escucharon un discurso de Hitler, quien les prometió que sus activos estarían a salvo en su gobierno. De manera que aceptaron respaldar al Partido Nazi con más de dos millones de Reichsmarks, una suma gigantesca que prácticamente alcanzó para pagar la inminente campaña electoral.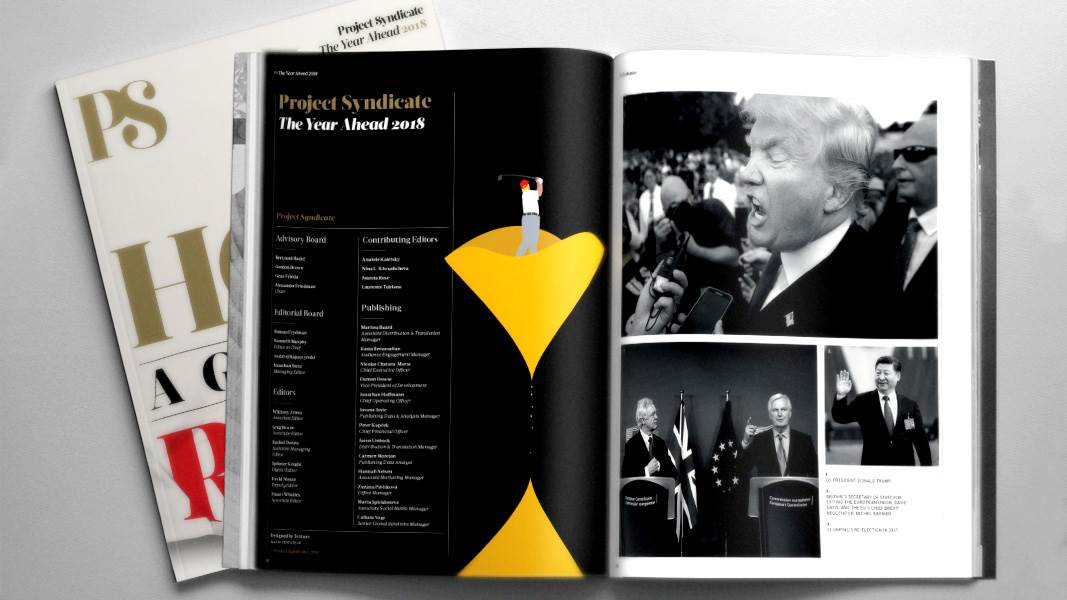 The Year Ahead 2018
The world's leading thinkers and policymakers examine what's come apart in the past year, and anticipate what will define the year ahead.
Pocos de estos hombres, o tal vez ninguno de ellos, eran Nazis convencidos. Eran miembros del Herrenklub alemán (Club de Caballeros), que era muy conservador pero no nacionalsocialista. Sin embargo, guiados por un interés personal limitado, se convirtieron en facilitadores de Hitler.
En esta condición, fueron cómplices de un régimen criminal responsable de asesinatos en masa y, finalmente, de la destrucción de su país. Sus propias empresas se beneficiaron enormemente con el trabajo esclavo. Thomas Mann describió al Herrenklub como un "pionero de la miseria". Esto no impidió que Flick y otros gozaran de carreras florecientes después de la guerra, luego de ligeras sentencias a prisión.
El presidente de Estados Unidos, Donald Trump, no es un dictador nazi (aunque algunos de sus más estrechos asesores admiran algunas de las ideas que inspiraron al fascismo y al nazismo en el pasado). Sin embargo, es una amenaza para la democracia que supuestamente tiene que proteger. Sigue atacando a la prensa libre y a la independencia judicial, y alienta la violencia callejera, inclusive por parte de neonazis. Retuitear videos anti-musulmanes publicados por un extremista británico es sólo la última de sus atrocidades.
Muchos políticos republicanos prominentes que están junto a Trump, e inclusive los multimillonarios que financian sus campañas, pueden tener recelos privados sobre el narcisista peligrosamente errático que está en la Casa Blanca, de la misma manera que los caballeros del Herrenklub quizás alguna vez despreciaron al advenedizo vulgar con sus ridículos uniformes marrones. Pero sólo con algunas excepciones, los políticos siguen tolerándolo -y por una razón similar: su interés personal limitado de querer mantenerse en el poder y hacerle ganar más dinero a sus patrocinadores.
Un excelente ejemplo es la legislación impositiva que recientemente se introdujo en el Senado. Una vez que se reconcilie el proyecto de ley con la versión de la Cámara y Trump lo convierta en ley, las grandes empresas y los norteamericanos muy ricos se beneficiarán a expensas de los pobres y los vulnerables. Y, según la Oficina de Presupuesto del Congreso, un organismo no partidario, la salud financiera de Estados Unidos también sufrirá ya que, para 2027, ya se habrán sumado unos 1.214 billones de dólares al déficit.
Esto debería considerarse una traición a los muchos votantes de Trump en las zonas rurales de estados relativamente pobres y las ciudades del Cinturón de Óxido del Medio Oeste, donde la gente más necesita la ayuda del gobierno federal para seguir siendo solvente y saludable. Muy probablemente sean ellos los que paguen el precio de enriquecer a los muy ricos aún más.
Existen, por supuesto, muchas diferencias entre los Estados Unidos de hoy y la Alemania de los años 1930. Los pensadores de izquierda muchas veces han dicho que el fascismo fue la última etapa del capitalismo. En verdad, el nacionalsocialismo y el fascismo no eran especialmente amigables con el capitalismo liberal.
Tampoco el nazismo y el fascismo estaban diseñados para beneficiar sólo a una oligarquía. Las grandes empresas prosperaron en ambos sistemas, sin duda, especialmente las corporaciones que se vieron favorecidas con la minería y el gasto militar. Pero, aparte de las minorías y los disidentes perseguidos, muchos ciudadanos comunes se beneficiaron con los programas del gobierno (para no mencionar el saqueo de los países conquistados).
Los industriales que se congregaron en torno de Hitler y Göring en 1933 fueron comprados por un régimen mafioso y asesino. Lo mismo puede decirse del cuerpo de oficiales alemanes. Esta no fue la última etapa del capitalismo; Hitler utilizó a los capitalistas para sus fines infames.
La situación en los Estados Unidos de Donald Trump parece bastante diferente. Trump utilizó un lenguaje populista en su campaña, avivando el resentimiento popular contra las elites urbanas educadas, entre ellos los capitalistas de Wall Street. Y sigue complaciendo las emociones de los racistas blancos incultos y otros que sienten que quedaron rezagados en el mundo moderno, y le echan la culpa de sus problemas a los liberales y las minorías étnicas y religiosas impopulares.
Pero todavía no resulta claro quién está utilizando a quién en el mundo de Trump. En su obsesión por los bajos impuestos corporativos y personales, y su desprecio por la mano de obra organizada y el gobierno federal, los donantes ricos como los hermanos Charles y David Koch, o el magnate de casinos Sheldon Adelson, parecen estar manipulando a Trump, y no al revés. En un sentido, al igual que Krupp u Opel (si no más), representan un tipo de capitalismo que está siendo liberado de todas las limitaciones necesarias. Esto comenzó mucho antes de que Trump apareciera en escena. El proceso se remonta a por lo menos la era de Ronald Reagan de recortes impositivos "del lado de la oferta" y desregulación.
En el corto plazo, al Estados Unidos rico y corporativo probablemente le vaya bien. Las bolsas pueden seguir su carrera alcista por bastante tiempo más. Pero, en el más largo plazo, con déficits en el horizonte, acuerdos comerciales internacionales deshechos y un gasto totalmente inadecuado en infraestructura, educación y atención médica vital, las cosas podrían resultar muy mal. Apoyar a un presidente que es claramente un peligro para la democracia por el solo hecho de obtener un rédito financiero inmediato es poco patriota y moralmente condenable. Pero tampoco tiene ningún sentido económico.
Henry Ford era un antisemita que se sentía feliz de cooperar con la Alemania nazi hasta 1942. También fue uno de los líderes del Comité Estados Unidos Primero, que se oponía a entrar en guerra contra Hitler. Pero tenía una visión, que los cómplices de Trump preocupados ante todo por los negocios harían bien en atender. El término "Fordismo" significaba que los trabajadores tenían que ser lo suficientemente ricos como para comprar un auto de sus fábricas. El proyecto de ley impositivo de Trump dejará a millones de potenciales consumidores en condiciones mucho peores. Y eso no puede ser bueno para los negocios.