Trumpovi ochotní komplicové
NEW YORK – Dvacátého února 1933 se v palácové rezidenci Hermanna Göringa v Berlíně uskutečnila tajná schůzka. Více než 20 špičkových německých průmyslníků včetně Gustava Kruppa, Friedricha Flicka a Fritze von Opela si vyslechlo projev Adolfa Hitlera, který jim slíbil, že jejich majetek bude za jeho vlády v bezpečí. Na základě toho se účastníci dohodli, že podpoří nacistickou stranu více než dvěma miliony říšských marek, což byla obrovská částka, která téměř stačila na úhradu celé nadcházející předvolební kampaně.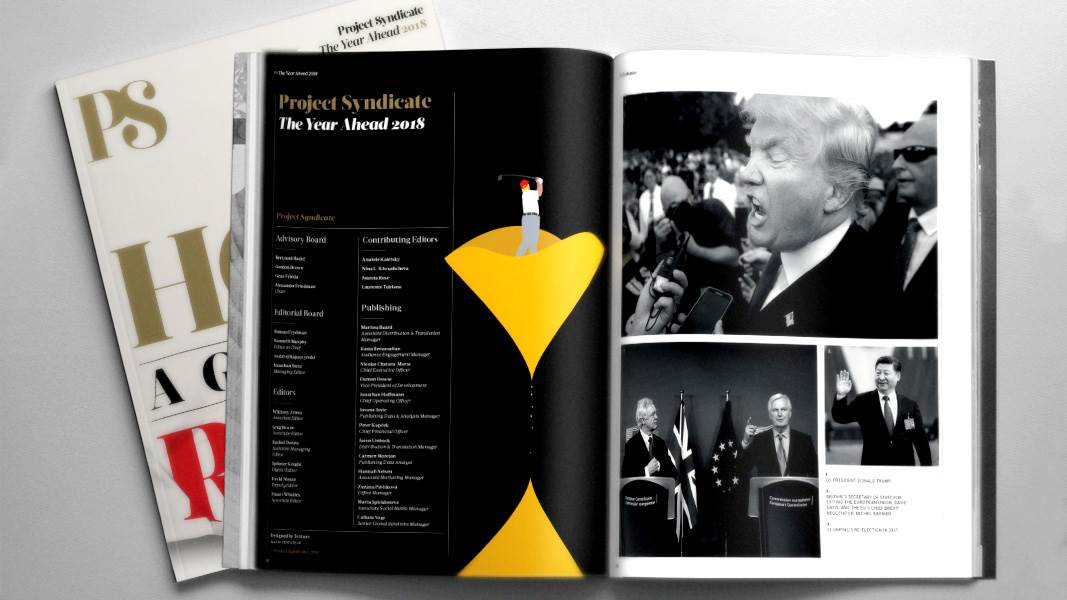 The Year Ahead 2018
The world's leading thinkers and policymakers examine what's come apart in the past year, and anticipate what will define the year ahead.
Málokterý z těchto mužů, pokud vůbec některý, byl přesvědčeným nacistou. Vesměs byli členy německého Herrenklubu (Pánského klubu), který byl velmi konzervativní, ovšem ne národně socialistický. Protože však sledovali vlastní úzké zájmy, umožnili Hitlerovi nástup k moci.
Tím se z nich stali komplicové při vzniku zločinného režimu, jenž se provinil masovým vražděním a na konci i zničením vlastní země. Jejich firmy nesmírně těžily z otrocké práce. Thomas Mann označil Herrenklub za "udavače trendu strádání". To však Flickovi a dalším nebránilo, aby po odpykání mírných nepodmíněných trestů pokračovali po válce ve vzkvétající kariéře.
Americký prezident Donald Trump není nacistický diktátor (třebaže někteří jeho nejbližší poradci obdivují určité myšlenky, jimiž se v minulosti fašismus a nacismus inspirovaly). Přesto je hrozbou pro demokracii, kterou má chránit. Dál útočí na svobodný tisk i nezávislost soudů a podněcuje davové násilí, včetně násilí páchaného neonacisty. Retweet antimuslimských videí zveřejněných britským extremistou je jen poslední v řadě jeho nehorázností.
Mnozí čelní republikánští politici, kteří při Trumpovi stojí, a dokonce i multimiliardáři financující jeho kampaně možná ve skrytu duše pochybují o tomto nebezpečně nevypočitatelném narcisistovi v Bílém domě, stejně jako pánové z Herrenklubu pravděpodobně kdysi opovrhovali vulgárním kariéristou nosícím směšné hnědé uniformy. Až na pár výjimek však politici dál Trumpa podporují – a dělají to z podobného důvodu: z úzkého vlastního zájmu udržet se u moci a vydělat víc peněz těm, kdo je podporují.
Ukázkovým příkladem je daňová legislativa, která byla nedávno protlačena Senátem. Jakmile bude návrh uveden do souladu s verzí Sněmovny reprezentantů a Trump ho podepíše, začnou velké firmy a velmi bohatí lidé týt na úkor chudých a zranitelných. A podle nestranického Kongresového rozpočtového úřadu utrpí i finanční zdraví Ameriky, neboť rozpočtový schodek podle odhadu vzroste do roku 2027 o dalších 1,214 bilionu dolarů.
To by mělo být vnímáno jako zrada mnoha Trumpových voličů ve venkovských oblastech relativně chudých států a v městech "Rezavého pásu" na americkém Středozápadě, kde lidé nejvíce potřebují pomoc federální vlády, aby zůstali solventní a zdraví. Právě oni s největší pravděpodobností zaplatí účet za to, že velmi bohatí ještě více zbohatnou.
Mezi dnešními USA a Německem 30. let samozřejmě existuje řada rozdílů. Levicoví myslitelé často tvrdí, že fašismus byl posledním stadiem kapitalismu. Národní socialismus a fašismus ve skutečnosti nebyly vůči liberálnímu kapitalismu nijak zvlášť přátelské.
Stejně tak nebyly nacismus a fašismus určené k tomu, aby z nich měla prospěch jen oligarchie. Velké firmy však v obou systémech bezesporu prosperovaly, což zejména platí o korporacích, které vydělávaly na dobývání nerostů a vojenských výdajích. Kromě perzekvovaných menšin a disidentů však z vládních programů těžila i řada obyčejných lidí (nemluvě o kořisti z dobytých států).
Průmyslníci, kteří se v roce 1933 sešli kolem Hitlera a Göringa, se nechali koupit vražedným gangsterským režimem. Totéž platí o tehdejším německém důstojnictvu. Nebylo to poslední stadium kapitalismu; Hitler kapitalisty využil pro své hanebné cíle.
Situace v USA za prezidenta Donalda Trumpa vypadá poněkud jinak. Trump v kampani používal populistický jazyk a rozdmýchával veřejnou nevraživost vůči vzdělaným městským elitám včetně kapitalistů z Wall Street. A stále se podbízí nedovzdělaným bílým rasistům a dalším lidem, kteří se v moderním světě cítí opomenutí a svalují vinu za své problémy na liberály a neoblíbené etnické a náboženské menšiny.
Zatím však není zřejmé, kdo koho v Trumpově světě využívá. Zdá se, že bohatí dárci, jako jsou bratři Charles a David Kochovi nebo kasinový magnát Sheldon Adelson, ve své posedlosti nízkými firemními i osobními daněmi a ve svém odporu k organizované pracovní síle a federální vládě spíše manipulují Trumpem než naopak. Svým způsobem tito lidé podobně jako Krupp či Opel (ne-li ještě více) představují typ kapitalismu, který se zcela utrhl ze všech nezbytných řetězů. Tento proces přitom začal dávno předtím, než se na scéně objevil Trump. Sahá nejméně do éry daňových škrtů a deregulace "na straně nabídky" v podání Ronalda Reagana.
V krátkodobém měřítku se bohaté a korporátní Americe pravděpodobně povede dobře. Akciové trhy budou ještě nějakou dobu pokračovat v býčím trendu. V dlouhodobějším výhledu to však vzhledem k rýsujícím se schodkům, rozvráceným mezinárodním obchodním dohodám a naprosto nedostatečným výdajům na životně důležitou infrastrukturu, vzdělání a zdravotnictví může dopadnout velmi špatně. Umožnit v zájmu okamžitého finančního zisku nástup k moci prezidentovi, který představuje zjevné nebezpečí pro demokracii, je nevlastenecké a morálně zavrženíhodné. A ani z ekonomického hlediska to nedává smysl.
Henry Ford byl antisemita, jenž do roku 1942 spokojeně spolupracoval s nacistickým Německem. Stál také v čele výboru "Amerika na prvním místě", který se stavěl proti vstupu země do války s Hitlerem. Chápal však jednu věc, jíž by se Trumpovi komplicové kladoucí na první místo obchod mohli také řídit. Jeho "fordismus" znamenal, že dělníci musí být tak bohatí, aby si mohli koupit auto z některé jeho továrny. Trumpův daňový návrh naopak znamená, že miliony potenciálních spotřebitelů na tom budou hůř. A to nemůže být pro byznys dobré.
Z angličtiny přeložil Jiří Kobělka.