Les complices de Trump
NEW YORK – Le 20 février 1933, une réunion secrète a lieu dans la somptueuse résidence d'Hermann Goering, à Berlin. Plus de 20 industriels majeurs d'Allemagne, parmi lesquels Gustav Krupp, Friedrich Flick, et Fritz von Opel, sont là pour assister à un discours d'Hitler, qui va leur promettre la sécurité de leurs actifs sous son règne. Ces industriels accepteront de soutenir le Parti nazi à hauteur de plus de deux millions de reichsmarks, une somme colossale et presque suffisante pour financer la campagne électorale qui s'annonce.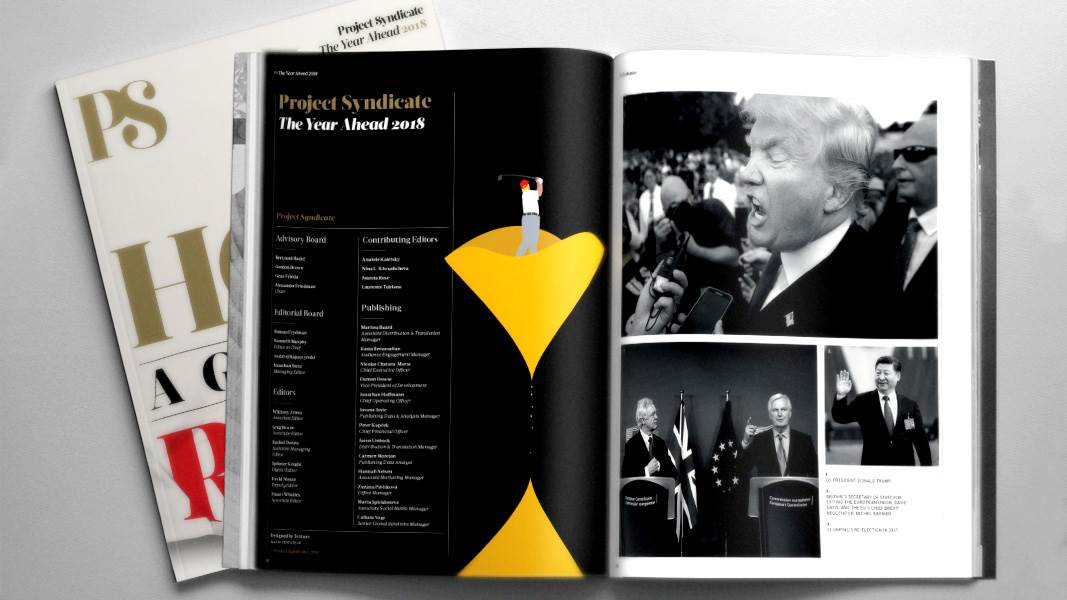 The Year Ahead 2018
The world's leading thinkers and policymakers examine what's come apart in the past year, and anticipate what will define the year ahead.
Peu de ces hommes sont des nazis convaincus, voire aucun d'entre eux. À l'époque, ils sont membres du Herrenklub allemand (club masculin de la haute société), extrêmement conservateur, sans pour autant être national-socialiste. Seulement voilà, en agissant au service de leurs propres intérêts, ils vont devenir les soutiens d'Hitler.
Ils seront en effet les complices d'un régime criminel à l'initiative de tueries de masse, et à l'origine de la destruction de leur pays. Leurs propres entreprises bénéficieront considérablement du travail forcé. Thomas Mann a qualifié l'Herrenklub d'« artisan du malheur ». Cela n'empêchera pas Flick et bien d'autres de poursuivre une carrière prospère à l'issue de la guerre, après avoir purgé de faibles peines de prison.
Le président américain Donald Trump n'est pas un dictateur nazi (bien que certains de ses plus proches conseillers admirent des idées qui ont autrefois inspiré le fascisme et le nazisme). Trump n'en demeure pas moins une menace pour la démocratie qu'il est censé préserver, s'attaquant systématiquement à la liberté de la presse, à l'indépendance de la justice, et encourageant la violence du peuple, y compris parmi les néo-nazis. Le fait d'avoir retweeté plusieurs vidéos hostiles aux musulmans, initialement publiées par un extrémiste britannique, n'est que l'exemple le plus récent des comportements honteux du président américain.
Nombre des principaux responsables Républicains qui entourent Trump, voire des multimilliardaires qui financent leurs campagnes, ont sans doute en privé quelques inquiétudes quant à la dangerosité du Narcisse imprévisible qui occupe la Maison-Blanche, tout comme les gentlemen du Herrenklub méprisèrent sans doute autrefois un arriviste vulgaire, vêtu d'un ridicule uniforme marron. Mais à seulement quelques exceptions près, ces politiciens continuent de soutenir Trump – et cela pour une raison similaire : un intérêt particulier à demeurer au pouvoir, et à engranger toujours plus d'argent pour leurs partenaires.
C'est ce qu'illustre parfaitement la législation fiscale récemment présentée devant le Sénat. Une fois le projet de loi rapproché de la version de la Chambre des représentants, puis signé par Trump et revêtant ainsi force de loi, les grandes entreprises et les plus fortunés en bénéficieront au détriment des catégories défavorisées et vulnérables. Par ailleurs, d'après le Bureau du budget du Congrès, entité non partisane, la richesse financière de l'Amérique en souffrira elle aussi, avec un ajout de quelque 1 214 milliards $ au déficit d'ici 2027.
Comment ne pas y voir une trahison des nombreux électeurs de Trump issus des zones rurales d'États relativement pauvres, et des villes de la Rust Blet du Midwest, qui ont besoin de l'aide du gouvernement fédéral pour préserver leur solvabilité et leur santé ? Ce sont ces citoyens-là qui paieront le prix de l'enrichissement des plus fortunés.
De nombreuses différences opposent bien entendu l'Amérique d'aujourd'hui et l'Allemagne des années 1930. Bien que les penseurs de gauche aient souvent affirmé que le fascisme était le dernier stade du capitalisme, le national-socialisme et le fascisme ne furent pas particulièrement les alliés du capitalisme libéral.
De même, nazisme et fascisme n'avaient pas pour vocation de ne bénéficier qu'à une oligarchie. Certes, les grandes entreprises ont prospéré sous ces deux systèmes, notamment celles qui bénéficiaient de dépenses minières et militaires. Pour autant, à l'exception des dissidents et des minorités persécutées, la majeure partie de la population bénéficiait des programmes publics (sans parler du pillage des pays envahis).
Les acteurs industriels réunis autour d'Hitler et Goering en 1933 furent achetés par un régime meurtrier et criminel. Ceci vaut également pour le corps des officiers allemands. Il ne s'agissait pas du dernier stade du capitalisme ; Hitler a utilisé les capitalistes pour accomplir ses fins odieuses.
La situation des États-Unis sous la présidence Trump est différente. Trump a usé d'un discours populiste lors de sa campagne, attisant l'hostilité du peuple face aux élites urbaines instruites, parmi lesquels les capitalistes de Wall Street. Par ailleurs, il continue d'alimenter les passions des racistes blancs et autres Américains peu instruits qui se sentent abandonnés par le monde moderne, et qui reprochent leurs difficultés aux libéraux ainsi qu'aux minorités ethniques et religieuses impopulaires.
Mais dans le monde de Trump, il est pour l'heure impossible de répondre à la question de savoir qui utilise qui. Obsédés par l'abaissement des impôts sur les sociétés et sur le revenu, ainsi que par leur haine des syndicats et du gouvernement fédéral, les riches donateurs tels que les frères Charles et David Koch, ou encore le géant des casinos Sheldon Adelson, semblent manipuler Trump davantage qu'être manipulés par lui. En un sens, à l'instar de Krupp ou d'Opel (voire dans une plus grande mesure), ils incarnent une forme de capitalisme libéré de toutes contraintes. Et ceci remonte bien avant l'apparition du Trump sur le devant de la scène. Ce phénomène date au moins de l'époque des réductions d'impôts et déréglementations « du côté de l'offre » à l'époque de Ronald Reagan.
Dans un avenir proche, l'Amérique des riches et des grandes entreprises devrait bien se porter. Les marchés boursiers poursuivront sans doute leur trajectoire à la hausse. Mais à plus long terme, lorsque les déficits se feront menaçants, quand les accords commerciaux internationaux auront volé en éclats, et lorsque les dépenses seront extrêmement insuffisantes du côté des infrastructures indispensables, de l'éducation et de la santé, les choses pourraient très mal tourner. Propulser au pouvoir un président manifestement dangereux pour la démocratie, au simple motif d'un enrichissement financier immédiat, est un comportement à la fois antipatriotique et moralement répréhensible. Ce n'est d'ailleurs pas non plus judicieux sur le plan économique.
Henry Ford était antisémite, heureux de collaborer avec l'Allemagne nazie jusqu'en 1942. Il était également l'un des dirigeants de l'America First Committee, qui s'opposa à une déclaration de guerre contre Hitler. Ford avait néanmoins un principe dont les complices ultra-capitalistes de Trump feraient bien de s'inspirer. Le « fordisme » implique que les travailleurs gagnent suffisamment leur vie pour pouvoir se payer une voiture sortie des usines Ford. Le projet de loi fiscale de Trump plongera des millions de consommateurs potentiels dans une situation beaucoup moins favorable. Et cela ne peut être une bonne chose pour les affaires.
Traduit de l'anglais par Martin Morel