Trumps willige Erfüllungsgehilfen
NEW YORK – Am 20. Februar 1933 fand in Herman Görings palastähnlicher Residenz in Berlin ein Geheimtreffen statt. Mehr als 20 führende deutsche Industrielle, darunter Gustav Krupp, Friedrich Flick und Fritz von Opel, lauschten einer Rede Hitlers, der ihnen versprach, dass ihre Vermögenswerte unter seiner Herrschaft sicher sein würden. Aus diesem Grund stimmten sie zu, die Nazi-Partei mit über zwei Millionen Reichsmark zu unterstützen - eine enorme Summe, die beinahe reichte, um den bevorstehenden Wahlkampf zu finanzieren.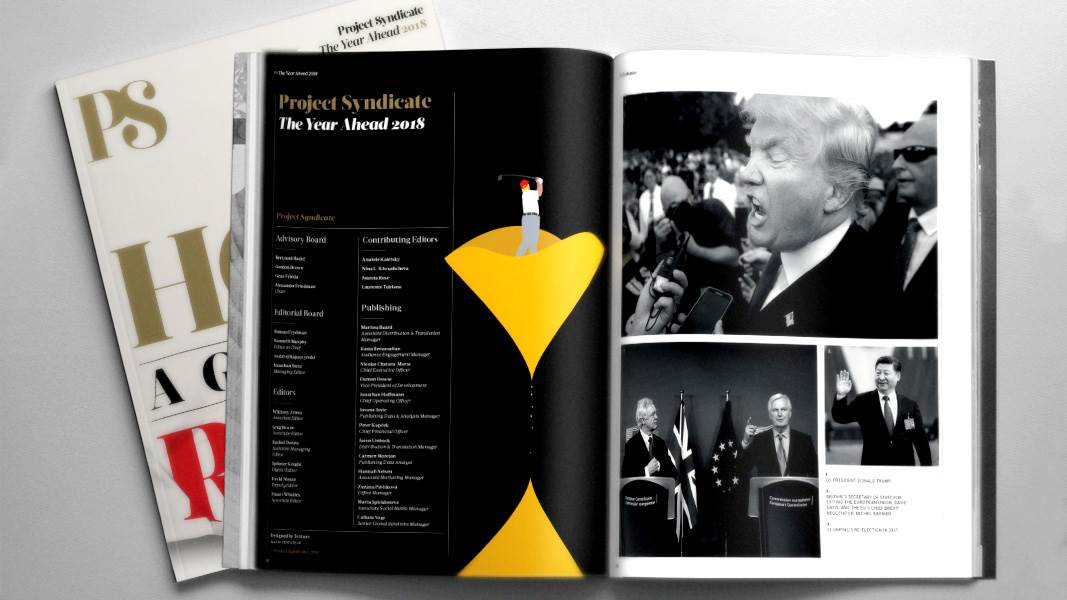 The Year Ahead 2018
The world's leading thinkers and policymakers examine what's come apart in the past year, and anticipate what will define the year ahead.
Wenn überhaupt, handelte es sich nur bei wenigen dieser Männer um überzeugte Nazis. Vielmehr waren sie Mitglieder des Deutschen Herrenklubs, der zwar sehr konservativ, aber nicht nationalsozialistisch ausgerichtet war. Doch aus engstirnigem Eigeninteresse wurden sie zu Hitlers Förderern.
Damit waren sie Erfüllungsgehilfen eines kriminellen Regimes, das sich des Massenmordes und am Ende der Zerstörung des Landes schuldig machte. Ihre eigenen Unternehmen profitierten in hohem Maße von Sklavenarbeit. Thomas Mann bezeichnete den Herrenklub als "Schrittmacher des Elends." Das hielt Flick und andere nach dem Krieg und im Anschluss an kurze Gefängnisstrafen nicht von einem glänzenden Wiederaufstieg ab.  
US-Präsident Donald Trump ist kein Nazi-Diktator (obwohl einige seiner engsten Berater manche der Ideen bewundern, die in der Vergangenheit Faschismus und Nazismus befeuerten). Sehr wohl jedoch ist er eine Bedrohung der Demokratie, die er beschützen soll. Er attackiert weiterhin die freie Presse und die Unabhängigkeit der Justiz und billigt Gewalttätigkeiten des Mobs, darunter auch der Neonazis. Dass er islamfeindliche Videos eines britischen Extremisten auf Twitter teilte, ist nur der jüngste in seiner Reihe an Skandalen.  
Zahlreiche führende, an Trump festhaltende republikanische Politiker und sogar die Multi-Milliardäre, die deren Wahlkämpfe finanzieren, hegen vielleicht privat Bedenken gegenüber dem gefährlich unberechenbaren Narzissten im Weißen Haus, ebenso wie die Mitglieder des Herrenklubs einst wahrscheinlich den vulgären Emporkömmling in seiner grotesken braunen Uniform verachteten. Doch mit wenigen Ausnahmen unterstützen diese Politiker Trump weiterhin – und das aus einem ähnlichen Grund: es ist ihr engstirniges Eigeninteresse, an der Macht zu bleiben und für ihre Unterstützer noch mehr Geld herauszuschlagen.
Ein Paradebeispiel dafür ist die kürzlich durch den Senat geboxte Steuergesetzgebung. Nach der Harmonisierung des Gesetzesentwurfs mit der Version des Repräsentantenhauses werden Großunternehmen und die Superreichen auf Kosten der Armen und Schwachen profitieren. Und laut Angaben des überparteilichen Haushaltsbüros Congressional Budget Office wird auch die finanzielle Gesundheit Amerikas leiden, wobei das Defizit bis 2027 um geschätzte 1,214 Billionen Dollar steigen soll.  
Das sollte als Verrat an vielen Trump-Wählern in den ländlichen Gebieten relativ armer Bundesstaaten und in den Städten des Rust Belts im Mittelwesten betrachtet werden, wo die Menschen am meisten auf die Hilfe der Bundesregierung angewiesen sind, um zahlungsfähig und gesund zu bleiben. Sie werden mit hoher Wahrscheinlichkeit den Preis dafür zahlen, dass die Reichen noch reicher werden.
Freilich bestehen viele Unterschiede zwischen den USA von heute und dem Deutschland der 1930er Jahre. Linke Denker behaupten oft, der Faschismus sei das letzte Stadium des Kapitalismus. Tatsächlich allerdings standen Nationalsozialismus und Faschismus dem liberalen Kapitalismus nicht besonders freundlich gegenüber.
Ebenso wenig waren Nazismus und Faschismus so ausgerichtet, dass nur eine Oligarchie in den Genuss von Vorteilen kommen sollte. Die Großindustrie florierte freilich in beiden Systemen, insbesondere Unternehmen, die von Bergbau und Militärausgaben profitierten. Doch abgesehen von verfolgten Minderheiten und Regimekritikern kamen staatliche Programme (von der Plünderung besetzter Länder ganz zu schweigen) vielen gewöhnlichen Bürgern zugute. 
Die Industriellen, die sich im Jahr 1933 um Hitler und Göring scharten, wurden von einem mörderischen Gangster-Regime gekauft. Gleiches galt für das deutsche Offizierskorps. Das war nicht das letzte Stadium des Kapitalismus; vielmehr benutzte Hitler die Kapitalisten für seine schändlichen Zwecke.
Die Situation in den USA unter Donald Trump präsentiert sich ganz anders. Während seines Wahlkampfs bediente sich Trump einer populistischen Sprache und schürte damit den Unmut der Bevölkerung gegen die gebildeten städtischen Eliten, einschließlich der Kapitalisten an der Wall Street. Und er spricht weiterhin die Gefühlslage schlecht ausgebildeter weißer Rassisten und anderer an, die sich in der modernen Welt abgehängt fühlen und die Schuld an ihren Problemen den Liberalen und unbeliebten ethnischen und religiösen Minderheiten in die Schuhe schieben.  
Allerdings ist noch nicht klar, wer in Trumps Welt wen ausnutzt. In ihrer Besessenheit von niedrigen Steuern für Unternehmen und Privatpersonen sowie ihrer Abneigung gegen Gewerkschaften und die Bundesregierung scheinen reiche Spender wie die Brüder Charles und David Koch oder der Kasino-Magnat Sheldon Adelson eher Trump zu manipulieren als umgekehrt. In gewisser Weise verkörpern sie – ebenso wie Krupp oder Opel (wenn nicht noch stärker) – eine Art des von allen notwendigen Beschränkungen befreiten Kapitalismus. Dieser Prozess begann lange bevor Trump auf der Bildfläche erschien – und lässt sich zumindest bis in die Zeit der "angebotsseitigen" Steuersenkungen und der Deregulierung unter Ronald Reagan zurückverfolgen.
Auf kurze Sicht wird es reichen Amerikanern und amerikanischen Unternehmen wahrscheinlich blendend gehen. Auf den Aktienmärkten wird der Aufwärtstrend wohl noch eine Weile anhalten. Auf lange Sicht allerdings könnten sich die Dinge aufgrund sich abzeichnender Defizite, aufgekündigter internationaler Handelsabkommen und vollkommen unzureichender Ausgaben für lebensnotwendige Infrastruktur, Bildung und Gesundheitsversorgung durchaus schlecht entwickeln. Einen Präsidenten, der ganz klar eine Gefahr für die Demokratie darstellt, aus Gründen unmittelbarer finanzieller Zuwächse zu unterstützen, ist unpatriotisch und moralisch verwerflich. Und wirtschaftlich gesehen ergibt es auch keinen Sinn.
Henry Ford war ein Antisemit, der bis 1942 gerne mit Nazi-Deutschland kooperierte. Er war überdies führendes Mitglied des America First Committee, das sich gegen einen Krieg gegen Hitler aussprach. Allerdings gelangte er zu einer Einsicht, die Trumps allzu geschäftstüchtige Erfüllungsgehilfen beherzigen sollten. "Fordismus" hieß, dass Arbeiter über genug Geld verfügen sollten, um sich ein Auto aus seinen Fabriken kaufen zu können. Mit den Steuergesetzen Trumps wird es Millionen potentieller Verbraucher weit schlechter gehen. Und das kann nicht gut für das Geschäft sein.
Aus dem Englischen von Helga Klinger-Groier