Preparándose para las guerras comerciales de Trump
LONDRES – ¿El presidente de Estados Unidos, Donald Trump, es lo que los maoístas solían llamar un tigre de papel o deberíamos tomar en serio sus amenazas ruidosas? Esa pregunta ha cobrado más envergadura en torno a la cuestión nuclear de Corea del Norte. Pero después de la gira de 12 días bastante amigable de Trump en Asia, los temores de un conflicto en la Península de Corea han menguado un poco.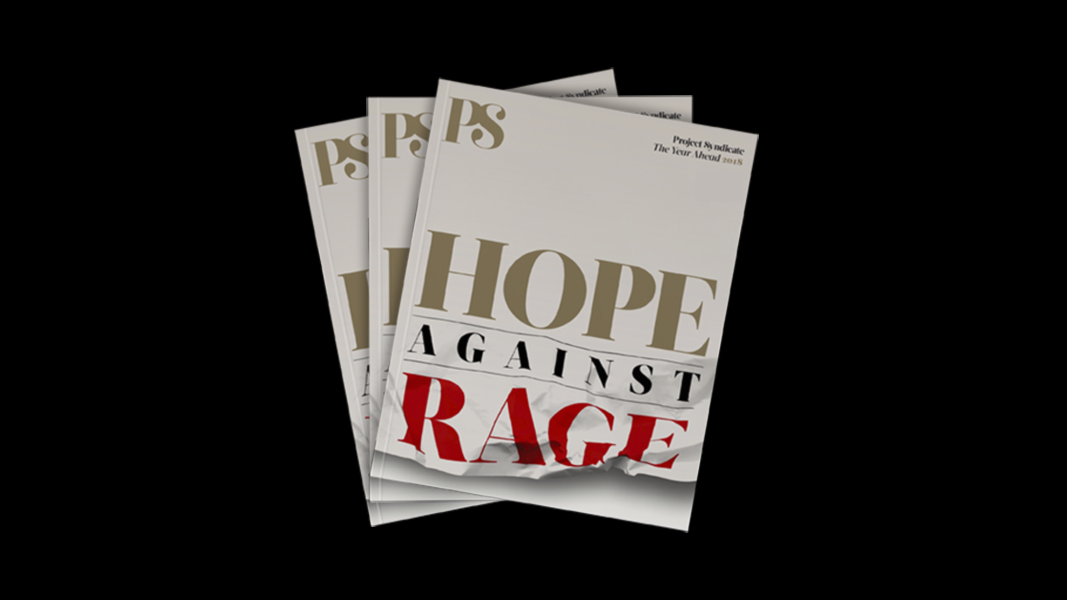 The Year Ahead 2018
The world's leading thinkers and policymakers examine what's come apart in the past year, and anticipate what will define the year ahead.
Ahora bien, esa misma gira planteó otra amenaza y el mundo tiene todos los motivos para tomársela en serio. En el segundo año de su presidencia, el gobierno de Trump probablemente ponga su mirada en el comercio, lo que sugiere que la perspectiva de más guerras comerciales aumentará sustancialmente.
En su primer año en el cargo, Trump muchas veces ha protestado sobre las prácticas comerciales injustas de otros países, como lo hizo durante la campaña electoral de 2016; pero es poco lo que hizo para convertir sus palabras en acciones. Esta inacción es entendible. Trump depende de China -uno de los mayores socios comerciales de Estados Unidos- para ejercer presión sobre el régimen norcoreano, mientras que las empresas estadounidenses han hecho un lobby intenso contra cualquier medida que pudiera inhibir el comercio.
Aun así, no deberíamos esperar que la aparente contención de Trump dure mucho tiempo. El comercio es una de las pocas áreas en materia de políticas en las que se puede decir que tiene una ideología. La "lógica" de esa ideología sostiene que los déficits comerciales son prueba de prácticas injustas de otros países y que, por ende, se las debería combatir con una acción dura y decisiva.
Es más, Trump tiene un interés político imperioso en conservar el respaldo de sus seguidores más fieles. Después de Twitter, la retórica comercial de Trump es su arma más poderosa. Nunca es demasiado pronto para empezar a montar un caso para la reelección en 2020.
Hasta ahora, Trump ha querido dilatar la cuestión comercial hasta que la planeada reforma impositiva del Partido Republicano avance en el Congreso. No quiere correr el riesgo de alterar la última chance suya y de su partido de asegurarse una victoria legislativa real este año. Una vez que la legislación impositiva esté fuera de la mesa -y especialmente si fracasa ignominiosamente del mismo modo que la reforma de la atención médica de los republicanos a comienzos de este año-, Trump querrá mostrar que efectivamente piensa lo que dice respecto del comercio.
El comercio está en el centro de la estrategia "Estados Unidos primero" de Trump que, según él, protegerá y hasta recuperará los empleos norteamericanos perdidos. Si bien algunos en el gabinete de Trump podrían rechazar los esfuerzos por aplicar el eslogan a las cuestiones que supervisan, el secretario de Comercio Wilbur Ross, el representante de Comercio de Estados Unidos, Robert Lightizer, y el director del Consejo Nacional de Comercio, Peter Navarro, comparten la visión de Trump sobre el comercio.
Cada uno de ellos coincide en que los grandes déficits comerciales bilaterales de Estados Unidos con países como China, Japón, Alemania y México son prueba de que los competidores le están tomando el pelo a Estados Unidos. Trump y sus asesores comerciales creen que al reducir o inclusive eliminar esos déficits, pueden crear empleos bien pagos para los trabajadores norteamericanos.
Trump dejó en claro su postura en un discurso en la cumbre del Foro de Cooperación Económica Asia-Pacífico (APEC) en Da Nang, Vietnam, el 10 de noviembre. "No vamos a permitir que sigan aprovechándose de Estados Unidos", dijo. "Ojalá los gobiernos anteriores en mi país hubieran visto lo que estaba sucediendo y hubieran hecho algo al respecto. No lo hicieron, pero yo sí lo haré".
Ahora bien, ¿qué acciones concretas tomará Trump realmente? Hasta el momento, ha abandonado el Acuerdo Transpacífico de 12 países -algo que su rival electoral, Hillary Clinton, también había prometido hacer- y abrió negociaciones con México y Canadá para actualizar el Tratado de Libre Comercio de América del Norte, que el presidente Bill Clinton transformó en ley en 1994. Esta es una cuestión menor.
Sin embargo, el año próximo, se puede esperar que Trump transforme la retórica en acción en dos frentes principales. El primero es China, a quien Trump ha señalado como el mayor explotador comercial de Estados Unidos. A menos que el enfrentamiento con Corea del Norte escale de manera crítica, Trump probablemente tome medidas anti-dumping contra las industrias chinas -principalmente en la industria del acero- que, a su entender, están vendiendo sus productos por debajo del costo; y probablemente lance un ataque amplio contra las violaciones de la propiedad intelectual en China.
Estas medidas casi con certeza provocarán una represalia de parte de China. China se siente más fuerte que nunca en la era Trump y, a los ojos de los cuadros chinos, no responder enérgicamente sería un signo de debilidad.
El otro frente principal para Trump es la Organización Mundial de Comercio, que Estados Unidos ayudó a establecer a comienzos de los años 1990 como un sucesor de posguerra del Acuerdo General sobre Aranceles Aduaneros y Comercio. Lightizer ha declarado oficialmente que el sistema de resolución de conflictos de la OMC perjudica a Estados Unidos. Y la administración Trump está bloqueando el nombramiento de nuevos jueces en los paneles de arbitraje de la OMC. Si mantiene esa política, todo el sistema de resolución de conflictos de la OMC estará paralizado en cuestión de meses.
Con la OMC básicamente fuera del panorama, Estados Unidos lanzará una nueva iniciativa para cerrar acuerdos bilaterales sobre reglas comerciales -una estrategia que Trump defendió en su discurso de la APEC-. Considerando que Estados Unidos sigue siendo un mercado vital para la mayoría de los exportadores, una iniciativa de esas características tendrá influencia.
Los países asiáticos y europeos, en particular, deberían prepararse para lo peor si negocian sus propios acuerdos comerciales entre sí para anticiparse al mercantilismo norteamericano. Después de todo, tomar la iniciativa para impulsar el comercio y otros contactos comerciales es la mejor manera de hacer frente a una guerra comercial.
Al revivir el ATP sin la participación de Estados Unidos, Japón y otros países de Asia Pacífico ya están en el camino correcto. Pero si se avizora una guerra comercial de Trump, ellos -y otros países- tendrán que redoblar los esfuerzos en contra de esa estrategia.