Vorbereitungen für Trumps Handelskriege
LONDON – Ist US-Präsident Donald Trump was Maoisten einst als Papiertiger bezeichneten oder sollten seine lautstarken Drohungen ernst genommen werden? Diese Frage spielt besonders im Hinblick auf das nordkoreanische Nuklearthema eine zentrale Rolle. Doch nach der relativ verhaltenen 12-tägigen Asienreise Trumps haben sich die Ängste vor einem Konflikt auf der koreanischen Halbinsel etwas gelegt.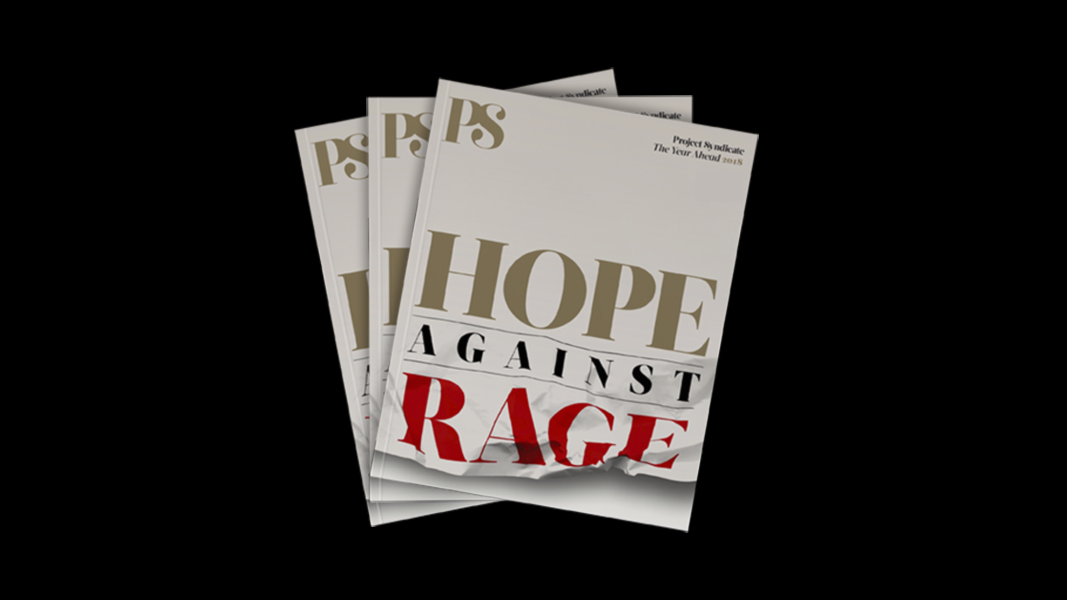 The Year Ahead 2018
The world's leading thinkers and policymakers examine what's come apart in the past year, and anticipate what will define the year ahead.
Dennoch förderte genau diese Reise eine andere Bedrohung zutage, die man auf der Welt durchaus ernst nehmen sollte. Im zweiten Jahr seiner Präsidentschaft wird Trumps Administration aller Wahrscheinlichkeit nach den Handel ins Visier nehmen und das ist ein Anzeichen dafür, dass die Möglichkeit weiterer Handelskriege beträchtlich steigen wird.  
Ebenso wie im Laufe seines Wahlkampfs im Jahr 2016 hat sich Trump im ersten Jahr seiner Präsidentschaft zwar häufig über die unfairen Handelspraktiken anderer Länder beklagt, doch er hat seinen Worten keine Taten folgen lassen. Diese Untätigkeit ist verständlich. Trump ist auf China – einen der größten Handelspartner Amerikas – angewiesen, um Druck auf das nordkoreanische Regime auszuüben, während sich US-Unternehmen vehement gegen Maßnahmen einsetzen, die den Handel beeinträchtigen.   
Dennoch ist nicht damit zu rechnen, dass Trumps offensichtliche Zurückhaltung lange anhalten wird. Der Handel ist einer der wenigen Politikbereiche, in dem man von einer Ideologie Trumps sprechen kann. Die "Logik" dieser Ideologie besagt, dass Handelsdefizite der Beweis für unfaire Praktiken anderer Länder sind, weswegen man diesen Praktiken mit harten und entschlossenen Maßnahmen begegnen soll. 
Außerdem hat Trump ein zwingendes politisches Interesse, sich den Rückhalt seiner wichtigsten Unterstützer zu erhalten. Nach Twitter ist die Handelsrhetorik Trumps mächtigste Waffe. Man kann nie früh genug damit beginnen, sich für die Wiederwahl im Jahr 2020 zu rüsten.
Trump ist bereit, sich in der Handelsfrage in Zurückhaltung zu üben, bis die geplante Steuerreform der Republikanischen Partei im Kongress verabschiedet ist. Er möchte seine letzte Chance – und die seiner Partei - auf einen echten legislativen Erfolg in diesem Jahr nicht ruinieren. Sobald die Steuergesetzgebung vom Tisch ist –  aber vor allem, wenn sie in der gleichen schmachvollen Weise durchfällt wie die Bemühungen der Republikaner um eine Reform des Gesundheitswesens in diesem Jahr – wird Trump zeigen wollen, dass er durchaus meint, was er in Handelsangelegenheiten sagt.
Der Handel steht im Mittelpunkt von Trumps "America First"-Ansatz, von dem er behauptet, dass damit Arbeitsplätze geschützt und sogar verlorene amerikanische Jobs wiedergebracht werden können. Obwohl sich manche in Trumps Kabinett gegen die Anwendung dieses Slogans auf ihre Tätigkeitsbereiche aussprechen, teilen Handelsminister Wilbur Ross, der Handelsbeauftragte Robert Lighthizer und der Chef des Nationalen Handelsrates, Peter Navarro, allesamt Trumps Ansichten im Bereich des Handels.  
Sie sind sich einig, dass Amerikas hohe bilaterale Handelsdefizite mit Ländern wie China, Japan, Deutschland und Mexiko ein Beweis dafür sind, dass Amerika von seinen Konkurrenten verschaukelt werde. Trump und seine Handelsberater glauben, dass sie mit der Senkung oder Beseitigung dieser Defizite gut bezahlte Jobs für amerikanische Arbeitnehmer schaffen können. 
Trump machte seine Ansichten in einer Rede anlässlich des Gipfeltreffens der Asiatisch-Pazifischen Wirtschaftskooperation (APEC) im vietnamesischen Da Nang am 10. November deutlich. "Wir lassen es nicht mehr zu, dass die Vereinigten Staaten ausgenutzt werden," so Trump. "Ich wünschte frühere Regierungen in meinem Land hätten erkannt, was vor sich geht und etwas dagegen unternommen. Das haben sie nicht, aber ich werde es tun."
Doch welche konkreten Maßnahmen wird Trump wirklich ergreifen? Bisher verabschiedete er sich aus der 12 Länder umfassenden Transpazifischen Partnerschaft – das hatte auch seine Gegenkandidatin im Wahlkampf, Hillary Clinton, versprochen – und nahm Verhandlungen mit Mexiko und Kanada hinsichtlich einer Überarbeitung des Nordamerikanischen Freihandelsabkommens auf, das 1994 mit der Unterzeichnung durch Präsident Bill Clinton in Kraft getreten war. Das sind Kleinigkeiten.    
Nächstes Jahr allerdings kann man damit rechnen, dass Trump seinen Worten an zwei Fronten auch Taten folgen lassen wird. Zunächst wird das China betreffen, das Trump als den größten Ausbeuter der Handelsbeziehungen mit den USA ausmachte. Sofern die Pattsituation mit Nordkorea nicht entscheidend eskaliert, wird er wahrscheinlich Antidumping-Maßnahmen gegen manche chinesischen Industriezweige ergreifen, – insbesondere gegen die Stahlbranche – die ihre Waren unter dem Selbstkostenpreis verkaufen soll. Und er wird wahrscheinlich einen breit angelegen Angriff hinsichtlich der Verstöße gegen Bestimmungen über geistiges Eigentums in China starten.
Diese Vorgehensweise wird mit ziemlicher Sicherheit Vergeltungsmaßnahmen auf chinesischer Seite provozieren. China fühlt sich in der Ära Trump stärker als jemals zuvor und in den Augen der chinesischen Kader wäre es ein Zeichen von Schwäche, würde man nicht energisch reagieren.
Die zweite Hauptfront ist die Welthandelsorganisation (WTO), an deren Gründung Amerika Anfang der 1990er Jahre beteiligt war, als des darum ging, eine Nachfolgeregelung für das Allgemeine Zoll- und Handelsabkommen aus der Nachkriegszeit zu finden. Lighthizer hat das Streitbeilegungssystem der WTO bekanntlich als schädlich für Amerika bezeichnet. Und die Trump-Administration blockiert bereits die Ernennung neuer Richter für die Schlichtungsgremien der WTO. Im Falle der Beibehaltung dieser Politik wird das gesamte Streitbeilegungssystem der WTO innerhalb von Monaten gelähmt sein.
Ist die WTO dann aus dem Rennen, werden die Vereinigten Staaten eine neue Initiative lancieren, um bilaterale Abkommen zu Handelsregeln abzuschließen – ein Ansatz, den Trump im Rahmen seiner Rede vor der APEC befürwortete. In Anbetracht der Tatsache, dass die USA für die meisten Exporteure ein wichtiger Markt bleiben werden, wird eine derartige Initiative durchaus Gewicht haben. 
Vor allem asiatische und europäische Länder sollten sich auf das Schlimmste vorbereiten und untereinander ihre eigenen Handelsabkommen schließen, um dem amerikanischen Merkantilismus zuvorzukommen. Die beste Methode, einem Handelskrieg auszuweichen, besteht schließlich darin, aktiv zu werden, um den Handel und andere wirtschaftliche Kontakte voranzutreiben.  
Durch die Wiederbelebung der Transpazifischen Partnerschaft ohne die Beteiligung der USA befinden sich Japan und andere Länder der Region Asien-Pazifik bereits auf dem richtigen Kurs. Wenn sich jedoch ein Trump-Handelskrieg anbahnt, werden sie – und andere Länder – diesen Ansatz noch entschlossener verfolgen müssen.
Aus dem Englischen von Helga Klinger-Groier