Připravme se na Trumpovy obchodní války
LONDÝN – Je americký prezident Donald Trump tím, čemu maoisté říkávali "papírový tygr", nebo by svět měl brát jeho hlasité výhrůžky vážně? Tato otázka zazněla obzvláště silně v souvislosti se severokorejskou jadernou hrozbou. Po Trumpově poněkud klidnější dvanáctidenní cestě po Asii však obavy z konfliktu na Korejském poloostrově poněkud utichly.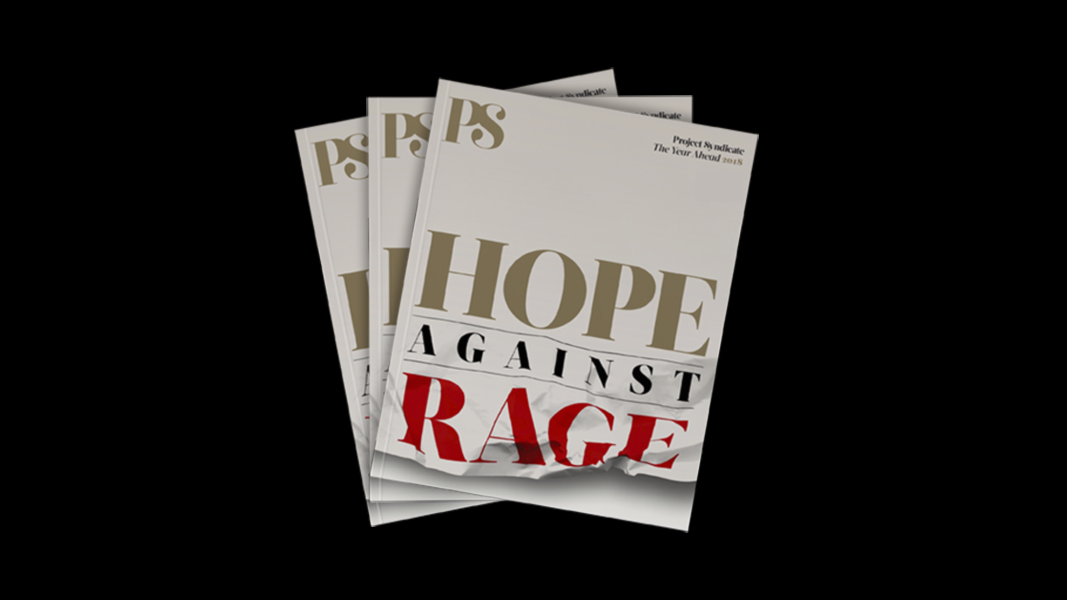 The Year Ahead 2018
The world's leading thinkers and policymakers examine what's come apart in the past year, and anticipate what will define the year ahead.
Stejná cesta nicméně vyvolala jinou hrozbu, u níž má svět všechny důvody pro to, aby ji bral vážně. Ve druhém roce Trumpova prezidentství se jeho administrativa pravděpodobně zaměří na obchod, což naznačuje, že se podstatně zvýší vyhlídka dalších obchodních válek.
Během prvního roku v úřadu Trump často dělal bububu kvůli údajným nefér obchodním praktikám jiných zemí, stejně jako to činil během předvolební kampaně v roce 2016; udělal však jen minimum pro to, aby přetavil svá slova ve skutky. Tato nečinnost je pochopitelná. Trump spoléhá na to, že Čína – jakožto jeden z největších obchodních partnerů Ameriky – vyvine na severokorejský režim tlak, přičemž americké firmy silně lobbují proti jakýmkoliv opatřením, která by zbrzdila obchod.
Přesto nelze očekávat, že by Trumpova zdánlivá zdrženlivost vydržela příliš dlouho. Obchod představuje jednu z mála politických oblastí, kde lze o prezidentovi říci, že má nějakou ideologii. A "logika" této ideologie říká, že obchodní schodky jsou důkazem neférových praktik jiných zemí, a proto by se měly setkat s tvrdou a rozhodnou reakcí.
Trump má navíc jednoznačný politický zájem na tom, aby si zachoval podporu u jádra svých stoupenců. A po Twitteru je Trumpovou nejsilnější zbraní právě obchodní rétorika. Nikdy není příliš brzy začít si budovat pozici pro opětovné zvolení v roce 2020.
Až dosud byl Trump ochoten držet se v otázce obchodu zpátky do doby, než Kongresem projde daňová reforma naplánovaná Republikánskou stranou. Nechce riskovat, že sobě i své straně nabourá poslední šanci zajistit si v letošním roce skutečné legislativní vítězství. Jakmile daňová legislativa zmizí ze stolu – a zejména v případě, že ztroskotá stejně potupně jako republikánská snaha o reformu zdravotnictví počátkem letošního roku –, bude Trump chtít ukázat, že v oblasti obchodu myslí svá slova vážně.
Obchod představuje těžiště Trumpova přístupu "Amerika na prvním místě", který podle něj ochrání nebo i obnoví ztracená americká pracovní místa. A přestože někteří členové Trumpova kabinetu možná odmítají snahu uplatňovat tento slogan na témata, která mají v kompetenci, ministr obchodu Wilbur Ross, zástupce USA pro obchodní otázky Robert Lighthizer i ředitel Národní obchodní rady Peter Navarro Trumpovy názory na obchod sdílejí.
Všichni jmenovaní se shodují na tom, že vysoké americké obchodní schodky se zeměmi jako Čína, Japonsko, Německo a Mexiko představují důkaz, že konkurenti vodí Ameriku za nos. Trump a jeho obchodní poradci věří, že snížením či přímo eliminací těchto schodků dokážou vytvořit dobře placená pracovní místa pro americké zaměstnance.
Trump dal své názory jasně najevo 10. listopadu v projevu na summitu Asijsko-pacifického hospodářského společenství (APEC) ve vietnamském Danangu. "Už nedopustíme, aby Spojené státy někdo využíval," prohlásil. "Lituji, že předchozí administrativy mé země neviděly, co se děje, a něco s tím neudělaly. Ony to neudělaly, ale já to udělám."
Jaké konkrétní kroky však Trump skutečně podnikne? Zatím odstoupil od Transpacifického partnerství (TPP) dvanácti zemí – což před volbami slibovala i jeho protikandidátka Hillary Clintonová – a zahájil s Mexikem a Kanadou jednání o aktualizaci Severoamerické dohody o volném obchodu, kterou prezident Bill Clinton podepsal v roce 1994. Jde o méně významné záležitosti.
V příštím roce však lze očekávat, že Trump promění svou rétoriku v činy na dvou hlavních frontách. Tou první je Čína, kterou Trump označil za zemi, jež v oblasti obchodu nejvíce kořistí na USA. Pokud se patová situace se Severní Koreou kriticky nevyhrotí, pak prezident zřejmě zahájí antidumpingové kroky proti čínským firmám – jmenovitě v sektoru ocelářství –, u nichž se předpokládá, že prodávají své zboží pod výrobními náklady. Kromě toho nejspíš zahájí frontální útok na porušování práv duševního vlastnictví v Číně.
Tato opatření téměř jistě vyprovokují Čínu k odplatě. Peking se dnes cítí silnější než kdykoliv dříve za Trumpovy éry a rezignovat na energickou reakci by se v očích čínských kádrů rovnalo slabošství.
Další hlavní frontou pro Trumpa je Světová obchodní organizace (WTO), kterou Amerika pomohla začátkem 90. let založit jakožto nástupkyni poválečné Všeobecné dohody o clech a obchodu. Lighthizer už oficiálně označil systém řešení sporů WTO za škodlivý pro Ameriku. A Trumpova administrativa už dnes blokuje jmenování nových soudců do arbitrážních komisí WTO. Bude-li v této politice pokračovat, pak během několika měsíců ochromí celý systém řešení sporů u této organizace.
A jakmile USA dostanou WTO v podstatě ze hry, zahájí novou iniciativu za uzavírání bilaterálních smluv o obchodních pravidlech – kterýžto přístup Trump ve svém projevu v APEC prosazoval. Vzhledem k tomu, že USA pro většinu exportérů stále představují životně důležitý trh, nalezne taková iniciativa odezvu.
Zejména asijské a evropské země by se měly připravovat na nejhorší sjednáváním vlastních obchodních dohod mezi sebou, aby předešly americkému merkantilismu. Převzetí iniciativy v zájmu podpory obchodu a dalších komerčních kontaktů je koneckonců nejlepším způsobem, jak se bránit obchodní válce.
Japonsko a další asijsko-pacifické státy už oživují TPP bez účasti USA, což je bezesporu správná cesta. Rýsuje-li se však na obzoru Trumpova obchodní válka, pak tyto i další země budou muset své úsilí zdvojnásobit.
Z angličtiny přeložil Jiří Kobělka.