A economia dos défices de Trump
NOVA IORQUE – No novo mundo forjado pelo presidente dos EUA, Donald Trump, onde um choque é seguido de outro, nunca há tempo para refletir completamente sobre as implicações dos eventos com os quais somos bombardeados. No final de julho, o Conselho da Reserva Federal reverteu a sua política de fazer voltar as taxas de juro para níveis mais normais, após uma década de taxas ultrabaixas no rescaldo da Grande Recessão. Depois, os Estados Unidos tiveram mais dois tiroteios mortíferos em massa em menos de 24 horas, elevando o total anual para 255 - mais de um por dia. E uma guerra comercial com a China, que Trump tuitou que seria "boa e fácil de ganhar", deu início a uma nova fase, mais perigosa, que abalou os mercados e colocou a ameaça de uma nova guerra fria.
A um certo nível, a manobra da Fed foi de pouca importância: uma mudança de 25 pontos básicos terá poucas consequências. A ideia de que a Fed poderia ajustar a economia através de mudanças cuidadosamente cronometradas nas taxas de juro deveria ter sido há muito tempo desacreditada - mesmo que proporcione entretenimento para os observadores da Fed e empregos aos jornalistas financeiros. Se a redução das taxas de juro de 5,25% para basicamente zero teve pouco impacto sobre a economia em 2008-2009, porque é que deveríamos pensar que reduzir as taxas em 0,25% terá algum efeito visível? As grandes empresas ainda estão apoiadas em quantias de dinheiro acumulado: não é uma falta de liquidez que as impede de investir.
Há muito tempo, John Maynard Keynes reconheceu que, embora um aperto súbito da política monetária, restringindo a disponibilidade de crédito, pudesse desacelerar a economia, os efeitos da flexibilização da política quando a economia está fraca podem ser mínimos. Até mesmo a utilização de novos instrumentos, como a flexibilização quantitativa, pode ter pouco efeito, tal como a Europa aprendeu. De facto, as taxas de juro negativas que estão a ser testadas por vários países podem, perversamente, enfraquecer a economia como resultado de efeitos desfavoráveis nos balanços bancários e, consequentemente, no crédito.
As taxas de juro mais baixas levam a uma taxa de câmbio mais baixa. De facto, este pode ser o principal canal através do qual a política da Fed funciona atualmente. Mas não é isso a "desvalorização competitiva", pela qual a administração Trump critica energeticamente a China? E isso, previsivelmente, foi seguido por outros países que reduziram as suas taxas de câmbio, o que implica que qualquer benefício para a economia dos EUA através do efeito cambial será de curta duração. O mais irónico é o facto de o recente declínio na taxa de câmbio da China ter surgido por causa da nova ronda de protecionismo americano e porque a China deixou de interferir na taxa de câmbio – ou seja, deixou de apoiá-la.
Mas, a outro nível, a ação da Fed foi bastante reveladora. Era suposto a economia dos EUA ser "magnífica". A sua taxa de desemprego de 3,7% e o crescimento de 3,1% no primeiro trimestre devem ter sido a inveja dos países avançados. Mas se analisarmos só um pouquinho a situação, veremos que havia muito com que se preocuparem. O crescimento do segundo trimestre caiu a pique para 2,1%. A média de horas trabalhadas na produção, em julho, caiu para o nível mais baixo, desde 2011. Os salários reais estão apenas ligeiramente acima do nível que registavam há uma década, antes da Grande Recessão. O investimento real como percentagem do PIB está muito abaixo dos níveis no final da década de 1990, apesar de um corte nos impostos supostamente destinado a estimular os gastos das empresas, mas que, em vez disso, foi usado principalmente para financiar recompras de ações.
A América deveria estar no auge, com as três enormes medidas de estímulo fiscal tomadas nos últimos três anos. O corte de impostos em 2017, que beneficiou principalmente bilionários e empresas, adicionou cerca de 1,5-2 biliões de dólares ao défice a dez anos. Um aumento de quase 300 mil milhões de dólares nas despesas durante dois anos evitou a paralisação do governo em 2018. E no final de julho, um novo acordo para evitar outra paralisação adicionou outros 320 mil milhões de dólares em despesas. Se é preciso ter défices anuais de biliões de dólares para manter a economia dos EUA nos períodos favoráveis, o que é que é preciso quando as coisas não estão tão animadoras?
Subscribe now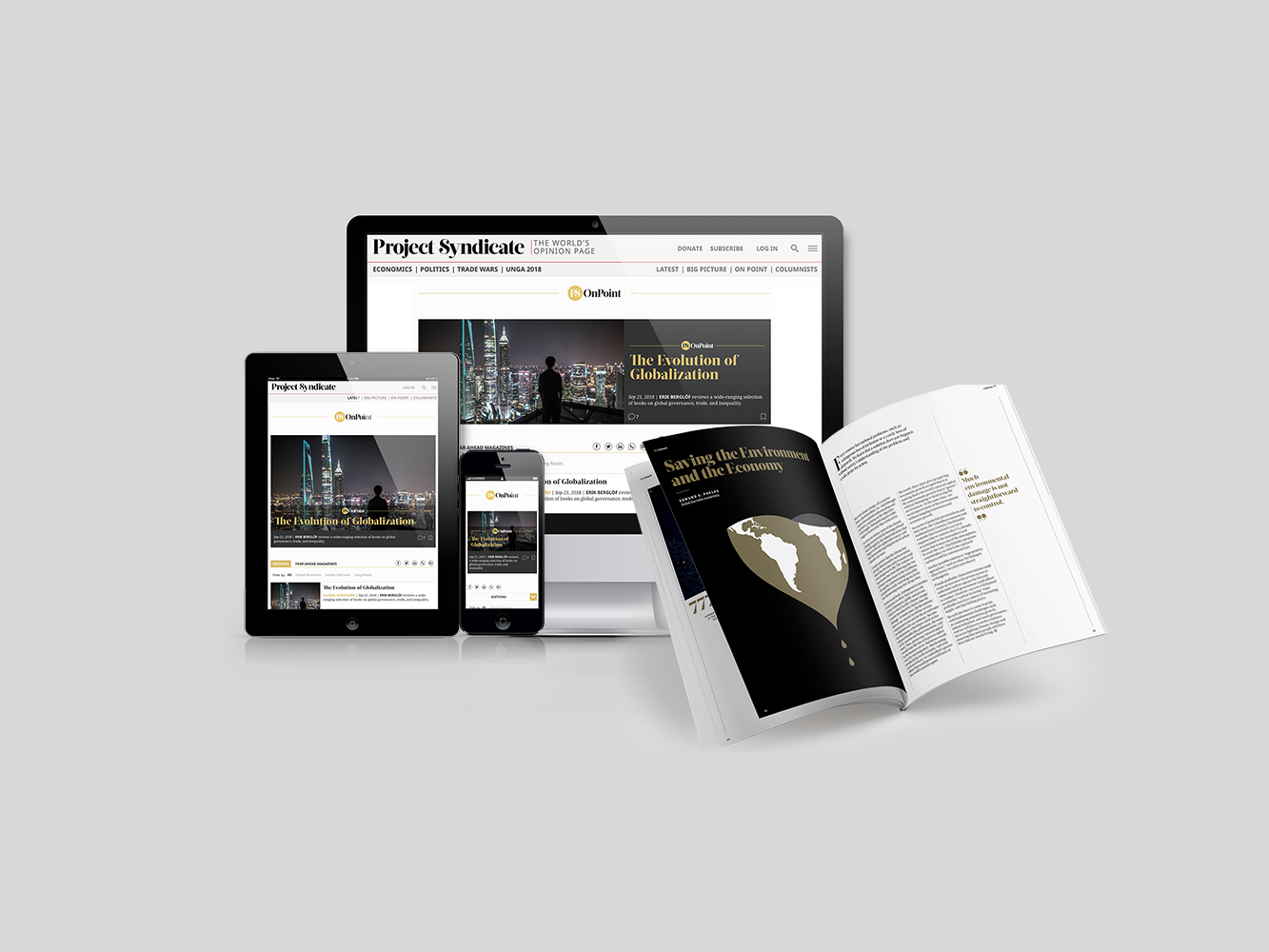 Subscribe now
Subscribe today and get a free copy of our new magazine, Sustainability Comes of Age, along with unlimited access to OnPoint, the Big Picture, the entire PS archive of more than 14,000 commentaries, and our annual magazine, for less than $2 a week.
A economia dos EUA não tem funcionado para a maioria dos americanos, cujos rendimentos estão estagnados - ou pior - há décadas. Estas tendências adversas refletem-se na diminuição da esperança de vida. A lei fiscal de Trump piorou as coisas, agravando o problema da deterioração das infraestruturas, enfraquecendo a capacidade dos estados mais progressistas de apoiarem a educação, privando outros milhões de pessoas de seguros de saúde e, quando totalmente implementada, levando a um aumento de impostos dos americanos da classe média, agravando a sua situação.
A redistribuição de baixo para cima - a marca registada não só da presidência de Trump, mas também das administrações republicanas precedentes - reduz a procura agregada, porque os que estão no topo gastam uma fração menor do que os estão abaixo. Isso enfraquece a economia de uma forma que não pode ser compensada nem mesmo através de uma enorme oferta a empresas e bilionários. E os enormes défices fiscais de Trump levaram a enormes défices comerciais, muito maiores do que no tempo de Obama, já que os EUA tiveram de importar capital para financiar a lacuna entre a poupança interna e o investimento.
Trump prometeu reduzir o défice comercial, mas a sua profunda falta de compreensão da economia levou ao seu aumento, tal como a maioria dos economistas previu que iria acontecer. Apesar da má gestão económica de Trump e da sua tentativa de reduzir o valor do dólar, e da queda das taxas de juro da Fed, as suas políticas resultaram num sólido fortalecimento do dólar, desencorajando assim as exportações e incentivando as importações. Os economistas tentaram repetidamente explicar-lhe que os acordos comerciais podem afetar os países aos quais e para os quais os EUA compram e vendem, mas não a magnitude do défice geral.
Nesta como em tantas outras áreas, desde as taxas de câmbio até ao controlo de armas, Trump acredita no que ele quer acreditar, deixando os que têm menos possibilidades financeiras a pagar o preço.