Trumps Defizitwirtschaft
NEW YORK – In der neuen, von US-Präsident Donald Trump herbeigeführten Welt, in der ein Schock auf den nächsten folgt, ist nie Zeit, die Auswirkungen der Ereignisse, mit denen wir bombardiert werden, umfassend zu durchdenken. Ende Juli revidierte der US-Notenbankrat seine Politik, die Zinsen nach einem Jahrzehnt ultraniedriger Zinssätze im Gefolge der Großen Rezession auf einen normaleren Stand zurückzuführen. Dann erlebten die USA in unter 24 Stunden zwei neuerliche Massenmorde, die die Zahl der Opfer für das Jahr auf 255 erhöhten – mehr als eines pro Tag. Und der Handelskrieg mit China, von dem Trump getweetet hatte, er wäre "gut, und einfach zu gewinnen", trat in eine neue, gefährlichere Phase ein, die die Märkte verunsichert und die Gefahr eines neuen Kalten Krieges birgt.
Auf einer Ebene war der Schritt der Fed nicht besonders bedeutsam: Eine Änderung um 25 Basispunkte hat nur geringe Folgen. Die Vorstellung, dass die Fed die wirtschaftliche Entwicklung durch zeitlich genau abgestimmte Änderungen der Zinssätze präzise justieren kann, sollte inzwischen längst diskreditiert sein – auch wenn sie für Beobachter der Fed unterhaltsam ist und Finanzjournalisten in Lohn und Brot hält. Wenn schon eine Senkung des Zinssatzes von 5,25% auf praktisch null in den Jahren 2008-2009 kaum Auswirkungen auf die Konjunktur hatte, warum sollte man dann annehmen, dass eine Zinssenkung um 0,25% irgendeine beobachtbare Wirkung haben wird? Die Grundkonzerne sitzen nach wie vor auf Bergen von Geld; es ist nicht der Mangel an Liquidität, der sie von Investitionen abhält.
John Maynard Keynes erkannte schon vor langer Zeit, dass, während eine plötzliche Straffung der Geldpolitik – die die Kreditverfügbarkeit beschränkt – die Konjunktur abbremsen kann, die Auswirkungen einer Lockerung der Geldpolitik in Zeiten der Konjunkturschwäche minimal sein können. Selbst der Einsatz neuer Instrumente wie der quantitativen Lockerung hat dann, wie Europa erleben musste, womöglich nur eine geringe Wirkung. Tatsächlich könnten die von verschiedenen Ländern derzeit ausprobierten Negativzinsen widersinnigerweise – aufgrund ungünstiger Auswirkungen auf die Bilanzen der Banken und damit die Kreditvergabe – zu einer Konjunkturabschwächung führen.
Die niedrigeren Zinssätze führen allerdings zu einem niedrigeren Wechselkurs; tatsächlich könnte dies der wichtigste Kanal sein, über den die Geldpolitik der Fed heute wirkt. Aber ist das nicht genau jene "kompetitive Abwertung", für die die Trump-Regierung China aufs Heftigste kritisiert? Und es folgten hierauf, wie vorhersagbar, Wechselkurssenkungen anderer Länder, was bedeutet, dass jeder durch den Wechselkurseffekt bedingte Nutzen für die US-Wirtschaft kurzlebig sein wird. Noch ironischer ist, dass der jüngste Rückgang des chinesischen Wechselkurses durch die neue Runde protektionistischer Maßnahmen der USA bedingt wurde sowie dadurch, dass China aufgehört hat, in Bezug auf seinen Wechselkurs zu intervenieren – dass es also seine Währung nicht weiter stützt.
Auf einer anderen Ebene jedoch spricht die Maßnahme der Fed Berge. Die US-Konjunktur sollte eigentlich in einem "großartigen" Zustand sein. Die Arbeitslosenquote von 3,7% und das Quartalswachstum in Q1 von 3,1% sollten den Neid der hochentwickelten Länder wecken. Doch kratzt man ein bisschen an der Oberfläche, besteht jede Menge Grund zur Sorge. Das Quartalswachstum in Q2 ist auf 2,1% abgestürzt. Die durchschnittliche Zahl der Arbeitsstunden in der Industrie ist im Juli auf ihren niedrigsten Stand seit 2011 gefallen. Die Reallöhne liegen nur leicht über ihrem Niveau von vor zehn Jahren, vor der Großen Rezession. Die realen Investitionen als Prozentsatz vom BIP liegen deutlich unter dem Niveau der späten 1990er Jahre, und das trotz einer Steuersenkung, die angeblich dazu dienen sollte, die Unternehmensausgaben anzukurbeln, aber stattdessen überwiegend für Aktienrückkäufe genutzt wurde.
Amerika sollte derzeit, angesichts dreimaliger enormer Steuerimpulse zur Ankurbelung der Konjunktur in den vergangenen drei Jahren, einen Boom erleben. Die Steuersenkung von 2017, von der hauptsächlich Milliardäre und Konzerne profitierten, hat das Zehnjahresdefizit um rund 1,5-2 Billionen Dollar erhöht. Eine Erhöhung der Staatsausgaben von fast 300 Milliarden Dollar über zwei Jahre vermied 2018 einen Regierungsstillstand. Und Ende Juli erhöhte eine neuerliche Vereinbarung zur Vermeidung eines weiteren Regierungsstillstandes die Ausgaben um weitere 320 Milliarden Dollar. Wenn schon in guten Zeiten jedes Jahr billionenschwere Defizite nötig sind, um die US-Konjunktur am Laufen zu halten, was wird dann erst erforderlich sein, wenn die Lage weniger rosig ist?
Subscribe now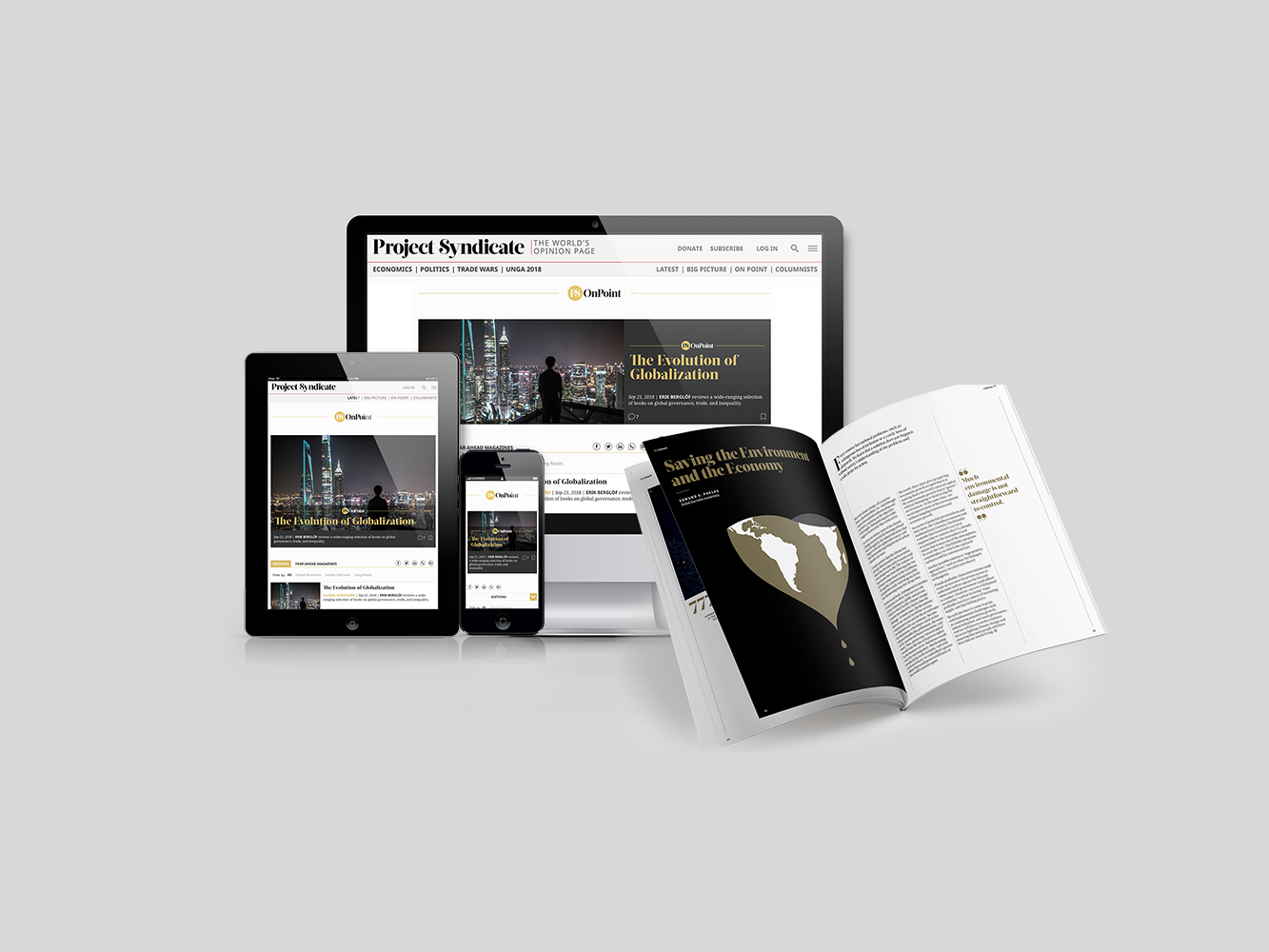 Subscribe now
Subscribe today and get a free copy of our new magazine, Sustainability Comes of Age, along with unlimited access to OnPoint, the Big Picture, the entire PS archive of more than 14,000 commentaries, and our annual magazine, for less than $2 a week.
Für die meisten Amerikaner – deren Einkommen seit Jahrzehnten stagnieren oder sogar sinken –, funktioniert die US-Wirtschaft nicht. Diese negativen Trends spiegeln sich in der abnehmenden Lebenserwartung wider. Das Trump'sche Steuergesetz hat die Lage verschlimmert, indem es das Problem der verfallenden Infrastruktur verschärft, die Fähigkeit stärker progressiver Staaten zur Stützung des Bildungssystems verringert und Millionen Menschen die Krankenversicherung genommen hat. Und wenn es erst einmal vollständig umsetzt sein wird, wird es zu einer Steuererhöhung für Amerikaner mittleren Einkommens führen, die deren ohnehin schon schwierige Lage weiter verschlimmert.
Die Umverteilung von unten nach oben – das Markenzeichen nicht nur der Trump- Präsidentschaft, sondern auch der vorhergehenden Republikanischen Regierungen – verringert die Gesamtnachfrage, weil diejenigen ganz oben einen geringeren Teil ihres Einkommens ausgeben als die weiter unten. Dies schwächt die Konjunktur auf eine Weise, die sich nicht einmal durch riesige Geschenke an Konzerne und Milliardäre kompensieren lässt. Zudem haben die enormen Trump'schen Haushaltsdefizite zu riesigen Handelsdefiziten geführt. Diese sind deutlich höher als unter Obama, weil die USA Kapital importieren mussten, um die Finanzlücke zwischen inländischen Ersparnissen und Investitionen zu füllen.
Trump hat versprochen, das Handelsdefizit zu senken, doch sein profunder Mangel an Verständnis für wirtschaftliche Zusammenhänge hat dazu geführt, dass es, genau wie von den meisten Ökonomen vorhergesagt, stattdessen gestiegen ist. Trotz Trumps miserablem Wirtschaftsmanagement und seinem Versuch, den Dollar kleinzureden, und trotz der Zinssenkung der Fed, hat seine Politik dazu geführt, dass der Dollar stark geblieben ist. Dies schreckt vor Exporten ab und begünstigt Importe.
Die Ökonomen haben wiederholt versucht, Trump zu erklären, dass Handelsverträge zwar beeinflussen können, von welchenLändern die USA kaufen bzw. an welche sie verkaufen, aber dass sie keinen Einfluss auf die Größenordnung des Gesamtdefizits haben. Doch in diesem wie in so vielen anderen Bereichen – vom Wechselkurs bis hin zur Reglementierung des Schusswaffenbesitzes – glaubt Trump, was er glauben möchte. Und diejenigen, die dazu am wenigsten in der Lage sind, zahlen die Zeche.