Un bosquejo del desaliento
NUEVA YORK – Algunos especialistas en ciencias biológicas dicen que las lesiones o enfermedades nunca se curan del todo, porque las células conservan para siempre rastros, memorias, de hasta los más ínfimos ataques a la integridad del cuerpo. Lo mismo le pasará a Estados Unidos.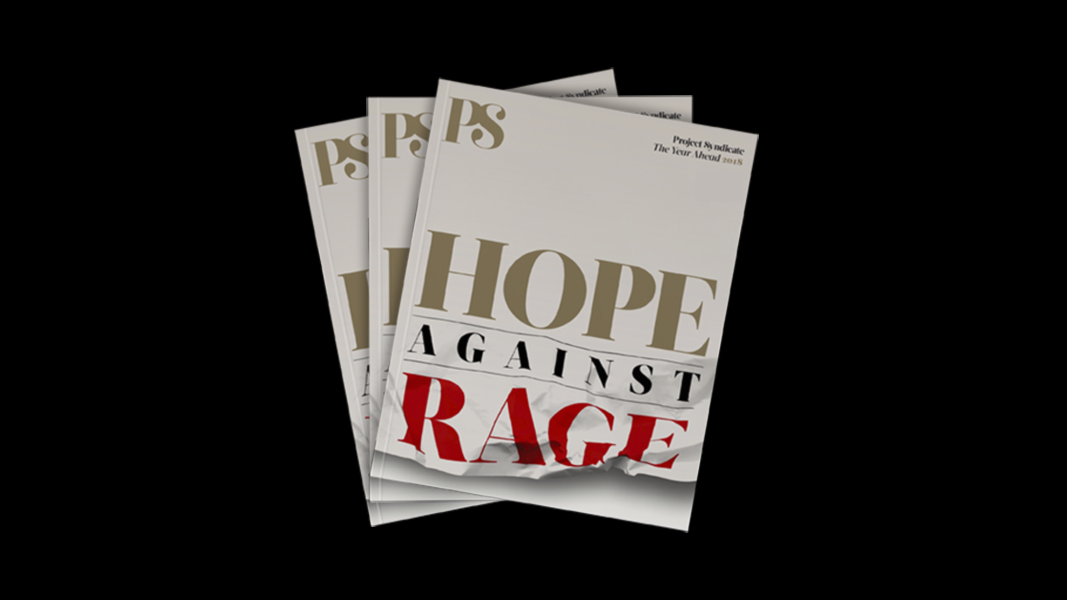 The Year Ahead 2018
The world's leading thinkers and policymakers examine what's come apart in the past year, and anticipate what will define the year ahead.
Un día, Estados Unidos dará vuelta la página de Donald Trump. Pero nunca se recuperará del todo de la herida incurable que su bajeza, su estupidez testaruda, su desconcertante pasividad ante las ambiciones globales de China han infligido a la cultura y la imagen internacional del país. ¿Es Trump un síntoma? ¿O es una enfermedad terminal?
Tampoco los demócratas se han librado de la desmoralización y el derrotismo, como descubrí hace poco en Nueva York y en una visita reciente a Chicago para un seminario en el Instituto de Política de la Universidad de Chicago. En el hogar de Nazee Moinian (una iraní‑estadounidense cuyo piso en Manhattan recuerda las patricias moradas de los miembros de la célebre Mesa Redonda del Algonquín), las élites congregadas asienten. Al no respaldar el intento de los kurdos de independizarse de Irak, Trump no sólo cometió un error moral, sino también un error político irreparable. Traicionó a su aliado kurdo, fortaleció a su adversario iraní.
El jurista y politólogo alemán Carl Schmitt diría tal vez que Trump confundió a su amigo y a su enemigo, y trató al primero como debería haber tratado al segundo. Inexplicablemente, Trump sacrificó (otra vez) un interés crucial de Estados Unidos, ahora al abandonar a la única fuerza en la región de Medio Oriente (quitando a Israel) en la que podía confiar plenamente.
¿Cómo se responde a semejante abandono? ¿Con qué recursos? ¿De veras no había modo de detener el brazo del club de malos vecinos que no toleran que tan siquiera se hable de soberanía kurda?
Algunos demócratas se tragan el orgullo nacional y dicen que el joven presidente francés, Emmanuel Macron (al que la revista Time acaba de coronar como rey de Europa), está en mejor posición para intervenir y hacer frente a Irak e Irán. Los veteranos del partido no expresan la menor reserva en relación con el uso del poder estadounidense durante la Guerra Fría, pero helos ahí, paralizados, desarmados, cuando llega el tiempo de alzar la voz (¡sólo la voz!) contra la siniestra y variopinta banda de cuatro (Irán, Irak, Turquía y Siria) que se oponen a la independencia kurda.
Hace poco, en el templo Emanu-El de la Quinta Avenida, la sinagoga más hermosa de Nueva York y una de las más grandes del mundo, me entrevistó Pamela Paul, editora del New York Times Book Review. La conversación viró una vez más hacia Macron. Traté de explicarle que su muletilla, en même temps (al mismo tiempo), que en Estados Unidos tiende a interpretarse como expresión de pragmatismo a la americana, tal vez sea una de las marcas más visibles de su cercanía doctrinal con el filósofo protestante francés Paul Ricœur. En vez de reflejar una cuidadosa reflexión en torno de una decisión ambigua, "al mismo tiempo" es el credo de alguien suspendido en el temor, temblando ante el terrible misterio sin solución de la doble naturaleza (física y espiritual, mortal y resurrecta) del cuerpo atormentado de Cristo.
Pero enseguida llegamos a la cuestión del antisemitismo en Estados Unidos. Por un lado, lo encontramos en esa horda de nativistas, supremacistas blancos y neoconfederados que en agosto descendieron sobre Charlottesville (Virginia) para aporrear a negros y judíos. Por el otro, lo vemos entre los universitarios estadounidenses izquierdistas que se contagiaron la fiebre del BDS (boicot, desinversión y sanciones), el movimiento global contra productos israelíes, cada vez más indistinguible de una campaña cuasideclarada contra productos y empresas que son judíos, sin más.
En este sentido, ¿será que vivimos en la époque de Trump, y que su revitalización del eslogan "Estados Unidos primero" de los nazis estadounidenses de los años treinta aflojó las lenguas de algunos fanáticos? ¿Será que el mismo Trump, pese a sus posturas oficialmente proisraelíes, es un antisemita no asumido?
La verdad es que la cuestión de Trump (el enigma del hombre y hasta su mismo nombre) ocupa demasiado espacio en el debate público. La verdad es que al perder tiempo preguntándonos si Trump está loco o si, como un Hamlet inflado y obsceno, finge locura para engañar a sus adversarios, todos caemos en la trampa de un narcisismo que, aquí en Estados Unidos, es el nuevo rostro del nihilismo.
Traducción: Esteban Flamini