Унылые лица
НЬЮ-ЙОРК – Некоторые специалисты в области наук о жизни говорят, что никто никогда не излечивается до конца от какой-либо травмы или болезни, потому что наши клетки навсегда сохраняют следы, воспоминания даже о малейших атаках на целостность тела. Так будет и с Соединенными Штатами.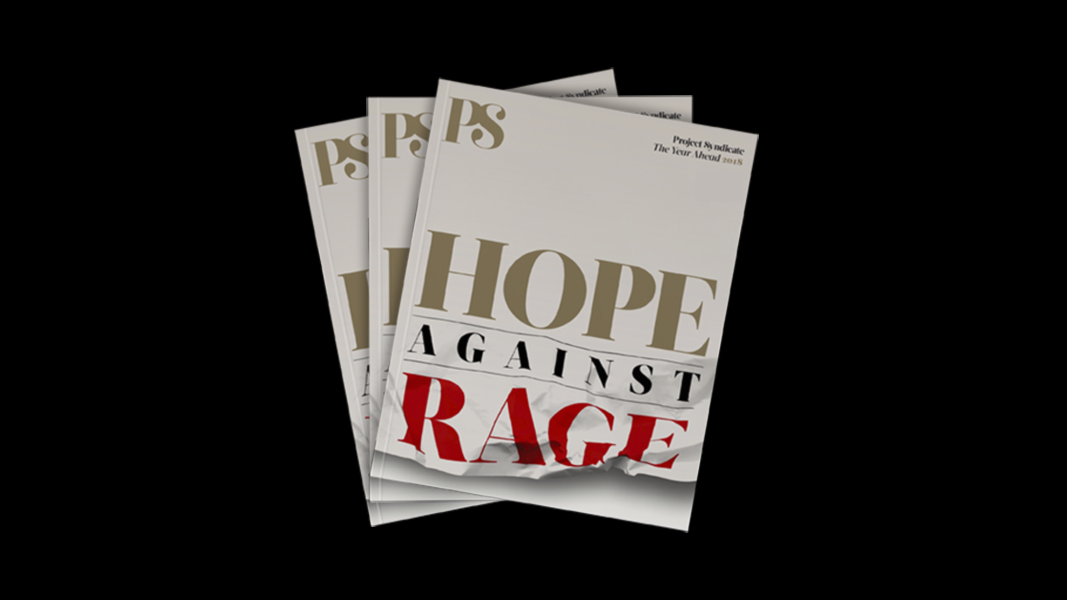 The Year Ahead 2018
The world's leading thinkers and policymakers examine what's come apart in the past year, and anticipate what will define the year ahead.
Однажды Дональд Трамп станет для США вчерашним днем. Но Америка не сможет полностью оправиться от неизлечимой раны, которую нанесли ее культуре и международному положению подлость Трампа, его непобедимая глупость и загадочная пассивность перед лицом глобальных амбиций Китая. Является ли Трамп симптомом? Или смертельной болезнью?
Деморализация и пораженчество не обошли и демократов, как я недавно увидел в Нью-Йорке и во время последнего визита в Чикаго, где я выступал на семинаре в Институте политики Чикагского университета. Представители элиты, собравшиеся в доме американца иранского происхождения Нази Муйниана, чья манхэттенская квартира напоминает патрицианские жилища участников Алгонкинского круглого стола, согласны в одном. Не поддержав курдов в их стремлении к независимости от Ирака, Трамп совершил не только моральную, но и непоправимую политическую ошибку. Он предал своего союзника – курдов. Он укрепил своего противника – Иран.
Немецкий теоретик в области юриспруденции и политики Карл Шмитт мог бы сказать, что Трамп привел в замешательство и друга, и врага, поступив с первым так, как надо поступать со вторым. Необъяснимым образом Трамп пожертвовал (в очередной раз) важнейшими национальными интересами США, на этот раз отступившись от единственной силы в ближневосточном регионе (кроме Израиля), на которую Америка могла без опасения и всерьез положиться.
Как реагировать на такую утрату? Какие ресурсы задействовать? Действительно ли не было никакого способа противостоять клубу плохих соседей, отвергающих любое обсуждение курдского суверенитета?
Некоторые демократы наступили на горло своей национальной гордости и говорят, что молодой президент Франции Эммануэль Макрон, недавно названный в журнале «Тайм» королем Европы, находится в лучшем положении для вмешательства, чтобы остановить Ирак и Иран. Демократы старшего поколения ни минуты не сомневались в том, надо ли США «власть употребить», во времена «холодной войны». А сейчас они, парализованные и бессильные, бездействуют, когда нужно возвысить свой голос – просто голос! – против зловещей, но разношерстной «банды четырех» (Иран, Ирак, Турция и Сирия), блокирующей курдскую независимость.
В Храме Эману-Эль на Пятой авеню, самой красивой синагоге в Нью-Йорке и одной из крупнейших в мире, я недавно беседовал с Памелой Пол, редактором книжного обозрения «Нью-Йорк Таймс». Разговор снова зашел о Макроне. Я попытался объяснить, что его фирменная фраза, en même temps (в то же время), которая обычно воспринимается здесь как выражение прагматизма в американском стиле, может быть одним из самых заметных проявлений его идейной близости с французским протестантским философом Полем Рикуром. Она вовсе не отражает серьезных размышлений по поводу двусмысленного выбора. «В то же время» – это кредо человека, скованного страхом и трепещущего перед неразрешимой и страшной тайной двойной природы – физической и духовной, смертной и воскрешенной – страдающего тела Христова.
Но очень скоро мы приходим к вопросу об антисемитизме в Америке. С одной стороны, его можно найти среди представителей той орды нативистов, сторонников превосходства белой расы и неоконфедератов, которые в августе напали на Шарлоттсвилль, штат Вирджиния, чтобы проломить несколько негритянских и еврейских голов. С другой стороны, он наблюдается среди левых в американских кампусах, подхвативших лихорадку BDS (бойкот, изъятие капитала и санкции), глобальной кампании против израильской продукции, которую становится все труднее отличить от почти откровенной кампании против еврейской продукции и предприятий как таковых.
Живем ли мы, в этом смысле, в эпоху Трампа, когда возрожденный им лозунг американских нацистов 1930-х годов «Америка прежде всего» развязал языки людям, зашоренным предрассудками? Может быть, сам Трамп, несмотря на свою официальную произраильскую позицию, – скрытый антисемит?
Истина заключается в том, что вопросу о Трампе – загадке этого человека и даже самого его имени – уделяется слишком много внимания в публичных дебатах. Истина заключается в том, что, проводя время в размышлениях о том, сумасшедший ли Трамп, или он, словно разжиревший и невоспитанный Гамлет, притворяется безумным, чтобы запутать своих противников, – все мы попадаем в ловушку нарциссизма, что здесь, в США, синонимично нигилизму.