Profile der Entmutigung
NEW YORK –  Einige Experten in den Life Sciences sagen, dass niemand je völlig von einer Verletzung oder Erkrankung geheilt wird, weil unsere Zellen für immer Spuren und Erinnerungen selbst der kleinesten Angriffe auf die Integrität unseres Körpers zurückbehalten. So wird das auch mit den Vereinigten Staaten sein.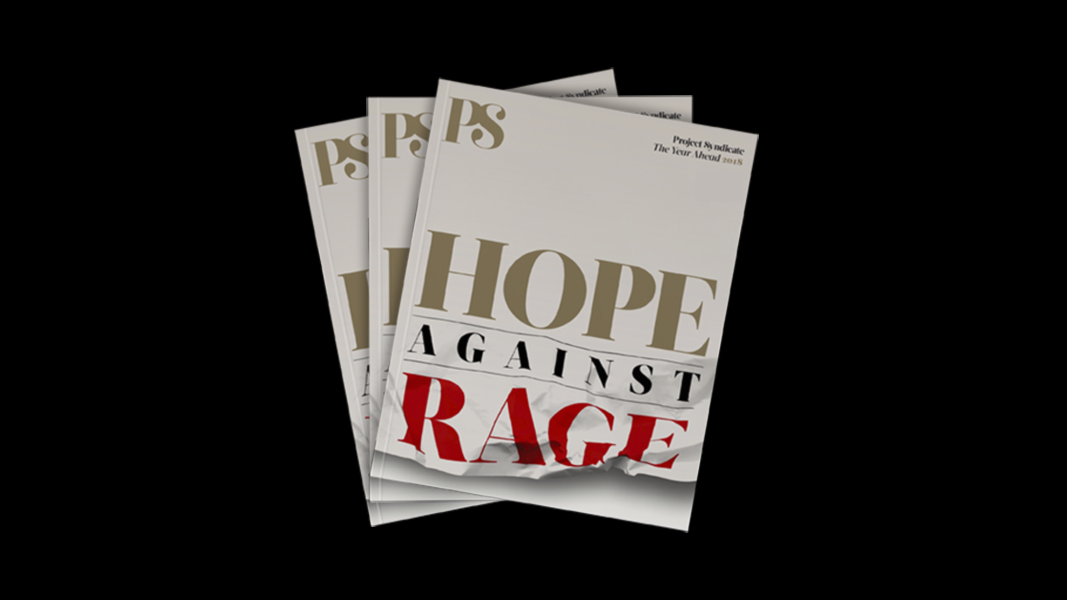 The Year Ahead 2018
The world's leading thinkers and policymakers examine what's come apart in the past year, and anticipate what will define the year ahead.
Eines Tages werden die USA die Seite Donald Trump umblättern. Aber Amerika wird sich nie völlig von der nicht zu stillenden Wunde erholen, die die Niederträchtigkeit, stupide Verbohrtheit und verblüffende Passivität angesichts Chinas globaler Ambitionen seiner Präsidentschaft Amerikas Kultur und internationalen Renommee zugefügt hat. Ist Trump ein Symptom? Oder ist er eine tödliche Krankheit?
Den Demokraten sind Demoralisierung und Defaitismus nicht erspart geblieben, wie ich kürzlich in New York und bei einem jüngsten Besuch in Chicago feststellte, wo ich einen Vortrag bei einem Seminar des Institute of Politics der University of Chicago hielt. Im Apartment des US-Iraners Nazee Moinian in Manhattan, das an die patrizischen Wohnungen der Mitglieder des Algonquin Round Table erinnerte, stimmten die versammelten Eliten überein: Trump habe, indem er die Kurden nicht in ihrem Versuch, die Unabhängigkeit vom Irak zu erreichen, unterstützt habe, nicht nur einen moralischen Fehler, sondern auch einen irreparablen politischen Fehler begangen. Er habe seinen kurdischen Verbündeten verraten und seinen iranischen Gegner gestärkt.
Der deutsche Staatsrechtler und Politiktheoretiker Carl Schmitt hätte möglicherweise gesagt, dass Trump Freund und Feind verwechselt habe und Ersteren behandelt habe, wie er Letzteren hätte behandeln sollen. Unerklärlicherweise opferte Trump (einmal mehr) ein wichtiges nationales Interesse der USA, diesmal, indem es die einzige Macht in der Nahostregion (außerhalb Israels) im Stich ließ, auf die sich Amerika sicher und ernsthaft verlassen konnte.
Wie reagiert man auf einen derartigen Verlust? Mit was für Ressourcen? Gab es wirklich keine Möglichkeit, dem Club schlechter Nachbarn, die sich jeder Diskussion über die Souveränität der Kurden verweigern, etwas entgegenzusetzen?
Einige Demokraten schlucken ihren nationalen Stolz herunter und sagen, dass Frankreichs junger Präsident Emmanuel Macron, den Time jüngst zum "König Europas" krönte, in einer besseren Position sei, einzugreifen und den Irak und den Iran zu bremsen. Ältere Demokraten äußern nicht die leisesten Bedenken über den Einsatz der US-Macht während des Kalten Krieges. Doch wenn der Moment kommt, um ihre Stimme – bloß ihre Stimme! – gegen das böswillige, aber uneinige Quartett zu erheben, das die kurdische Unabhängigkeit blockiert (Iran, Irak, Türkei und Syrien), sind sie völlig gelähmt und untätig.
Am Temple Emanu-El an der Fifth Avenue, der schönsten Synagoge New Yorks und einer der größten der Welt, wurde ich kürzlich von Pamela Paul interviewt, der Herausgeberin des New York Times Book Review. Auch hier wandte sich das Gespräch Macron zu. Ich versuchte zu erklären, dass seine typische Formulierung "en même temps" (zur selben Zeit), die in Amerika tendenziell als Ausdruck eines Pragmatismus amerikanischen Stils verstanden wird, stattdessen eine der sichtbarsten Spuren von Macrons weltanschaulicher Nähe zu dem protestantischen französischen Philosophen Paul Ricœur sein könnte. "Zur selben Zeit" spiegelt dabei alles andere als die sorgfältige Erwägung unklarer Alternativen wider, sondern ist das Credo eines Menschen, der angesichts des unauflösbaren und erschreckenden Mysteriums der zweifachen Beschaffenheit des gequälten Körpers Christi – körperlich und geistig, sterblich und auferstanden – vor Furcht zittert.
Sehr rasch jedoch kamen wir zur Frage des Antisemitismus in Amerika. Einerseits ist er bei jener Horde von Nativisten, weißen Rassisten und Neo-Konföderierten anzutreffen, die im August in Charlottesville (Virginia) einfielen, um Schwarze und Juden "aufzumischen". Andererseits begegnet man ihm bei den Linken in den Universitäten der USA, die sich vom Fieber der Boykottaufrufe, Desinvestitionen und Sanktionen der globalen Kampagne gegen israelische Produkte haben anstecken lassen, die sich immer schwerer von einer mehr oder weniger unverhohlenen Kampagne gegen einfach nur jüdische Produkte und Unternehmen abgrenzen lässt.
In diesem Sinne ist zu fragen: Leben wir in der Époque Trumps, in der dessen Wiedererweckung des Slogans "America First" der amerikanischen Nazis aus den 1930er Jahren eine Lockerung bigotter Zungen ermutigt hat? Könnte es sein, dass Trump selbst, trotz seiner offiziell proisraelischen Positionen, insgeheim ein Antisemit ist?
Die Wahrheit ist, dass die Frage Trumps – das Rätsel, das dieser Mann darstellt, und selbst sein Name – viel zu viel Raum in der öffentlichen Debatte einnimmt. Die Wahrheit ist, dass wir, indem wir uns fragen, ob Trump verrückt ist oder wie ein aufgeblähter und obszöner Hamlet Verrücktheit vortäuscht, um seine Gegner zu verwirren, in die Falle eines Narzissmus tappen, der, in den USA, das neue Gesicht des Nihilismus ist.
Aus dem Englischen von Jan Doolan