Trumps überraschend guter Start mit Indien
WASHINGTON, DC – Im Vorfeld des jüngsten Treffens zwischen dem indischen Premierminister Narendra Modi und US-Präsident Donald Trump waren die Erwartungen bescheiden. Sogar die indische Regierung spielte Modis Visite im Weißen Haus zu einem "reinen Arbeitsbesuch" herunter. Dennoch gelang es den Staatschefs der zwei bevölkerungsreichsten Demokratien der Welt bedeutende Fortschritte zu erreichen und damit die Macht der Diplomatie zu demonstrieren, Herausforderungen in Chancen umzuwandeln.
Obwohl man sich also näher kam, waren die Beziehungen zwischen den USA und Indien in letzter Zeit durch wechselseitige Zweifel belastet. Die Bedenken der Trump-Administration konzentrierten sich auf das wachsende bilaterale Handelsdefizit, die Verdrängung amerikanischer Arbeitnehmer durch indische Informationstechnologie-Experten und auf die Vermutung, Indien würde das Pariser Klima-Abkommen nutzen, um Milliarden Dollar an Unterstützungsgeldern zu erlangen.
Indien seinerseits zeigte sich zunehmend besorgt hinsichtlich der isolationistischen Weltsicht der Trump-Administration und insbesondere ihres offenkundigen Rückzugs aus Asien, wo die USA in den letzten 70 Jahren der zentrale Garant für den Frieden waren. Diese Wahrnehmung dämpfte Hoffnungen, wonach Indien und die USA einander weiterhin als zuverlässige strategische Partner betrachten würden.
In Washington allerdings herrschte dann gute Chemie zwischen Modi und Trump, ohne wirkliche Unstimmigkeiten – eine Abkehr von manchen der früheren diplomatischen Abenteuer Trumps. Noch bedeutsamer als ihr offenkundig gutes Einvernehmen war allerdings die gemeinsame Erklärung der Staatschefs, im Rahmen derer anerkannt wurde, wie wertvoll die bilaterale Beziehung der beiden Länder ist.
Indien ist für Amerika aus einer Reihe von Gründen von Bedeutung. Es ist die am schnellsten wachsende Volkswirtschaft der Welt; das Land weist die weltweit größte Mittelschicht auf und es wird auch bald das bevölkerungsreichste Land der Erde sein. Außerdem liegt Indien an bedeutsamen globalen Schifffahrtsrouten im Indischen Ozean. Und es dient als wichtiges demokratisches Bollwerk in Asien.
Diese Faktoren haben seit den frühen 1990er Jahren zu einer seltenen parteiübergreifenden Unterstützung für die Vertiefung der Beziehungen zwischen den USA und Indien geführt. Dennoch waren sie offenbar nicht immer ausreichend, um die fortgesetzte Aufmerksamkeit der amerikanischen Entscheidungsträger auf sich zu ziehen. Nach dem jüngsten Besuch Modis zu urteilen könnte das unter der Administration Trumps jedoch anders sein, die offenbar sehr daran interessiert ist, eine bilaterale Sicherheitskooperation  als zentrales Element ihrer Asien-Politik aufzubauen.
Subscribe to Project Syndicate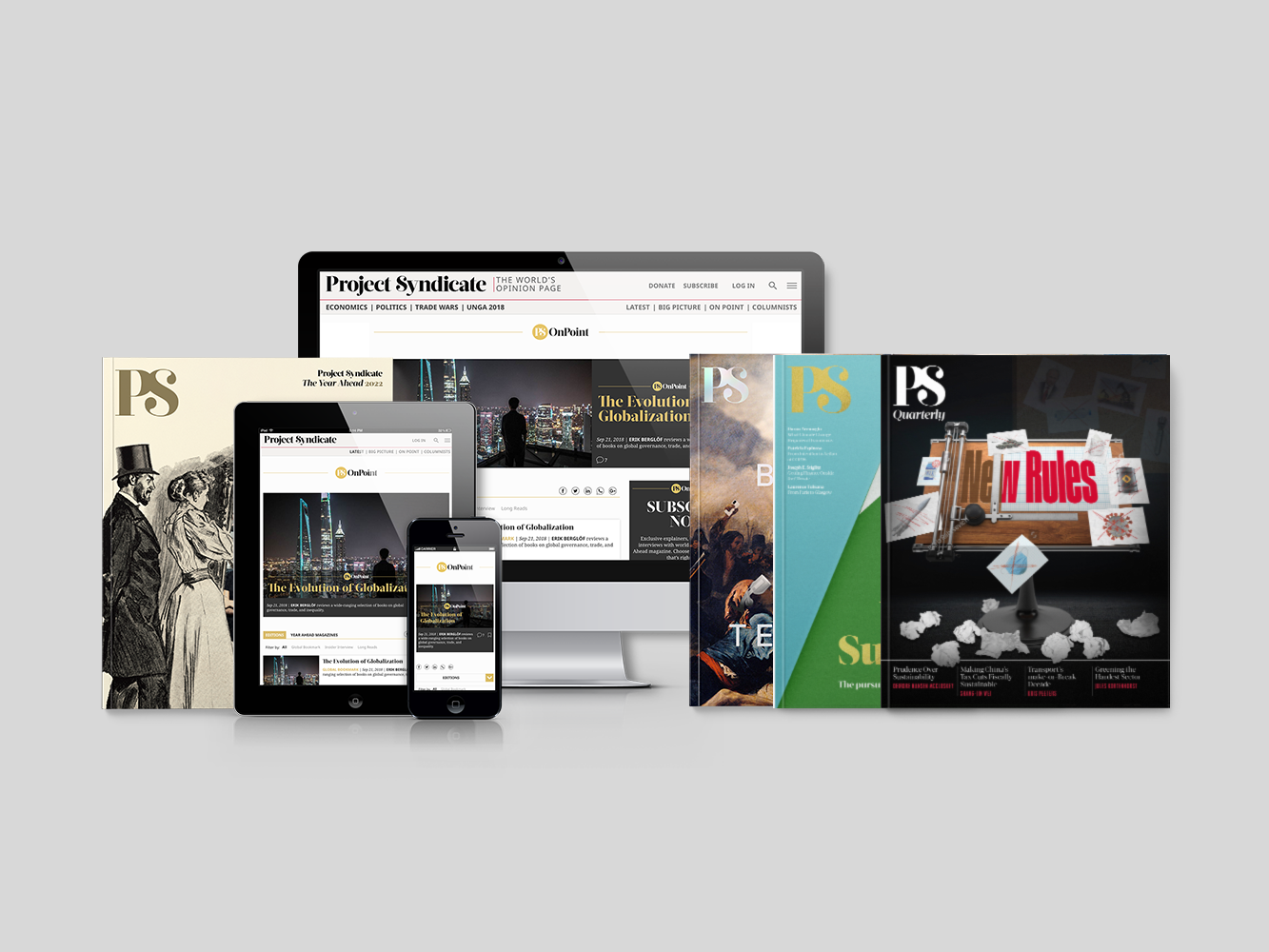 Subscribe to Project Syndicate
Enjoy unlimited access to the ideas and opinions of the world's leading thinkers, including long reads, book reviews, topical collections, short-form analysis and predictions, and exclusive interviews; every new issue of the PS Quarterly magazine (print and digital); the complete PS archive; and more. Subscribe now to PS Premium.
Die Regierung Trump scheint zu erkennen, dass in einer Zeit, in der rasche Machtverschiebungen in Asien die regionale Stabilität beeinflussen könnten, ein zunehmend zuversichtliches Indien den USA dabei helfen kann, die Sicherheit zu gewährleisten. An der Seite der USA kann Indien daran arbeiten, sich konstruktiv mit einem aufsteigenden China auseinanderzusetzen. Dies nicht nur zur Unterstützung des Wirtschaftswachstums und des Umweltschutzes, sondern auch um sicherzustellen, dass Chinas Entscheidungen dazu beitragen, Frieden und Wohlstand in Asien zu erhalten anstatt zu untergraben.
Diese Erkenntnis findet Ausdruck in einem bedeutenden, anlässlich des jüngsten Treffens angekündigten Verteidigungsabkommen sowie auch in Plänen zur Steigerung der Verkäufe militärischer Ausrüstung und der Abhaltung von Manövern, der Vertiefung der Kooperation im Indischen Ozean sowie der Erweiterung des Abkommens über Sicherheit im virtuellen Raum aus dem letzten Jahr. Die öffentlichen Erklärungen deuteten darauf hin, dass beide Seiten die Fortführung ihrer sinnvollen Politik in diesen Bereichen planen. Das heftig umstrittene Südchinesische Meer wurde zwar nicht explizit erwähnt, aber das sollte man in Zukunft ändern.
Zusätzliche Klarheit und Solidarität demonstrierten Modi und Trump auch im Bereich der Terrorismusbekämpfung, indem man Pakistan ersuchte, mehr zur Zerschlagung von Zufluchtsstätten der Extremisten auf seinem Staatsgebiet zu tun. Ein weniger toleranter Ansatz der Vereinigten Staaten gegenüber Pakistan wird wahrscheinlich nicht nur zur Sicherheit in Südasien beitragen, sondern auch dabei helfen, die sich verschärfenden Sicherheitsbedingungen in Afghanistan zu verbessern, wo Amerika noch immer in seinem längsten jemals geführten Krieg verstrickt bleibt.
Wenig überraschend allerdings scheinen Modi und Trump nach wie vor nicht in der Lage zu sein, Einigkeit in Fragen des Handels und geschäftlicher Verbindungen herzustellen. Obwohl man in den bilateralen Beziehungen traditionell Sicherheit und Verteidigung stärker betonte als wirtschaftliche Fragen, drohen die Ansichten der beiden Staatschefs, wie in ihren jüngsten Initiativen erkennbar, die Dinge noch unausgewogener zu gestalten. 
Modi und Trump sind nationalistisch eingestellte Führungspersönlichkeiten und auf inländisches Beschäftigungswachstum, vornehmlich in der Produktion, konzentriert. Doch angesichts moderner weltweiter Lieferketten liegen viele Chancen in der Außenorientierung. Einen wechselseitig vorteilhaften gemeinsamen Nenner zu finden, erfordert die Neudefinition der wirtschaftlichen Dimension der bilateralen Beziehung.
Nach Lage der Dinge leiden beide Länder unter einer Kluft zwischen den Qualifikationen der Arbeitnehmer und den verfügbaren Jobs. Das sollte Grundlage für einen ernsthaften Dialog über Ausbildung und Wettbewerbsfähigkeit der Arbeitnehmer bilden, zu dem auch eine Debatte über eine für die Trump-Administration kontroverse Frage gehört: wie nämlich Indiens Technologiesektor amerikanische H-1B-Visa nutzt, die für die Einreise hochqualifizierter Arbeitskräfte in die USA bestimmt sind.
Gelingt es den USA und Indien ihre Differenzen auf dieser Front zu bewältigen, werden sich auch bedeutende Chancen auftun, in anderen wichtigen Bereichen voneinander zu lernen, wie etwa hinsichtlich der Nutzung des Internethandels und digitaler Plattformen, um Klein- und Mittelbetrieben zu helfen, ihre Exporte anzukurbeln. Mängel im Bereich Infrastruktur stellen eine weitere Chance für vertiefte Zusammenarbeit dar: neben anderen Ländern wie Japan und Singapur können die USA und Indien Technologien gemeinsam nutzen und Ressourcen in innovativer Art zusammenführen, um wirtschaftsfördernde Transportverbindungen und städtische Zentren von morgen zu entwickeln.
Um zwischen Trumps Ansatz des "America first" und Modis Maxime "Make in India" Synergien herzustellen, wird es Kreativität, Geduld, Flexibilität und – von größter Bedeutung – einen strategischen Fokus brauchen. Beide Staatschefs werden sich auf das große Ganze konzentrieren müssen: wie man nämlich wechselseitig vorteilhafte Ergebnisse im Hinblick auf Produktivität, Wettbewerbsfähigkeit und Innovation erzielt. 
Der Erfolg erfordert Engagement auf allen Ebenen der US-Regierung, von Kabinettsvertretern bis hin zu Diplomaten. Als ersten Schritt muss das US-Außenministerium raschere Fortschritte bei der Besetzung wichtiger Positionen in dem für Südasien zuständigen Amtsbereich erzielen. 
Trotz anhaltender Herausforderungen haben die Beziehungen zwischen den USA und Indien unter Trump und Modi einen besseren Start hingelegt als erwartet. Jede Seite demonstrierte Bereitschaft, in die Zukunft der anderen zu investieren und sich nicht nur von einem Abkommen zum nächsten zu lavieren. Jetzt beginnt die Schwerarbeit: die Entwicklung einer gemeinsamen strategischen Vision und deren konsequente Umsetzung.  
Aus dem Englischen von Helga Klinger-Groier