Die US-Außenpolitik und die fehlende Linke
PRINCETON – Die amerikanische Außenpolitik unter Präsident Donald Trump ist ein Desaster. Während der Präsident sein erstes Amtsjahr damit verbrachte, den nordkoreanischen Diktator zu beschimpfen, hat Nordkorea sein Atomprogramm kontinuierlich vorangetrieben, und die USA sind einem Krieg, den niemand will, immer näher gekommen.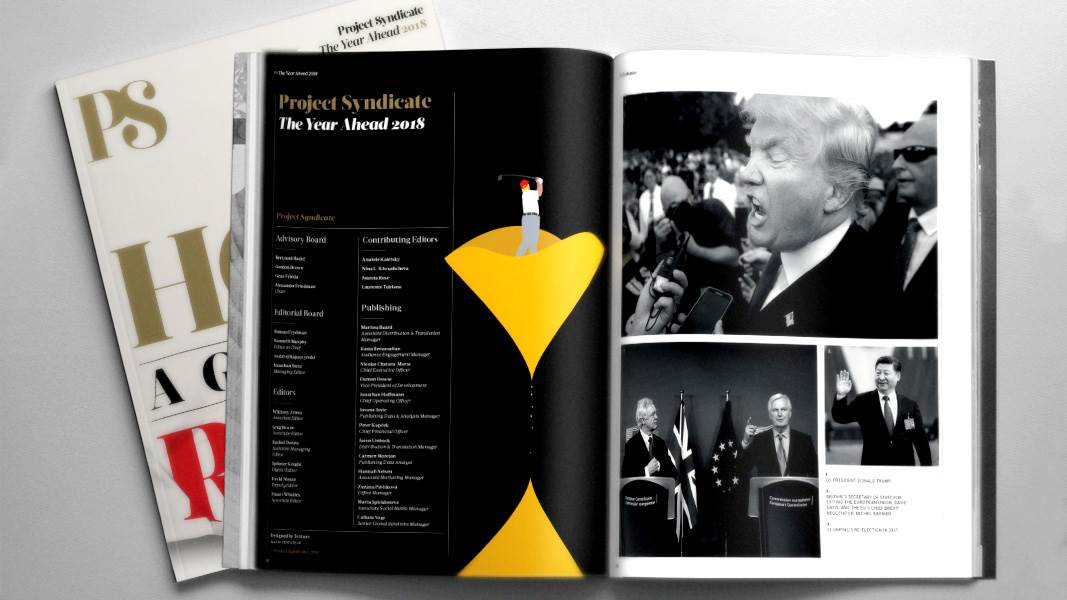 The Year Ahead 2018
The world's leading thinkers and policymakers examine what's come apart in the past year, and anticipate what will define the year ahead.
In Syrien haben US-Streitkräfte im vergangenen April bei einem einmaligen Bombenangriff Einrichtungen der Regierung attackiert, ohne dem irgendwelche politischen oder diplomatischen Maßnahmen folgen zu lassen; erreicht wurde damit nichts. In ähnlicher Weise haben die USA, nachdem sie zunächst die kurdischen Milizen bewaffnet hatten, damit diese für sie den Islamischen Staat (ISIS) bekämpften, dann tatenlos zugesehen, wie die Türkei eben diese Männer und Frauen angriff.
Die Trump-Regierung hat die Zurückhaltung der Obama-Ära, was Luftschläge angeht, aufgegeben. Eine Folge war der "Sieg" einer US-geführten Koalition in Mossul (Irak), der tausende ziviler Opfer forderte und einen Haufen Trümmer hinterließ. Wie in Vietnam musste Amerika die Stadt zerstören, um sie zu retten.
Zugleich hat die Regierung tausende von US-Soldaten in Afghanistan stationiert, ohne sich freilich die Mühe zu machen, eine politische Strategie zu entwickeln, um das dortige Patt zu durchbrechen.
Unter Trump haben sich die USA zudem zu einem entschiedenen Unterstützer autoritärer Regime entwickelt – von Saudi-Arabien bis hin zu den Philippinen. Und in Europa folgen rechtsextreme Führer in Polen und Ungarn begierig in Trumps Fußstapfen – falls sie ihm nicht sogar einen oder zwei Schritte voraus sind.
In Israel haben sich die USA de facto mit der Siedlerbewegung und der rechtsextremen Regierung verbündet und damit den alten zionistischen Traum eines "Klein-Israels" aufgegeben. Tatsächlich hat sich US-Vizepräsident bei seiner jüngsten Reise nach Israel geweigert, auch nur mit dem Vorsitzenden der oppositionellen Arbeiterpartei zu reden.
Alles in allem haben die USA einige ihrer engsten Verbündeten verprellt, das NATO-Bündnis geschwächt und sich zu einer bigotten, fremdenfeindlichen Präsenz auf der Weltbühne entwickelt. Wie sollten Liberale und Linke darauf reagieren?
Wir auf der Linken stehen gegen praktisch alles, was Trump sagt und tut. Doch hat bisher niemand von uns eine plausible oder in sich schlüssige Alternative angeboten. Wir haben seine Außenpolitik entweder gar nicht kommentiert oder uns lediglich gegen jeden Einsatz von Gewalt im Ausland ausgesprochen, und sind dabei in unsere eigene Version des Isolationismus abgedriftet.
Doch ist Isolationismus bloß eine andere Art und Weise, keine Außenpolitik zu haben. Senator Bernie Sanders aus Vermont führte 2016 einen starken, effektiven Wahlkampf, wenn er die Innenpolitik ansprach. Doch obwohl er kandidierte, um Präsident des globalen Hegemons zu werden, hatte er zur internationalen Politik praktisch nichts zu sagen.
Zuallererst muss die Linke ernsthaft über den Einsatz von Gewalt nachdenken, der die zentrale Frage in außenpolitischen Debatten darstellt. Es ist richtig, Gewalt zur Selbstverteidigung oder zur Verteidigung anderer einzusetzen. Es ist falsch, wenn wir damit einen Regimewechsel anstreben, autoritäre Regierungen unterstützen oder nationale Bewegungen bekämpfen, die den Wettstreit um die "Herzen und Köpfe" bereits gewonnen haben.
Eine weitere grundlegende Frage betrifft, wie Gewalt eingesetzt werden sollte. Diese freilich ist leicht zu beantworten: unter Auflagen, die darauf ausgelegt sind, die Zahl der zivilen Opfer auf ein Minimum zu beschränken. Dies sind keine schwierigen Fragen, aber wenn wir sie ernst nehmen, können sie zu komplexen politischen Positionen führen.
Zum Beispiel war es falsch, dass die USA 2003 im Irak einmarschiert sind, aber es war richtig, beim Kampf gegen den ISIS mitzumachen und die Jesiden vor einem Massaker zu bewahren. Es war richtig, die besetzte Stadt Mossul anzugreifen, aber falsch, sie in Schutt und Asche zu legen.
Es war ebenfalls falsch, für den Sturz des Regimes des syrischen Präsidenten Bashar al-Assad einzutreten, denn es fehlte den Kräften, die gegen Assad waren, an der nötigen öffentlichen Unterstützung, und die USA waren nicht bereit, ihnen zu helfen, diese Unterstützung zu gewinnen. Andererseits war es eine gute Idee, den syrischen Kurden zu helfen, denn sie waren wirkungsstarke Kämpfer mit starkem Rückhalt in ihrer eigenen Bevölkerung, und sie hätten unter einem ISIS-Kalifat vermutlich nicht überlebt.
Anderswo ist es richtig, die Verteidigung Südkoreas und Japans zu stärken, aber offensichtlich falsch, mit einem Atomkrieg zu drohen. Atomwaffen können keinen denkbaren menschlichen Zweck erfüllen. Aber das gilt nicht für alle Waffen, und die Linke muss sich damit arrangieren. Wir können keine Pazifisten sein, wenn Menschen weltweit in Angst vor Massenmördern leben, weil sie einer bestimmten ethnischen oder religiösen Minderheit angehören, an die "falsche" Ideologie glauben oder in gefährdeten Ländern in Nachbarschaft revanchistischer Mächte leben.
Auf dem Höhepunkt des Kalten Krieges waren viele Linke gegen die NATO. Und in den letzten Jahren sind Politiker wie Jeremy Corbyn (bevor er Vorsitzender der britischen Labour Party wurde) für den Rückzug ihrer Länder aus dem Bündnis eingetreten, eben weil es sich zum Einsatz von Gewalt als Mittel der gemeinsamen Verteidigung bekennt.
Dieses Bekenntnis richtete sich ursprünglich gegen die Sowjetunion und heute gegen Wladimir Putins Russland. Die amerikanische Linke sollte sich dieser Situation nähern, indem sie die Frage den linken Kräften in Polen, Litauen oder der Ukraine vorlegt, wo es um viel geht. Meine Einschätzung wäre, dass viele osteuropäische Linke NATO-Unterstützer sind und sich dasselbe auch von Amerika wünschen. Wir müssen nicht immer das tun, was unsere Freunde von uns wollen, aber wir sollten ihnen immer zuhören.
Ein alter Glaubenssatz linker Ideologie besagt, dass hegemonische kapitalistische Länder wie die USA in der Welt nie gut handel können. Aber das ist falsch. Schließlich spielten die USA eine führende Rolle im Sieg über Nazi-Deutschland und die Sowjetunion, zwei der brutalsten Regimes der Weltgeschichte.
Tatsächlich können die USA in der Welt Gutes tun und tun es manchmal auch. Die amerikanische Linke muss verlangen, dass ihr Land gut handelt, und wir müssen Einspruch erheben, wenn es das nicht tut. Aber wir können gar nichts erfolgreich fordern oder bekämpfen, solange wir uns keine in sich schlüssige Sicht der internationalen Politik gebildet haben.
Aus dem Englischen von Jan Doolan