La política exterior estadunidense y la ausencia de la izquierda
PRINCETON – Considere el desastre que es la política exterior estadounidense bajo el mandato del presidente Donald Trump. Si bien el presidente pasó su primer año en el cargo intercambiando insultos con el dictador de Corea del Norte, ese país ha avanzado de manera constante en su programa nuclear, y Estados Unidos se ha aproximado cada vez más a una guerra que nadie quiere.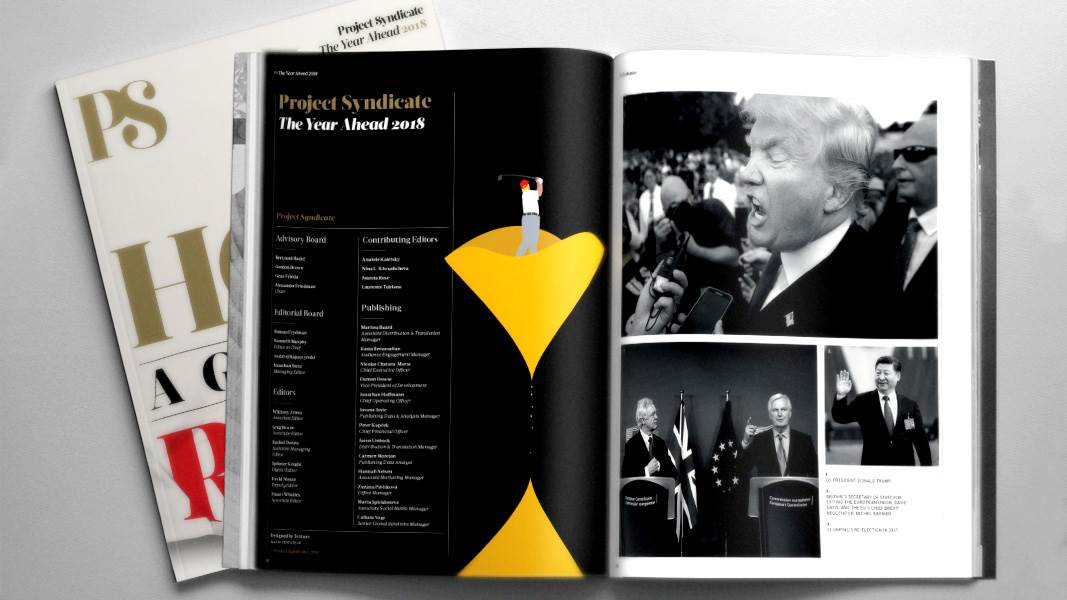 The Year Ahead 2018
The world's leading thinkers and policymakers examine what's come apart in the past year, and anticipate what will define the year ahead.
En Siria, el pasado abril, las fuerzas estadounidenses atacaron instalaciones del gobierno mediante un único bombardeo, mismo que debido a que no recibió ningún seguimiento político ni diplomático, no logró nada. Del mismo modo, después de armar a las milicias kurdas para luchar contra el Estado Islámico (ISIS) en su representación, Estados Unidos se quedó a la espera y observó como Turquía atacó a esos mismos hombres y mujeres.
Como resultado de que la administración Trump ha dejado de lado las restricciones de la era de Obama con respecto al uso del poderío aéreo, se alcanzó una "victoria" de la coalición encabezada por Estados Unidos en Mosul, Irak, misma que causó miles de víctimas civiles y dejó un montón de escombros. Al igual que en Vietnam, Estados Unidos tuvo que destruir la ciudad para poder salvarla.
Mientras tanto, la administración ha desplegado miles de tropas estadounidenses en Afganistán, pero sin molestarse en idear una estrategia política para romper el estancamiento allí.
Bajo el mandato de Trump, Estados Unidos también se ha convertido en un incondicional partidario de regímenes autoritarios, desde Arabia Saudita hasta las Filipinas. Y, en Europa, los líderes de extrema derecha en Polonia y Hungría caminan con decisión siguiendo los pasos de Trump – si es que no van un paso o dos delante de él
En Israel, Estados Unidos se alió efectivamente con el movimiento de los colonos y el gobierno de extrema derecha, rechazando, por lo tanto, el antiguo sueño sionista del "pequeño Israel". De hecho, en su reciente viaje a Israel, el vicepresidente Mike Pence se negó incluso a hablar con el líder del opositor Partido Laborista.
En resumen, Estados Unidos ha alienado a algunos de sus aliados más cercanos, ha debilitado la Alianza de la OTAN y se ha convertido en una presencia intolerante y xenófoba en el escenario mundial. ¿Cómo deberían responder los liberales y los izquierdistas?  
Nosotros que estamos en la izquierda, nos oponemos a casi todo lo que Trump ha dicho y hecho. Sin embargo, ninguno de nosotros ha ofrecido una alternativa plausible o coherente. Ni tampoco hemos debatido sobre política exterior en absoluto; o, simplemente, hemos objetado cualquier uso de la fuerza en el extranjero, a la par de dejamos llevar hacia nuestra propia versión del aislacionismo.
Pero, el aislacionismo es sólo otra forma de no tener una política exterior. El senador de Vermont, Bernie Sanders, hizo una campaña fuerte y efectiva en el año 2016 cuando se abordaban temas de política nacional. Pero, a pesar de que se postulaba para ser presidente del país más hegemónico a nivel mundial, no tenía prácticamente nada que decir acerca de la política internacional.
Ante todo, la izquierda debe pensar seriamente en el uso de la fuerza, que es el tema central en los debates de política exterior. Es correcto usar la fuerza en defensa propia o en defensa de los demás. Está mal cuando luchamos por un cambio de régimen, en apoyo de los gobiernos autoritarios, o en contra de los movimientos nacionales que ya han ganado la batalla conquistando "corazones y mentes".
Otra interrogante fundamental se refiere a cómo se debe usar la fuerza. Pero, esa tiene respuesta fácil: debe usarse con restricciones diseñadas para minimizar las bajas civiles. Estas no son interrogantes difíciles, pero cuando las tomamos en serio, pueden conducir a posiciones políticas complejas.
Por ejemplo, Estados Unidos se equivocó al invadir Irak en el año 2003, pero estuvo en lo correcto en cuanto a unirse a la lucha contra ISIS, y para rescatar a los yazidíes de una masacre. Fue correcto atacar la ciudad ocupada de Mosul, pero fue un error reducir dicha ciudad a escombros.
También fue un error pedir el derrocamiento del régimen del presidente sirio Bashar al-Assad, porque las fuerzas opositoras a Assad carecían del apoyo popular necesario y Estados Unidos no estaba preparado para ayudarlas a obtener ese apoyo. Por otro lado, ayudar a los kurdos sirios fue una buena idea, porque eran combatientes eficaces que contaban con un fuerte apoyo de su propio pueblo; y, probablemente no habrían sobrevivido bajo un califato de ISIS.
En cuanto a otros lugares, es correcto fortalecer la defensa de Corea del Sur y Japón, pero obviamente es un error amenazar con una guerra nuclear. Las armas nucleares no pueden servir para ningún propósito humano concebible. Pero, eso no es cierto con respecto a todas las armas, y la izquierda necesita llegar a aceptar eso. No podemos ser pacifistas cuando las personas de todo el mundo viven con miedo al asesinato masivo porque pertenecen a una minoría étnica o religiosa determinada, porque creen en una ideología "equivocada", o viven en países vulnerables en la vecindad de poderes revanchistas.
En el apogeo de la Guerra Fría, muchos izquierdistas se opusieron a la OTAN. Y, en los últimos años, políticos como Jeremy Corbyn, antes de convertirse en líder del Partido Laborista del Reino Unido, han apoyado retirar a sus países de la Alianza, precisamente porque están comprometidos con el uso de la fuerza como un medio de defensa mutua.
El compromiso de la Alianza de la OTAN se dirigió, en un principio, contra la Unión Soviética, y hoy en día apunta contra la Rusia de Vladimir Putin. Los izquierdistas estadounidenses deberían abordar esta situación haciendo preguntas a los izquierdistas en Polonia, Lituania o Ucrania, donde hay mucho en juego. Yo diría que muchos izquierdistas de Europa del Este son partidarios de la OTAN, y querrían que Estados Unidos fuera también partidario. No siempre tenemos que hacer lo que nuestros amigos quieren que hagamos, pero siempre debemos escucharlos.
Un viejo principio de la ideología izquierdista sostiene que los países capitalistas hegemónicos como Estados Unidos nunca pueden actuar bien en el mundo. Pero, eso principio está equivocado. Al fin y al cabo, Estados Unidos jugó un papel fundamental en la derrota tanto de la Alemania nazi como de la Unión Soviética, dos de los regímenes más brutales de la historia mundial.
De hecho, Estados Unidos puede hacer cosas buenas en el mundo, y a veces sí las hace. Los izquierdistas estadounidenses debemos exigir que nuestro país actúe bien, y debemos objetar cuando no lo haga. Pero, no podemos exigir u oponernos con éxito hasta que hayamos formado una visión coherente de política internacional.
Traducción del inglés: Rocío L. Barrientos.