Face à la politique étrangère des États-Unis : une gauche absente
PRINCETON – Assurément, la politique étrangère des États-Unis sous Donald Trump est un désastre. Tandis que le président a passé la première année de son mandat à échanger des insultes avec le dictateur de Corée du Nord, celui-ci a tranquillement construit son programme nucléaire, et les États-Unis s'avancent non moins tranquillement vers une guerre dont personne ne veut.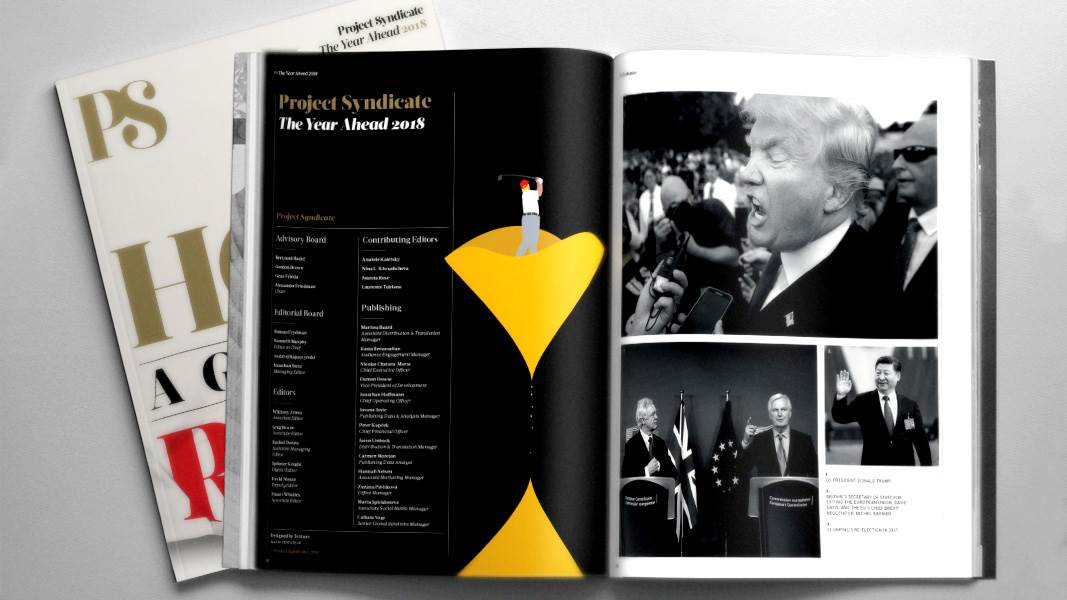 The Year Ahead 2018
The world's leading thinkers and policymakers examine what's come apart in the past year, and anticipate what will define the year ahead.
En avril dernier, un raid isolé des forces américaines a bombardé en Syrie des installations gouvernementales et, faute de suivi politique ou diplomatique, n'a débouché sur rien. De même, après avoir armé les milices kurdes chargées de combattre pour leur compte l'organisation État islamique (EI), les États-Unis, lorsque la Turquie a attaqué ces mêmes hommes et ces mêmes femmes, n'ont pas bougé et se sont maintenus dans un rôle de spectateur.
L'abandon par l'administration Trump de l'usage modéré de la force aérienne, tel qu'il prévalait durant l'ère Obama, a certes débouché sur une victoire de la coalition menée par les États-Unis à Mossoul, en Irak, mais celle-ci s'est soldée par des milliers de victimes civiles et n'a laissé qu'un tas de ruines. Comme au Viêt-nam, l'Amérique a dû, pour la sauver, détruire la ville.
Dans le même temps, l'administration déployait en Afghanistan des milliers de soldats, mais sans se soucier de bâtir une stratégie politique pour sortir de l'impasse.
Sous l'actuelle présidence, les États-Unis sont aussi devenus de fervents soutiens de régimes autoritaires, de l'Arabie saoudite aux Philippines. Tandis qu'en Europe, les dirigeants d'extrême-droite de Pologne et de Hongrie marchaient avec entrain dans les pas de Trump – quand ils n'ouvraient pas eux-mêmes la marche.
En Israël, les États-Unis se sont objectivement alliés avec les mouvements des colons et avec le gouvernement d'extrême-droite, balayant ainsi le vieux rêve sioniste d'un « petit Israël ». De fait, lors de son récent déplacement en Israël, le vice-président Mike Pence a même refusé de s'entretenir avec le chef du parti travailliste dans l'opposition.
Qui plus est, les États-Unis se sont aliénés certains de leurs plus proches alliés, ont affaibli l'Alliance atlantique et sont devenus sur la scène du monde un agent sectaire et xénophobe. Quelles réponses peuvent apporter les « libéraux » et la gauche ?
À gauche, nous nous opposons tout bonnement à tout ce que dit ou fait Trump. Mais aucun de nous n'a jusqu'à présent offert une solution de rechange plausible et cohérente. Soit nous n'évoquons même pas la politique étrangère, soit nous nous opposons à tout usage de la force à l'extérieur, tout en dérivant lentement vers ce qui serait notre propre version de l'isolationnisme.
Mais l'isolationnisme n'est rien d'autre que l'absence de politique étrangère sous une autre forme. Le sénateur du Vermont Bernie Sanders a fait une campagne efficace, en 2016, sur les sujets de politique intérieure. Mais alors même qu'il prétendait à la présidence de l'hégémon mondial, il n'avait quasiment rien à dire sur la politique internationale.
Avant toute chose, la gauche doit penser sérieusement la question de l'usage de la force, qui demeure centrale dans les débats de politique étrangère. Il est légitime d'utiliser la force pour se défendre soi-même ou pour défendre autrui. Il ne l'est pas lorsqu'il s'agit de renverser un régime, de soutenir des gouvernements autoritaires, ou encore de combattre des mouvements nationaux qui ont déjà gagné « les cœurs et les esprits ».
Une autre question fondamentale concerne la façon dont cette force doit être utilisée. Mais la réponse, ici, est simple : on doit en user avec modération, afin que les victimes civiles soient le moins nombreuses possibles. Ce ne sont pas des questions difficiles, mais lorsque nous les prenons au sérieux, elles peuvent conduire à des situations politiques complexes.
Ainsi les États-Unis ont-ils eu tort d'envahir l'Irak en 2003, mais ils ont eu raison de rejoindre la lutte contre l'EI, et de sauver d'un massacre les Yézidis. Ils ont eu raison d'attaquer la ville occupée de Mossoul, mais tort de la réduire en poussière.
Ce fut encore une faute que d'appeler au renversement du régime du président syrien Bachar El-Assad, car les forces hostiles à Assad manquaient du soutien populaire nécessaire, et les États-Unis n'étaient pas ptréparés à les aider pour gagner ce soutien. D'un autre côté, c'était une bonne idée d'aider les Kurdes syriens, car ils furent des combattants efficaces, jouissant d'une forte confiance au sein de leur propre population ; et ils n'auraient probablement pas survécu sous le califat de l'EI.
Ailleurs, il est juste de renforcer la défense de la Corée du Sud et du Japon, mais évidemment erroné de menacer de déclencher une guerre nucléaire. Les armes nucléaires ne peuvent servir aucun but humain concevable. Cela n'est pas vrai pourtant de toutes les armes, et la gauche doit parvenir à forger à cet égard une doctrine. Nous ne pouvons être pacifistes lorsque des gens dans le monde vivent dans la crainte d'un crime de masse parce qu'ils appartiennent à une ethnie ou à une minorité religieuse réprouvée, parce qu'ils croient en la « mauvaise » idéologie, ou parce qu'ils vivent dans des pays vulnérables qui ont pour voisins des puissances vindicatives.
Au plus fort de la guerre froide, de nombreux militants de gauche étaient opposés à l'OTAN. Et ces dernières années, des responsables politiques comme Jeremy Corbyn, avant qu'il ne prenne la direction du parti travailliste britannique, se sont prononcés en faveur d'un retrait de leur pays hors de l'Alliance, précisément parce qu'elle était prévue pour utiliser la force comme moyen de défense mutuel.
Ce pacte était originellement dirigé contre l'Union soviétique, et il est aujourd'hui confronté à la Russie de Vladimir Poutine. Les militants de la gauche américaine devraient envisager la question en interrogeant celles et ceux qui en Pologne, en Lituanie et en Ukraine, où les enjeux sont considérables, soutiennent aussi la gauche. J'imagine que nombre de partisans de la gauche en Europe orientale sont aussi partisans de l'OTAN, et souhaiteraient que l'Amérique les soutienne. S'il ne faut pas toujours faire ce que nos amis souhaitent que nous fassions, nous ne devons jamais cesser de les écouter.
Selon une vieille antienne de l'idéologie de gauche, les pays capitalistes dominants comme les États-Unis ne peuvent agir dans le monde de façon légitime. Mais c'est faux. Après tout, les États-Unis ont joué un rôle majeur tant dans la défaite de l'Allemagne nazie que dans celle de l'Union soviétique, deux des régimes les plus brutaux de l'histoire mondiale.
De fait, les États-Unis peuvent faire de bonnes choses dans le monde, et les font parfois. La gauche américaine doit se demander comment son pays peut agir correctement, et nous devons nous opposer à sa politique lorsqu'il n'y parvient pas. Mais nous ne pourrons rien exiger ni nous affronter à rien tant que nous n'aurons pas défini une doctrine cohérente de politique internationale.
Traduction François Boisivon