Дональд Трамп и ослабление мягкой силы США
КЕМБРИДЖ (США) – Доказательства налицо. Президентство Дональда Трампа ослабило мягкую силу Америки. Во время недавнего опроса Gallup в 134 странах лишь 30% опрошенных заявили о позитивном отношении к США под руководством Трамп. Это падение почти на 20 процентных пунктов по сравнению с президентством Барака Обамы. Исследовательский центр Pew выяснил, что Китай – с его рейтингом поддержки 30% – практически достиг паритета с США. А в британском рейтинге «Мягкая сила 30» (The Soft Power 30) Америка скатилась с первого места в 2016 году на третье место в прошлом году.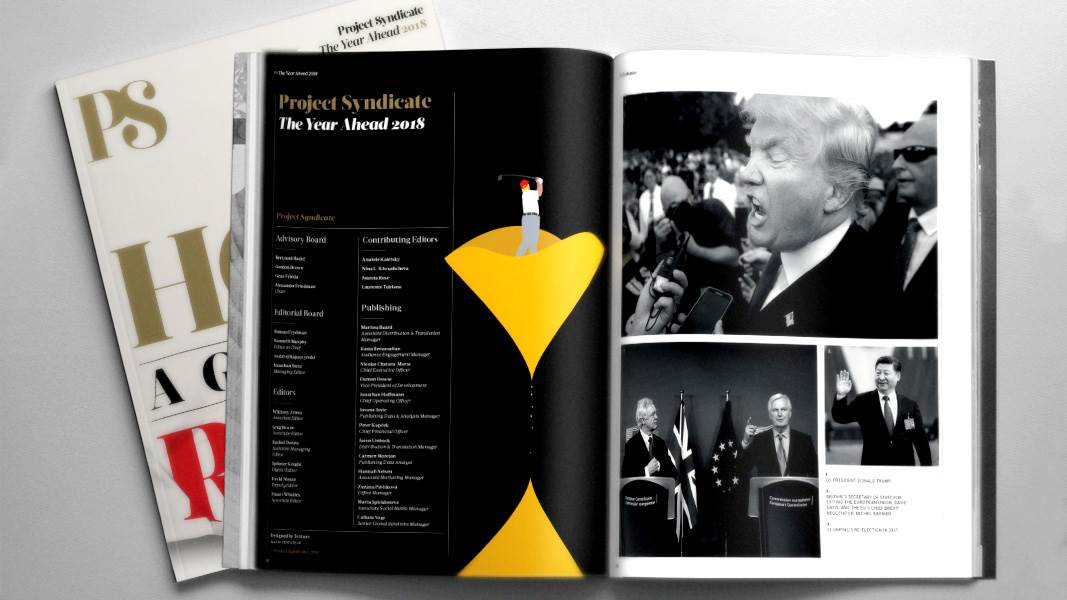 The Year Ahead 2018
The world's leading thinkers and policymakers examine what's come apart in the past year, and anticipate what will define the year ahead.
Защитники Трампа отвечают на это, что мягкая сила неважна. Директор бюджетного управления в Белом доме Мик Малвейни провозгласил «бюджет жёсткой силы», срезав финансирование Госдепартамента и Американского агентства по международному развитию (USAID) на 30%. Для тех, кто действует под лозунгом «Америка прежде всего», всё, что думает остальной мир, имеет второстепенное значение. Они правы?
Мягкая сила опирается на привлекательность, а не на принуждение или деньги. Оно приобщает людей, а не принуждает их. На бытовом уровне мудрые родители понимают, что их влияние на детей будет более значительным и долгим, если они послужат для них моделью правильных этических ценностей, а не будут полагаться исключительно на наказания, деньги или угрозы забрать ключи от машины.
Политические лидеры уже давно понимают пользу власти, возникающей благодаря возможности определять повестку дня или рамки дебатов. Если я могу добиться, чтобы вы захотели сделать то, что я хочу, тогда мне не надо заставлять вас делать то, что вы делать не хотите. Если США будут олицетворять принципы, за которыми готовы пойти остальные страны, тогда Америка может сэкономить на кнутах и пряниках. Дополняя жёсткую силу, сила привлекательности превращается в мощный мультипликатор.
Мягкая сила страны формируется, прежде всего, за счёт трёх источников: её культуры (если она привлекательна для других); её политических принципов, например, демократия и права человека (если она живёт в соответствии с этими принципами); её политики (если она воспринимается как легитимная, потому что её отличает определённая скромность и понимание интересов остальных). То, как правительство ведёт себя внутри страны (например, защищает свободную прессу), в международных учреждения (уважает других и принципы мультилатерализма), во внешней политике (помогает развитию и защищает права человека), может влиять на другие страны путём подаваемого примера. И во всех этих сферах Трамп подрывает привлекательность американской политики.
К счастью, Америка – это не только Трамп или его правительство. В отличие от активов жёсткой силы (например, вооружённые силы), многие ресурсы мягкой силы отделены от государства и лишь отчасти реагируют на поставленные им цели. В либеральном обществе правительство не может контролировать культуру. Более того, отсутствие официальной культурной политики уже само по себе может быть причиной привлекательности. Голливудские фильмы, например «Секретное досье» («The Post»), демонстрирующие независимость женщин и свободу прессы, способны привлекать других. Их также может привлекать благотворительная деятельность американских фондов или польза, которую приносит свобода исследований в американских университетах.
В реальности компании, университеты, фонды, церкви и другие неправительственные организации создают собственную мягкую силу, которая может подкреплять официальные внешнеполитические цели или противоречить им. Роль всех этих частных источников мягкой силы, скорее всего, будет лишь повышаться в глобальную информационную эпоху. Тем самым, у правительств появляется всё больше причин стремиться к тому, чтобы их собственные действия и решения наращивали и укрепляли их мягкую силу, а не ослабляли или растрачивали её попусту.
Внутренняя или внешняя политика, которая выглядит лицемерной, невежественной, безразличной к мнению других или основанной на эгоистичной концепции национальных интересов, может ослаблять мягкую силу. Например, резкий спад привлекательности США в опросах общественного мнения, проводившихся после вторжения в Ирак в 2003 году, стал следствием реакции на администрацию Буша и её политику, а не на США в целом.
Иракская война была далеко не первым решением правительства, снизившим популярность США. В 1970-е годы многие люди во всём мире выступали против американской войны во Вьетнаме, а на рейтинге поддержки Америки в мире отражалась непопулярность её политики. Когда политика изменилась, а воспоминания о войне стали забываться, США восстановили значительную часть утраченной ранее мягкой силы. После Иракской войны США также сумели во многом вернуть себе былую мягкую силу в большинстве регионов мира (хотя в меньшей степени на Ближнем Востоке).
Впрочем, скептики могут утверждать, что взлёты и падения американской мягкой силы не имеет особого значения, потому что страны сотрудничают между собой из эгоистичных интересов. Но в этом аргументе упускается из вида важный момент: сотрудничество всегда имеет разную степень, и эта степень определяется уровнем привлекательности или отторжения. Кроме того, влияние мягкой силы страны распространяется и на негосударственные игроков. Например, она может способствовать или препятствовать пополнению рядов террористических организаций. В информационную эпоху успех зависит не только от того, чьё оружие побеждает, но и от того, чьи слова побеждают.
Один из величайших источников мягкой силы Америки – это открытость её демократических процессов. Даже когда ошибочная политика снижает её привлекательность, способность Америки к самокритике и коррекции собственных ошибок делает её привлекательной для других стран на глубинном уровне. Когда протестующие за рубежом проводили марши против Вьетнамской войны, они часто пели песню «We Shall Overcome» («Мы преодолеем»), гимн американского движения за гражданские права.
Практически нет сомнений, что Америка тоже всё это преодолеет. Судя по опыту прошлого, есть все основания надеяться, что США восстановят свою мягкую силу после Трампа.