Klíč ke konci hladovění
EUGENE, OREGON, USA – Při nedávných zprávách, že dvě třetiny dospělých ve Spojených státech mají nadváhu nebo jsou obézní – a jejich počet stále roste – vytane na mysli otázka, která mě pronásleduje už od 70.amp#160;let: Proč všichni netrpíme hlady?
Není to tak dlouho, co experti předpovídali, že překotně přibývající počet obyvatel planety překoná zásoby potravin, což povede přímo kamp#160;masovému hladomoru. Předpokládalo se, že kamp#160;dnešku už budou každoročně umírat hlady miliony lidí. Tak se projevovala matematika chmur a zmaru Thomase Malthuse: počet obyvatel letí vzhůru geometrickou řadou, kdežto potravinová produkce zaostává. Dává to pozoruhodný smysl. Vyrostl jsem samp#160;Malthusovými myšlenkami aktuálně přetavenými do apokalyptických knih jako Populační bomba .
Někdo ale tuhle bombu zřejmě zneškodnil. Namísto hromadného hladovění se zdá, že jsme zaplaveni jídlem. A nejde jen o USA. Obezity přibývá vamp#160;Mexiku. Cukrovka související samp#160;otylostí nabývá vamp#160;Indii rysů epidemie. Každý čtvrtý člověk vamp#160;Číně trpí nadváhou, víc než 60 milionů Číňanů je obézních a výskyt dětí samp#160;nadváhou se od roku 1985 zvýšil téměř 30násobně. Ať se podíváte kamkoli, od Pensylvánie po Peking, uvidíte bobtnající břicha.
Celosvětově lidé vamp#160;přepočtu na hlavu nehladoví, nýbrž konzumují více kalorií než kdy dřív.
Hledáte-li příčiny dnešní epidemie obezity, nezastavujte se u obvyklých podezřelých, jež dokola omílá tisk: rychlé občerstvení, trans-tuky, vysoký cukr, málo pohybu, počítačové hry, zvláštní bakterie ve střevě, podivné molekuly vamp#160;krvi. Já osobně pokládám za viníka určitý vrozený lidský instinkt raději posedávat a jíst slané, mastné a sladké svačinky než vykonávat tělesnou práci. Všechny tyto faktory se nesporně vztahují k "zákeřné, plíživé pandemii obezity…, která dnes zachvacuje celý svět," jak se nedávno vyjádřil jeden rozhorlený expert. Jde ale jen o jednotlivé dílky skládačky.
Zásadní odpověď zní: Všude kolem je spousta levného jídla. Ano, běžte do nejbližšího hypermarketu nebo prostě do libovolné prodejny potravin kdekoli na světě a přesvědčte se o problému na vlastní oči. Kolem dokola budou vyskládány laciné vysoce kalorické potraviny.
Secure your copy of PS Quarterly: The Year Ahead 2023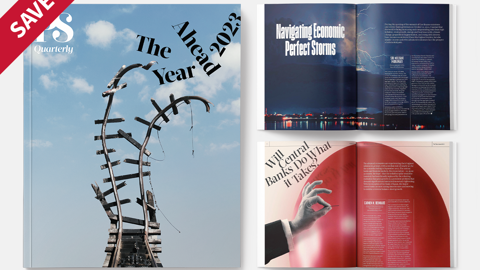 Secure your copy of PS Quarterly: The Year Ahead 2023
Our annual fourth-quarter magazine is here, and available only to Digital Plus and Premium subscribers. Subscribe to Digital Plus today, and save $15.

Nějak jsme na Malthuse vyzráli. Produkce potravin nejenže samp#160;populačním růstem drží krok, ale daří se jí vytvářet si před ním náskok. Zamp#160;roku na rok dochází kvůli počasí kamp#160;výkyvům a existují na světě ohniska hladovění (nikoli zamp#160;důvodu nedostatku potravin, ale kvůli nemožnosti dopravit je tam, kde je jich zapotřebí). Všeobecně ovšem praskají sila ve švech.
Tuny potravin se zaorávají do země, protože je jich tolik, že zemědělci nedocílí cen, jaké si přejí. Tuny levných potravin (například kukuřice) se používají kamp#160;výrobě drahých potravin (třeba steaků). Spousta potravin znamená přemíru tuku, masa, cukru a kalorií. Spousta potravin znamená přemíru lidí samp#160;nadváhou.
Pokud se vám představa úniku před hromadným hladověním zamlouvá – a mně rozhodně ano, dlužíte dík dvěma vědeckým kolektivům: jednomu, který nám vamp#160;80.amp#160;letech minulého století odolnými a vysoce výnosnými osivy přinesl zelenou revoluci, a druhému, který přišel na to, jak získávat chléb ze vzduchu .
Slyšeli jste správně. Rozhlížíte-li se po někom, na koho svalit vinu za dnešní éru hojnosti, věnujte pozornost dvěma německým vědcům, kteří žili před sto lety. Ti si uvědomovali, že problémem není samotný nedostatek potravin, ale nedostatek hnojiv – a pak přišli na to, jak jich vyrábět nekonečná množství.
Nejvýznamnější složkou všech hnojiv je dusík a první ze zmíněných německých výzkumníků, Fritz Haber, přišel na to, jak zvládnout nebezpečný a složitý chemický postup nezbytný kamp#160;získávání dusíku zamp#160;atmosféry – kde se vyskytuje vamp#160;obrovském množství, ale pro hnojiva je nepoužitelný – a jeho přeměně vamp#160;látku, která dokáže vyživovat rostliny.
Postup byl poprvé předveden před 100 lety. Carl Bosch, mladý génius pracující pro chemickou společnost, záhy Haberův postup rozšířil do průmyslových rozměrů. Oba získali Nobelovu cenu.
Patří kamp#160;velkým paradoxům dějin, že oba tito mimořádně nadaní muži, jejichž zásluhou byly před hladověním zachráněny miliony lidí, nechvalně prosluli svou další prací: Haber, německý Žid, byl hlavním tahounem vývoje bojového plynu nasazeného vamp#160;první světové válce (a také prováděl výzkum, který vedl ke vzniku otravného plynu známého jako cyklon B, který se později používal vamp#160;koncentračních táborech); Bosch, horlivý antinacista, založil obří chemickou společnost I.G. Farben, kterou Hitler převzal a využil kamp#160;výrobě zásob pro druhou světovou válku.
Dnes po celém světě běží továrny samp#160;Haberovou-Boschovou technologií vamp#160;rozsahu, který vyráží dech, a chrlí do světa stovky tisíc tun hnojiv, aby zúrodňovala pole, kde se pěstují plodiny, které se proměňují vamp#160;cukry a oleje a dobytek, zamp#160;nichž vaříme nudle, hranolky, pizzu, ptáčky a koláče, po nichž tloustneme.
Pokud se vám tohle dílo nezdá významné, uvažte, že polovina dusíku ve vašem těle je syntetická, že jde o produkt továrny samp#160;Haberovou-Boschovou technologií. Nebo že bez potravin, jejichž existenci umožnil právě jejich objev, by Země dokázala uživit asi 4 miliardy lidí – přinejmenším o 2 miliardy méně než dnes.
Ještě než mi pošlete email, vězte, že průvodní problémy chápu: tlak na ekosystémy, znečištění (včetně znečištění dusíkem) atd. atd. Jsem ale optimista, takže místo bědování se rozloučím dalšími dobrými zprávami. Byť se světová populace každoročně rozrůstá o desítky milionů hladových úst, vzhledem kamp#160;pokračující expanzi Haberových-Boschových hnojiv a kamp#160;překvapivému trendu ke klesající porodnosti (budete-li na světě ještě asi 50 let, podle nejlepších odhadů se dožijete nulového populačního růstu) by mohlo být vamp#160;možnostech lidstva navždy se vyhnout hromadnému hladovění.