Voorkom een nieuwe Afrikaanse hongersnood
,
NEW YORK – Na meer dan een decennium te zijn gedaald stijgt het aantal hongerende mensen op aarde nu opnieuw. Dit jaar werd gemarkeerd door de ergste mondiale voedselcrisis sinds de Tweede Wereldoorlog, waarbij Zuid-Soedan, Jemen, Somalië, en Nigeria ofwel met hongersnood te maken kregen ofwel op de rand hiervan stonden. Voor meer dan 20 miljoen mensen in die vier landen alleen al blijft de voedselvoorziening zeer onzeker, en de Verenigde Naties schatten dat er 1,8 miljard dollar in onmiddellijke noodhulp nodig is.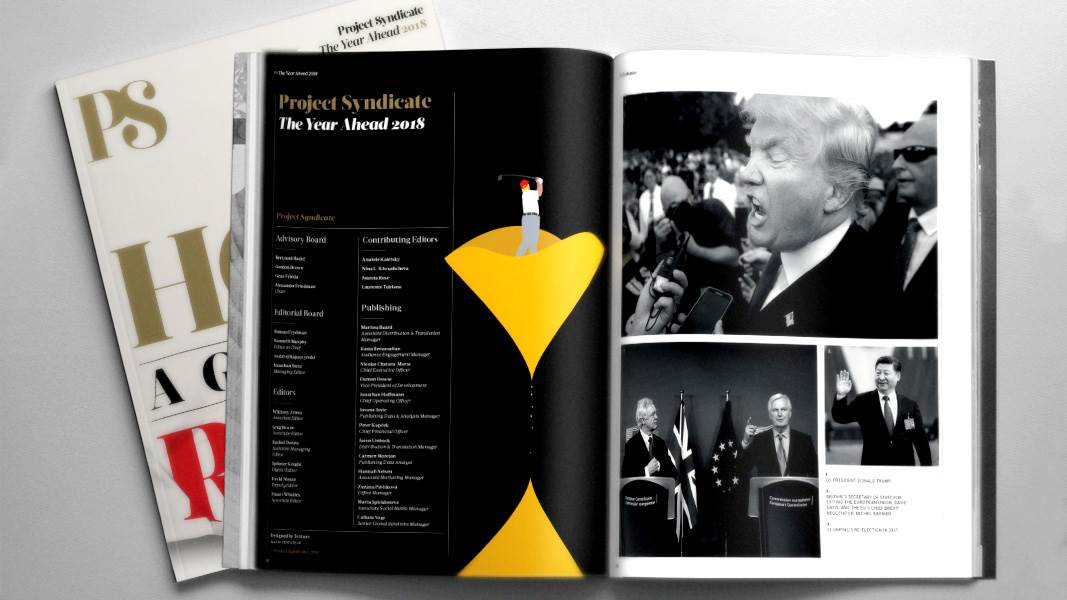 The Year Ahead 2018
The world's leading thinkers and policymakers examine what's come apart in the past year, and anticipate what will define the year ahead.
Politieke instabiliteit en conflict hebben ernstig aan deze voedselonzekerheid bijgedragen, maar een onvoldoende voedselproductie heeft de spanningen en honger waarschijnlijk ook vergroot. In Sub-Sahara-Afrika, waar drie van de vier landen die op de rand van hongersnood staan liggen, blijven de oogstopbrengsten al sinds lange tijd achter bij die van de rest van de wereld, als gevolg van schamele productiemiddelen voor boeren, zoals zaden en mest van lage kwaliteit.
Investeren in landbouw is een van de meest effectieve manieren om honger te beëindigen en politieke stabiliteit te vergroten. Er zijn alleen al in Sub-Sahara-Afrika 50 miljoen kleine boerenbedrijven, en deze onderhouden nog eens miljoenen anderen. En het zijn de landen van het continent die zwaar hebben geïnvesteerd in landbouwontwikkeling en kleine boeren die succesvol zijn geweest in het voorkomen van hongersnood.
Neem het voorbeeld van Ethiopië, dat midden jaren tachtig een van de ergste hongersnoden in de geschiedenis doormaakte. Tijdens deze crisis, die werd veroorzaakt door een combinatie van conflict en droogte, stierf een geschatte één miljoen mensen, en het duurde vele jaren voordat het land hiervan hersteld was.
Vandaag de dag is er vrede in Ethiopië, maar de droogte is terug. In 2016 zuchtte het land onder het droogste groeiseizoen in vijftig jaar. En toch kreeg Ethiopië het afgelopen jaar niet met hongersnood te maken. Zeker, er waren mensen die honger leden, maar een ramp werd voorkomen. Oxfam schrijft dit toe aan het feit dat de regering beter voorbereid was om water en voedsel te voorzien aan miljoenen mensen. Het land heeft ook zijn landbouwinfrastructuur enorm verbeterd, en nieuwe irrigatie- en drinkwatersystemen voorzien landelijke gebieden van een goede toegang tot schone en veilige waterbronnen.
Meer dan tien jaar lang heeft de Ethiopische regering landbouwontwikkeling topprioriteit gegeven. In 2010 zette deze het Ethiopische Landbouwtransformatie Agentschap op, een publieke instelling gewijd aan productiviteitsgroei voor de landbouwsector. Zoals de bekende Britse auteur en Afrika-onderzoeker Alex de Waal heeft opgemerkt 'Creëert politiek hongersnoden, en is het politiek die ze kan stoppen.' Ethiopië is hier bewijs van. Terwijl binnen- en buitenlandse fondsen tijdens hulpacties nog steeds blijven toestromen zijn het de langetermijninvesteringen van Ethiopië die de veerkracht van het land hebben vergroot.
Meer strategische landbouwinvesteringen, vanuit Afrikaanse donoren tot internationale bronnen, kunnen andere landen in de regio helpen overeenkomstige vruchten te plukken. De klimaatverandering maakt dit soort investeringen zelfs nog urgenter, omdat extreme weergebeurtenissen – zowel overstromingen als droogten – door heel Sub-Sahara-Afrika  meer gaan voorkomen.
Zelfs zonder regeringssteun echter kunnen boeren al direct kleine en kosteneffectieve stappen maken om klimaatschokken te verzachten. Door het gebruik van smart farming-technieken zoals droogteresistente zaden, tussenteelt, composteren, en gewasdiversificatie kunnen boeren de effecten van extreem weer tegen zeer lage kosten afvlakken.
Bomen zijn een van de meest effectieve middelen die we hebben voor het tegengaan van klimaatverandering, en ze hebben voor kleine boeren ook economisch nut. Een boer die twee dollar investeert in zaailingen kan in tien jaar een winst van meer dan tachtig dollar maken, wanneer een deel van de volwassen bomen kan worden gekapt en verkocht. Bomen brengen terwijl ze groeien ook milieuvoordeel – door het absorberen van koolstof, het verbeteren van de gezondheid van de bodem, en door erosie tegen te gaan.
Boeren die een activabasis hebben bestaand uit bomen, vee, of geld gegenereerd door het verkopen van oogstoverschotten zijn beter in staat om weerschokken te weerstaan. En zoals onze organisatie momenteel in zes Afrikaanse landen demonstreert kunnen boeren hun activabases opbouwen door middel van training en financiële steun. Daarom geloven wij dat Afrikaanse regeringen en bilaterale donoren hun investeringen in programma's die boeren de vaardigheden bieden om duurzaam gewassen op lange termijn, en vooral bomen, te verbouwen moeten vergroten. Goedkope toepassingen zoals het zaaien van gewassen in rijen, correct wieden, en bemesten in microdoses zijn ook bewezen methoden om de gewasopbrengsten drastisch te vergroten.
Omdat verwacht wordt dat de effecten van klimaatverandering de komende jaren zullen intensiveren moeten kleine boerenbedrijven in Afrika zich nu gaan voorbereiden op een turbulentere toekomst. De Verenigde Staten zijn historisch gezien 's werelds grootste donor aan mondiale voedselprogramma's geweest, maar de toekomst van deze leidersrol is onder president Donald Trump onzeker. Alhoewel mondiale voedselinitiatieven steun van beide partijen in het Amerikaanse Congres genieten adviseert de door de regering-Trump voorgestelde begroting voor internationale hulp zware bezuinigingen op deze programma's.
Terwijl de Amerikaanse steun taant moeten Afrikaanse en Europese regeringen, stichtingen, institutionele donoren, en uitvoerenden klaar staan om in dit gat te springen en Afrikaanse boeren helpen veerkracht op lange termijn op te bouwen. Investeren in landbouw is de meest efficiënte manier om de voedselzekerheid in Afrika te verbeteren, terwijl ondertussen gegarandeerd wordt dat mensen die in de frontlinie van het gevecht tegen klimaatverandering staan een bloeiende economie en een duurzame en gezonde omgeving in stand kunnen houden.
Slechts door een doordachte planning en door het voorbeeld van landen als Ethiopië te volgen kan Sub-Sahara-Afrika de onderliggende oorzaken van honger tegemoet treden. Alhoewel voedselzekerheid een complex probleem is om op te lossen, hoeft het voorkomen van toekomstige hongersnoden dat niet te zijn.
Vertaling Melle Trap