Minder vlees eten is een noodzaak
BERLIJN – Het industriële vleesproductiesysteem is onbeheersbaar geworden. Het draagt niet alleen bij aan de verwoesting van het klimaat, van de biodiversiteit, van de bodem en van de bossen, maar vormt ook een rechtstreekse bedreiging voor de menselijke gezondheid. Tot de COVID-19-pandemie werden de waarschuwingen van de Wereldgezondheidsorganisatie (WHO) over zoönotische ziekten – veroorzaakt door ziekteverwekkers die van dieren op mensen overspringen – grotendeels genegeerd. Hetzelfde geldt voor antibiotische weerstand – nog een mondiale bedreiging voor de gezondheidszorg, nauw verbonden met de vleesproductie.
De World Organization for Animal Health schat dat 60 procent van alle besmettelijke ziekten bij mensen zoönotisch van oorsprong is. Volgens onderzoek dat vorig jaar is verschenen in Nature zal dit percentage stijgen naarmate de wereldbevolking groeit en consumptiepatronen veranderen. Veranderingen in grondgebruik, zoals ontbossing en omzetting van woeste gronden in landbouwgrond, zijn eveneens belangrijke factoren die de overdracht van zoönotische ziekten op mensen beïnvloeden.
De menselijke activiteit raakt nu 75 procent van het landoppervlak van de aarde, terwijl landbouwgronden – velden of weiden – ruim een derde van de planeet bedekken, en deze percentages nemen snel toe. Door te interveniëren in natuurlijke ecosystemen en deze uit hun evenwicht te brengen, en de habitats van wilde dieren te laten krimpen, ontwrichten we de symbiotische relatie die duizenden jaren heeft bestaan tussen mens en natuur.
We weten dat de reductie van habitats, de steeds grotere aanwezigheid van de mens, en het uit de pan rijzende aantal boerderijdieren de mogelijkheid vergroten van een overdracht van besmettelijke ziekten van dieren op mensen. Uit onderzoek dat is verschenen in Nature Sustainability bleek dat agrarische factoren in verband gebracht kunnen worden met ruim 25 procent van alle besmettelijke ziekten en met ruim 50 procent van alle zoönotische besmettelijke ziekten bij mensen. Deze percentages zullen alleen maar groter worden naarmate de intensieve landbouw en fabrieksmatige boerderijen zich zullen blijven verspreiden, en naarmate de monocultuur en intensieve veehouderij de toekomstige landbouwsystemen vorm zullen blijven geven.
Nóg een belangrijke reden voor de mondiale veranderingen in grondgebruik is de productie van diervoeding. Soja – een belangrijke bron van eiwitten voor de industriële vleesproductie – wordt wereldwijd bijvoorbeeld op ruim 120 miljoen hectare geplant, een gebied dat 3,5 maal zo groot is als Duitsland.
De WHO en de Food and Agriculture Organization (FAO, Voedsel- en Landbouworganisatie) van de Verenigde Naties waarschuwen al langer voor pandemieën die samenhangen met de industriële veehouderij. Terwijl de wereldbevolking de afgelopen vijftig jaar is verdubbeld, is de mondiale vleesproductie ruimschoots verdriedubbeld. Vandaag de dag wordt wereldwijd zo'n 300 miljoen ton vlees geconsumeerd. In 2017 waren er in de hele wereld naar schatting 1,5 miljard koeien, één miljard varkens, 23 miljard stuks pluimvee en twee miljard schapen en geiten. Deze dieren leven vaak in groepen van tienduizenden in kleine ruimtes, die de verspreiding van ziekten kunnen vergemakkelijken, inclusief de vogelgriep en de varkensgriep.
Subscribe to Project Syndicate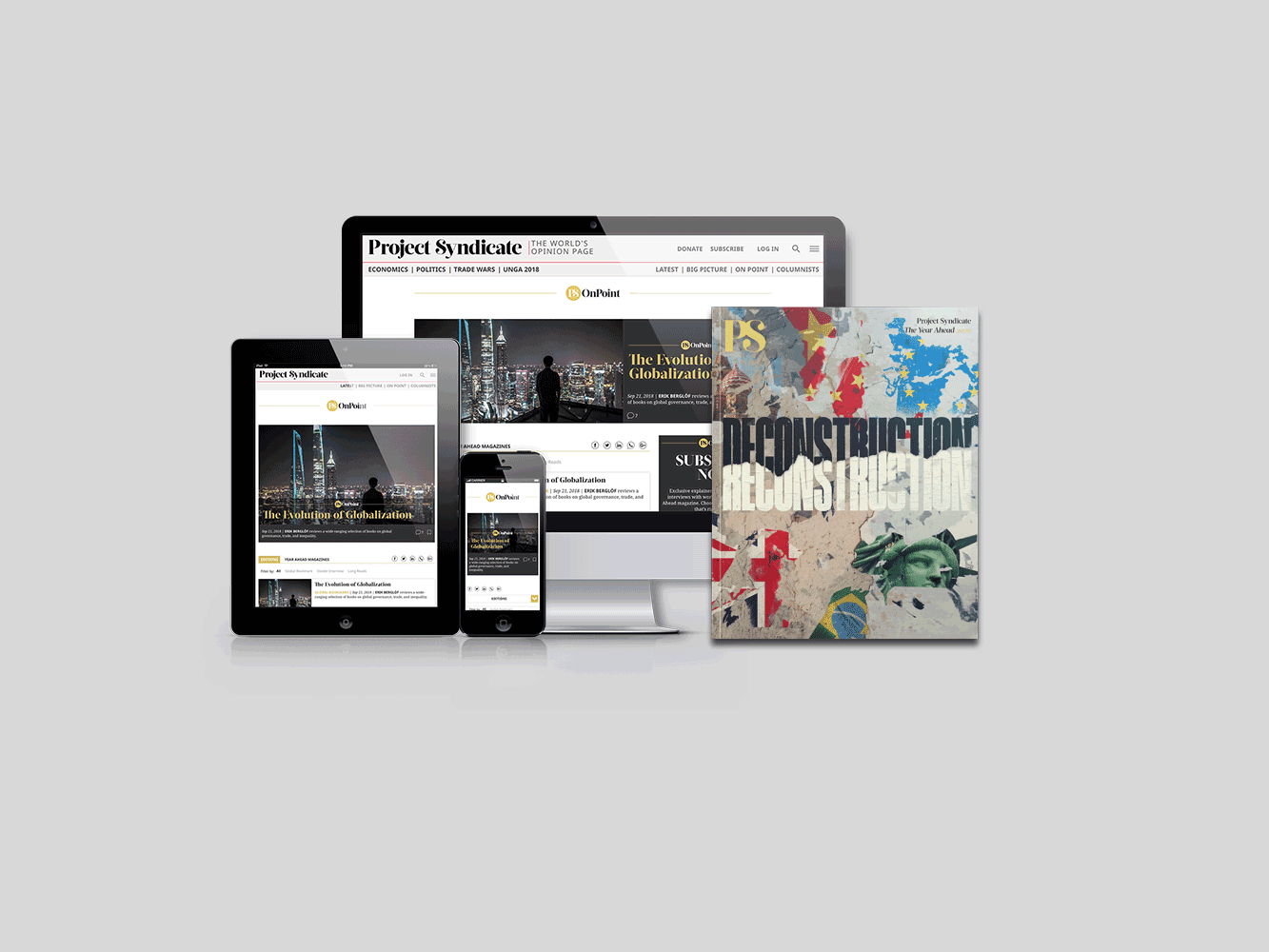 Subscribe to Project Syndicate
Enjoy unlimited access to the ideas and opinions of the world's leading thinkers, including weekly long reads, book reviews, and interviews; The Year Ahead annual print magazine; the complete PS archive; and more – All for less than $9 a month.
De Scientific Task Force on Avian Influenza and Wild Birds van de VN is ervan overtuigd dat zeer besmettelijke vogelgriepvirussen niet alleen worden overgedragen door wilde vogels en trekvogels, maar ook worden aangetroffen op pluimveehouderijen, waar ze kunnen overspringen op wilde dieren. Volgens een verklaring uit 2016 van de Task Force ʻis er geen overtuigend bewijs van enig mechanisme dat ervoor zorgt dat een wilde vogelsoort H5N8 HPAI-virussen bij zich kan dragen, zonder dat dit leidt tot de dood van de drager zelf tijdens de langeafstandstrek.' Daarentegen blijft ʻhet risico dat het HPAI-virus in omloop blijft door de productie van en de handel in pluimvee aanzienlijk.'
De dreiging die van zoönotische ziekten uitgaat is niet het enige gezondheidsrisico dat verband houdt met de vleesproductie. Naast soja is het zware gebruik van antibiotica vandaag de dag een van de belangrijkste kenmerken van de vleesproductie. Deskundigen schatten dat tegen 2050 jaarlijks ruim tien miljoen mensen zullen omkomen omdat antibiotica niet langer effectief zijn. Volgens de WHO is het wijdverbreide gebruik ervan in de productie van dieren een van de belangrijkste oorzaken van de anti-microbiële weerstand. Uit door de overheid uitgevoerde onderzoeken in Duitse supermarkten blijkt dat ziekteverwekkers die bestand zijn tegen antibiotica zijn aangetroffen in 66 procent van de kip en 42,5 procent van de kalkoen in de schappen.
Bovendien tonen COVID-19-uitbraken in slachthuizen over de hele wereld aan dat de vleesproductie niet alleen is gebaseerd op de verwoesting van het milieu en ontoereikend dierenwelzijn, maar ook op de uitbuiting van werknemers. In Duitsland komt het merendeel van deze werknemers uit Oost-Europese landen, en spreken ze de taal nauwelijks. De meesten van hen worden ingehuurd door bedrijven in hun land van herkomst en hebben geen regulier arbeidscontract, wat dikwijls tot gevolg heeft dat hun toegang tot sociale voorzieningen en gezondheidszorg beperkt is. In juni werden ruim duizend werknemers in het grootste slachthuis in Duitsland, dat eigendom is van het grootste vleesverwerkende bedrijf van het land, besmet met COVID-19.
Voor het aanpakken van deze problemen is het nodig dat wordt gemikt op de consumptie van ʻminder, maar beter' vlees. In Duitsland eten mensen jaarlijks ongeveer 60 kilo vlees per persoon. Die hoeveelheid is zelfs nog groter in de VS, Australië en sommige andere Europese landen. Maar het grootste deel van de wereldbevolking eet veel minder vlees, en ook minder vaak. Dit is hoe vlees moet worden geconsumeerd: niet driemaal per dag, misschien niet eens driemaal per week, maar één- of tweemaal per week.
Jarenlang hebben politici de waarschuwingen van wetenschappers over de vleesindustrie grotendeels in de wind geslagen. Dit jaar is de hele wereld gedwongen zich rekenschap te geven van het belang van dergelijke waarschuwingen. Het is duidelijk dat een samenhangende transformatie van onze landbouw- en voedselsystemen noodzakelijk is, met beleid dat de agro-ecologie versterkt en korte, diverse en veerkrachtige waardeketens bevordert. De wetenschappelijke know-how voor het ten uitvoer leggen van deze maatregelen bestaat al jaren. We hoeven die alleen maar te gebruiken.
Vertaling: Menno Grootveld