Le défi de Macron pour l'Europe
PARIS – Dans un discours ambitieux et visionnaire à la Sorbonne, le Président français Emmanuel Macron a présenté cette semaine son plan pour contrer la vague de nationalisme xénophobe qui touche l'Europe. Il veut construire « une Europe souveraine, démocratique et unie », où les citoyens éprouvent à nouveau un sentiment d'appartenance face à l'idée de l'Europe elle-même.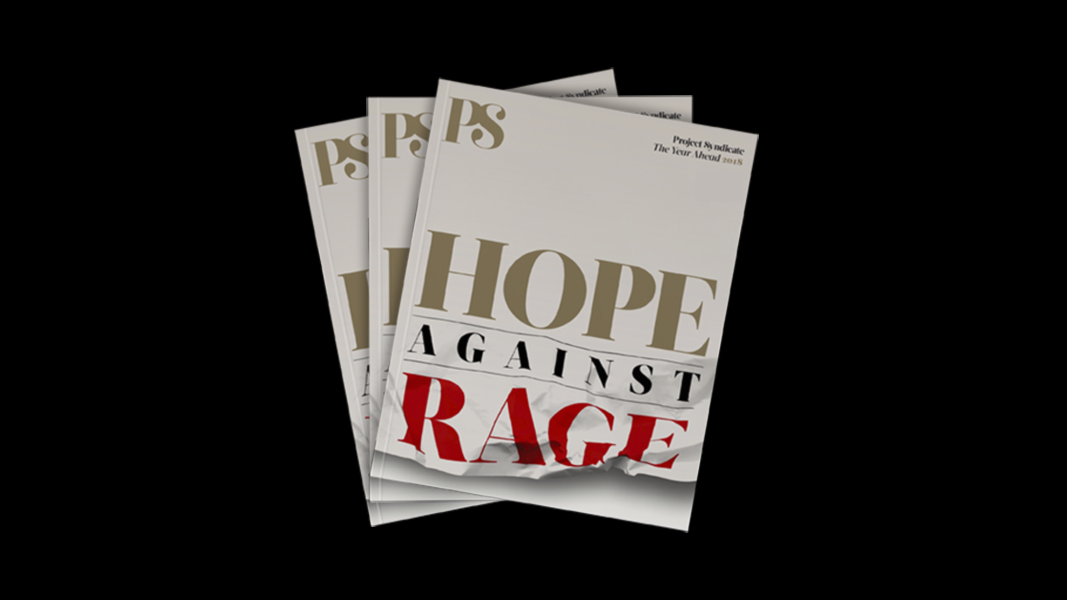 The Year Ahead 2018
The world's leading thinkers and policymakers examine what's come apart in the past year, and anticipate what will define the year ahead.
Le discours de Macron a été un appel aux armes bienvenu pour une Europe confrontée à de nombreuses crises et menaces. Mais sur la question cruciale et controversée de la réparation de la zone euro, ses propositions ont été décevantes. Et il va avoir du mal à convaincre ses homologues européens plus prudents, notamment la Chancelière allemande Angela Merkel, dont la marge de manœuvre a été réduite par la piètre performance de son parti aux élections fédérales du weekend dernier.
Macron a toutefois fait valoir des arguments positifs et puissants en faveur du renouvellement de l'Union européenne. Il a plaidé pour que l'UE adopte la mondialisation et l'innovation, tout en protégeant également les Européens, en faisant davantage pour les aider à s'adapter à un monde en évolution. Il a fait valoir les intérêts et les valeurs européennes dans un monde dominé par ailleurs par les États-Unis et par la Chine. Et il a plaidé en faveur de la sécurité à une époque de revanchisme russe renouvelé, de terrorisme islamiste et de désengagement américain sous la présidence de Donald Trump.
Macron a associé les grandes idées à de nombreuses propositions concrètes de coopération plus étroite, notamment en matière de défense, de migration, d'environnement, d'innovation et d'éducation. Mieux encore, il a décrit une stratégie politique pour mener à bien ses propositions. Macron a songé qu'en cas de réussite, une Grande-Bretagne « en cours de Brexit » « pourrait un jour retrouver sa place » au sein d'une UE remaniée, avec de nouveaux membres de l'Ouest des Balkans.
En vertu du plan Macron, chaque État membre de l'UE devrait organiser des conventions démocratiques afin de débattre des priorités des citoyens. Leurs idées seraient incorporées dans un processus plus large impliquant les institutions de l'UE et les gouvernements qui veulent remanier l'Europe. Des coalitions de gouvernements volontaires seraient alors intégrées plus rapidement, avec un moteur franco-allemand à l'initiative de ce processus.
La balle est à présent dans le camp de l'Allemagne. L'Europe pourrait bien succomber au nationalisme en cas d'échec du plan de Macron. Cela serait catastrophique pour l'Allemagne, un pays dont la réussite économique, l'identité politique et la sécurité sont fondées sur une UE forte et en état de marche.
Macron est le Président français le plus pro-Allemand que l'on puisse imaginer, qui a renforcé sa crédibilité en poursuivant des réformes difficiles du marché du travail et en dévoilant un budget d'une prudence teutonique. L'Allemagne risque de commettre une erreur stratégique monumentale si elle ne reprend pas sérieusement ses propositions à son compte.
Malheureusement la politique nationale de l'Allemagne vient de se compliquer. Macron avait fixé la date de son discours afin d'influencer les négociations de coalition post-électorales, dans l'espoir que Merkel utilise son quatrième et dernier mandat pour donner de l'éclat à son héritage en adoptant des réformes européennes audacieuses. Macron comptait également sur l'Union chrétienne-démocrate (CDU) de Merkel pour maintenir sa grande coalition avec les sociaux-démocrates (SPD) et leur chef, l'ancien Président du Parlement européen Martin Schulz.
Mais les électeurs allemands ne l'ont pas entendu de cette oreille. La CDU et son parti frère bavarois de l'Union chrétienne sociale (CSU), ont perdu son soutien et le SPD a eu un si mauvais résultat qu'il a décidé de retourner dans l'opposition. Dans le même temps, le parti d'extrême-droite anti-UE Alternative pour l'Allemagne (AfD), a fait irruption au Bundestag avec 13 % des voix et a promis de « traquer » Merkel.
Merkel, à présent politiquement affaiblie, doit tenter de former une coalition qui comprenne à la fois les Verts, Européens convaincus qui sont félicité le discours de Macron et les Démocrates libres eurosceptiques (FDP), qui y sont hostiles. Et tandis que l'AfD assiège son flanc droit, des rivaux au sein de son propre parti se bousculent pour succéder à Merkel. Dans ce contexte, même les petits compromis seront politiquement difficiles.
Les plans de réforme de la zone euro par Macron seront le principal point litigieux. Il souhaite créer un budget de la zone euro, financé par les recettes fiscales. Le budget commun, qui devrait faire des investissements et disposer d'une réserve de financement en période de ralentissement économique, serait supervisé par un ministre des Finances de la zone euro, qui répondrait aux représentants des pays de la zone euro devant le Parlement européen.
Mais l'Allemagne est sceptique face à ce qu'elle considère comme une « union de transfert », dans laquelle ses contribuables devraient confier de l'argent à des pays dépensiers qui n'ont pas réussi à transformer leurs économies selon les directives allemandes. Merkel préférerait un petit fonds commun pour aider les gouvernements des États à adopter des réformes difficiles, pas un stabilisateur budgétaire keynésien. Et tandis que Macron envisage un ministre des Finances qui serait un pendant politique au président de la Banque Centrale Européenne Mario Draghi, Merkel préférerait que le rôle se limite à l'application de la discipline budgétaire nationale.
Actuellement, le danger est que Macron autorise uniquement un budget de pure forme pour la zone euro, en échange de contrôles encore plus stricts sur les budgets nationaux, qui s'avéreraient économiquement nuisibles et politiquement toxiques. Il pourrait également manquer sa chance d'adopter les réformes dont la zone euro a réellement besoin. Il s'agit notamment d'une intégration plus profonde des marchés financiers ; d'un processus plus aisé pour remettre les dettes du gouvernement et de la Banque mondiale ; d'une plus grande souplesse financière et de mécanismes d'adaptation économique plus équilibrés.
L'idée la plus prometteuse de Macron consiste à « redonner l'Europe à ses citoyens. » Dans mon livre European Spring, je soutiens qu'une UE imparfaite et technocratique a besoin de dirigeants audacieux, d'entrepreneurs politiques, de mouvements de la base électorale et de davantage d'expériences avec la démocratie délibérative pour insuffler le changement. Macron a fait des propositions dans ces quatre domaines.
Macron a raison de souligner que la bureaucratie de l'UE semble souvent éloignée, terne et inefficace ; mais il rejette également, à juste titre, les référendums qui polarisent les citoyens sur des choix binaires simplistes. Les grandes conventions démocratiques ouvertes qu'il a proposées pour le premier semestre 2018 pourraient injecter de nouvelles idées dans un vieux débat, donner de la légitimité à des réformes audacieuses et faire pression sur les gouvernements récalcitrants.
Ces conventions pourraient également favoriser de nouveaux mouvements politiques comme La République En marche !, le mouvement fondé par Macron, qui pourraient amener de nouveaux visages dans le domaine de la politique, contribuer à l'ouverture des systèmes clos des partis corrompus et commencer à rebâtir la confiance de l'opinion publique à l'égard des politiciens. Elles pourraient également donner davantage d'influence à Macron pour promouvoir ses réformes, en présentant des candidats aux élections nationales et européennes.
L'ambition est énorme, presque intimidante. Mais les défis de l'Europe ne le sont pas moins. Macron tente peut-être de réussir trop de choses à la fois, mais une Union européenne plus démocratique, plus dynamique et plus unie est un combat qui vaut la peine d'être mené.